You might think that muzzles are only used on aggressive dogs or dogs with behavior issues. Quite the contrary, it is also effective training tools for any dog owners. If your canine exhibits a variety of undesirable habits, from scratching and barking to licking and dragging, you will find dog muzzle very valuable. To help you find the best dog muzzle, we have reviewed different options and looked at the size, design, material, comfort, and price to make your job easier. In this list, we narrowed down to the 8 best dog muzzle to be sure you get the best value for your money, and the best product for your canine.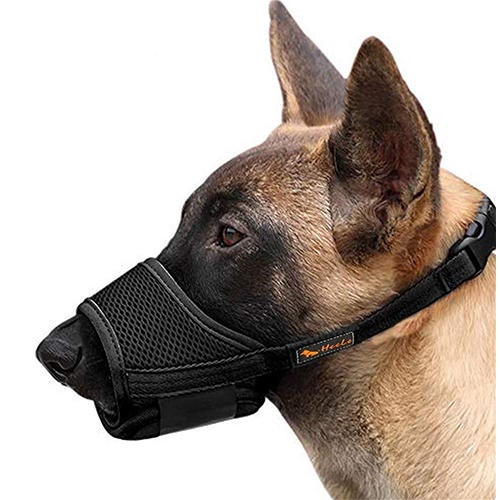 Sometimes a pup just needs a little help remembering there's a time to go wild and crazy and a time to keep it cool. The Heele Dog Muzzle Nylon Soft Muzzle provides a comfortable, secure fit to help pet parents curb their pal's biting, barking, and chewing. The machine washable muzzle is used by pet professionals and is available in multiple sizes making it perfect for any breed.
The muzzle uses breathable mesh material make dogs feel more comfortable and breathable, and the material above the nose is more soft than other muzzle, nylon and breathable mesh material can reduce the weight burden of pet.
---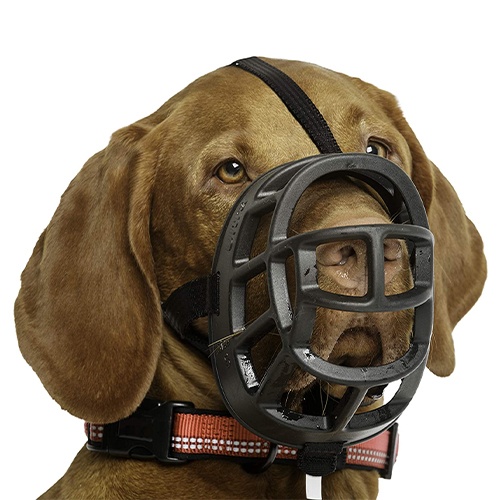 The Baskerville Ultra Dog Muzzle comes to the rescue when dogs are just a little too stressed or excited. This doggy muzzle has a flexible fit for wider noses and a small convenient opening so your pup can eat while it's on. This muzzle does double duty by protecting other pets and people from bites while maintaining the welfare and happiness of your dog.
It has ergonomically designed safety strapping and two additional points of secure attachment to ensure the muzzle stays doesn't fall off. The over-head strap is completely removable if desired and the muzzle also has a loop at the bottom for your dog's collar. Finally, the metal buckle has pre-holed webbing, which means it's fully adjustable for a quick and easy fit.
---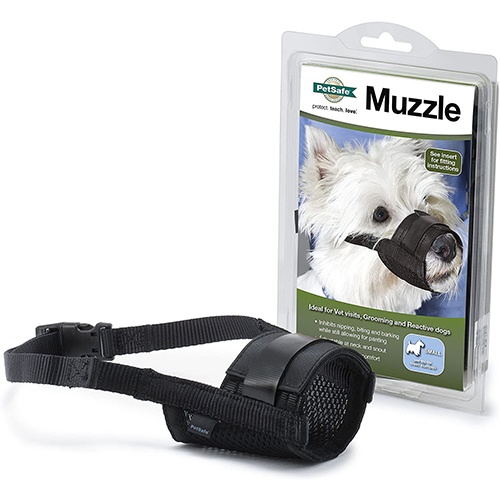 The PetSafe Muzzle is padded for extra comfort and has a fully adjustable snout and neck strap for a perfect and comfortable fit. This durable muzzle is ideal for vet visits, grooming and reactive dogs. Use a PetSafe Muzzle to inhibit nipping, biting and barking while still allowing your dog to pant. It is strongly recommended that you work with your dog to acclimate him to the muzzle before using it regularly.
Dogs should not wear muzzle for longer than 45 minutes at any given time – less during hot weather. Shapes and sizes of dog snouts vary widely; follow package instructions to ensure proper fit. Always supervise your dog while he is wearing a muzzle.
---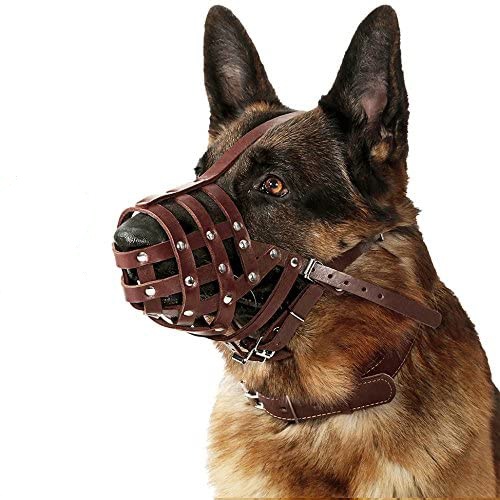 From trash-filled streets and unfriendly neighborhood cats, to vet visits and grooming clippers, help prevent your pup from acting out with the CollarDirect Leather German Shepherd & Doberman Dog Muzzle. Be the best pet parent you can be with this breathable and lightweight basket design muzzle made of full grain genuine leather.
The dependable shape comes with metal buckles and rivets as well as adjustable straps to find the paw-fect fit. Your furry friend will be comfortable and safe in high-stress situations and training. The length should be measured from the middle point below your dog's eyes to the tip of the nose, and the circumference should be measured around the snout at its widest point.
---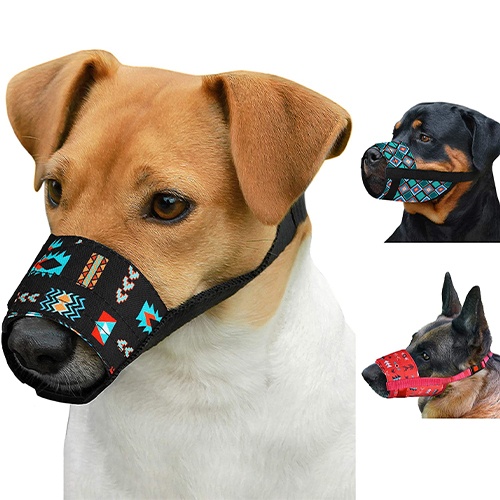 Tribal nylon dog muzzle is intended for Jack Russel, German Shepherd, Doberman, Dalmatian, Labrador, Rottweiler and other dog breeds with similar snout shape. It is made of durable nylon material, which is sturdy yet soft and flexible. This nylon muzzle is equipped with an adjustable strap and a side-release buckle. You can get a perfect fit of the muzzle around your dog's snout easily by simply adjusting a nylon fastener. These muzzles are great for vet visits, grooming, walking your dog in public places, etc.
It may allow panting, eating treats and drinking water if you maintain a loose fit of the muzzle. In order to choose a perfect size please measure the circumference and length of your dog's snout.
---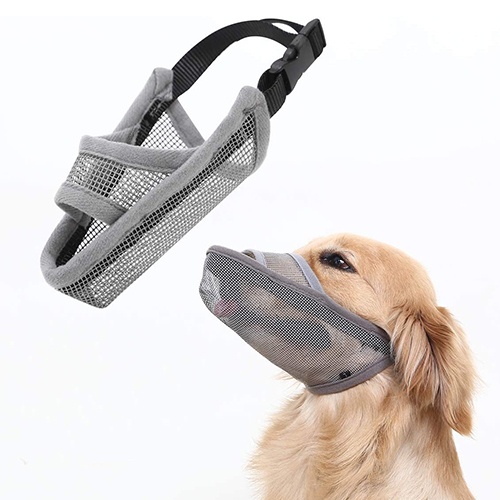 Once properly in place, the Nylon Dog Muzzle is highly effective at preventing your dog from biting and chewing. Ideal for Vet visits, Grooming and Reactive Dogs.L ong-lasting reinforced Nylon stitching and non-sticky hair breathable Mesh. The Edge of the muzzle has extra soft padding providing the ultimate comfort for your pet.
This secure muzzle is ergonomically designed for dog with long snout. Not suitable for short snouted dogs such as Pit Bull and Boxer. By selecting the right size, it will remain securely in place, and features easy to fit and secure Lock-on buckle and unique anti-slip design. Adjustable at snout and neck strap. Keep the muzzle tight enough to control his bite, but loose enough to allow freedom to pant and yawn.
---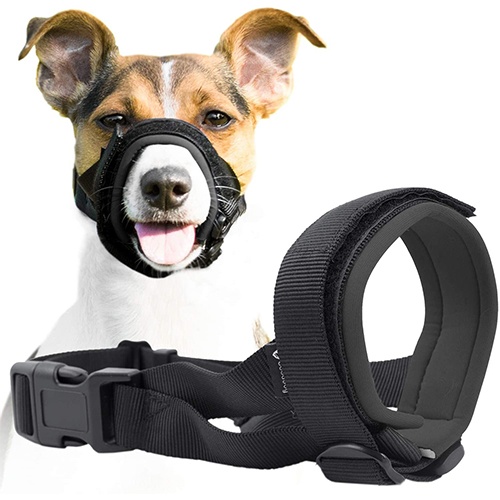 This muzzle is great for restraining your dog's ability to bite, chew and bark while still allowing your dog to breathe, pant, and drink water. Because of that, this muzzle is a humane choice for preventing unwanted biting or chewing. Comfortable neoprene padding eliminates chafing, the neoprene padding keeps your pal's snout healthy and happy by eliminating chafing and hot spots.
GoodBoy's Stay-Fit connection makes it a snap to keep your best buddy's muzzle securely in place, even for the rowdy pups! Easily connect it to your dog's collar or use the included bonus collar for added support. The GoodBoy muzzle uses high-quality sliders for adjustments that won't loosen over time, ensuring a comfortable fit for any dog.
---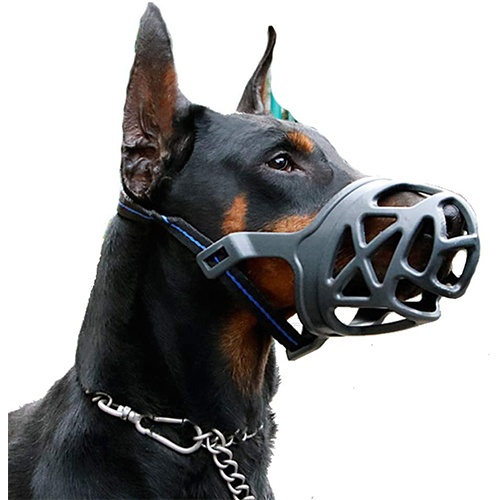 Made of a pliable Non-toxic rubber, The Basket Muzzle is extremely tough, durable, and soft to touch, and it can be widened or narrowed if needed. Adjustable nylon neck strap allows you to quickly adjust fit size for your dog. Your dog can pant, drink and even be fed treats through the Muzzle due to the wide holes of the basket muzzle.
This design allows for maximum ventilation to prevent your dog from overheating, and make it possible for you to feed treats. Rubber basket design gives all-around mouth protection, does not discomfort the dog's mouth and hurt to the skin.