You love a sweet puppy kiss after long day of work, but you do not want a stink kiss! Your sweet pup is just trying to show you how much she missed you, but you are not enjoying the affection because she needs to brush her teeth! Oral care is more than just keep fresh breath, but to keep maintain her dental health. Whether your dog is a senior or a puppy, dental chews leverage this instinctive chewing behavior to help clean teeth. So if you have been welcomed with stink kiss, it is time to get her the some dental chews. In this article, we have listed 8 best dental chews, check them out and find the one feels right for you, or your puppy.
Many veterinarians are concerned with the potential health risks associated with dogs consuming rawhide. Rawhide-free SmartSticks chews made with real chicken, vegetables and other healthy ingredients dogs love provide your canine companion with needed chewing exercise and great taste. These chew treats are the healthier alternative to regular rawhide treats which may cause intestinal blockages. SmartBones are 99.2% digestible, which is higher than the digestibility of premium dog foods (85% digestibility). Smart chews for smart dogs!
---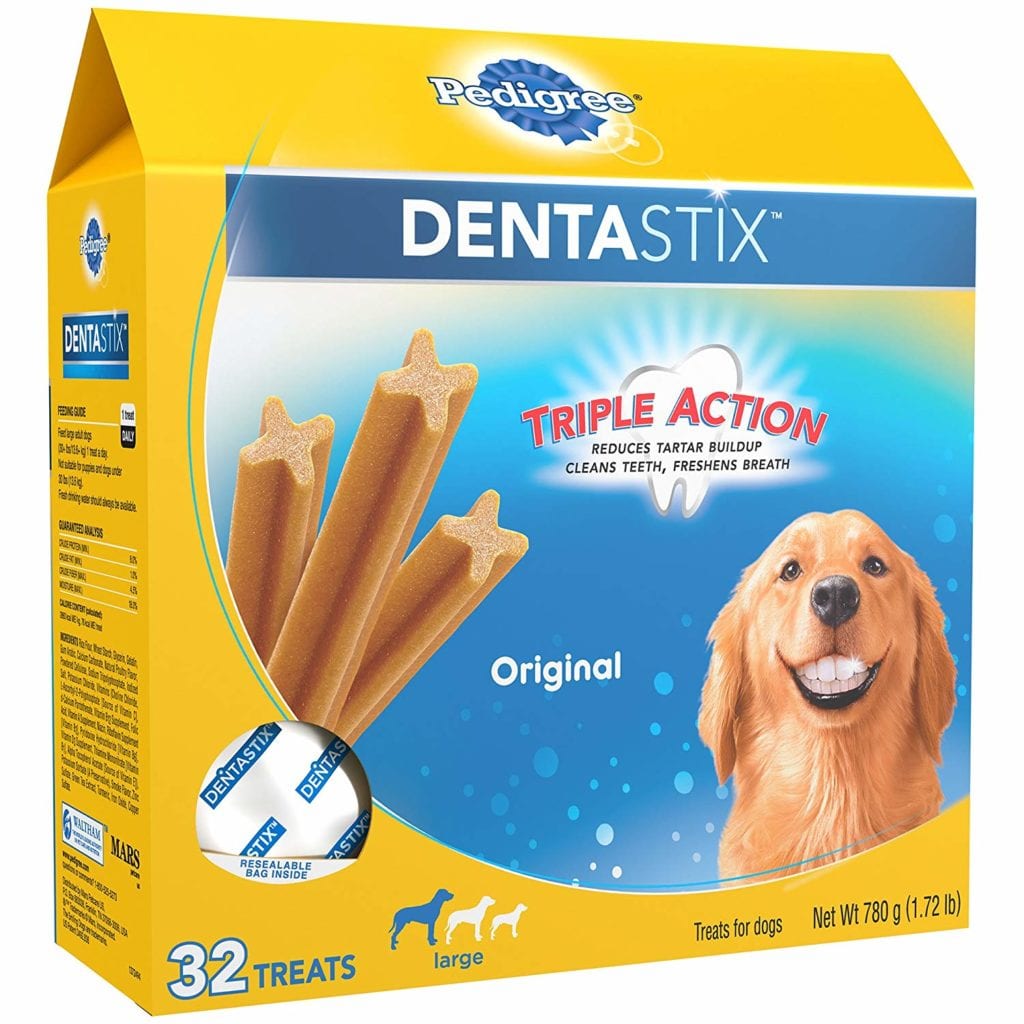 These tasty treats keep your dog healthy inside and out! Available in Mini for toy dogs, Petite for small dogs and Regular for medium to large dogs.These tasty dental treats are clinically proven to help fight plaque and tartar build-up. DentaStix feature an innovative "X" shape that helps clean between teeth and down to the gumline. Plus, added green tea, zinc and vitamin c helps support immune system health. These great-tasting treats keep your dog healthy inside and out! Available in Mini for toy and small dogs, Petite for small dogs and Regular for medium to large dogs.
---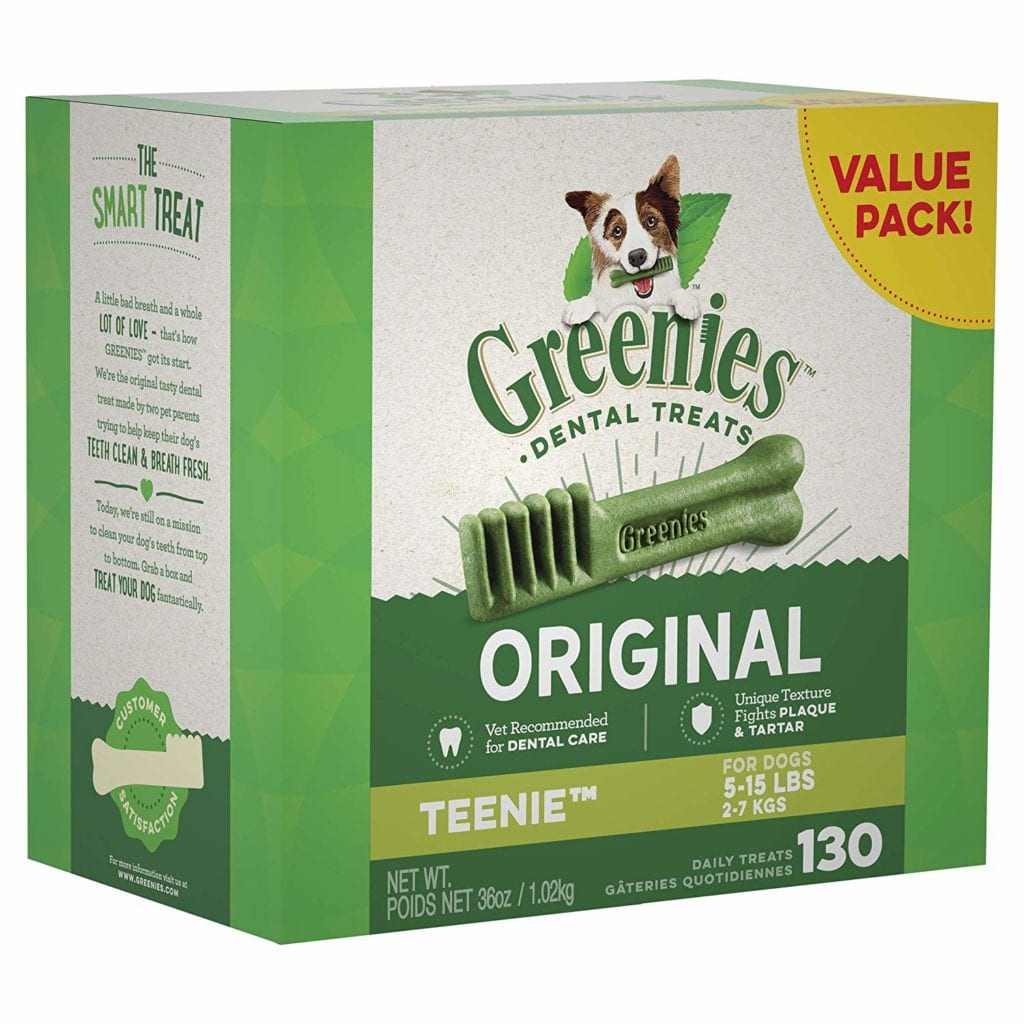 Give your pal the mouth-wowing treat that boosts dental health with Greenies Teenie Dental Dog Treats! Made with all-natural ingredients, these uniquely-shaped snacks are designed to control and remove disease-causing plaque and tartar, all while putting an end to dreaded doggie breath. Each tasty chew features added vitamins and minerals, and is formulated to provide complete and balanced nutrition for adult dogs. Keep the cuddles coming and give your best friend the dental health he deserves with these veterinarian-recommended dental treats.
---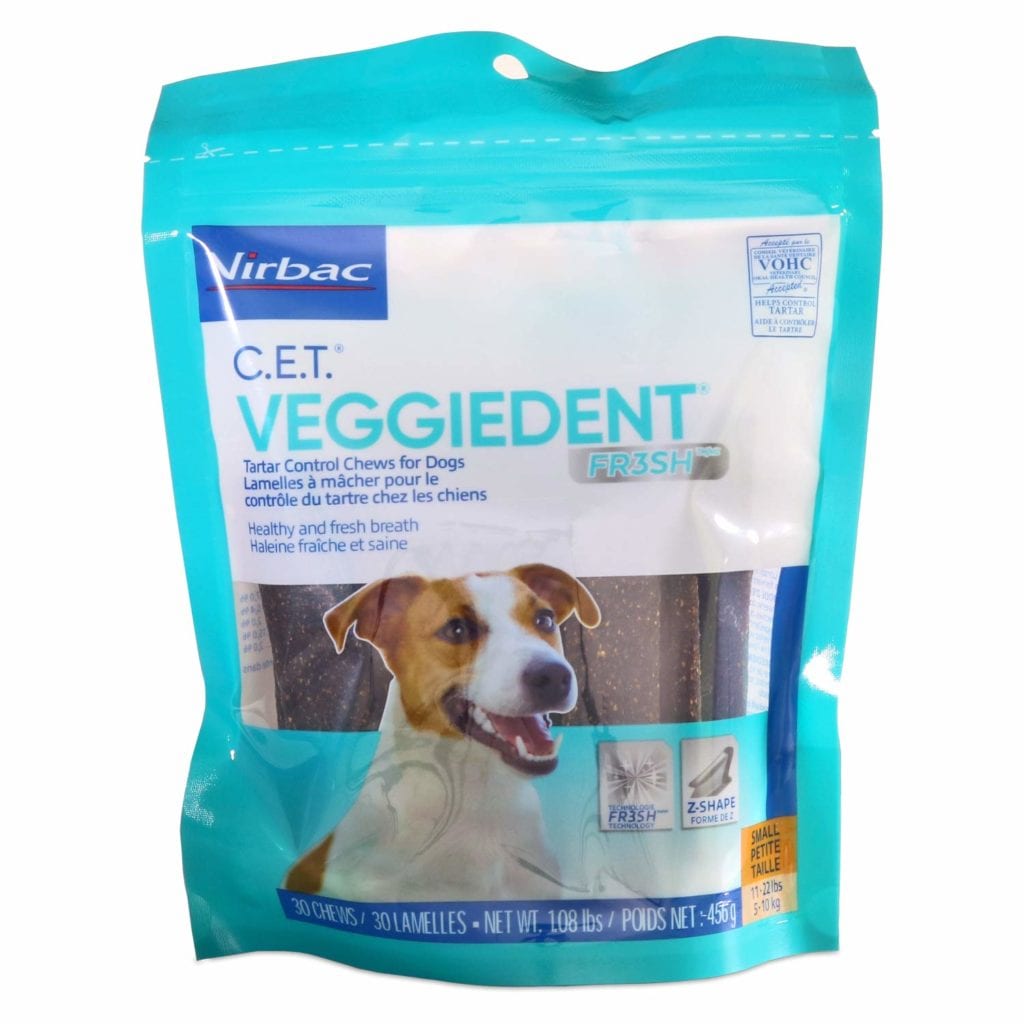 Give your BFF a reason to smile with Virbac's C.E.T. VeggieDent Fr3sh Tartar Control Dog Chews! These plant-based chews help keep your dog's dental health in check by cleaning her gums and freshening her breath all while promoting a balanced digestive system! They are crafted with a chewy consistency to help eliminate plaque and tartar, and they are designed with a Z-shape, so your dog can get a better grip while chewing to her heart's content. These scrumptious chews are available in multiple sizes, so dogs from all barks of life can enjoy the benefits of Virbac!
---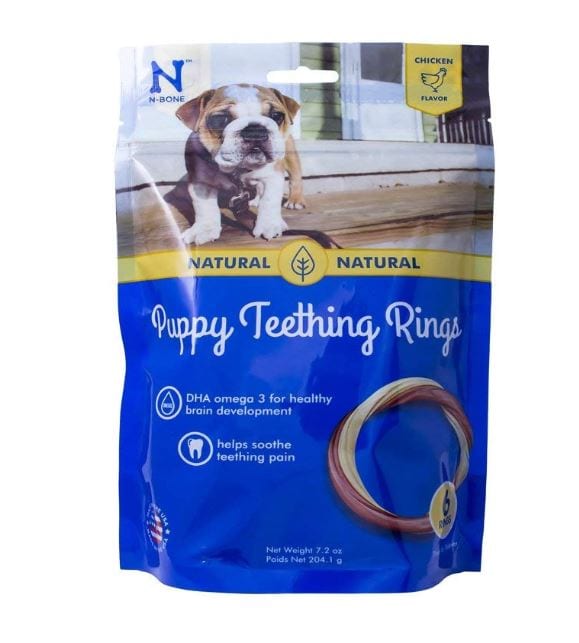 Satisfy your furry young friend's natural need to gnaw and soothe his sore gums with N-Bone Puppy Teething Ring Chicken Flavor Dog Treats. With a round shape that's designed specifically for the chewing needs of puppies, added calcium to support healthy bones and teeth, and the delectably savory taste of chicken that your newest furry family member will find irresistible, you'll both love these teething chews. And thanks to the pliable and digestible formula of N-Bone Puppy Teething Rings, you don't have to worry about your young pooch damaging his immature teeth or eating something that he's not supposed, unlike traditional puppy chew bones that are made from rubber or plastic.
---
Your dog will love the taste of Starmark Bacon-Flavored Everlasting Treats. These treats fit easily inside Starmark Everlasting Puzzles, and stimulate activity in dogs as they work to reach them. In addition to relieving boredom, these treats also promote healthy teeth and gums. The softer formula is perfect for puppies and senior dogs. Use with Starmark's Everlasting puzzles to create hours of mental & physical stimulation. Special raised dental ridges and chew action help remove tartar.
---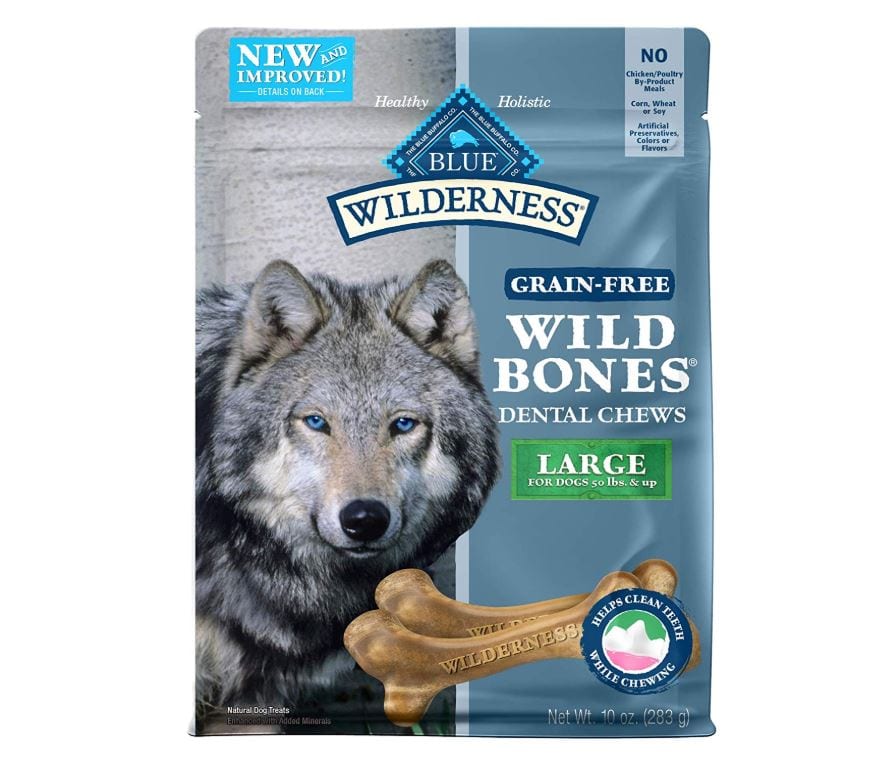 Blue Buffalo Wilderness Wild Bones are the 100% grain-free treat made to satisfy the spirit of the wolf that lives in every dog. Made to look just like something the wolf pack would search the forest for, these Wild Bones will help clean your dog's teeth as well as freshen his breath. Made with only the finest natural ingredients, Wild Bones are free from both grains and glutens. They're 100% chewing pleasure any dog will love.
---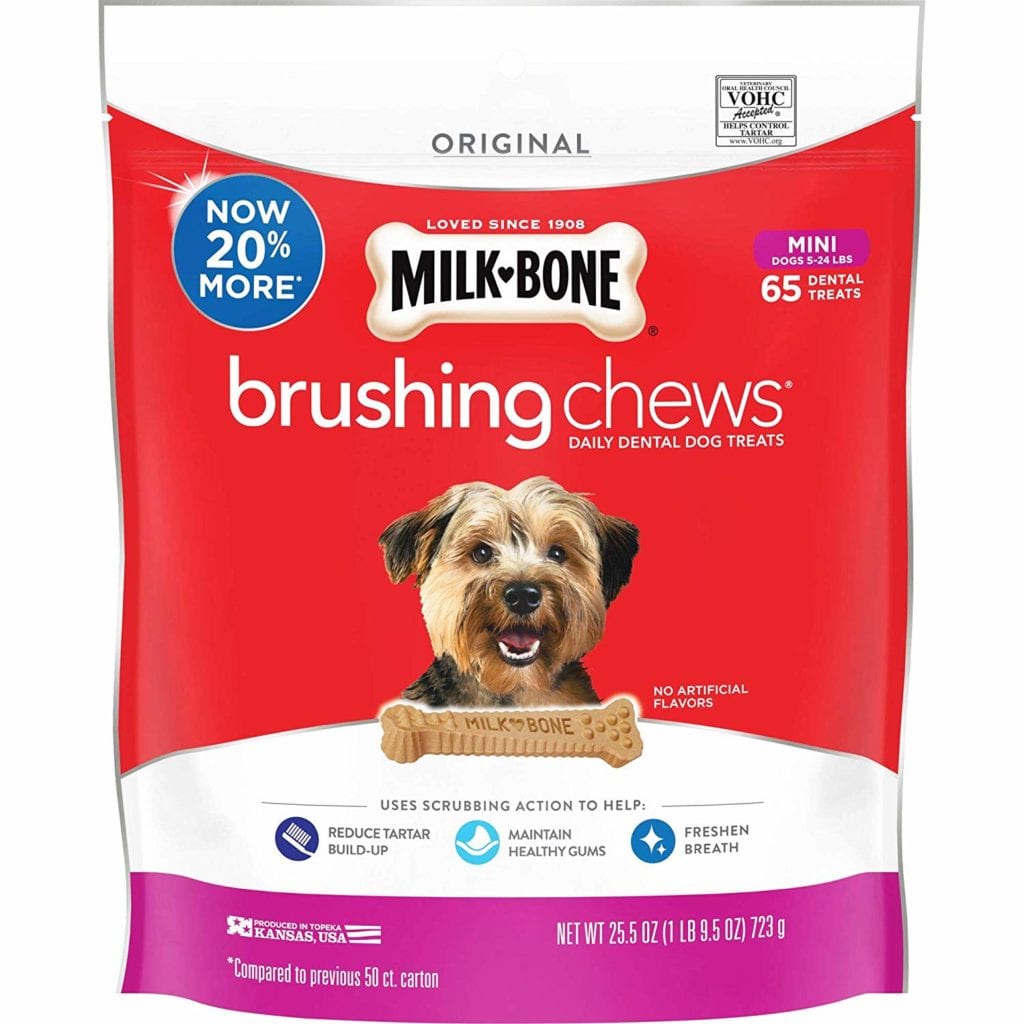 Milk-Bone Brushing Chews Daily Dental Dog Treats are made for dogs that aren't so excited to see a toothbrush but still need to keep those pearly whites in good shape. When given to your dog daily, these dental bones are as effective as brushing his teeth twice a week in reducing tartar buildup. They hold the Veterinary Oral Health Council Seal of Acceptance for tartar control, and they're clinically proven to cut down on tartar and fight bad breath. These flexible bones have a patented design that's made to twist as your dog chews to clean even hard to reach teeth with its bristle-like nubs and ridges. Milk-Bone Brushing Chews make it easy to provide oral care for your pup because they have a delicious chicken taste dogs can't resist.