If you've tried to guide a zig-zagging pupply's leash or walk a dog that is much stronger than you are, you will know that a simple leash and collar are not enough in these situations, you will need something stronger and grant you more control. And if you like to hike, run, or bring your dog in the car, some harnesses have special features to make those activities easier, more enjoyable, and safer for all involved.
Harnesses come in a variety of styles and uses. After combing online reviews and considering our own experience with harnesses, we're ready to recommend 8 best dog harnesses for every kind of dog.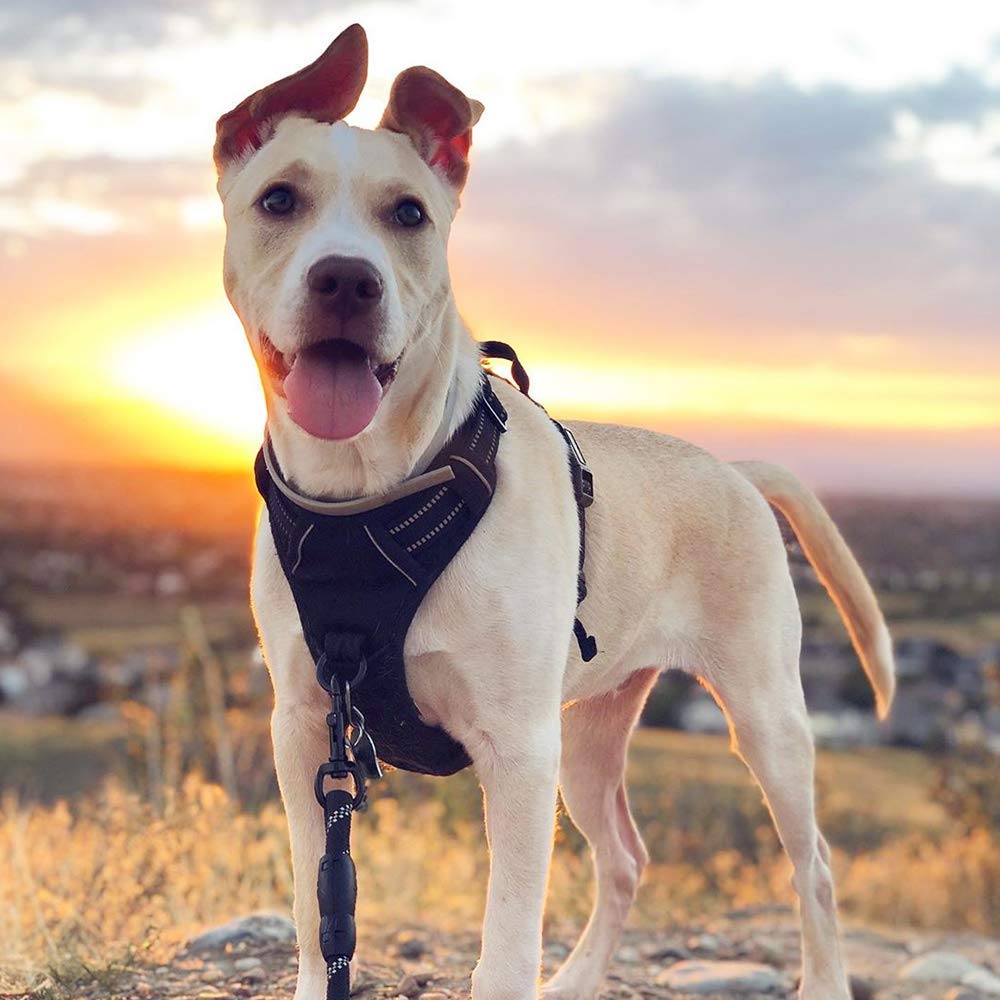 If you're worried about your pulling pup choking while walking, here is the No Pull Dog Harness. This harness is made of high-quality durable material and comfortably wraps around your dog's chest, taking the pressure off his neck. It comes with two leash-attachable rings on the back and the chest. The front attachment is for no-pull use and training while the back attachment is for outdoor use.
Easy to put on and take off, this harness has heavy padded lining and reflective straps to keep your dog comfortable, visible and safe. Get more control during your walks with this great harness.
---
SPORN No-Pull Dog Harness, Mesh, Extra Small
The Sporn Non-Pull Mesh Dog Harness fits like a glove and is designed to curb moderate to heavy leash pullers. Made for style, comfort and control, this harness features an elasticized mesh chest piece that moves with your dog. It's designed to humanely control any size dog without choking, and the one-piece harness is easy to put on and take off. The padded restraint sleeves offer extra comfort under the front legs.
Designed to stop the hardest pullers humanely without any choking. This product is perfect for those stubborn pups and will help you stay in charge during walks.
---
Halti Front Control Dog Harness
Comfy meets controlled in the Halti Dog Harness. This harness was specially designed to stop curious pups from pulling on their leads by using front control steering from the chest and shoulders. Unlike other anti-pull harnesses, the Halti Harness won't put painful pressure on the body, so it's always comfortable for dogs to wear. The harness' two points of attachment also makes it ideal for using with Halti's double-ended training lead.
One end of the lead can attach to the front ring on the chest to steer while the other end can attach to the back ring at the shoulders to act as a brake.
---
Noxgear LightHound LED Illuminated & Reflective Dog Harness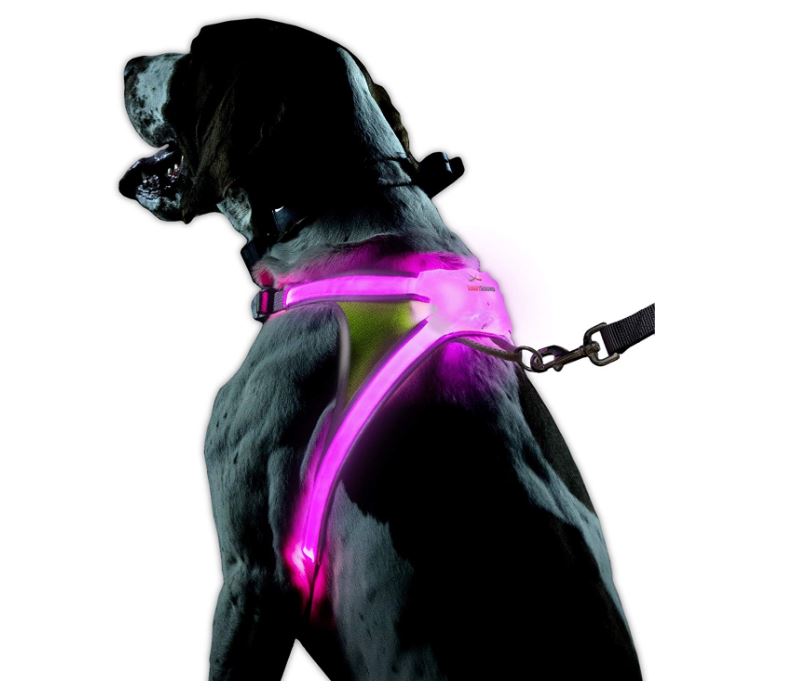 Your best friend will never be alone in the dark when he's wearing the Noxgear LightHound LED Illuminated & Reflective Dog Harness. Safe walks and nighttime excursions begin with exceptional visibility, and this innovative harness provides full 360-degree protection. Made with industry-leading reflectivity and tough, high-visibility, military-grade Cordura fabric, this all-season harness is lightweight, weatherproof and machine washable.
It's simple to put on and adjustable for a comfortable fit; the strong zinc alloy leash attachment ring is secured by nylon webbing and reinforced stitching for even more safety while he's on the leash.
---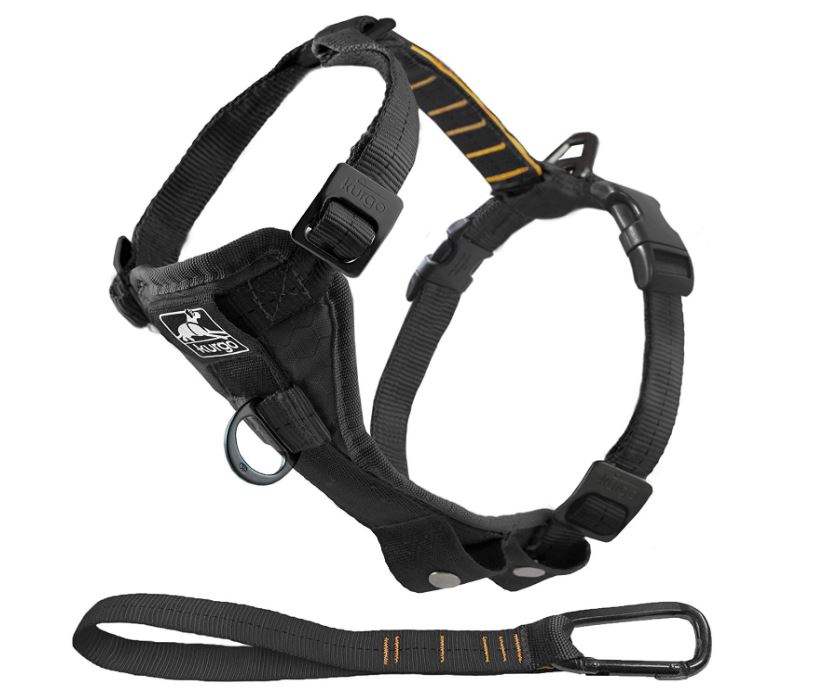 Say goodbye to your dog's Houdini act when you use the Kurgo Tru-Fit Smart Harness with Steel Nesting Buckles Enhanced Strength. It's a crash-tested dog car harness that keeps your dog safe while riding in the car. The all-steel Nesting Buckle System is based on the engineering for harnesses used by rock climbers and linesmen ensuring strength and safety. With five adjustments points, it's easy to get a near custom fit for any dog, regardless of size and proportions.
The chest pad reduces stress on the trachea and sternum while dispersing kinetic energy across the chest of the dog.
---
Voyager Step-In Air Dog Harness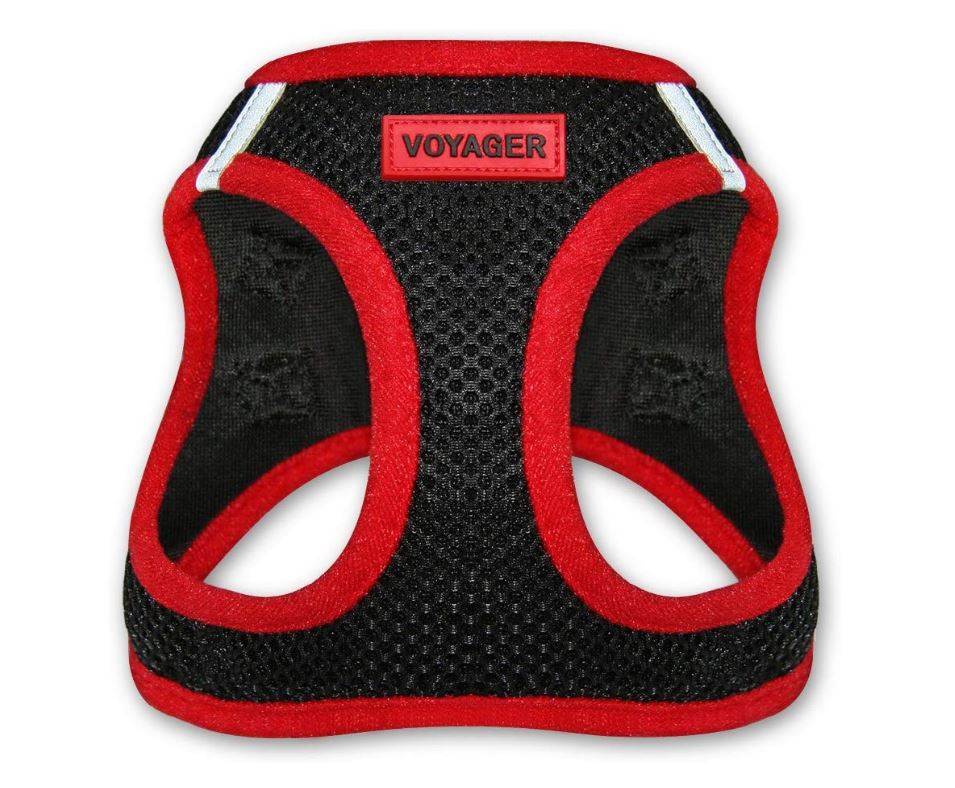 Unlike leashes that have the tendency to strain your pet's neck, this safety harness evenly distributes the pressure around the chest to prevent any kind of choking. Stress Free Walks. Is it always a struggle trying to get your pet in most harnesses? Well, you'll love just how easy this step in harness is to put on! Simply have your dog walk into it with their front legs, attach a leash, and you're good to go. But what really makes this support harness a must-have is how secure it is.
We've fitted it with a strong Velcro closure and heavy duty metal D-rings for double security. So you'll never have to worry about your dog wiggling out of the harness while on your walks.
---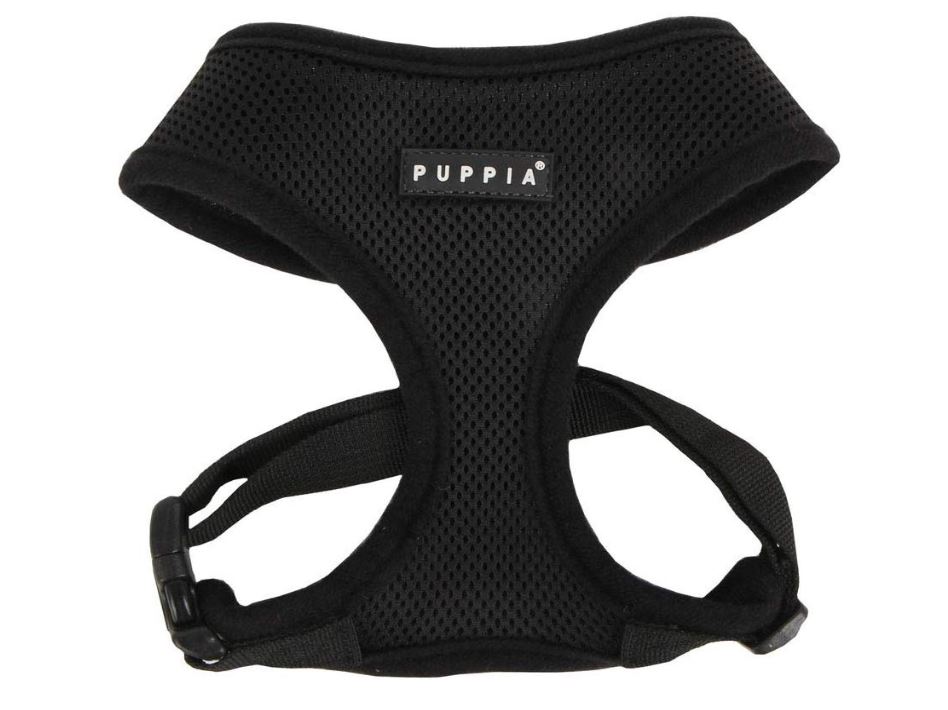 The Puppia Soft Black Trim Dog Harness is an easy-to-use everyday collar that provides ultimate comfort. Made for convenience and function, this lightweight harness features a comfortable neck opening and an adjustable quick-release chest belt with a D-ring for leash attachment. With super-soft air-mesh padding and a practical design, the Soft Dog Harness lets your four-legged friend stroll along with style and comfort on his daily walks.
Adjustable chest belt and quick-release buckle Comfortable padded neck opening. Machine washable, hand washing and air drying recommended.
---
FrontPet Heavy Duty Dog Lifting and Pulling Harness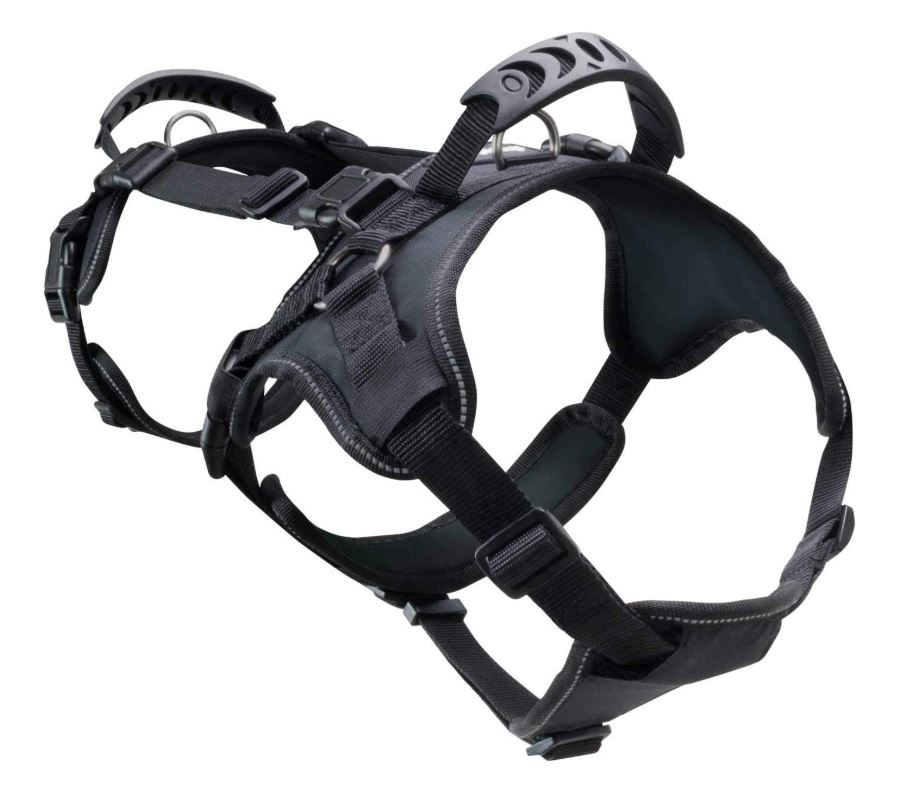 The Frontpet Heavy Duty Double Back Dog Harness is a strength-rated belay harness that gives your pet an opportunity to go areas that were previously difficult for dogs to access. Now you can share precious memories and adventures with them without worrying for their safety and security. This harness is made from premium, durable materials and have undergone strict quality control measures designed to safely lift and lower dogs in exposed areas.
It provides maximum comfort through several strap adjustment points to secure the right fit for your pet. You can now enjoy and share your climbing adventures with your dog as this is a strength-rated belay harness