Many cat owners realize that their pet has at least two distinct personalities: A stress-free cat might take a long nap by the fireplace, but when it's feeling anxious, it can become a blur of claws, hisses, and teeth.
Fortunately, there are a number of calming products on the market that will help a distressed cat become calm again, from natural oils to calming collars to herbal supplements. A dose of catnip can also be an effective mood equalizer. Some products work by boosting a cat's natural pheromones, while others work by reducing the "fight or flight" response.
If you are searching for a remedy for your feline's stress, you've came to the right place, we have summarized 8 of the best cat calming sprays, to help calm your kitty done.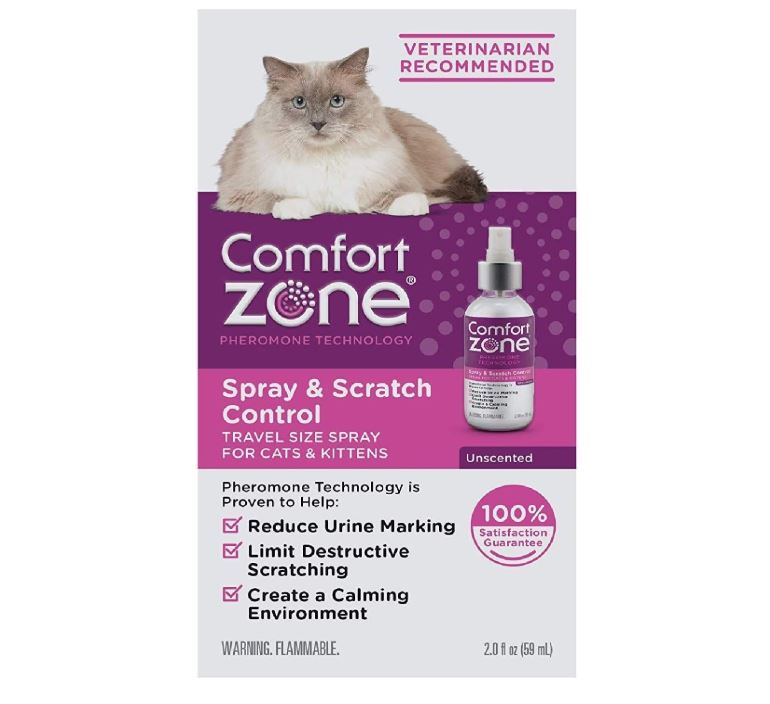 Help beat kitty stress with the Comfort Zone Spray & Scratch Control Calming Cat Spray. Feline stress can lead to all sorts of problem behaviors like scratching and urine marking. This easy-to-use spray works with a clinically-proven formula that "smells" like the natural soothing pheromones cats use in the wild to signal safety. Spray it at home anywhere your kitty scratches or marks, or even on beds, crates and furniture to help promote a more stress-free environment for your pal. It's also great for the car and even for the vet's office! Plus, it's totally safe to use and won't affect any other pets, including Fido—although he may also enjoy a more calm and relaxed kitty himself.
---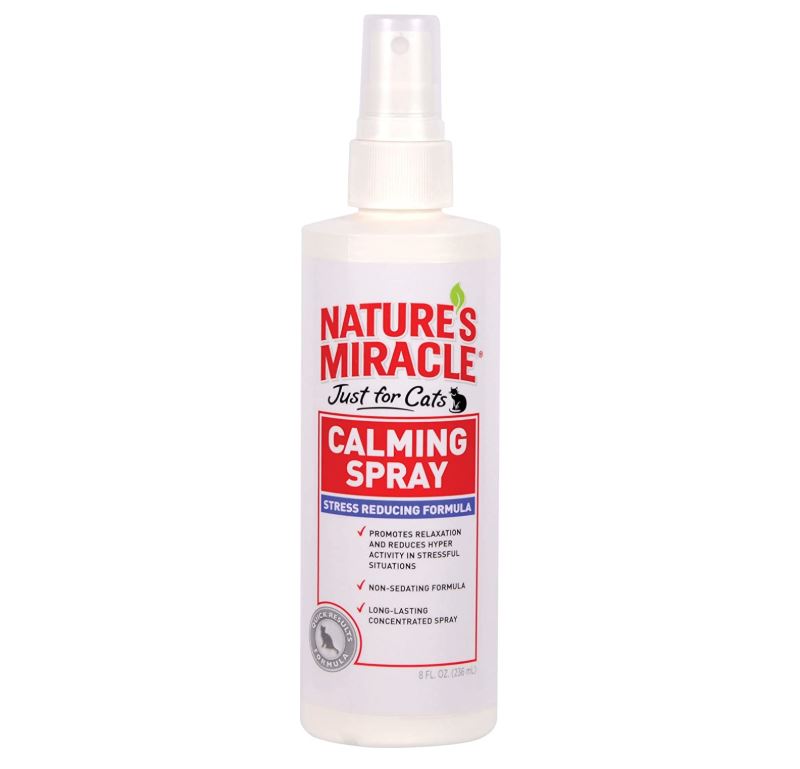 Nature's Miracle Calming Spray contains soothing scents which, when smelled by cats, help decrease anxiety. Cats are naturally skittish; the scents contained in Nature's Miracle Calming Spray help decrease stress caused by changes in pet's daily routine, such as separation and travel. The feeling of safety created by the scents will allow cats to relax without using sedatives.Take the stress out of tough situations with Nature's Miracle JFC Cat Calming Spray. This non-sedating formula has soothing scents that naturally calm cats and reduce hyperactivity.
---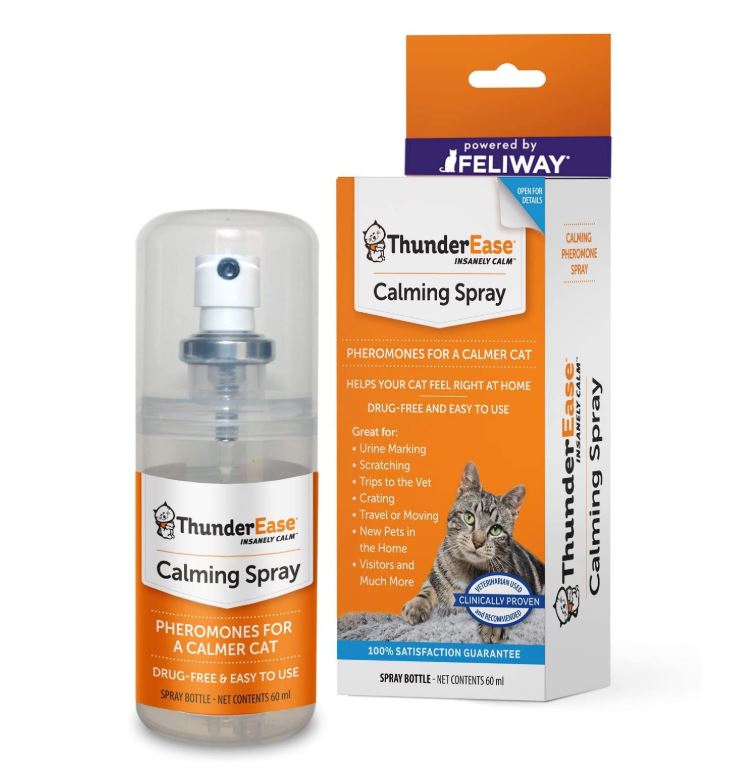 ThunderSpray mimics a mother's natural pheromones and provides relaxing fragrances of lavender and chamomile. It works great for any anxieties your cat may have, including vet visits, crating, car travel, fear of thunder, pet and owner separation, reactivity to other animals or people, or general fearfulness. This calming spray can be used as an area spray or it can be applied directly onto your cat's ThunderShirt. The soothing pheromones and fragrances will continue releasing for an extended period of time to keep her cool and collected. Works great for vet visits, crating, car travel, fear of thunder, pet and owner separation, reactivity to other animals or people, general fearfulness and other situations that cause anxiety and fear.
---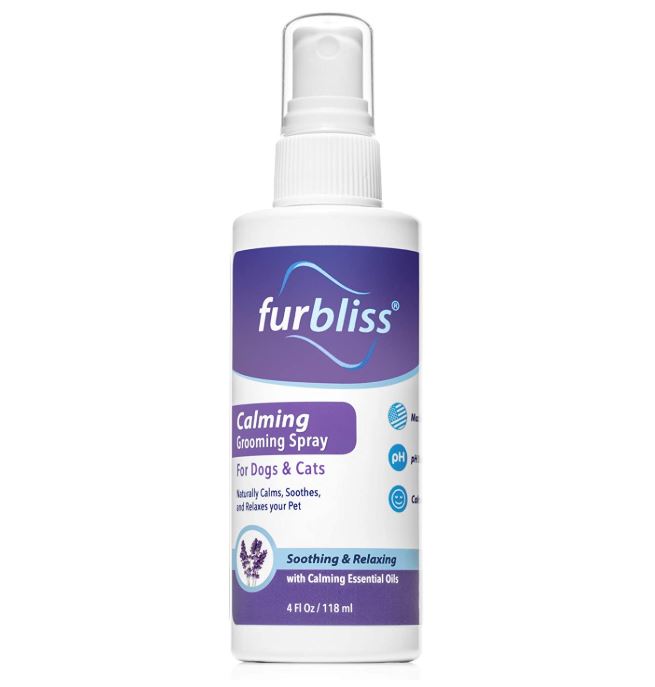 Keep calm and spray on! Furbliss Calming Grooming Spray is made in the USA to help keep dogs and cats relaxed with a calming blend of essential oils. It's especially useful during stressful situations like thunderstorms, vet visits, traveling, or unfamiliar places. The groomer- and vet-recommended formula also helps deodorize your pet's fur by combating unpleasant pet odors. This spray can be applied directly to your pet, on her collar, on her bed or almost anywhere you want to transform into a relaxing environment. Apply the Furbliss Calming Spray to your pets fur. For the ultimate effect, massage through using the Furbliss pet brush.
---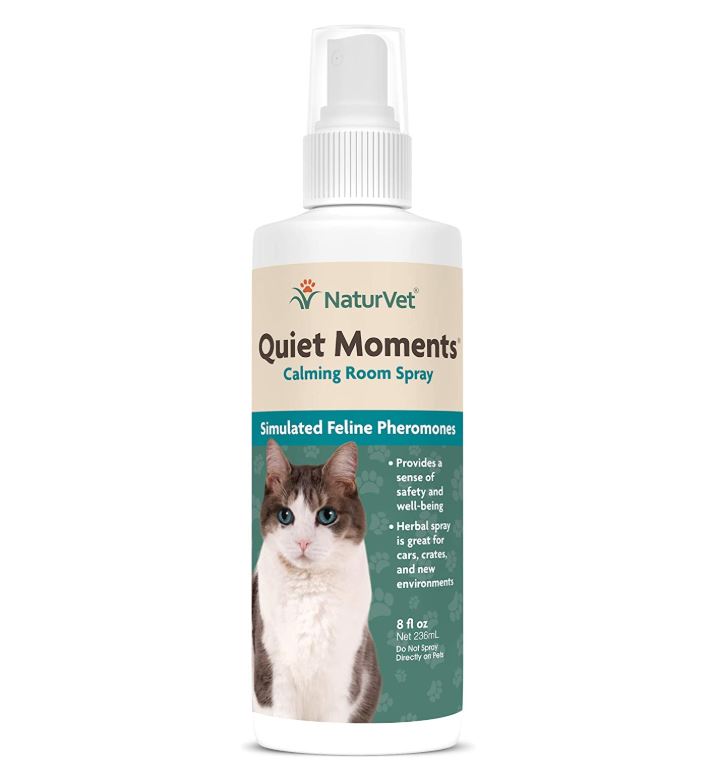 Quiet Moments Herbal Calming Spray stimulates feline pheromones that provide cats with a sense of safety and well-being. Formulated to simulate either canine or feline pheromones that provide your pet with a sense of safety and well-being. Recommended for use in cars, crates and cages, new environments, dog houses and pet beds. Suitable for cats and kittens 3 months and older. Easy to use, simply spray once daily into the area to be occupied such as enclosure, room, crate or car 5 minutes prior to pet entering. Simulated Pheromones effective for up to 8 to 10 hours. Natural products for naturally healthy pets. Herbal Calming Room Spray has a pleasant, light, fresh fragrance that will soothe your cat.
---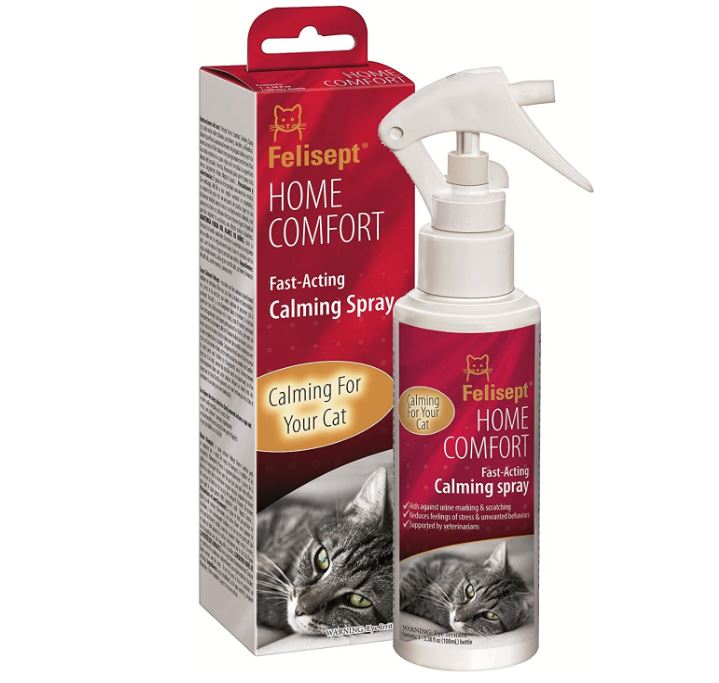 Encourage harmony at home with Felisept Home Comfort Cat Calming Spray, a fast-acting remedy that's designed to help your stressful kitty transform into one cool and collected cat. This tension-relief spray is made from natural ingredients that help to discourage negative behaviors that are associated with stress and anxiety that may be brought on by changes in the household or territorial conflicts. Unwanted behavior such as urine marking, hypersensitivity, frequent meowing and irritability can be addressed and relieved through this drug-free mix that offers a tranquil solution for less-than-great cat-titudes, whether you're on-the-go or at home.
---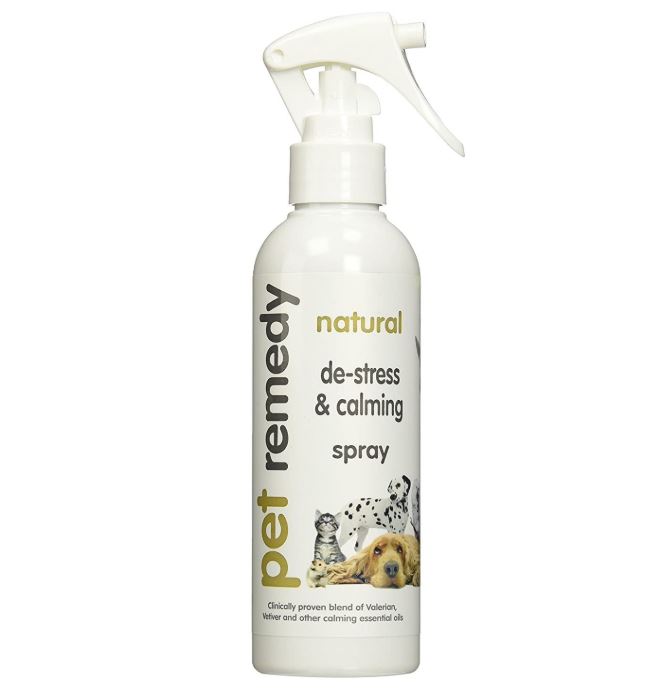 Pet Remedy Natural De-Stressing and Calming Spray for Pets soothes anxious pets with a convenient all-natural spray. Pet Remedy works with the brain's natural relaxation pathways to help calm nerves with a clinically proven blend of valerian, vetiver, sweet basil and sage. Simply spray in your pet's favorite spots or in the car for instant stress relief at home or on the go. It can also be sprayed onto your clothing to relieve anxiety when walking difficult dogs or welcoming a new pet to the household. Water based, pH neutral formula, and is safe on skin and coat of pet.
---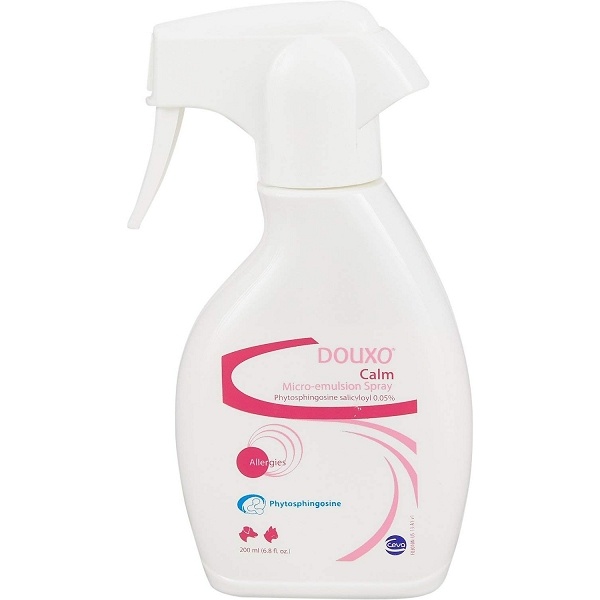 Douxo Calm Micro-emulsion Spray contains active ingredients that work together to manage irritations, restore the skin barrier and control the local flora. The micro-emulsion spray technology allows for the active ingredients to mix into the surface lipidic film for optimal diffusion and persistence, without leaving the hair wet or sticky. Contains hinokitiol, a natural antibacterial and anti-fungal agent which aids in controlling allergic dermatosis. With raspberry seed oil for its richness in Omega-6 fatty acids and antioxidant tocopherols nourish the skin. Micro-emulsion spray is optimally diffused and absorbed immediately by the skin, providing quick relief for you loved one.