Dogs are energetic creatures, they like to ran, to bark, to play and of course, to ride in the car! No matter where they're going, some dogs simply love a good car ride. However, did you know that riding in the car can actually be dangerous for our dogs if they are not properly secured? Furthermore, dogs can be huge distractions to their owners while they're driving, especially if they're allowed to run around and jump as they please. Just as you are required to secure your baby, it is always a good idea to but your dog in a safe spot, for his own good, and for yours.
We reviewed dozens of dog seat belts to find the best of the best. No matter how big or small your dog is, you will find the right seat belt from this list.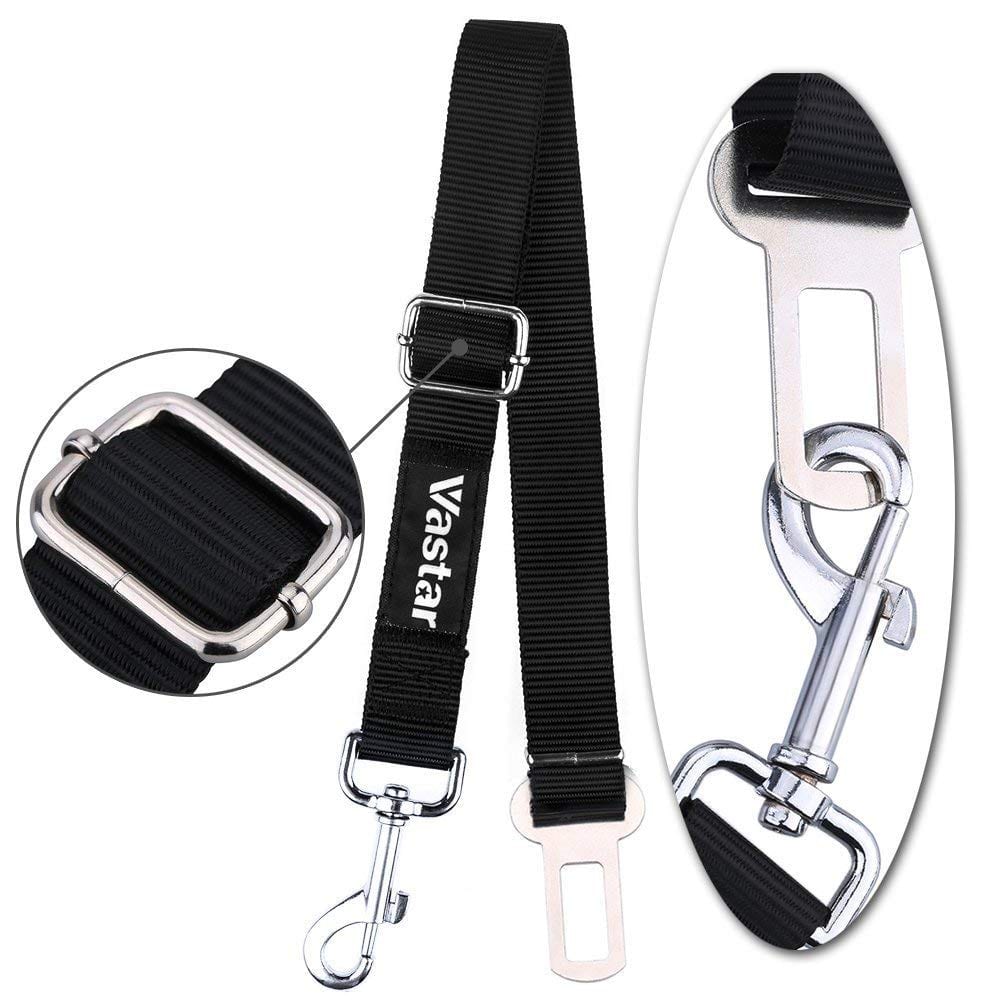 Manufactured from high quality nylon fabric, Vastar's adjustable pet seat belt is also available as a single unit if you don't need a pair. These seat belts feature solid zinc alloy swivel snap and metal buckles for durability, while the hassle-free seat belt clip design will easily latch into your car. They are available in a variety of different colors, including black, blue, fluorescence green, fluorescence orange, pink, and red. Vastar's product is also adjustable, ranging from 19.68 inches to 32.28 inches.
One thing to notice is the seat belt does not work with every vehicle, it will best to checkout the compatible vehicle types before you make the purchase.
Check Price on Amazon
---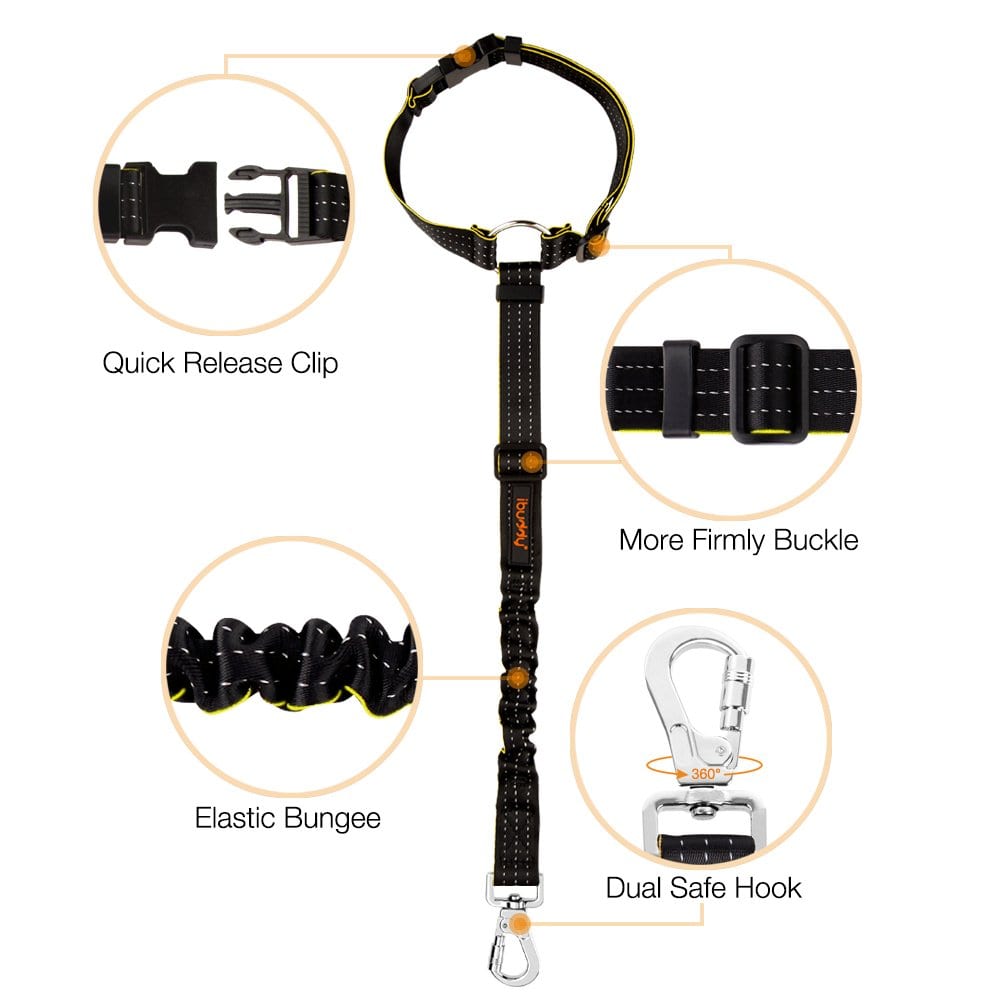 The iBuddy Dog Seat Belts for Car has all the features you should want in a dog seat belt. It secures your dog firmly to wherever you snap it in at, keeping them from jumping out of the car and distracting you while you're driving. It prevents them from jumping into your lap, licking you, or otherwise pulling your attention off of the road and also keep them damaging vulnerable areas of your car.
Unlike some dog seat belts, this one not only keeps your pet confined to one area but also puts their safety first. An elastic buffer design prevents the belt from unnecessarily pulling on your pooch during sudden braking or sharp turns.
Check Price on Amazon
---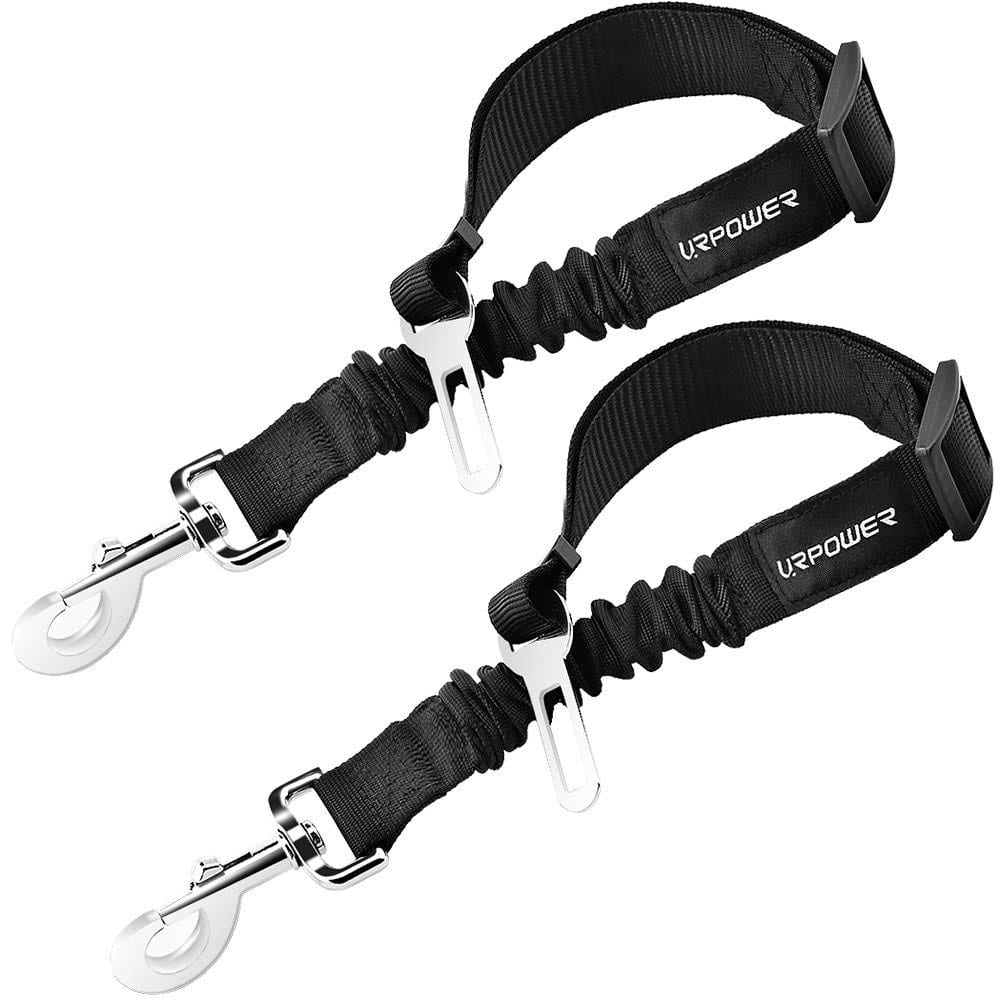 The large majority of dog seat belts are designed to fit a very specific size dog. If you have more than one dog or a puppy that you expect to grow quite a bit more, you usually must buy multiple sizes. Buying multiple dog seta belts adds up very quickly, especially if you have a puppy that is going to need a wide range of sizes before he or she is grown. To get around this problem, purchase the URPOWER Upgraded Dog Seat Belt. This dog seat belt is designed to be one-size-fits-all. It is extremely adjustable and can reach anywhere from 24 inches to 31 inches. This feature allows it to be used with both small dogs and large dogs; you simply adjust the seat belt to work with your dog's size, and you're good to go.
Check Price on Amazon
---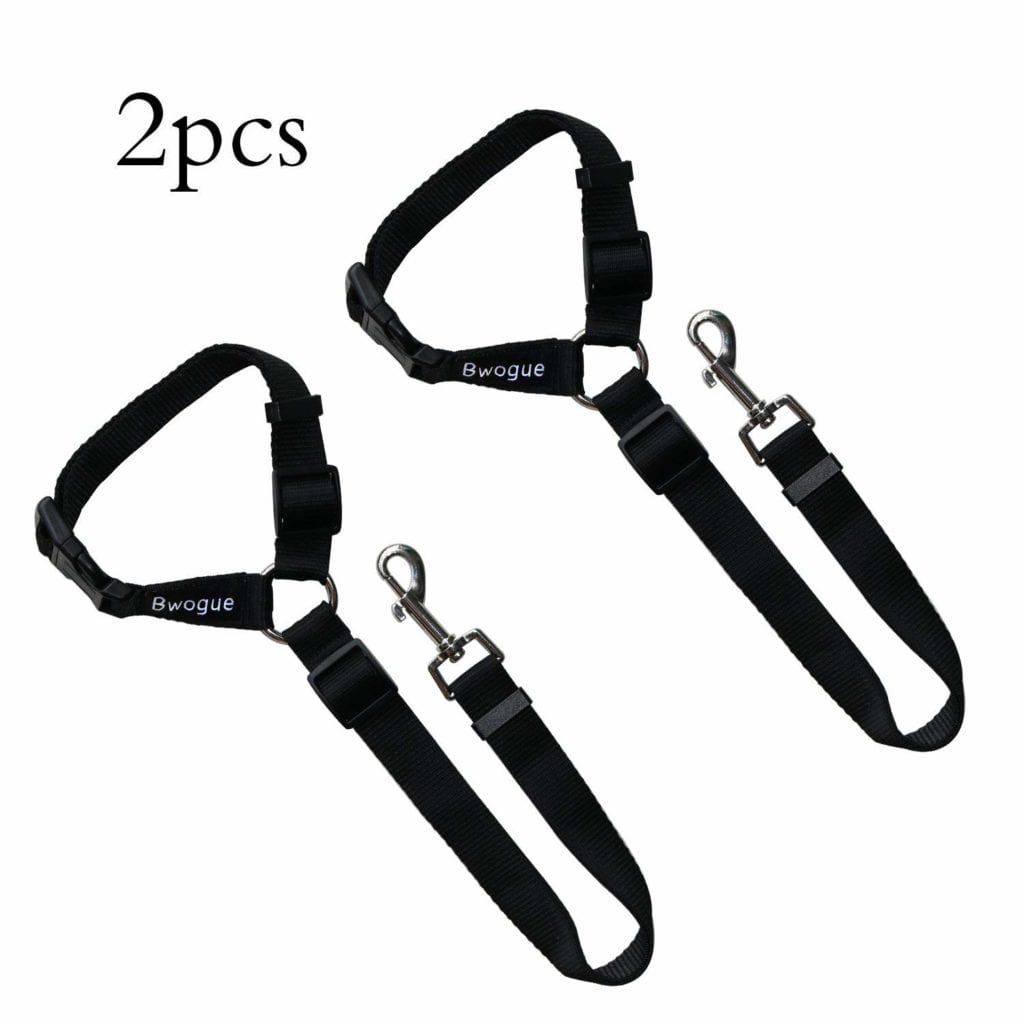 This dog seat belt is extremely adjustable, which means that it can grow with your puppy. Many puppy owners put off purchasing a dog seat belt because they know that their puppy will outgrow it in a matter of weeks. But, this dog seat belt is designed to be easily adjustable and can easily be made to fit your puppy's size as they grow into adulthood. Now, you don't have to put off keeping your pooch safe in the car. You can purchase this dog seat belt and use it no matter how big they grow.
Check Price on Amazon
---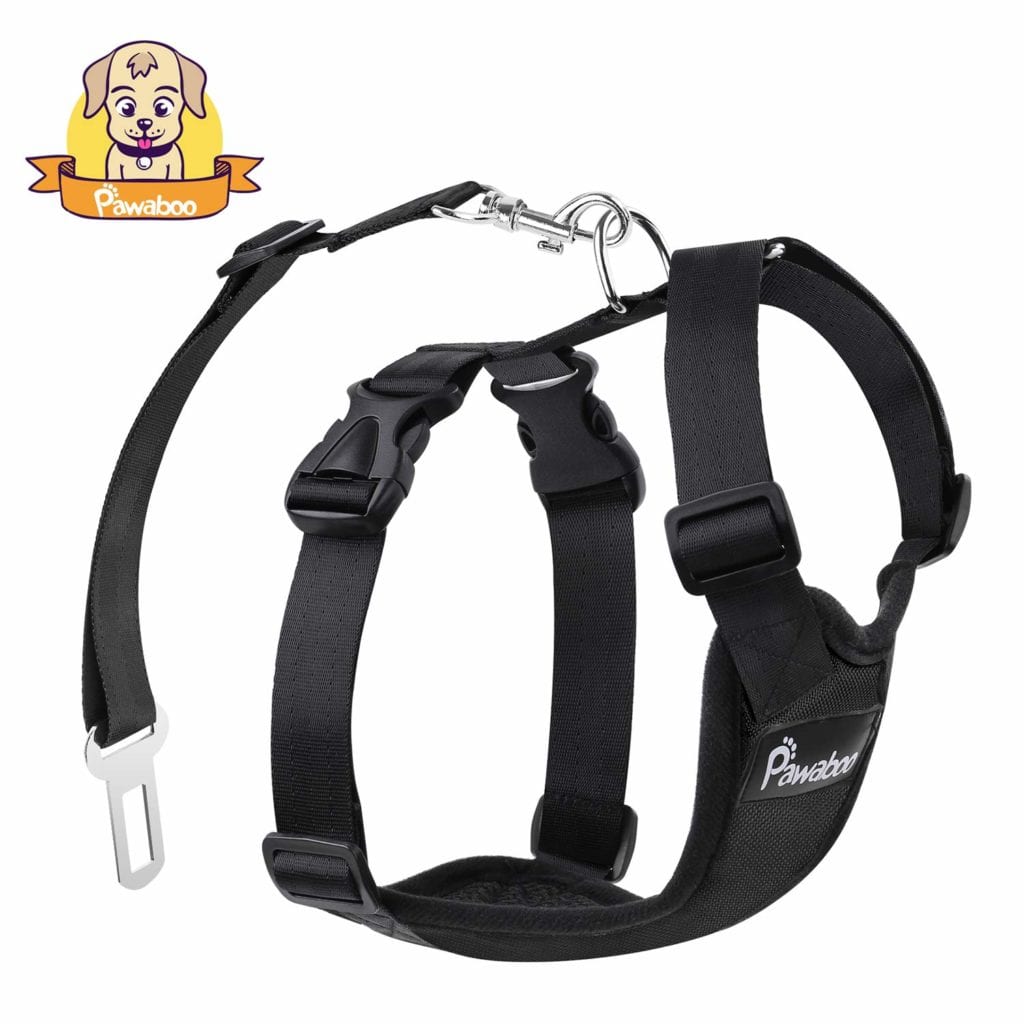 If you're looking for an all-in-one solution, Pawaboo offers a safety vest harness with adjustable car seat belt. The product is available in four sizes depending on your pet: small, medium, large, extra large. You can also choose from a variety of colors and styles including black, red, navy blue and white, red and white, rose red grid, blue grid, red with U.K. flag, blue with flags, pink with U.S. flag, and gray with U.S. flag.
The harness is made of oxford fabric and is 100-percent polyester, so it's durable, lightweight, and soft. A broad sponge padded chest plate adds extra protection and comfort for your dog.
Check Price on Amazon
---
Kurgo Dog Seat Belt Pet Safety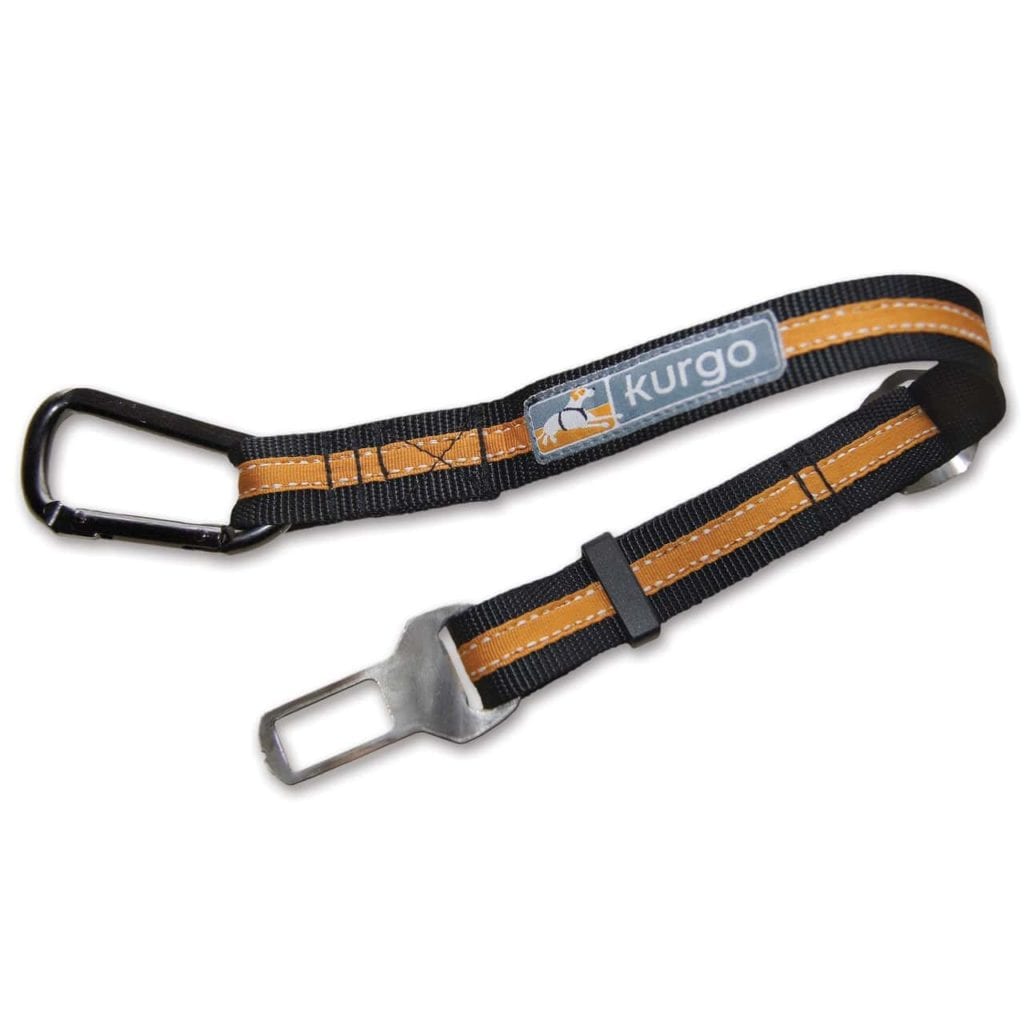 A more basic option is the Kurgo dog seat belt, available in black/grey, black/orange, blue, and red. This tether is designed to keep a dog secure in place with limited movement without straining it and can be used with any harness. The seat belt extends from 15 inches to 22 inches and the tether is designed to be a universal fit, although the company confirms it is not compatible with Volvo vehicles and is not recommended for Ford trucks. Like other pet seat belts, this one clicks into your car's seat belt attachment for easy installation.
This seat belt uses a carabiner to attach to your dog's harness and comes with a lifetime warranty against manufacturer defects when purchased new from an authorized dealer.
Check Price on Amazon
---
SlowTon Dog Car Harness Plus Strap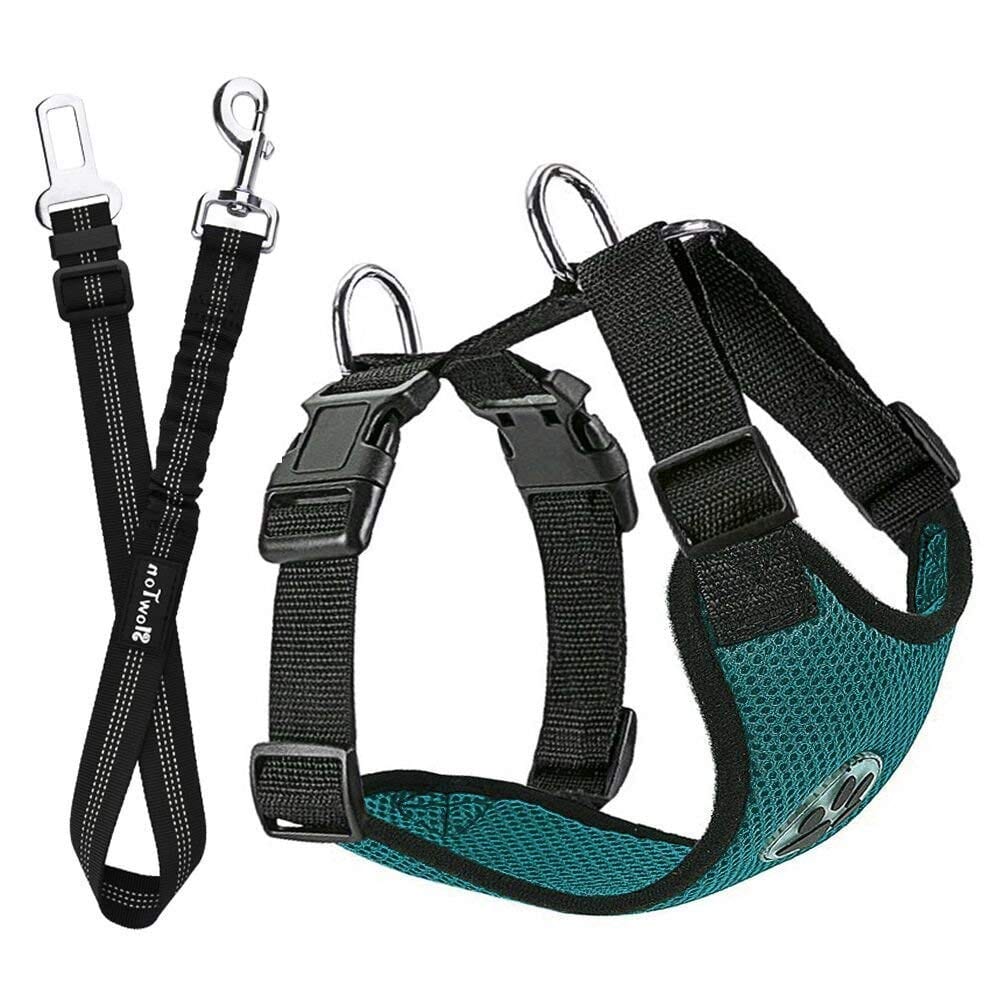 The harness and straps are made of double mesh fabric with a flannelette edge to absorb moisture so the harness is comfortable and breathable for your pet. The harness is easy to put on with two buckles on the chest straps and it can be easily adjusted for comfort. The seat belts are also adjustable and easy to attach.
The seat belt itself is said to be compatible with most vehicles, although Slowton doesn't specifically say which vehicles it doesn't work with. Since it uses a similar belt buckle as other products on the list, expect it to have the same compatibility issues with vehicles listed for those seat belts.
Check Price on Amazon
---
Blueberry Color Dog Collar Collection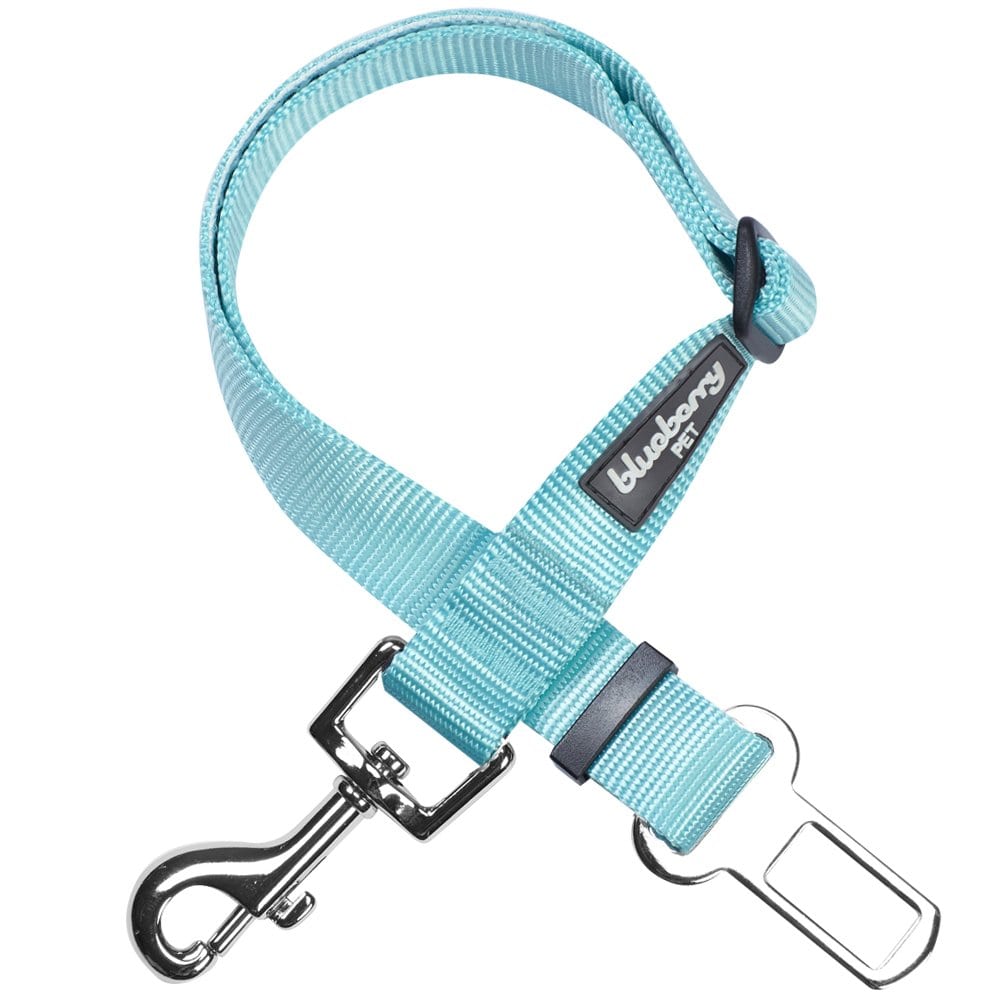 Available as a single unit or as a two pack is Blueberry Pet's seat belt. Buyers can choose from a wide assortment of colors, including baby pink, yellow, dark orchid, emerald, orange, pink, medium turquoise, mint blue, neon green, and royal blue. This seat belt can be adjusted from 16.5 inches to 25.5 inches and is 1-inch wide. It is designed to fit most vehicles on the market, but Blueberry Pet does note that it is not compatible with Volvo cars.
Installation is fairly straightforward, simply plug the seat belt into your seat belt receptacle. This product is manufactured from nylon materials and is machine washable in cold water, on the gentle cycle.
Check Price on Amazon
---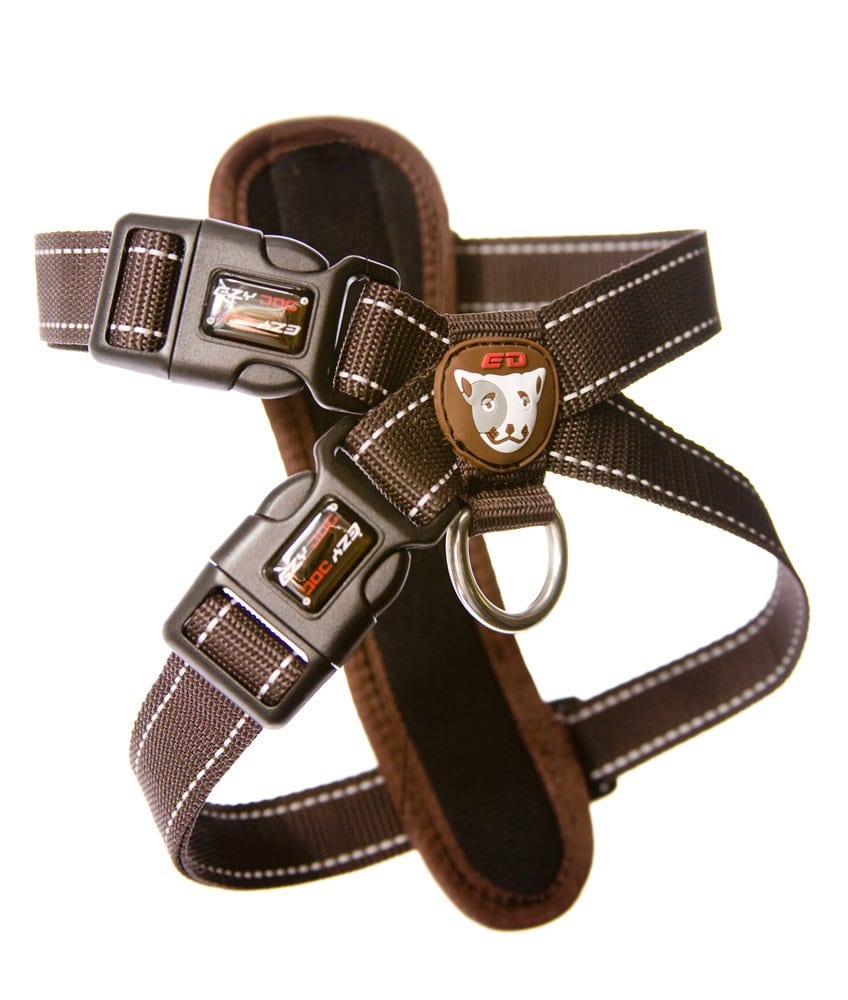 This dog car harness features an ergonomically designed EVA foam chest plate. The harness design is what really sets this product (and the Sleepypod harnesses, featured below) apart from the traditional dog seat belt.
When you use a traditional seat belt, you can choose any harness that you want, but you don't get that option with these products. There are two adjustment points to ensure you get a proper fit for your pooch. The EzyDog harness can be worn as an everyday walking dog harness, which is a huge benefit for owners that frequently take their dog with them in the car.
Check Price on Amazon