Unlike dogs, you can use treats to train them to behave, cats would view the treats as tribute, worship from their loyal servant. As a real cat addict, you want to make sure to pick the treats carefully, that the treats are delicious and nutritious.
Because there are so many cat treats out there, choosing the right one can be difficult and time-consuming. Fortunately for you, we've scoured the reviews and selected the best cat treats on our feline friends to bring you our top picks.
These delicious, crunchy morsels feature the paw-sitively irresistible taste of real chicken along with a unique shape that helps scrape away plaque and tartar as she chews for cleaner teeth and fresher breath. Chicken meal is the first ingredient for real chicken protein that enhances the taste and promotes healthy metabolism.
Key Features:
Feature a unique shape that helps scrape away plaque and tartar as she chews.
Promotes healthy teeth and gums by supporting good oral hygiene between regular brushings.
Made from natural, healthy ingredients with just 1.39 calories per treat for guilt-free snacking any time of day.
---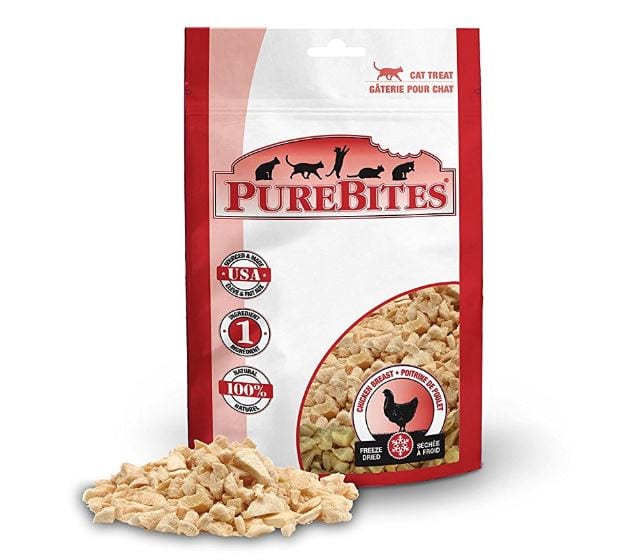 Featuring just one ingredient—chicken breast—they're 100% pure and natural. Made by using a delicate freeze-drying process, which removes the water, but preserves the raw nutrients, aroma, flavor, texture and freshness your cat craves. They're naturally high in protein and only two calories per treat. And because they only include one ingredient, they're great for cats on a limited-ingredient diet and cats with food sensitivities. Proudly sourced and made in the USA, you can feel good about giving these chicken breast treats to your feline pal.
Key Features:
High-protein and low calories only 2 calories per bite
Grain-free treats can easily be broken into smaller pieces
Naturally gluten-free treats have only one ingredient—ideal for cats with food sensitivities or on a restricted diet
---
These unique little pocket-shaped rewards have an irresistible crunchy outside and a soft and creamy inside with the savory taste of tuna, shrimp and salmon flavors. These Temptations treats are 100% nutritionally complete and balanced for adult cats and are just under 2 calories per piece. Shake the bag or tub to capture your cat's attention and watch her run towards you with pure excitement, ready for her next reward!
Key Features:
A variety of textures with a crunchy outside and a soft and creamy inside
Crafted with vitamins and taurine—an amino acid that helps support your cat's overall health and well-being
Grain-free treats can easily be broken into smaller pieces
---
As a great, economical cat snack choice, the Blue Buffalo Wilderness Treats are the best value for the money. The entire set comes with four different packs made up of chicken and other meats. Chicken and duck, chicken and turkey, chicken and trout, and chicken and salmon are the four primary flavors you can choose to vary the flavors each day or at any other time.
Key Features:
Variety of flavors: Chicken & Duck, Chicken & Trout, Chicken & Salmon, and Chicken & Turkey
No artificial preservatives, colors or flavors – Free from by-product meals
Soft & Moist – Contains no corn, soy, or wheat
---
Made with high-protein salmon as the first ingredient plus wholesome goodies like peas, blueberries and cranberries, it satisfies your pal's munchies while adding a boost of nutrition in every crunchy bite. Plus, the crunchy texture supports healthy teeth by helping to scrape tartar and clean teeth as your kitty chews. And at less than 2 calories per treat, it's great for anytime snacking or anytime your buddy deserves a scrumptious reward. Give them straight out of the package or toss them to give your kitty the tasty thrill of the chase!
Key Features:
All-natural and grain-free crunchy treats are made with protein-rich salmon as the first ingredient.
Made with only wholesome ingredients like chickpeas, peas, cranberries, blueberries, salmon oil, flaxseeds and more.
Teeth-cleaning crunch helps support fresh kitty breath and dental health with every tasty bite.
---
Vital Essentials Vital Minnows Freeze-dried Cat Treats satisfy your cat's carnivorous cravings with a healthy single-protein treat. It's made with only fresh, whole single-sourced minnows that have been freeze-dried to preserve vital nutrients without cooking or over-processing. These healthy protein-rich treats are grain-free and full of flavor, which makes them a great option for snack time.
Key Features:
Made out of a single source protein with no added hormones, antibiotics, fillers or flavorings.
Packed with nutrient rich raw meat for overall health and vitality.
No synthetic vitamins or minerals.
---
Your kitty will be saying Me-WOW when he tastes the Friskies Party Mix Crunch Original Cat Treats. It packs whisker-licking flavor that's sure to impress even the pickiest connoisseur, with chicken, liver and turkey in every crunchy bite. Give them straight out of the tub or toss them to watch your pal run after the can't-get-enough scrumptiousness. He won't mind working for these irresistible treats! Plus, your kitty is sure to appreciate the mega-size tub that'll have him coming back for more.
Key Features:
Packs the sensational meaty flavor cats love in every crunchy bite.
Flavored with chicken, liver and turkey to delight even the pickiest kitties.
Fun-shaped treats are great for tossing so your kitty can work for it, and are easy to grab with his paws.