Stinky breath in your dog isn't pleasant, and it's more prevalent than you might imagine. It could be a simple symptom of something they've eaten or an upset stomach, but it might also be a sign of bad dental care. Dogs, like humans, can suffer from plaque and bacteria buildup in their mouths, which can cause poor breath, gum disease, and even tooth decay.
but not all dogs are up for a dental cleaning sessions and, for some really bad cases of doggy halitosis, you may need something more than a toothbrush or a chew stick. So, when it comes to taming that bad breath and preventing it from returning, adding a dog dental spray to your pooch's oral hygiene routine should do the trick.
After conducting extensive research, we have identified ten of the best dog dental sprays that are both economical and easy to use, as well as being suggested by veterinarians for your pet's oral health.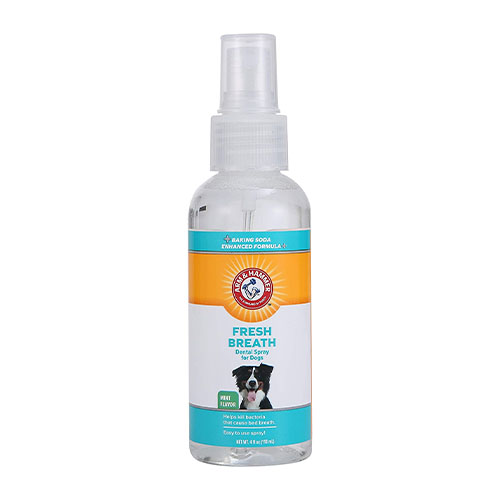 Who said your dog's dental routine has to be difficult? With Arm & Hammer's Dental Fresh Breath Dog Dental Spray, supporting white teeth and fresh breath is easier than ever! Just spray one to two pumps on each side of your dog's mouth, directly on his teeth and gums, and let the gentle but powerful baking soda work its magic. Not only will the naturally derived ingredients in this spray help brighten teeth and freshen breath with a refreshing mint flavor, but they will also help your pup maintain clean teeth and healthy gums!
---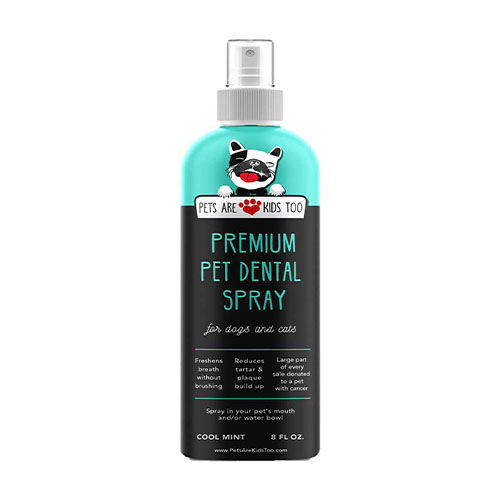 Help support your precious pet's dental health and give him naturally fresh breath with Pets Are Kids Too Premium Pet Dental Spray & Water Additive for Dogs & Cats. This highly-effective, great-tasting spray contains natural ingredients with antiseptic properties that don't just cover up stinky breath—they work at an enzymatic level to help eliminate the root cause of bad breath, plaque, tartar, bacteria and periodontal disease. Simply spritz directly into his mouth daily, or add it to his water bowl, to give your furry friend sweet-smelling, kissable breath, along with healthier teeth and gums.
---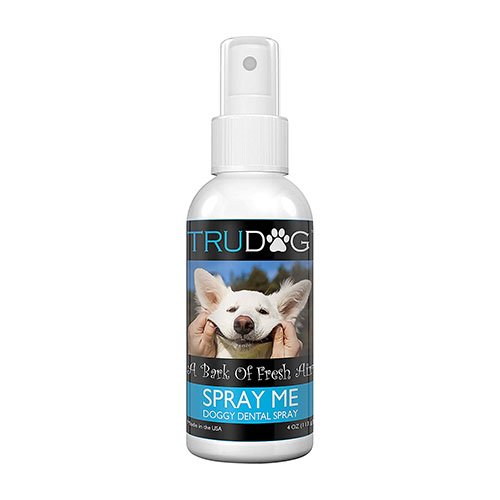 Is your good boy suffering from bad breath? Ditch the cumbersome toothbrush for TruDog Spray Me Dental Spray! Simply spray in your dog's mouth one or two times, ideally before bedtime, and it will start to work breath-bettering magic. By bonding with your dog's saliva, it targets plaque, tartar and bad breath throughout the entire mouth. This all-natural, holistic product is made with essential oils and features freshening ingredients like peppermint oil, as well as bacteria-fighting ingredients like grape seed extract and neem seed oil.
---
Help support your furry friend's oral hygiene with VetSmart Formulas Total Oral Care Aloe Vera Dental Health Dog & Cat Spray! This tasty solution contains natural plant extracts including peppermint, cloves and cinnamon to help fur-eshen bad breath on contact and help prevent tartar and plaque buildup which can lead to tooth decay and even oral disease. It's recommended by veterinarians and made without any harsh chemicals or alcohol. Oral disease can lead to other serious health issues like heart disease, lung disease, liver disease and more, so keeping up with it is key! And with a solution as easy as this, maintaining your pet's oral healthy is a cinch!
---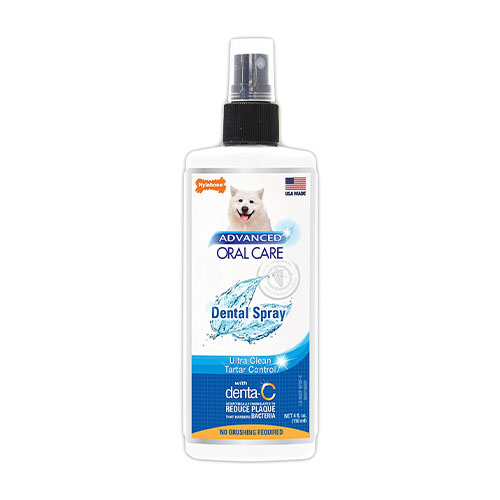 There's nothing more important than keeping your dog happy and healthy–and preventative dental care is an essential aspect of your furry friend's overall wellness. That's why Advanced Oral Care pet dental products are specially designed to make at-home dental care stress-free. It help prevent bad breath, reduce plaque & tartar buildup, and promote healthy gums with our veterinarian-recommended solutions. Tasty toothpastes in flavors dogs love. High-quality toothbrushes designed to gently clean hard-to-reach areas. Simple-to-use and effective dental liquids—no brushing required!
---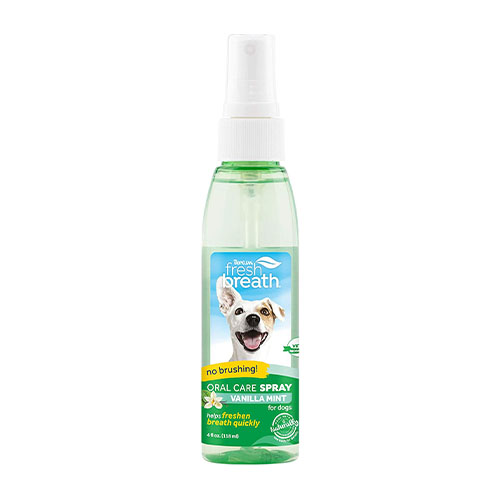 Give your pup's mouth a spritz with TropiClean's Fresh Breath Vanilla Mint Oral Care Dog Spray! This bad-breath fighting formula is made with natural ingredients like purified water and green tea leaf extract and has a tasty and refreshing vanilla mint flavor! The best part about this spray is that there's no brushing required—simply remove the cap and press on the nozzle to release an even mist into your canine companion's mouth. Your dog will love the taste and you'll love knowing that this spray is recommended by veterinarians!
---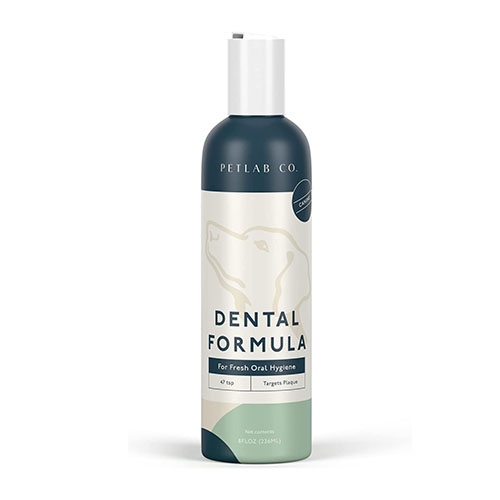 Help keep your dog's teeth and gums in check without the hassle or discomfort with Petlab Co. Dental Formula Dog Supplement! This mouthwash is designed for everyday use and is so easy to use—simply add it to your canine companion's water each day (follow the feeding guidelines for optimum results). This tasteless dental water solution, includes sodium benzoate and sodium bicarbonate to support clean teeth. Your dog won't even notice it's there! Spend less time with toothbrush struggles and more time with fresh breath and cuddles!
---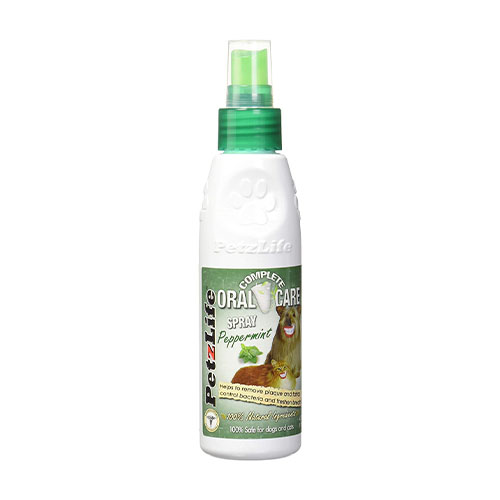 Just like humans, dogs and cats need regular dental care to ensure their teeth and gums are healthy. But sometimes brushing can be a hassle. Fortunately, PetzLife Oral Care spray makes caring for your pet's teeth quick and easy…with no brushing required! This spray features all-natural ingredients such as grape seed extract oil to break down plaque; neem oil to remove tarter; and thyme oil to kill the bacteria that causes your pet to have bad breath. PetzLife Oral spray also heals gum tissue and helps to reverse gum disease. Simply apply the recommended amount to your pet's teeth and gums and anticipate clean-mouth results in about 30 days.