Unlike people, your pup does not like wearing little booties when is chasing around, they like to play in the dirt and mud — that's natural. While you may not mind if your pooch gets a little dirty, you certainly don't want him tracking dirt all over your home. For that matter, cleaning your pup's paws does not only help keep your home cleaner, it'll also help keep your pup's feet healthier too. It may seem like a silly task for some, but it's a responsibility that you should take seriously since paws do get damaged, dry, irritated and so forth. A great dog paw wash can help keep your canine's pay from of dirt, debirs and unpleasant odors.
In this article, we will look at some of the best dog paw cleaners and paw washers available in the market that can help in capturing the mud and muck off your canine's paws and keeping your pet healthy and house clean.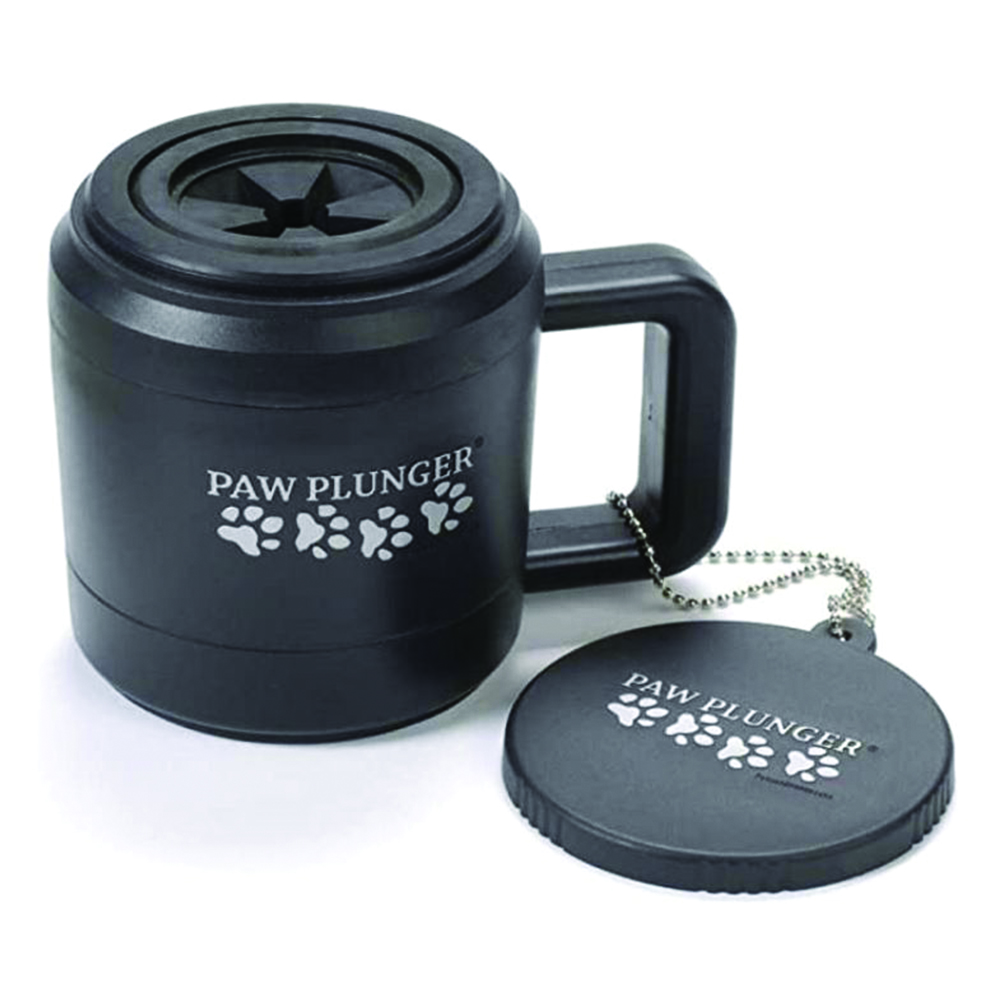 The Paw Plunger gently and safely cleans paws before your pup cleans them on your best rug, clean sofa, or freshly mopped floor. It gently removes mud, dirt, snow, and that paw-irritating winter salt before your best friend jumps on your white sofa! It's easy to use, safe, and is great for all seasons – spring, summer, fall, and of course, winter, where ice and snow-melting chemicals burn and sting those delicate paws. The Paw Plunger will save you a fortune on dry cleaning, rug steam cleaning, and cleaning products…not to mention your valuable time!
---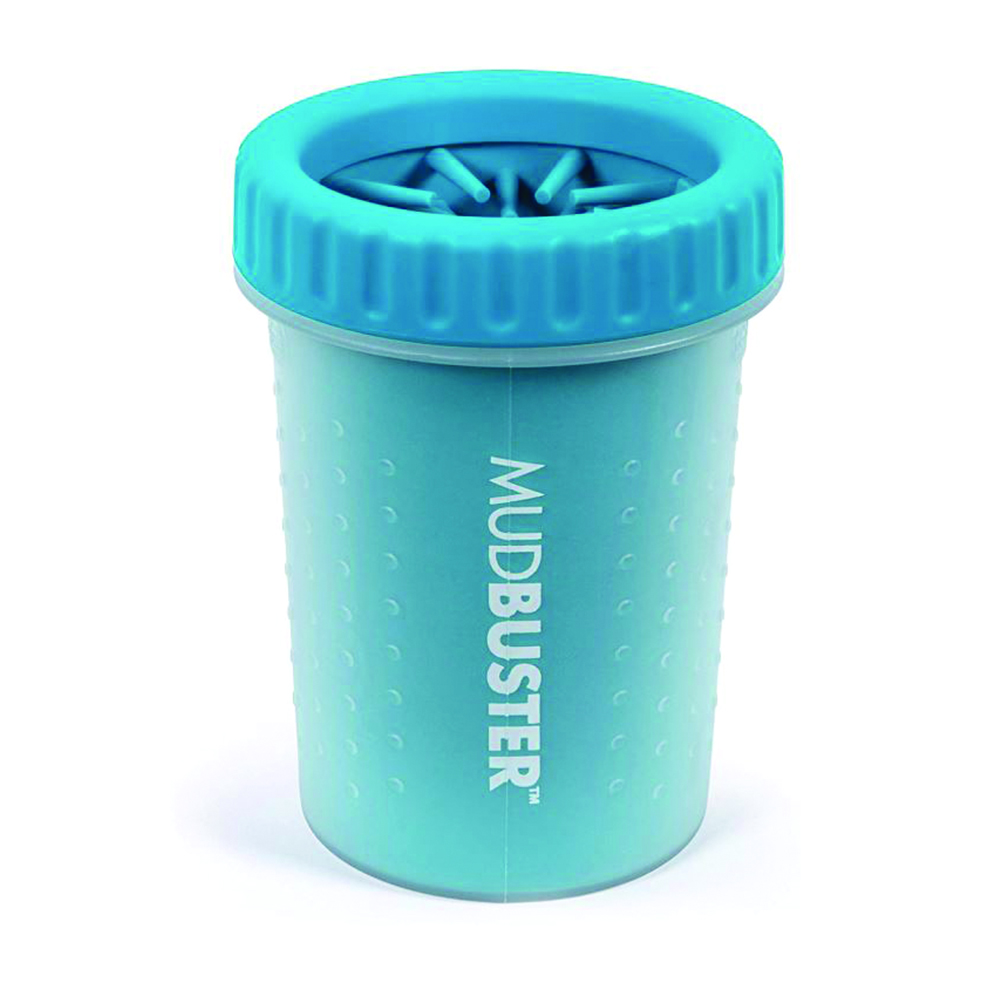 Never fear your adventurous pup's dirty paws again with the Popware for Pets Dexas MudBuster Portable Dog Paw Cleaner. Now your best friend can have all the muddy, sandy fun he wants without tracking it into your home or vehicle. The Mudbuster features soft, thick silicone bristles inside an easy-to-grip BPA-free tumbler that works like a miniature agitation washer for his paws. Just fill the tumbler with water, insert his dirty paw, give the tumbler a few twists, and pull out a perfectly clean paw. Repeat three more times, dab them dry and you're good to go! Both the tumbler and bristles are top-rack dishwasher safe for easy cleaning and sanitizing.
---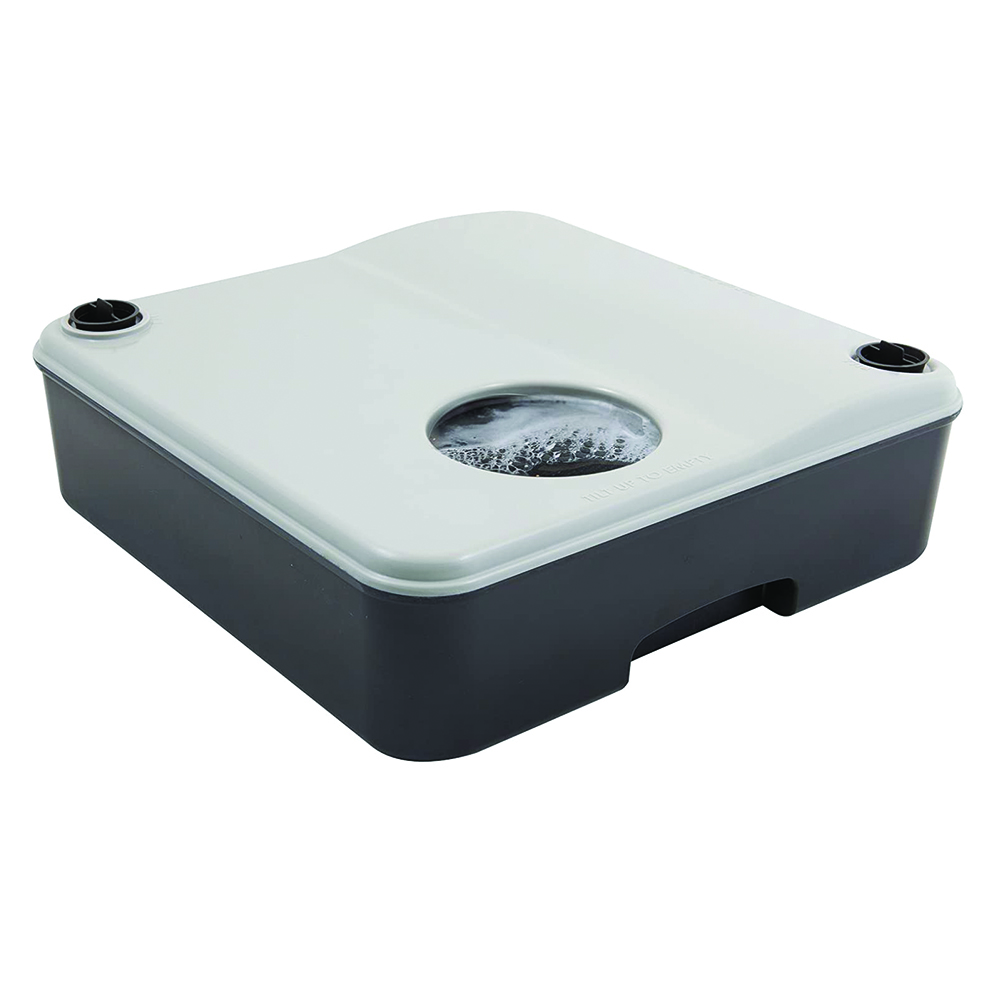 Paw Boss is a brand new patented paw washing device designed to "soap and soak" every paw with fresh clean soapy water without going back and forth to the sink. It has built-in clean and dirty water reservoirs which allows you to fill the Paw Boss with clean soapy water then simply tilt the Paw Boss in different directions to fill and & empty the paw washing cup. Insert your dog's paws in the paw washing cup and completely submerge that dirty paw back and forth over the soft finger-like cleaning pad to remove the mud, dirt, germs & allergens. What makes this product work so well is the fact that you can wash multiple paws with fresh clean soapy water without constantly going back and forth to the sink for clean water.
---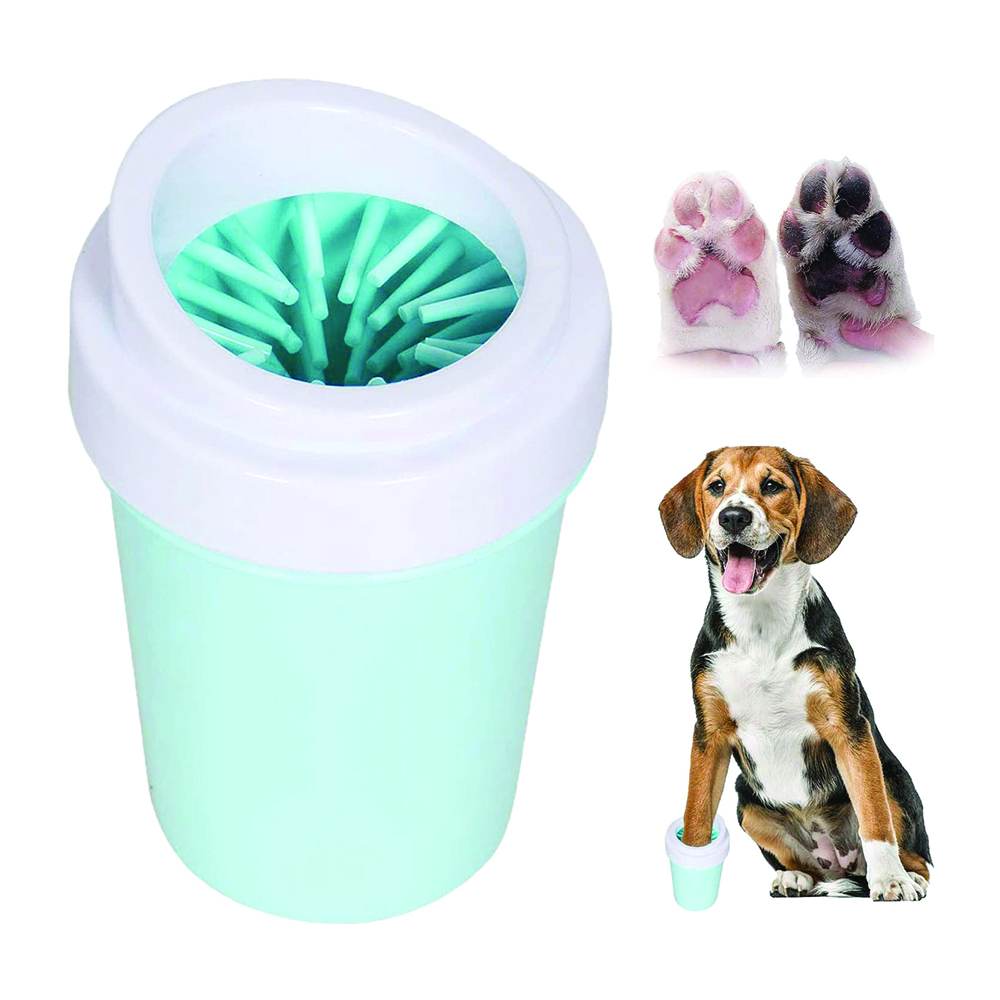 The dog muddy paw cleaner are made of solid high-grade plastic and are very easy to clean. Components can be disassembled in seconds. Silicone bristles of pet paw cleaner for dogs can clean paw gentle and effectively, cleaner wet pelican paw. Keep your house away the dirty footprints. Completely safe and painless, portable dog paw cleaner suitable for apartments, vacation, family, office, hiking and camping. Outdoor and Indoor also can use. Easy to use and carry, the paw washer cup is easier to disassemble and install than the serrated mouth dog paw cleaner.
---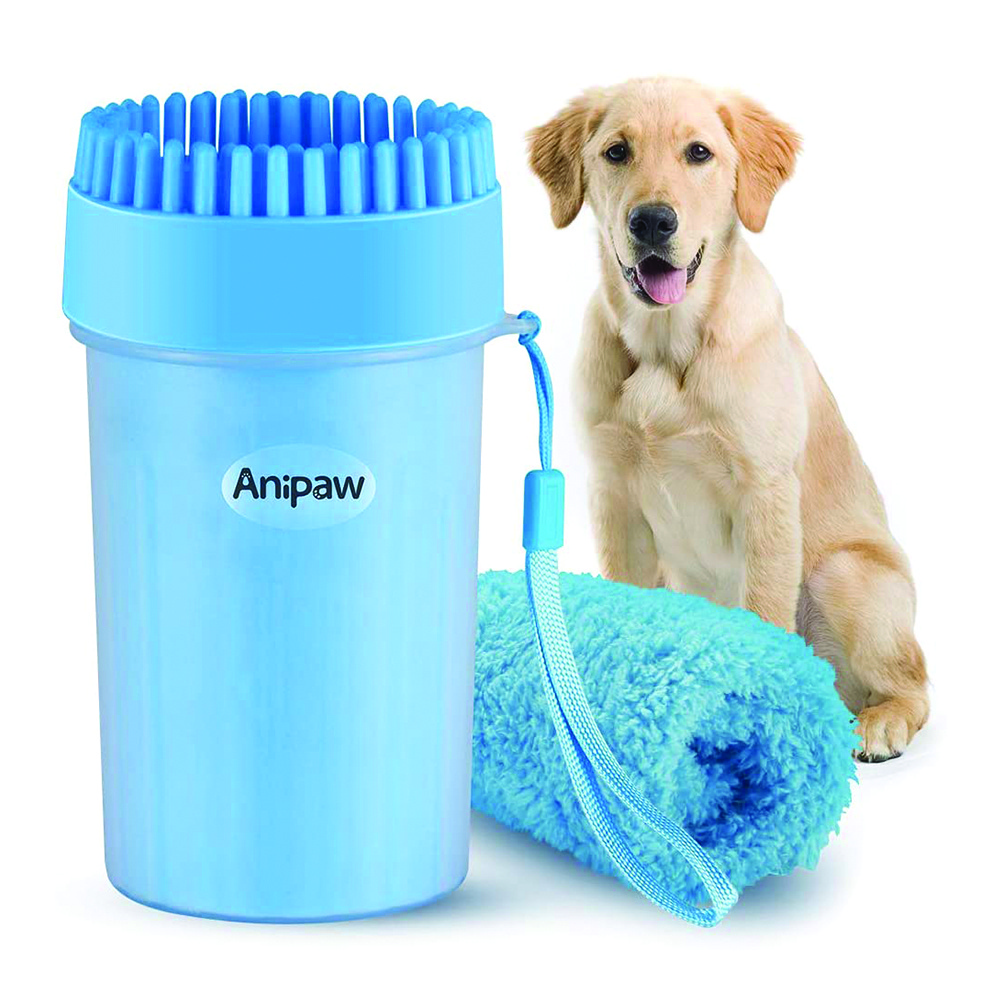 This Paw Cleaner has a lanyard design that is easy to keep behind the door or in front of the door when you bring the dog back inside. Smaller and more portable. They are designed to walk with you, giving you the opportunity to wash the puppies' claws as needed. The multi-layered and extra soft quickly, and gently remove dirt hidden in the paw nails, pads and from the lower leg leaving your dog with clean paws. They won't irritate or injure your dog's paws, making your dogs clean and keep your house clean. Comes with a soft absorbent towel, can help you dry your pet's paw and body, prevent your pet from catching a cold or walking on your floor and blankets with wet feet.
---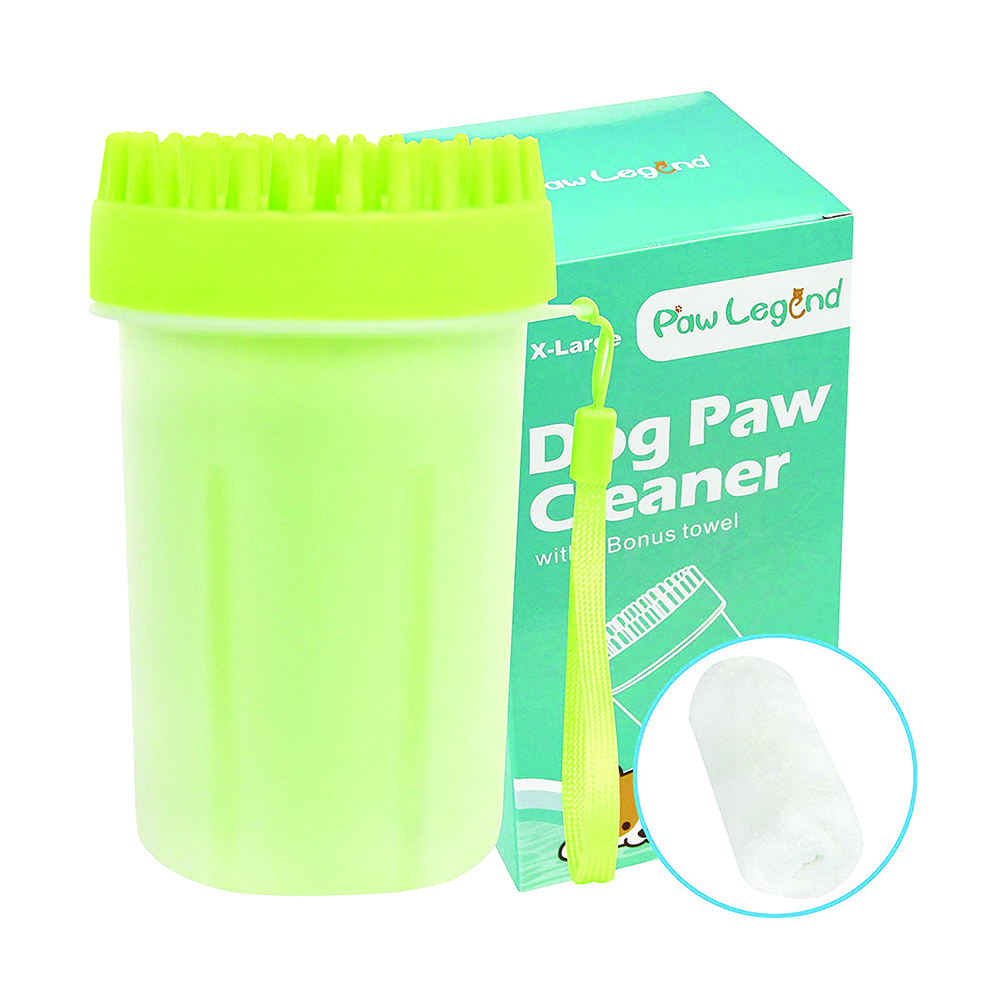 This dog paw cleaner have the gentle silicone bristles will help remove dirt and mud from your dog's paws. keeping the mess in the cleaning cup and not in your house. Dog foot cleaner inner made of silica gel, soft and comfortable when clean your muddy paw, no hurt to your dog skin. Easy to disassemble and wash. Effectively cleans & scrubs with high-quality silicone bristles, thoroughly removes all dirt, mud, and sand from between the claws. Completely soft and painless – It's like a massager for your dog, also a great way of melting ice and snow during the winter.
---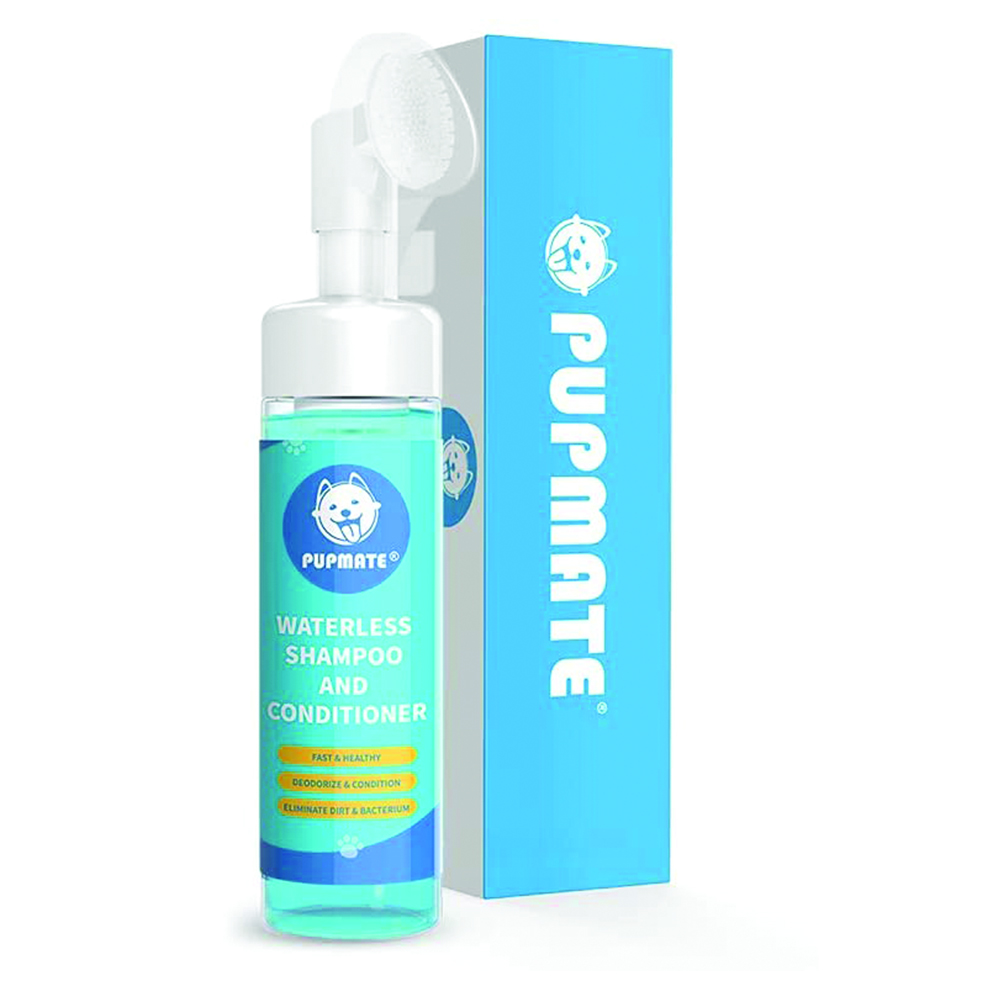 Much like a foam-based carpet or upholstery cleaner, PUPMATE Waterless Shampoo comes in a pressurized can. There's a detachable silicone brush on the top of the product to gently scrub the dirt and other debris from Fido's paws. The ingredients in the shampoo are all-natural, pet-safe, and hypo-allergenic. This solution has a rose scent that can help your furbaby's feet to smell fresh. No rinse required for the dog paw washing. All ingredients of dog paw cleaner are natural and gentle.. It's good for dogs and cats that are not suitable for baths, getting wet or touching water.