Many cats prefer to stay indoor, that's true, but there are still some very active outdoor cats that couldn't waste any single opportunity to get out of door. If you have an outdoor cat, buying a collar is extremely important for your cat's safety. Putting a collar on your cat means that he can also wear ID tags with your contact information, just in case he gets lost.
Contrary to popular belief, cat collars are not dangerous. According to a study by the Journal of the American Veterinary Medical Association cited by the ASPCA, cat collars often benefit cats who wander too far from home, get caught in bad situations, or just appear to be lost. It's also a good idea to microchip your cat so you can prove that he or she is indeed yours if your cat gets mistaken for a stray or stolen.
We have read hundreds of reviews and sorted out the 8 best cat collars available in the market for you to choose from, let's take a look one by one.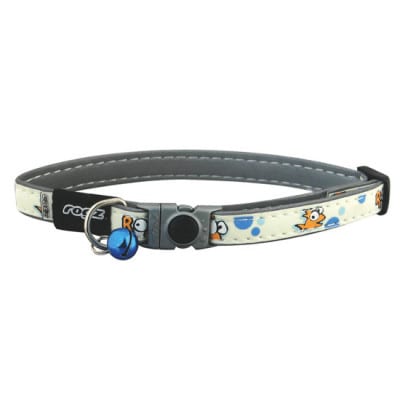 This collar stands out from the crowd with its unique adjustable-load breakaway buckle for maximum safety and longevity, it goes beyond the basics by allowing you to choose how easily the breakaway buckle can be pulled apart based on your cat's weight. For those who are hesitant to choose a breakaway collar for fear that the collar will get lost, this feature is enough to set this collar far apart from the rest by combining optimum safety and longevity.
The safety features of the collar don't end there: it also features both reflective material and glow-in-the-dark polyurethane for maximum visibility at night. Available in a variety of colors and prints, this collar comes equipped with a removable bell and is ID tag compatible.
---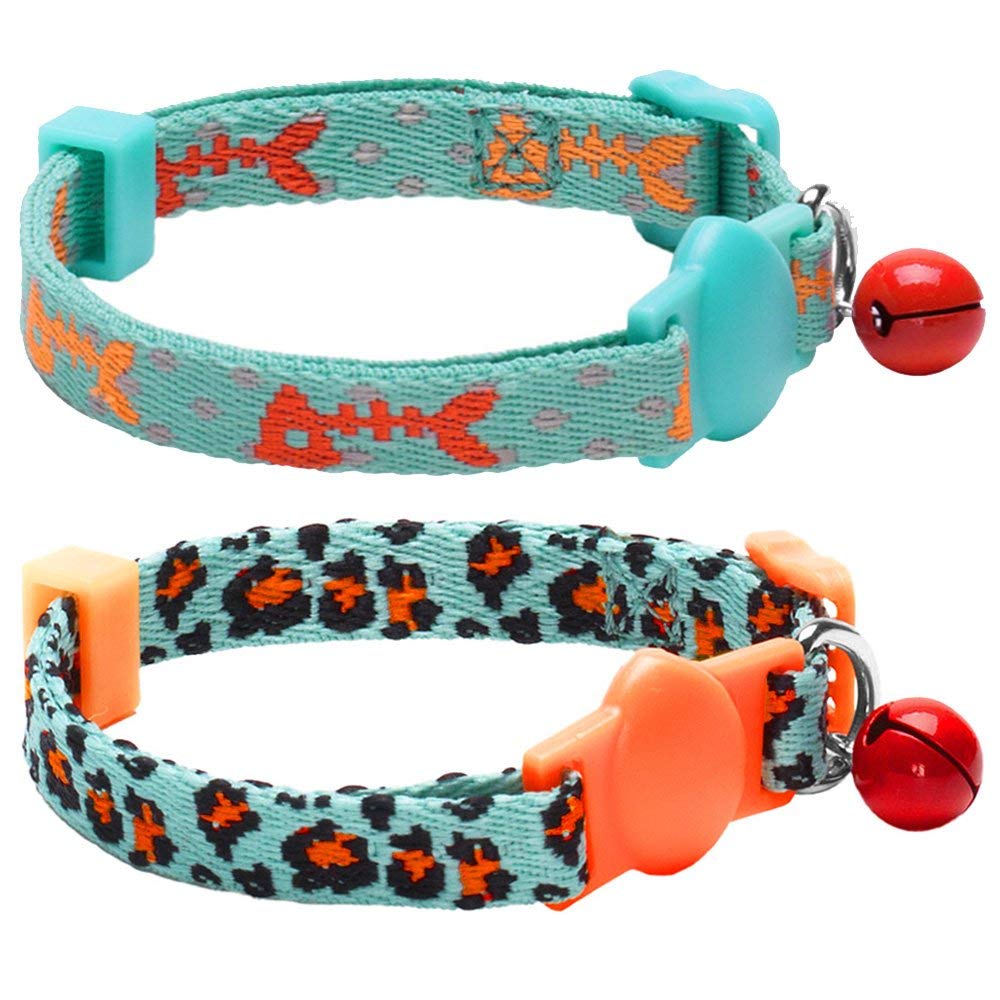 Durably constructed from high-density polyester webbing, the Blueberry Adjustable Breakaway Cat Collar is easy to clean and comfortable for everyday wear. The collar features a stylish patterned design with an included bell and it adjusts to lengths between 9 and 13 inches for maximum comfort. This collar also features an adjustable breakaway safety buckle for your cat's protection.
In addition to being stylishly designed and durably constructed, the Blueberry Adjustable Breakaway Cat Collar is also very affordable, priced at $11.99 for a two-pack. You can choose from several different designs according to your taste.
---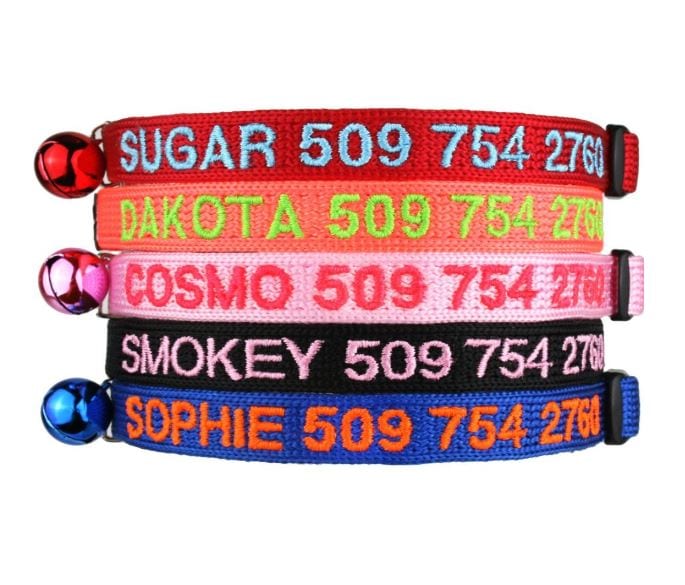 A customizable embroidered collar offers all the benefits of an ID tag without the discomfort of an ID tag dangling from your neck. Because they're lightweight and streamlined, this style of collar is a favorite among sensitive cats. A customizable collar isn't limited to your cat's name and phone number. If your cat has special needs, you can request that they be printed on the collar. If your cat gets lost, this message will increase the chances that they'll receive appropriate care.
In addition to selecting the text embroidered into the collar, you can also choose the color combinations. The company offers five background colors and 15 thread (text) colors.
---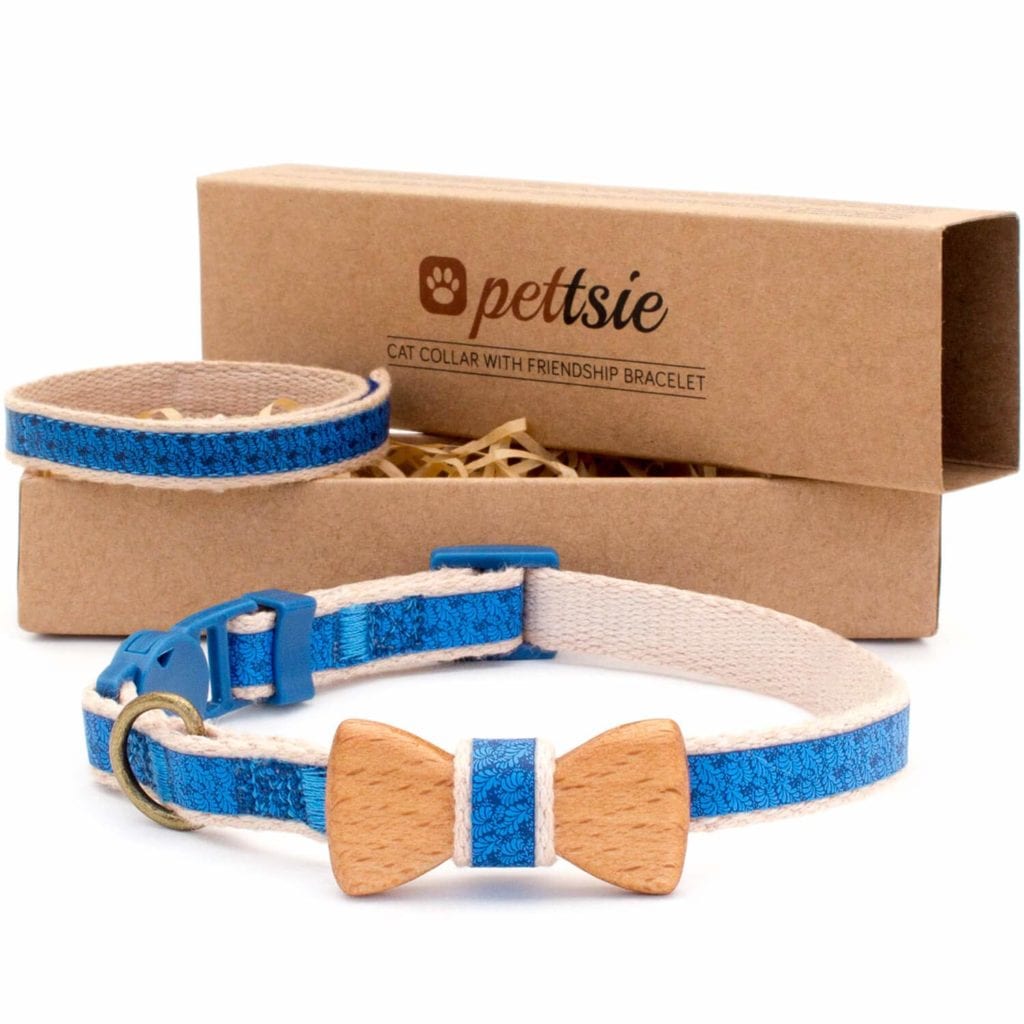 This breakaway collar is made with 100% durable and natural cotton, which could be a huge plus for cats with sensitive skin. The collar can be adjusted for cats with 8-11 inch neck circumferences. It also has a lightweight bow tie made out of wood, a super adorable detail that a lot of pet owners love.
While the bracelet has a minimalist cotton design, the collar has an added touch of style with a lightweight beechwood bowtie and antiqued D-ring for ID tags or a bell. Plus it comes with a matching friendship bracelet for you or a loved ones. Kids love it!
---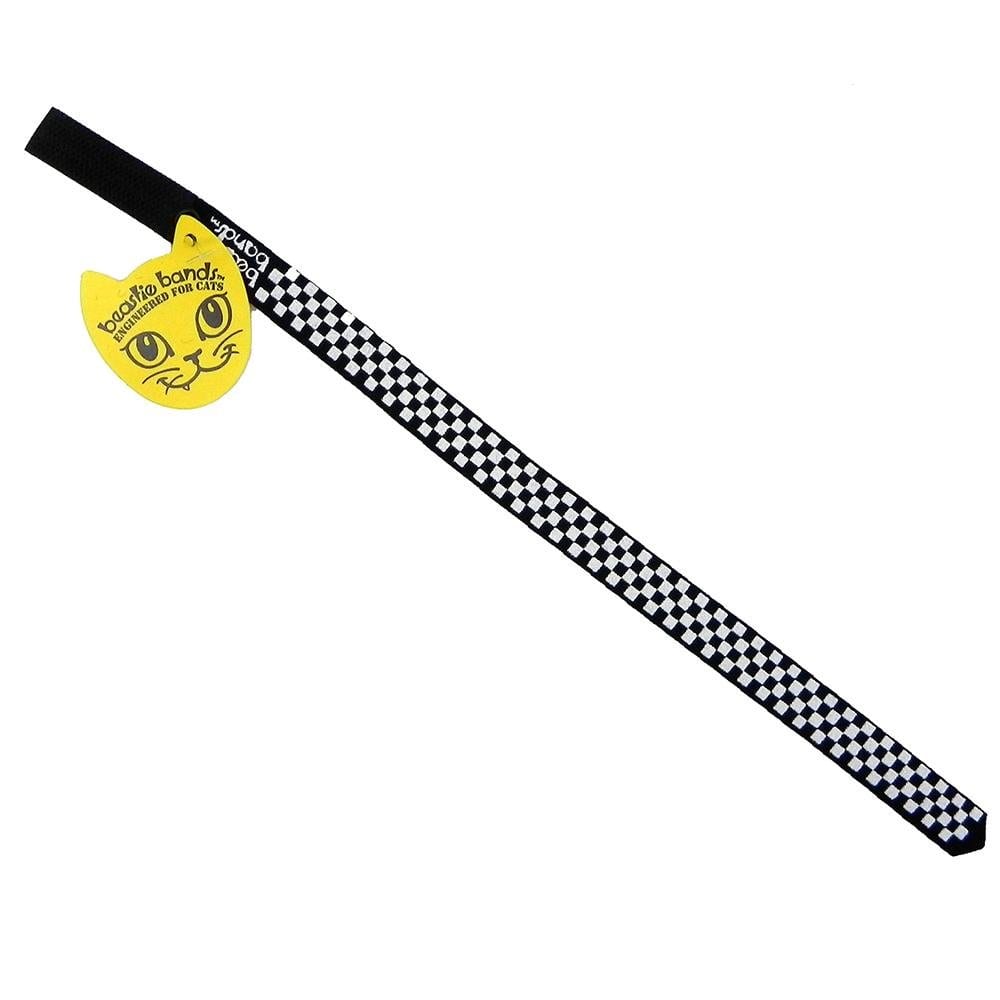 Beastie Bands don't look like your average cat collar and they don't fit like your average collar, either. They're made from stretchy neoprene and, because you can trim them to fit, Beastie Bands are a great fit for cats of all sizes.
These unusual-looking cat collars are a cult favorite among breeders, people who foster kittens, and cat aficionados. They avoid the common problems associated with standard collars. Because they're stretchy and have Velcro closures, they're safe for even the most adventurous cat. In lieu of the D-rings found on most collars, Beastie Bands feature grommets through which you can attach an ID tag or bell.
---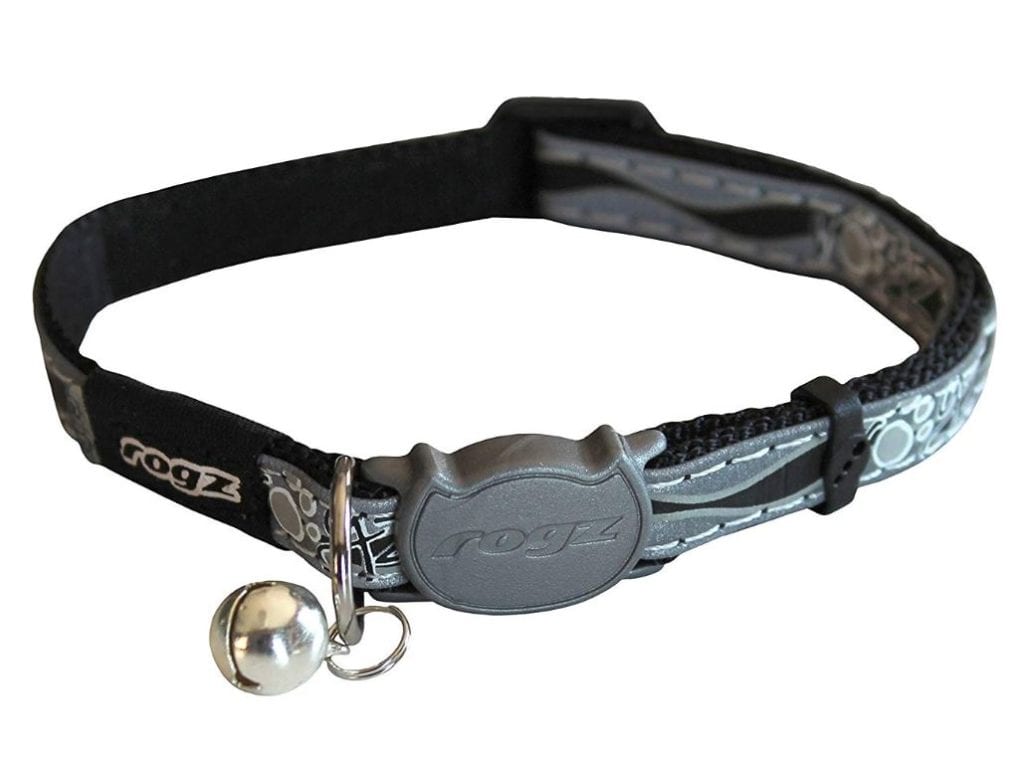 Made from durable but lightweight materials including scratchproof webbing, the Rogz Catz Breakaway Cat Collar has a highly reflective surface that also glows in the dark for nighttime visibility. It features a breakaway safety buckle that you can adjust for weights between 6.6 and 11 pounds.
The Rogz Catz Breakaway Cat Collar comes in three fun colors and patterns, so your cat will look adorable with it on. It is also adjustable to fit cats with a neck circumference between 8 and 12 inches.
---
AOLOVE Basic Padded Leather Pet Collars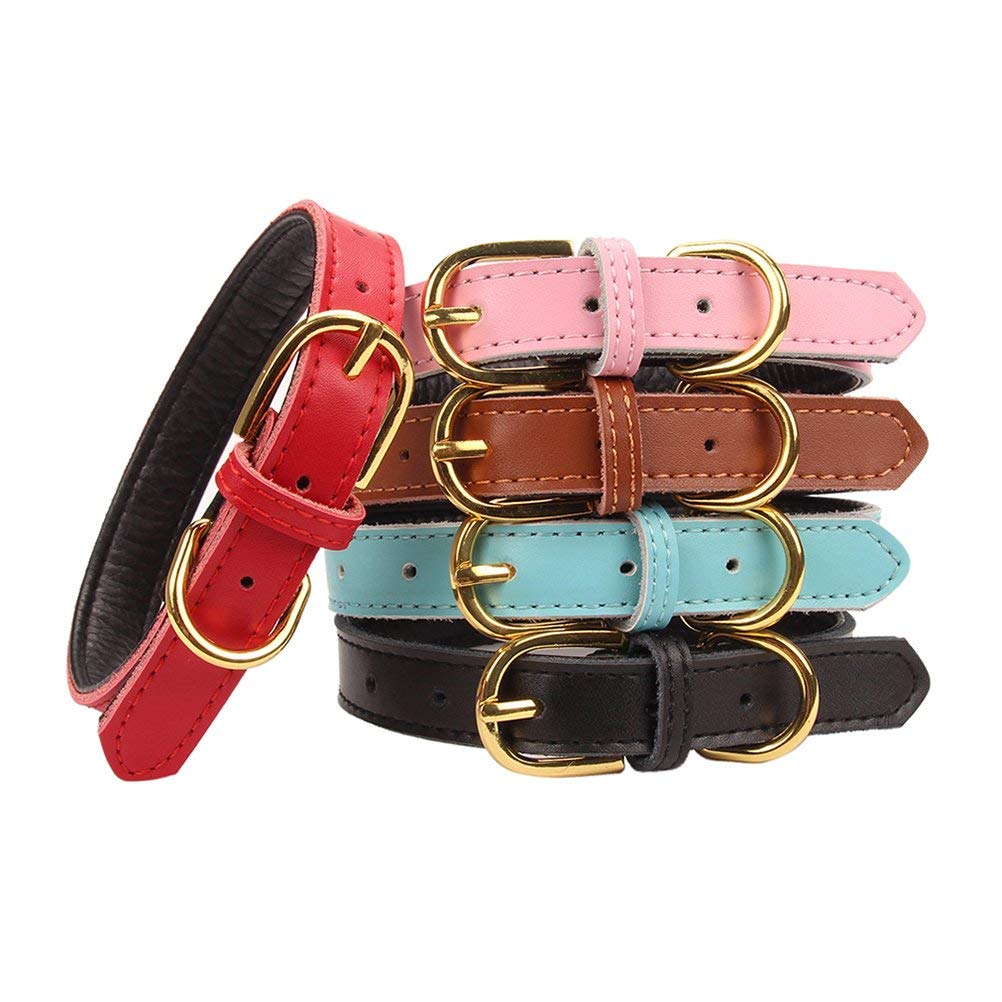 If you're looking for a strong and durable cat collar that also looks fashionable, the Aolove's pet collar may be the collar for you. Leather and alloy make this collar particularly sturdy, while the nickel-plated hardware and heavy-duty D-ring help protect the kitty's neck. Importantly, there are 5 holes in the collar that ensure adjustment is easy and the item fits perfectly every pet, no matter its size and weight.
The Aolove comes in many colors and sizes, so picking the right collar for your feline friend is pretty easy. Generally, the XS and Small size seem to fit most cats, but you should always check the size of your kitty's nick before purchasing the collar.
---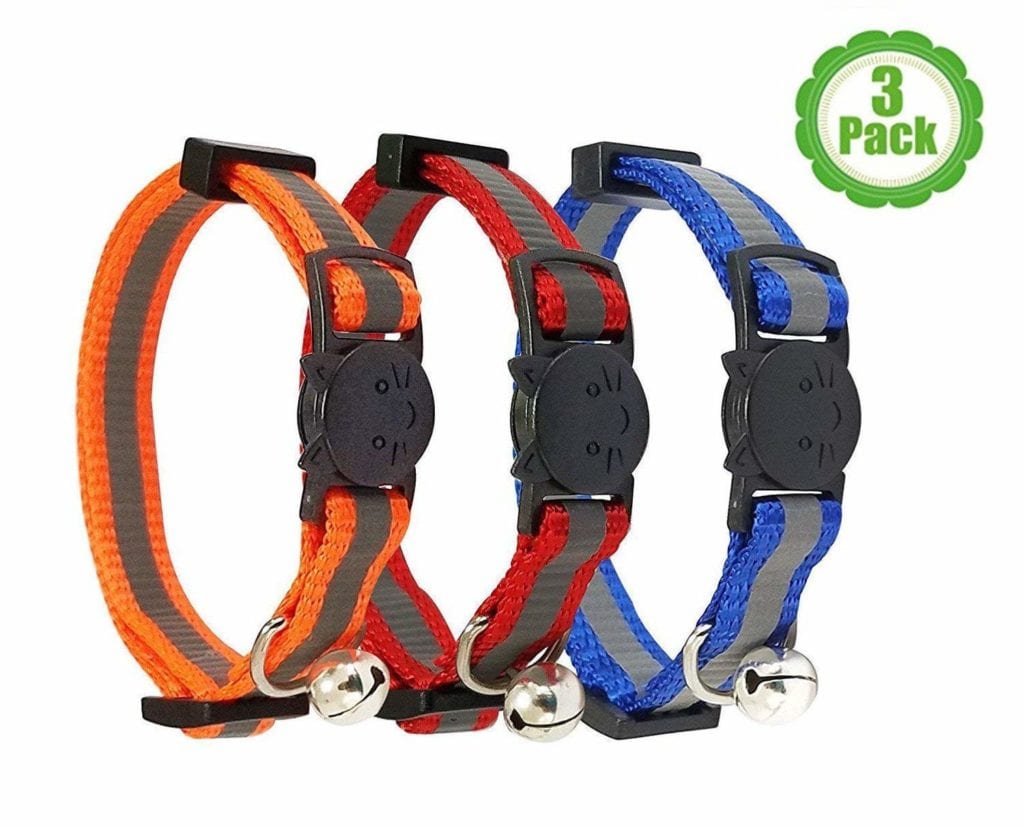 You will love this reflective cat collar, they are cute, easy to put on and take off, and are breakaway collars should your kitty get into any sticky situations. They are adjustable from 7 inches up to 11 inches and also come with a bell attached.
It's the little things that count when buying a cat collar. Afterall, there really isn't all that much to a cat collar right? Bemix paid close attention to the details here and the buckle is the shape of a cat head. It is very cute and will ensure you don't get this collar confused with your Great Dane's collar