Many people take vitamins and dietary supplements for a wide range of reasons, if they can do so many good to us, would they help our dogs as well?Yes and No. Vitamins impact the growth and development of animals in much the same way that they do in people.
Most dogs receive a complete and balanced diet
– including necessary vitamins and minerals – from commercially processed dog food, according to the FDA. However,
dogs that fed an entirely homemade diet can lack of essential nutrients
, which are more readily available in commercial pet foods, so you are a true believer of delicious homemade food, you may want to talk to your veterinarian and see what what, if anything is needed for your dog.But in general,
there are 4 supplements that dogs need more often than others
, it is better to know what they are and how they are used for.
1. Glucosamine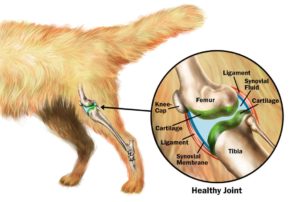 The most popular supplement for dogs is glucosamine. Glucosamine is an amino sugar that is found naturally in the fluid around the joints to help build cartilage. Glucosamine is taken from the shells of shellfish and can also be made in the laboratory. Many dog owners and veterinarians believe that glucosamine is effective in treating arthritis in dogs. For older dogs, it may relieve joint pain and improve mobility. Some studies have shown little to no effect. However, a 2007 study in "The Veterinary Journal" showed that a glucosamine supplement reduced pain and increased mobility after 70 days of treatment.Available in many forms, including pills, powders, and as treats, glucosamine supplements are usually formulated with chondroitin sulfate, which occurs naturally in the connective tissues of bone and cartilage.
2. Fish Oil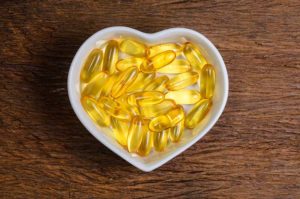 Fish oils and other fatty acid supplements, which have been found to support skin, coat, joint, kidneys, heart and immune system health, are among the top-selling pet supplement ingredients since they have some of the most animal-specific studies backing up their health, according to the Packaged Facts' Pet Supplements in the U.S. report.Salmon oil is the richest and best-absorbed source of omega-3 fatty acid, according to Coger. And although it's always best to consult your veterinarian before introducing a new supplement, the Omega-3 fatty acids DHA (Docosahexaenoic acid) and EPA (Eicosapentaenoic acid) in salmon oil contribute anti-inflammatory benefits, says Cline. She recommends a dose of 40 mg/kg EPA and 25 mg/kg of DHA per day.
3. Multivitamins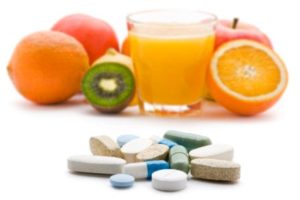 Vitamins can improve the quality of your pet's life. They help regulate body processes, protect the body from environmental toxins, and break down nutrients such as carbohydrates, proteins, and fats so the body can utilize them. Vitamins work with minerals and enzymes for digestion, reproduction, muscle and bone growth, and maintenance of healthy skin and haircoat. All multi-vitamins for pets are not created equal.Vitamins are generally classified into two groups based on how or if they are stored in the body. Fat-soluble vitamins are stored in the liver and fatty tissue. Water-soluble vitamins, on the other hand, are stored in only very small amounts by the body. They need to be taken in daily, and any excesses are excreted by the body each day.
4. Probiotics
Given an increase in the use of probiotics in humans, it's not surprising that probiotics have also become popular as supplements for dogs. Probiotics live naturally in the body in the form of yeasts and live bacteria that aid with digestion and intestinal health. As supplements, they're used to treat diarrhea and other digestive problems. Probiotics come in several forms, including some yogurts, capsules, chews, powders, and in some dog food formulations.Although some owners feed their dogs plain yogurt and kefir as a probiotic source, the concentration isn't as high as what you get with a pill or powder form. Most probiotics can be sprinkled on or mixed in with a dog's regular food.
So, you get an idea what supplements that our best friends may need, which supplement should you actually buying when you go to a store, here is a detailed list of 7 best dog vitamins and supplements:
1. Vet's Best Seasonal Allergy Relief Dog Supplements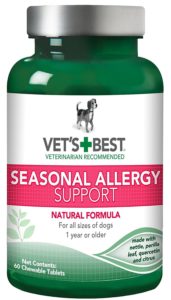 Relief from itchy skin is here. Alleviate the discomfort of seasonal allergies with Vet's Best Seasonal Allergy Support Supplement for Dogs. A blend of quality, natural ingredients helps your dog maintain normal histamine levels and skin health. Formulated by veterinarians for the best absorption and digestion, and carries the National Animal Supplement Council (NASC) Seal of Approval.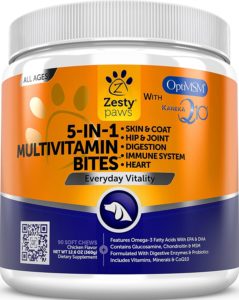 2. Zesty Paws

Multivitamin for Dogs
Zesty Paws 5-in-1 Multivitamin Bites are chewable supplements with over 35 vitamins, minerals, and nutrients. There are 90 chews in each container. Each soft chew contains 200 mg of Glucosamine, 75 mg of Chondroitin Sulfate, 100 mg Cod Liver Oil, 90 mg of the enzyme blend with a total Microbial count of 500 million CFU, 10 mg Coenzyme Q10 as well as many other vitamins.Featuring OptiMSM and Kaneka Q10, this nourishing formula provides powerful daily support to keep dogs feeling healthy and happy for years to come.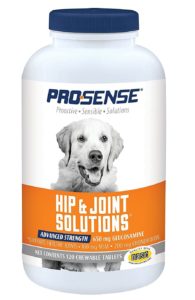 3.

Pro Sense Advanced Strength Glucosamine Chew Tablets
ProSense Joint Solutions Advanced Strength Glucosamine Tablets offers 650 mg of glucosamine combined with 200 mg chondroitin and 100 mg MSM per tablet. They are suitable for everyday use and dogs of all sizes. Each tablet is formulated with Glucosamine and Vitamin C to help support healthy hips and joints.The presence of the NASC Quality Seal on an animal health supplement signifies to consumers that the product comes from a reputable company that has successfully completed an independent quality audit.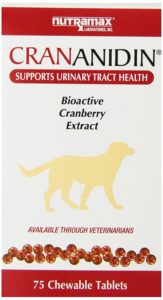 4. Nutramax Crananidin Pet Supplement
Crananidin Urinary Tract Support is a chewable tablet containing bioavailable cranberry extract researched and shown to support urinary tract by stopping bacteria from sticking in the urinary tract, allowing them to be flushed out in the urine. Dosage for dogs: Under 10 lbs: 1/4 tablet 10-19 lbs: 1/2 tablet 20-39 lbs: 1 tablet 40-59 lbs: 1.5 tablets 60-79 lbs: 2 tablets 80-100 lbs: 2.5 tablets
5

.

Pet MD – Canine Tabs Plus 365 Count
These Pet MD Canine Tablets for dogs contain healthy vitamins and mineral supplements for dogs of all ages and activity levels. Each bottle contains 365 chewable tablets. These dog vitamins are made in the United States and contain a various sources of protein for your dog to stay healthy and have a great coat.Directions for Use: Dogs under 10 lb – 1 /2 tablet daily. Dogs over 10 lb – 1 tablet daily Storage: Store tightly closed at room temperature to ensure freshness.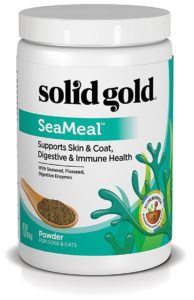 6

.

Solid Gold SeaMeal Kelp-Based Supplement
Provides a natural support for three common pet health issues: skin and coat, digestive and immune system health.
Superfoods, including seaweed and flaxseed provide vitamins and Omega Fatty Acids to help maintain a healthy skin and coat. Seaweed also is a great natural source of healthy iodine.
Natural source of B vitamins, zinc, selenium, iron and magnesium to support immune system function.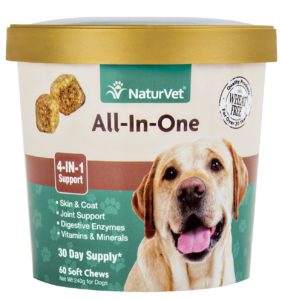 7

.

NaturVet All-in-One 4-IN-1 Support for Dogs
Four supplements in one to support digestion, skin & coat, joints and overall health. Contains digestive enzymes to help support proper digestion and a healthy digestive tract, Omegas-3, 6 and 9 for healthy, shiny skin and coat, vitamins and minerals to support overall health and glucosamine and chondroitin to provide extra joint support essential to maintaining healthy joint function.