As cats get older, they lose cartilage in their joints, which can lead to inflammation. This is osteoarthritis, the most common cause of joint or musculoskeletal problems in older cats. In fact, 90% of cats over 12 years old have at least a touch of it. The good thing is there a great number of supplements formulated to help maintain your cat's joints and hips healthy. Before choosing a supplement for your cat, you should consult with your veterinarian first.
To help you sort out which cat joint supplement works best, we have prepared this list of the top 10 most popular joint supplements for cats.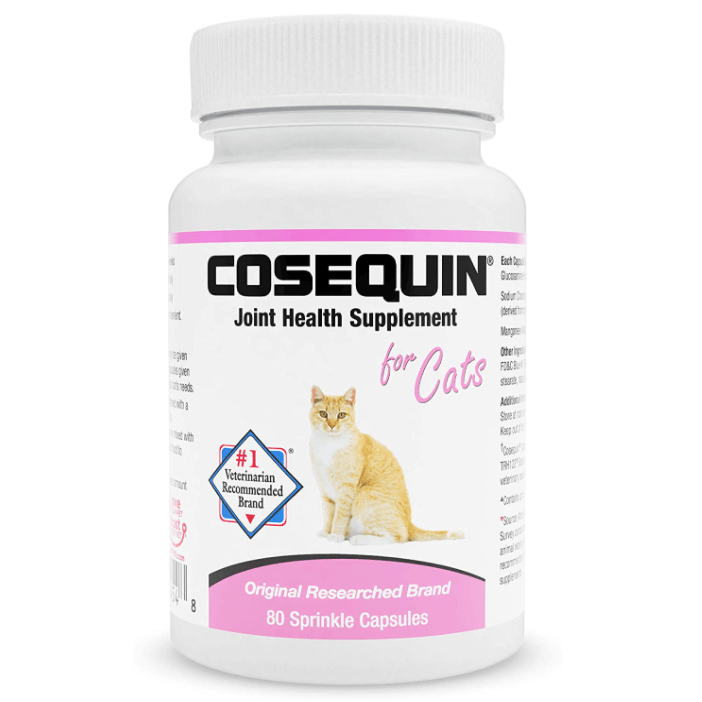 Healthy articular (joint) cartilage is crucial to joint utility. Cosequin helps support cartilage production and protect existing cartilage from breakdown. The only joint health supplement brand shown effective, safe, and bioavailable in published, controlled U.S. studies, Cosequin is manufactured following standards similar to those practiced by the pharmaceutical industry. Cosequin has been proven safe in cats. Cosequin, a nutritional supplement, safely and effectively provides joint cartilage support while maintaining your cat's comfort level. Some veterinarians also recommend Cosequin to help support urinary bladder health.
---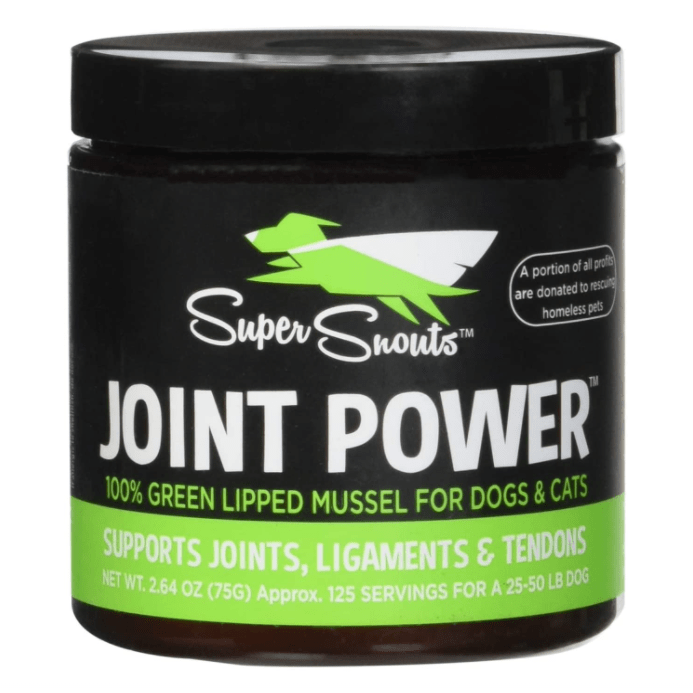 Super Snouts Joint Power Green Lipped Mussel Dog & Cat Supplement is a powerful, unique joint supplement composed of 100% New Zealand green lipped mussels. Stabilized, freeze-dried green lipped mussels have shown extremely positive results in clinical trials for pets. That's because they provide a rich source of all major classes of glycosaminoglycans, compounds responsible for natural anti-inflammatory, and joint-lubricating, properties. In addition, green lipped mussel extract contains a nutrient-rich blend of natural proteins, minerals and omega fatty acids.
---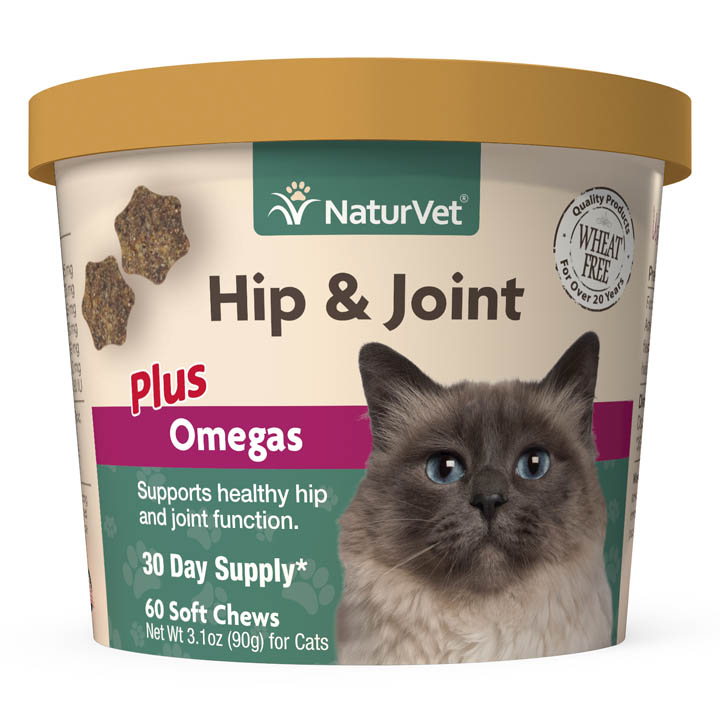 Help your precious kitty stay sprightly with NaturVet Hip & Joint chews. These tasty soft chews contain glucosamine and MSM for added joint support and flexibility. Plus, they're so delicious your cat will think it's a treat! NaturVet makes supporting your pal's joints as easy as an after-dinner snack. These chews contains advanced formula with glucosamine and MSM helps support and maintain hip and joint flexibility. With omega 3 and 6 fatty acids and blended with antioxidants to help fight damaging free radicals.Suitable for use in cats over the age of 12 weeks.
---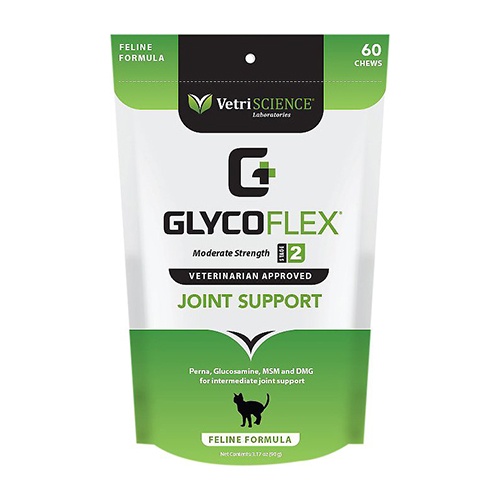 GlycoFlex II Hip and Joint Supplement for Cats represents the second stage of VetriScience Laboratories' comprehensive joint support program designed to meet the needs of cats starting to slow down due to age, weight issues or the onset of joint health issues. Recommended by veterinarians for over 30 years, Glyco Flex II for Cats includes quality joint support ingredients like glucosamine and MSM as well as perna canaliculus sourced from the waters of New Zealand. Combined, these ingredients lubricate and support joint structure and activity to help keep cats healthy and happy.
---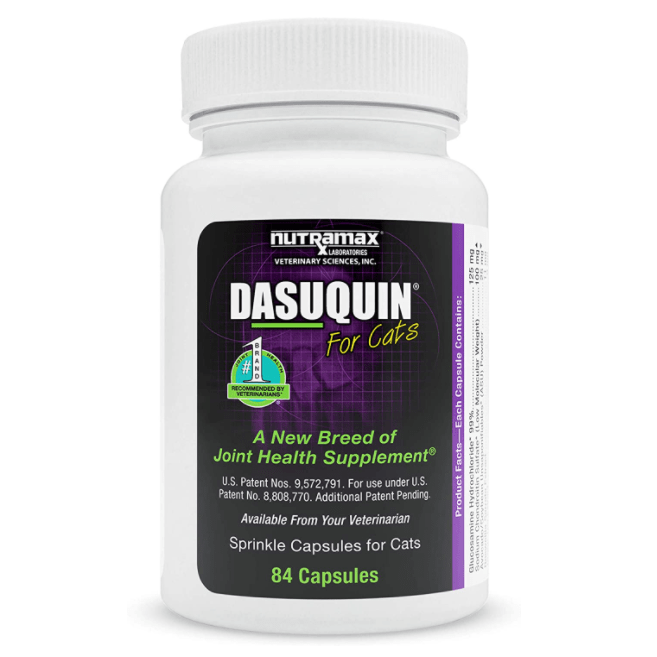 Dasuquin for Cats is a joint health supplement that goes above and beyond other glucosamine supplements on the market. The most complete joint support supplement available, Dasuquin for Cats contains the trademarked ingredients FCHG49 Glucosamine, TRH12 Sodium Chondroitin Sulfate, and NMX1000 Avocado/Soybean Unsaponifiables. Dasquin for Cats is available in a tasty, easy to administer capsule with natural chicken and tuna flavors. ASU is an ingredient obtained from avocados and soybeans that is used for joint health.
---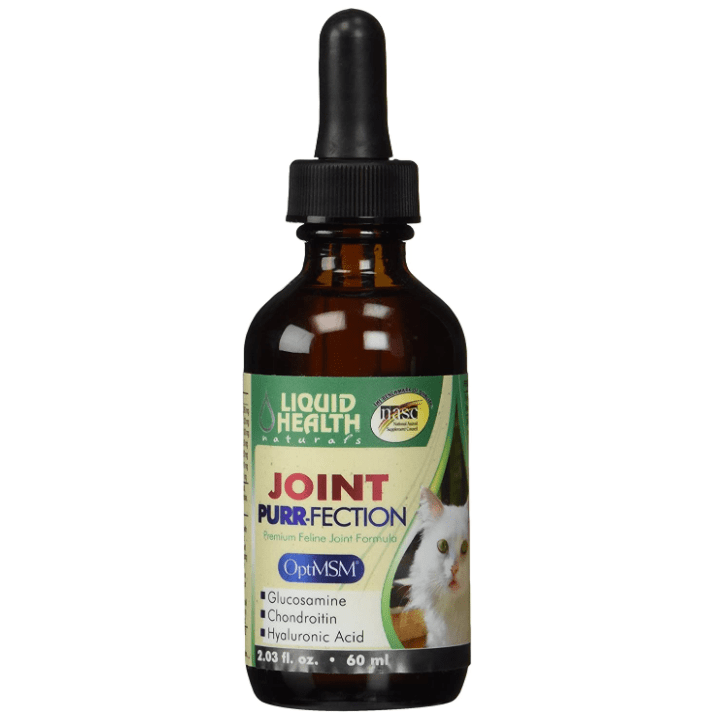 Keep your pal active, happy, and playful with supple, flexible joints with the Liquid Health Pets Joint Purr-Fection Cat Supplement. With a blend of the most widely-used ingredients for optimum joint health―glucosamine from non-animal sources and USA-sourced MSM―it's specially formulated to help cats of any age maintain cartilage health, supple and resilient joints, and all-around mobility. It has hyaluronic acid, the "moisture molecule", to help strengthen connective tissue and keep joints well hydrated, as well as vitamin C and taurine to promote overall health. Plus, your cat will love the delicious beef flavor made with real beef liver powder, either on its own or as a tasty, wet food mix-in. It's perfect for daily use to help keep sore, stiff joints at bay, or for kitties with hip and joint conditions.
---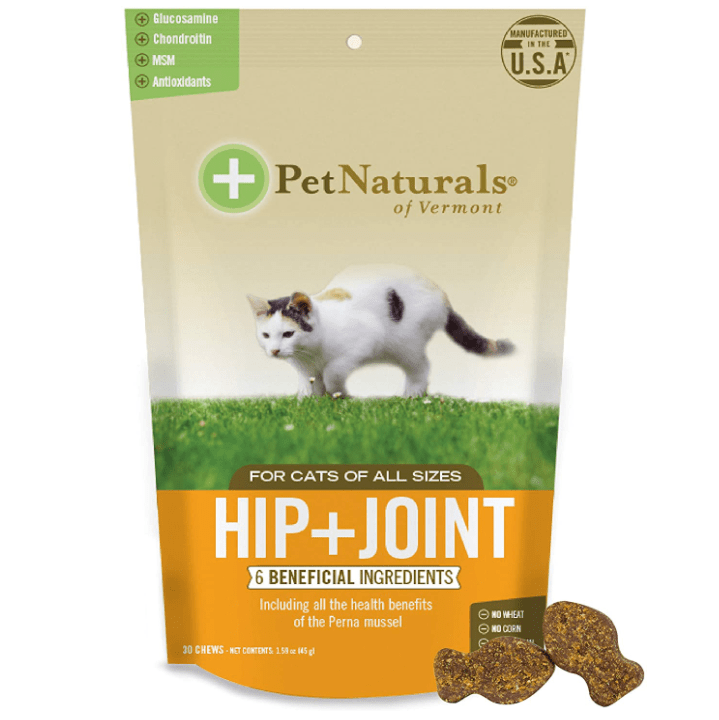 Hip + joint for cats is an easy way to tackle joint health issues in our feline friends. Formulated by VETERINARIANS, this supplement is designed for cats that are showing signs of aging and discomfort in their daily activities. Signs can include avoiding being picked up, inability to use the litter box, trouble with stairs or just a change in energy levels during play. With recognized joint support ingredients like Glucosamine and Chondroitin And the inclusion of perna Canaliculus a whole food Mussel, you can feel good about choosing Pet Naturals for your pet.
---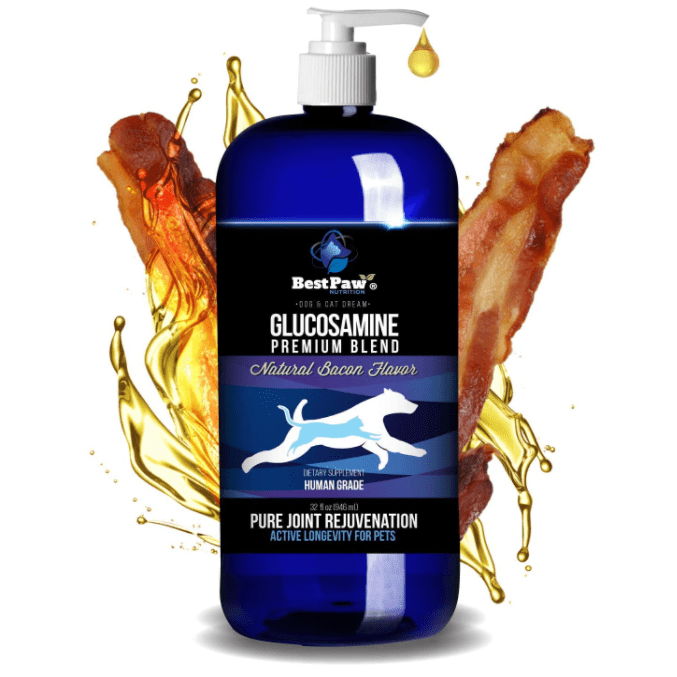 Give your pet joint support and so much more with the Best Paw Nutrition Premium Dream Glucosamine Dog Liquid Supplement, Bacon Flavor. Not only does it serve up the necessary building blocks for rebuilding joint cartilage and reducing inflammation, but it's also like a fountain of youth with the addition of hyaluronic acid, CoQ10, vitamin C and vitamin B complex. Together, this powerhouse blend of essential vitamins and minerals has all kinds of benefits, like supporting heart health and immunity, relieving allergies and controlling excessive shedding—in addition to pure joint rejuvenation. And it all comes in a delicious liquid form that tastes just like bacon, that's easily administered by serving over their food or treats. No refrigeration needed!
---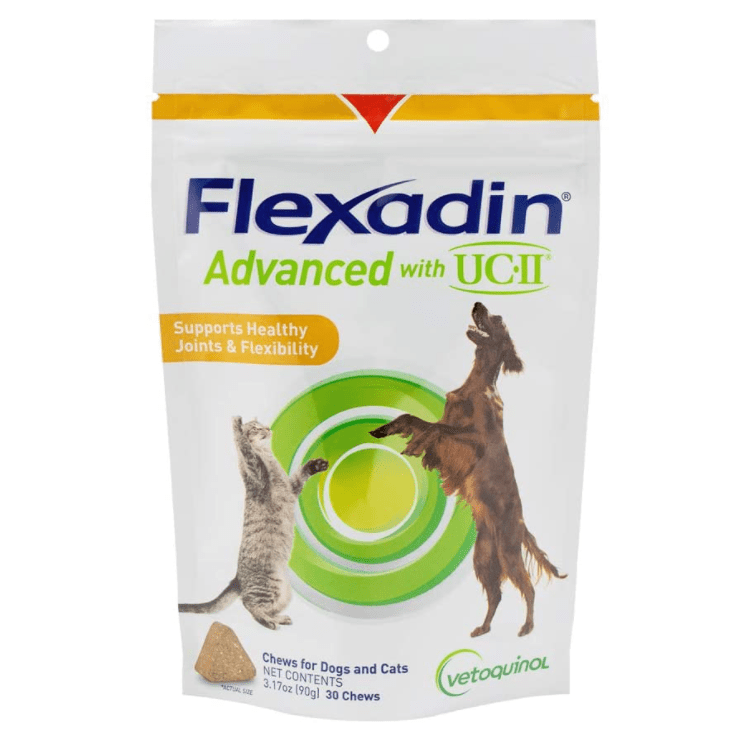 Vetoquinol Flexidan Advanced Chews with UCII for Dogs & Cats is an innovative supplement that supports healthy joints and flexibility. These delicious chews contain Omega-3 fatty acids to help relieve inflammation and soothe aching joints, along with vitamin E, a well-known antioxidant and free radical scavenger to help prevent the breakdown of cartilage. Flexidan Advanced also features UCII, an undenatured type II collagen derived from chicken sternum. Produced using a patented, low-temperature manufacturing process that preserves its structural and functional integrity, UCII provides optimal joint support for pets.
---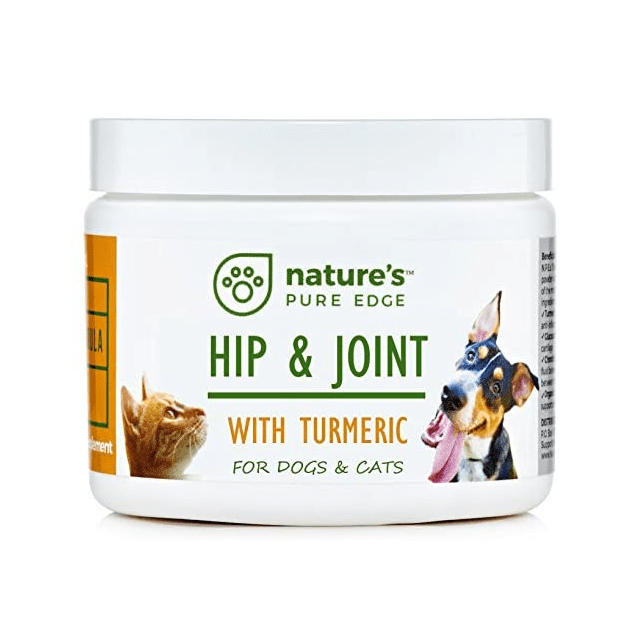 Help fur-babies with hip and joint issues feel better naturally with Nature's Pure Edge Hip & Joint & Turmeric Dog & Cat Supplement. This powerful formula combines joint-supporting glucosamine, chondroitin and MSM with anti-inflammatory turmeric and bone-building calcium to get your buddies up and running without pain or stiffness. The easy-to-use powder formula works for both cats and dogs and mixes easily into wet or dry food. Great for older pets and those prone to hip and joint disease, this formula will have them feeling limber in a jiffy and kicking the pet steps to the curb!