While you may love living with your cat, there's very likely one part that you're not very keen on: cleaning up his potty habits. There are quite a few things to consider when buying a cat litter, from how good they are at covering unpleasant odors to how affordable they are. Not to say that your cat will ever complain about the quality of the litter, although it may cause your furry little friend quite a bit of discomfort if it's not up to the highest standards.
In this respect, we browsed the market far and wide in search of the best cat litter out there in order to give you a better understanding of what to look for. So let us then find out what are the ten best cat litters money can buy.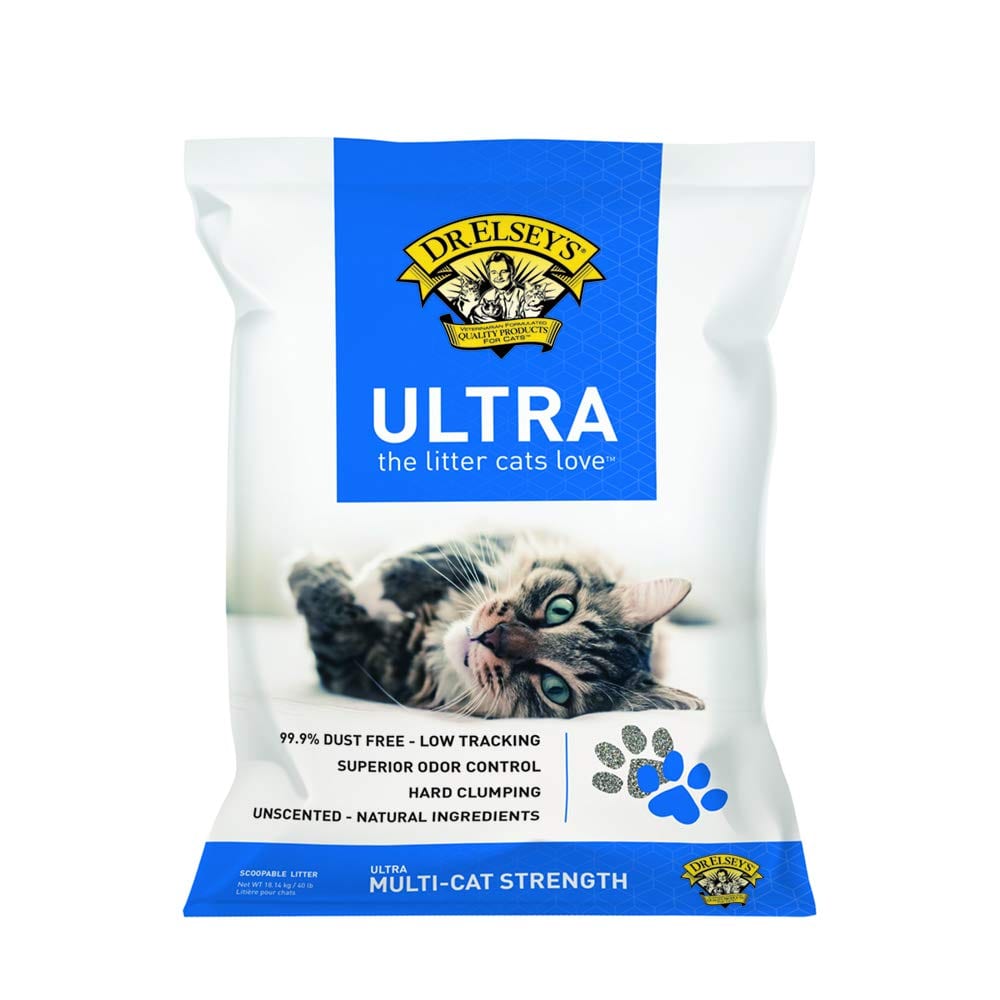 Dr. Elsey's is one of the top-rated litters on Amazon, and for good reason. It's a non-scented, dust-free and clumping litter that makes for incredibly easy cleanup. The formula uses heavy granules, which reduce tracking when your cat leaves the box, and is hypoallergenic—so your finicky cats won't have a problem using it. It's also designed to reduce liquids from hitting the bottom of the tray, which means you won't spend your evenings scraping up congealed litter. Though it's scent and perfume-free, the medium-weight clay is formulated to reduce odors by trapping them inside.
Another great feature of Dr. Elsey's Cat Ultra Premium litter is that it's 99.9 dust-free and leaves almost no tracking. It's best for cat owners who use sifting or mechanical litter boxes and is available in both 18 and 40-pound packages. It also works well for multiple cats, but it's recommended that you change the litter a little more frequently.
---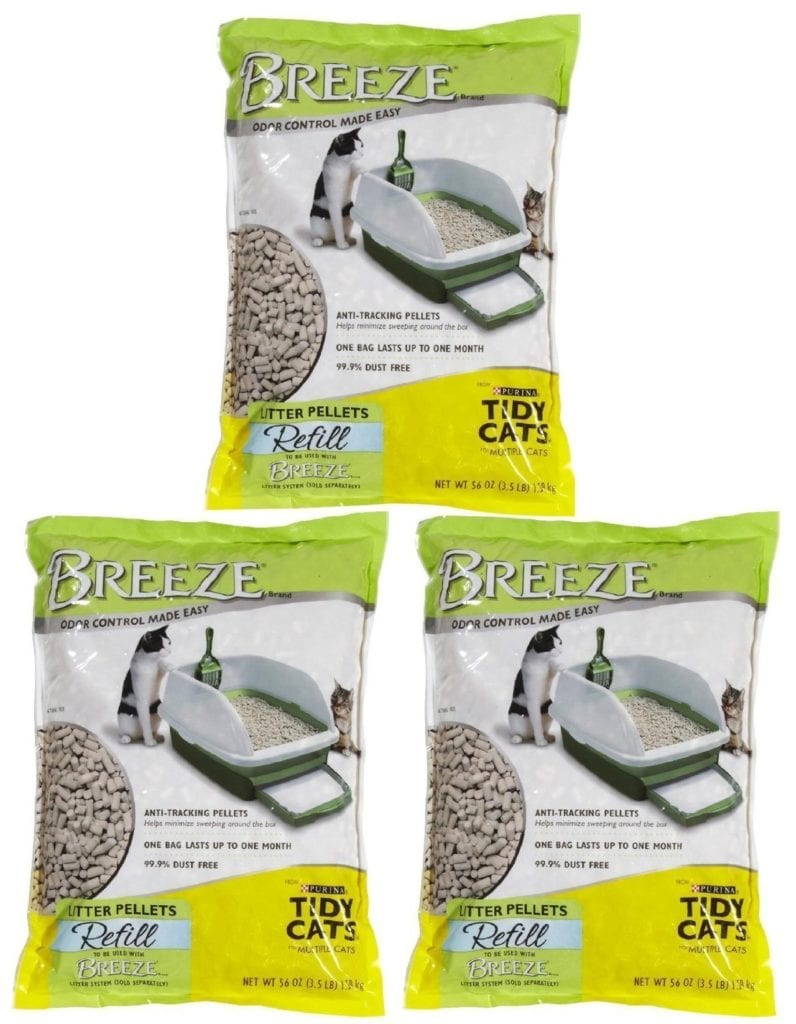 Tidy Cats Purina Breeze Cat Litter Pellets Refill Multiple Cats has an anti-tracking concept that utilizes pellets rather than a more traditional "gravel" litter. You can typically get one full litter box out of each bag and depending on the size you choose, you'll either get three or six bags. Each bag will typically last one or two cats about a month with daily scooping. With this type of litter, you'll likely want to invest in some pads as well because the pellets don't behave like standard clay litter.
They will absorb the odor and dehydrate the feces, but allow urine to pass through to prevent it from being released into the air and you'll want to replace the pads more frequently. You can save a bit of money and use newspapers though, and that will mitigate some of the extra cost.
---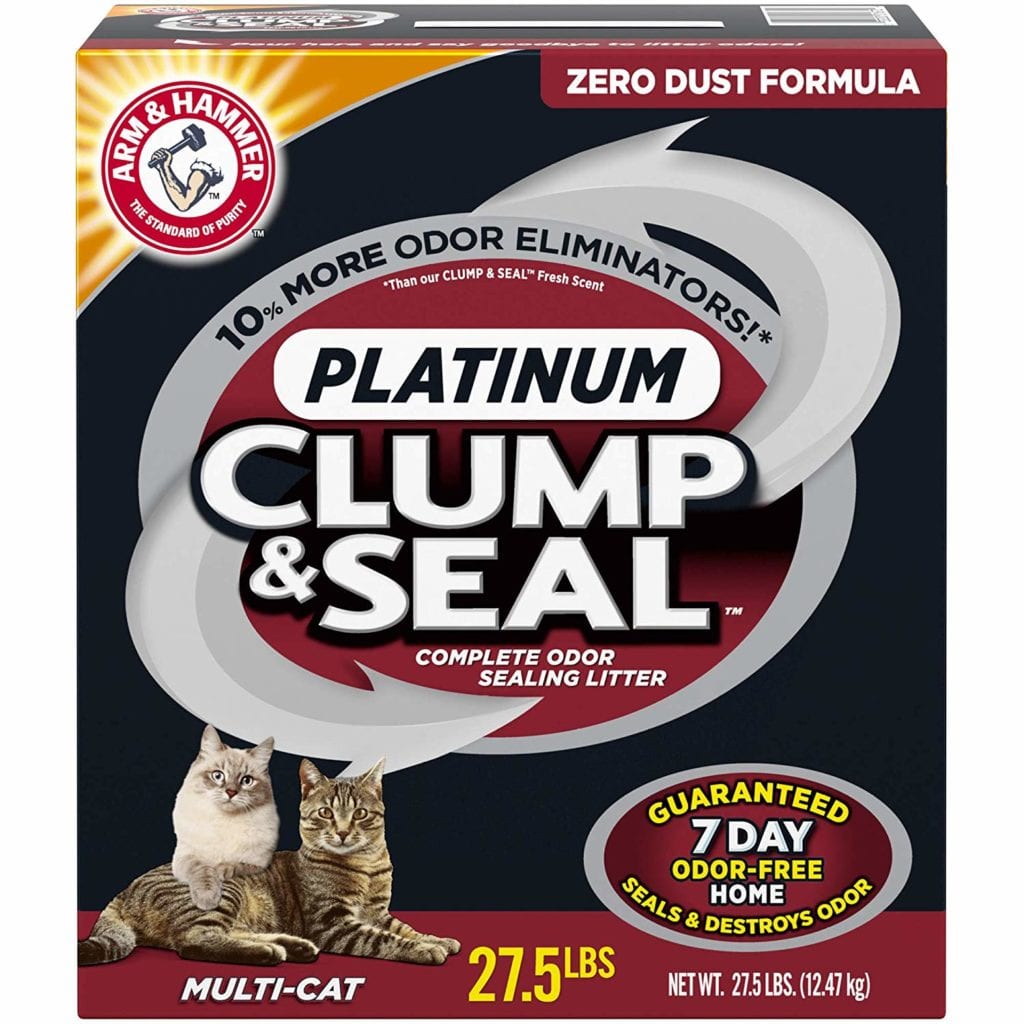 Any cat owner who has more than one feline knows the struggles of keeping a clean litter box. We recommend at least one litter box for each cat, but often they end up using the same one either way. To reduce odors and make cleanup easier, we love Arm & Hammer's Clump & Seal Multi-Cat litter. It comes with a 7-day odor-free guarantee, and is formulated to create hard clumps that won't fall apart during cleaning. It's made with Arm & Hammer Baking Soda, which is proven to reduce smells and is almost entirely dust-free.
Reviewers do note that it has a strong "clean" smell, which might not be to everyone's taste. But if you're struggling to keep your house smelling cat-free, Arm & Hammer's litter is a great choice for multi-cat homes.
---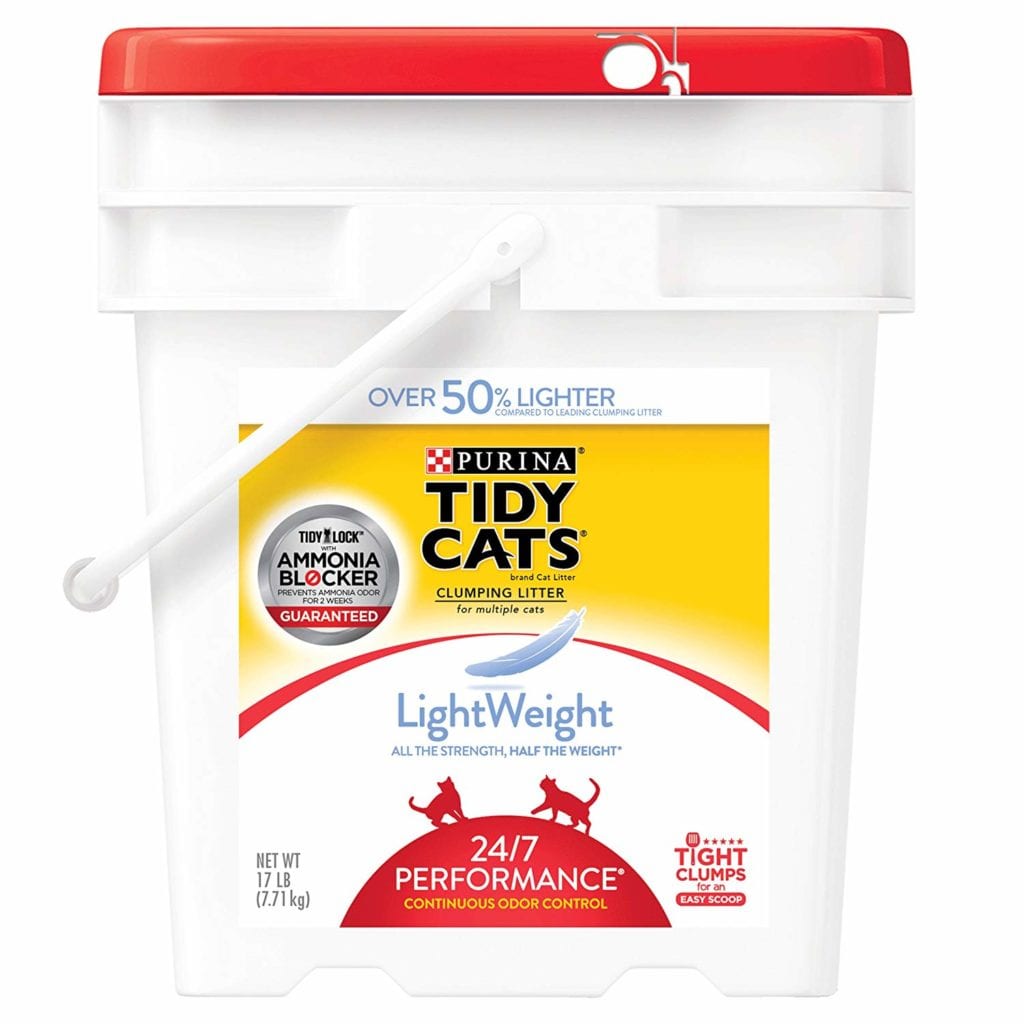 Purina Tidy Cats Clumping Litter is 50% lighter than most premium brands, making it easy to use. It also clumps hard and works well with multiple cats. Carrying a 40-pound box of litter is no doubt exhausting. But with Purina Tidy Cats, it's easy peasy.
Thanks to its lightweight formulation. You will be surprised to know that the heaviest container, which is 17 pounds, is equivalent to around 35 pounds of non-lightweight litter. This is what most people love about Purina litter. It's ideal for homes where litter boxes had to be placed in high-traffic spots, like the bathroom and living room. The litter comes in three different scents: glade, 4-in-1 strength, and the 'instant action'. More admirable, the product claims to reduce ammonia smells from urine for up to two weeks.
---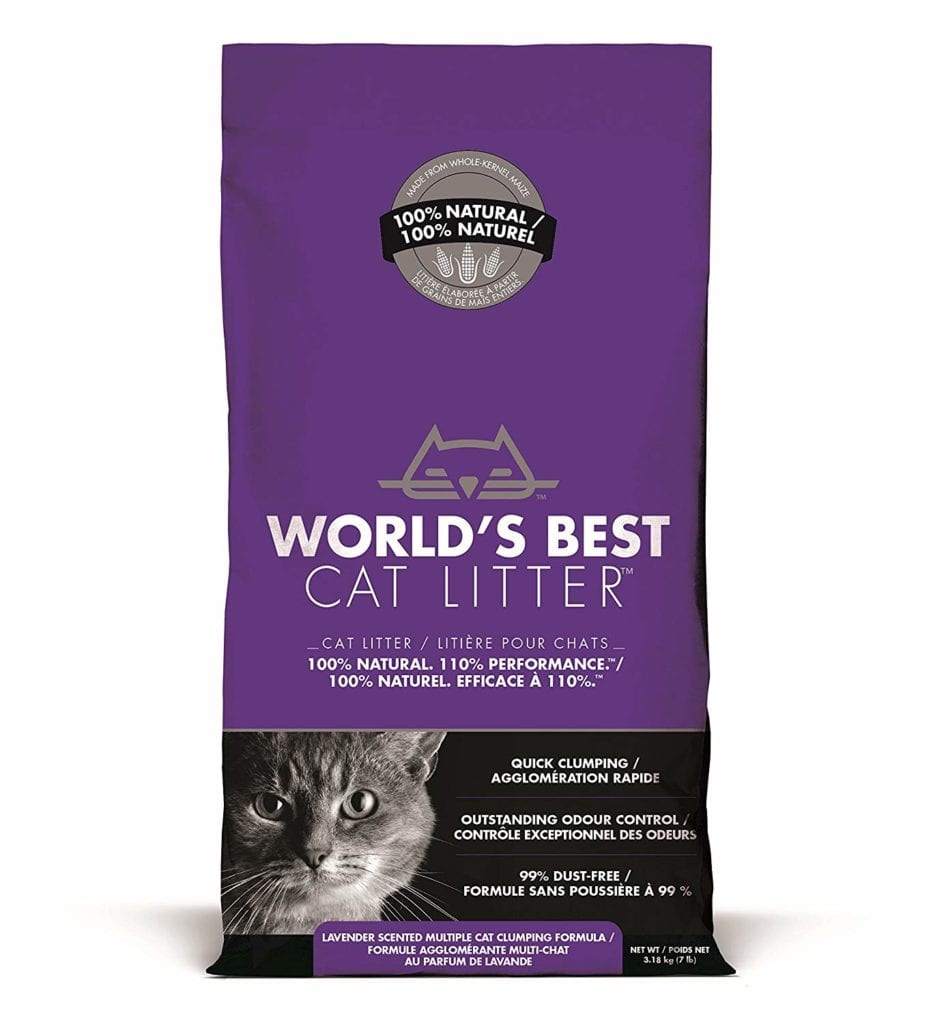 While some people can't stand the smell of perfumed litters, others relish the odor-reducing power a well-scented litter can offer. If you're looking for a litter that smells good enough to be used as potpourri (though we don't recommend it), World's Best Cat Litter delivers a fresh lavender smell you won't dread coming home to. It's a clumping litter that's also dust-free, and is made with slightly smaller granules —so do expect a bit more tracking, but the lavender scent is floral and welcoming. It's a great choice for those days when you're away from home a little longer than you'd prefer.
It comes in a 7, 14 and 28-pound bag, and reviewers say it's light enough to easily carry. If you're looking for a scented litter, the not-so-humbly-named World's Best is an excellent choice.
---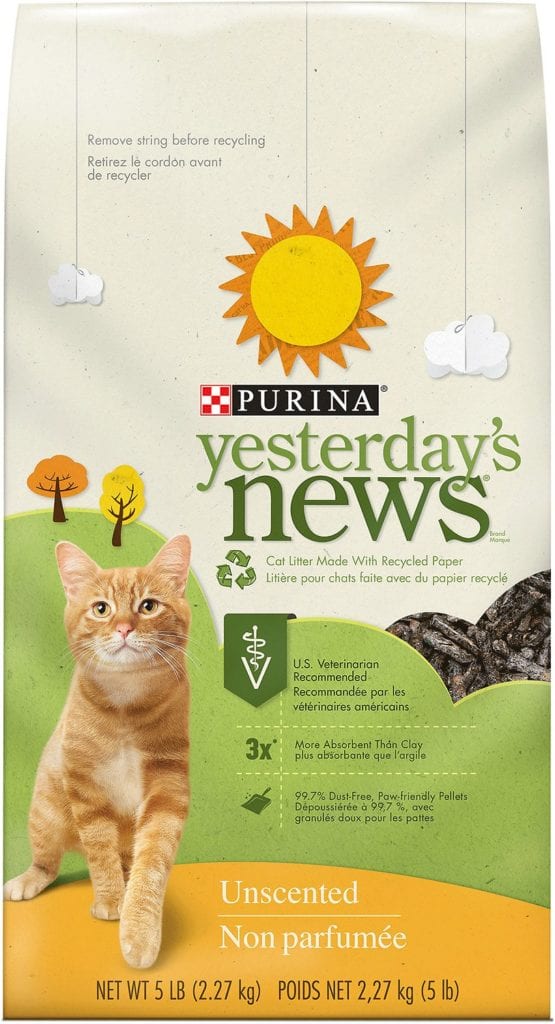 While there are many benefits to clumping clay litters, a non-clumping litter can still be easily dumped and changed; it's the ideal option for those looking for a natural product. Purina Yesterday's News is made from 100% recycled paper, and is both gentle and highly absorbent while still being safe for the environment and your cat.
In fact, it is three times more absorbent than clay litters — and because it doesn't clump, you won't have to worry about scraping the bottom of your box when you change it out. The biodegradable paper pellets are great for cats with respiratory issues, as the ingredients don't irritate the way some clay litters can. It comes in a 13 and 30-pound bag, and in a "softer texture" formula that's a little gentler on sensitive paws.
---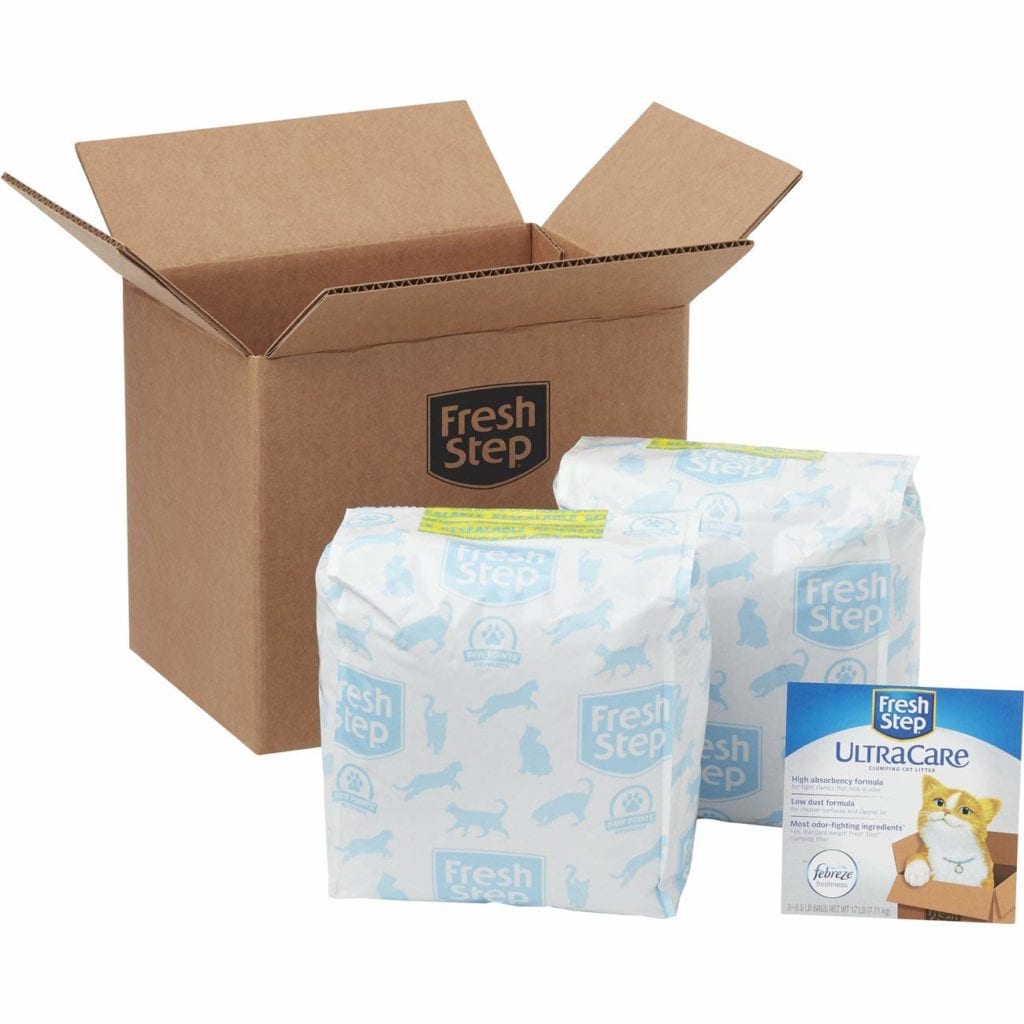 Fresh Step UltraCare with Febreze Freshness, Clumping Cat Litter uses a high absorbency formula to make sure the odor stays locked into the litter and doesn't release into your home. In fact, the odor absorbency is so thorough, the manufacturer guarantees 10-days of odor control, which is quite impressive. It clumps tight so that you can scoop cleanly without it breaking apart and making your job more difficult.
It comes packaged in 8.5 pound bags, so you can store spares in the garage or some place out of the way. And each bag opens and reseals so pouring it into the box as you fill and refill will also be a breeze. It's a low-dust litter that will keep you from sneezing every pour, as well, which is a welcome feature for those of us with allergies or sensitive noses.
---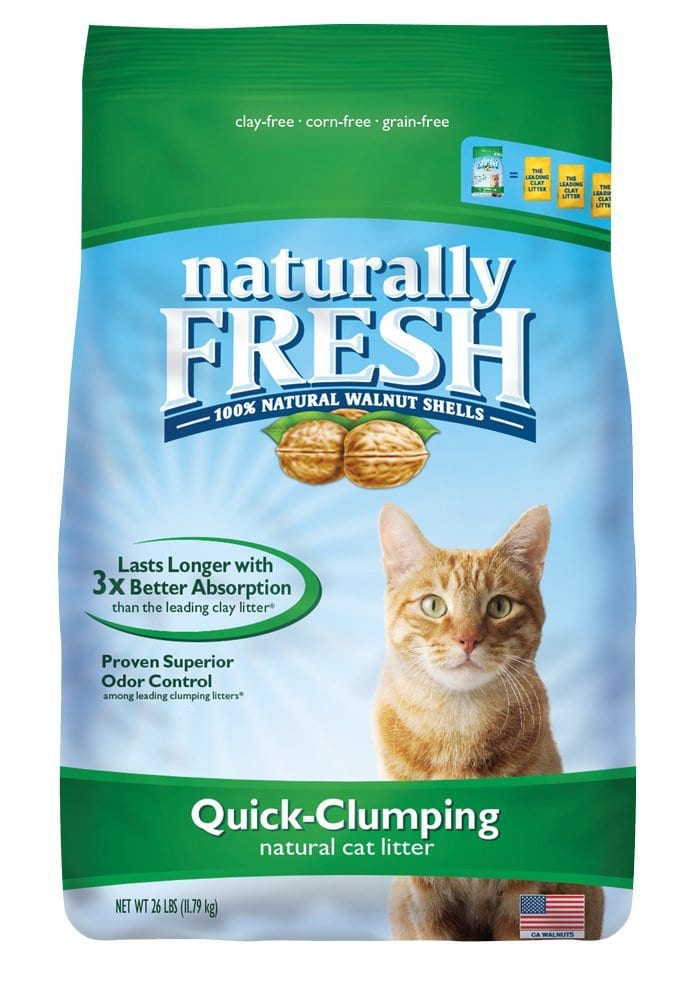 If you prefer a natural litter but your cat won't use recycled paper, choose Blue Buffalo Naturally Fresh Cat Litter. Made from 100% biodegradable materials, it's well-suited for the most finicky of cats.
Here's another natural litter that is highly absorbent. This product is made from walnut shells which is safe for your cat. It features excellent moisture absorption that is three times more powerful than traditional clay-based litter. This natural litter clumps well, allowing for easy cleanup. It's odor-reducing too. The unusual smell of the litter is due to the biodegradable ingredients. It also has a darker color which makes monitoring waste a bit challenging especially if the litter box is placed in dim areas.
---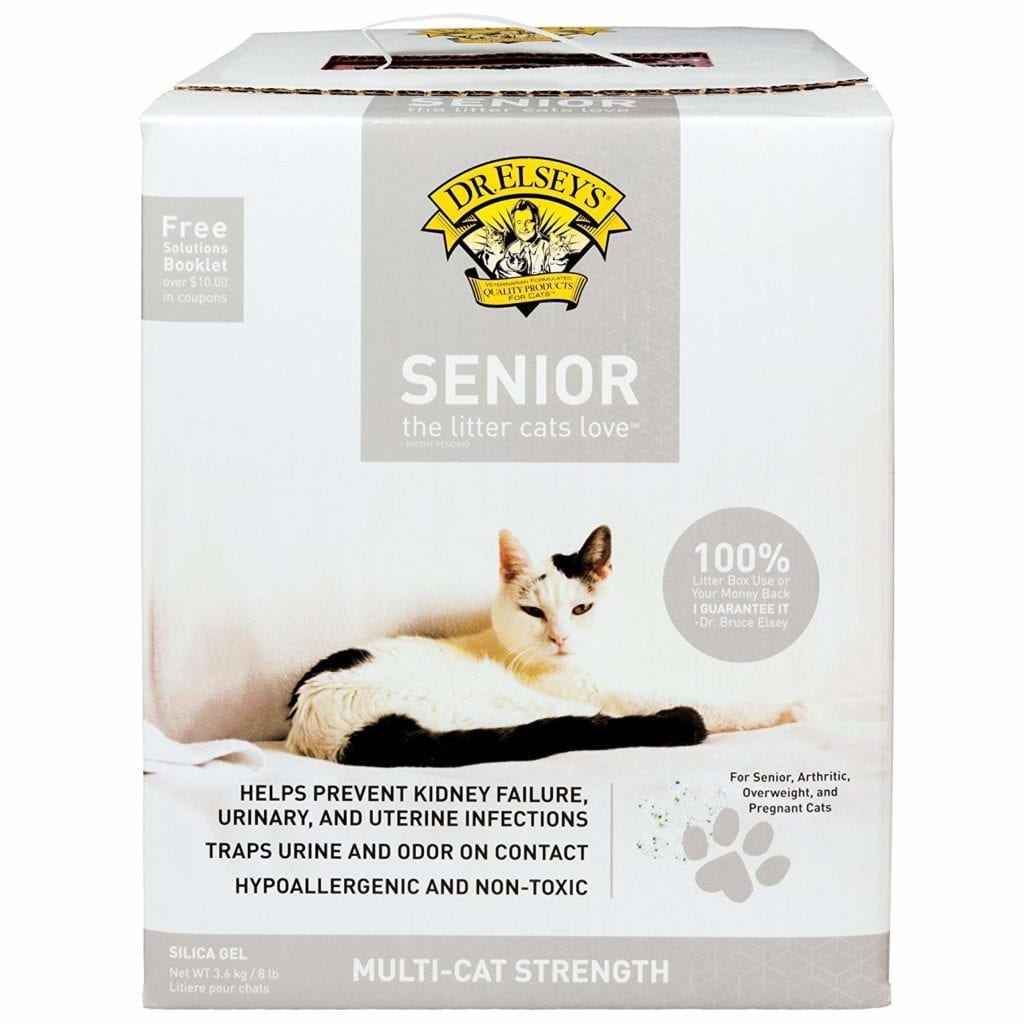 While many of the most popular litters are made from clay, silica gel is quickly becoming a favorite among cat owners for its ability to absorb large amounts of liquid and to reduce mold and bacteria. Dr. Elsey's Senior Cat Litter comes in an eight-pound box, is made from amorphous silica gel and is safe if inhaled or ingested. Rather than clumping liquid like clay litters, the gel actually dehydrates waste and removes the need for scooping urine.
Dr. Elsey's provides superior odor control and has an added herbal attractant designed to encourage cats to use the box. Many veterinarians recommend this product for cats prone to UTIs and kidney infections, as some clumping litters can attract the bacteria that cause these issues in the first place.
---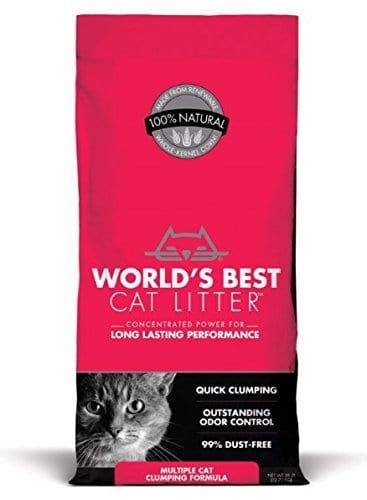 World's Best Lavender Scented Multiple Cat Litter is an all-natural litter made from wood fibers and corn kennel. With its quick-clumping formulation, this product is guaranteed to make cleaning the litter box highly convenient.
If you're looking for a high-quality scented litter, this is the best brand. The inclusion of lavender gives off a nice scent that is floral and welcoming. It's a great choice for those days when you need to be away from home for a little longer. It's lighter than clay litter, yet has good moisture absorption which allows for fast clumping and easy scooping. Even more, this cat litter is flushable. And just like other top brands, it's dust-free.