Dogs have a knack for getting into trouble and some dogs seem to always be followed by a cloud of dust and dirt. Unfortunately, dogs are not like cats in grooming themselves – you have to do it for them. While many dog owners use human shampoo on their dogs, it is wise to choose a product that specifically designed for dogs that suit their sensitive skin and prevent possible skin infections. In this article, we have reviewed 9 best dog shampoos to give you a healthy and clean canine friend!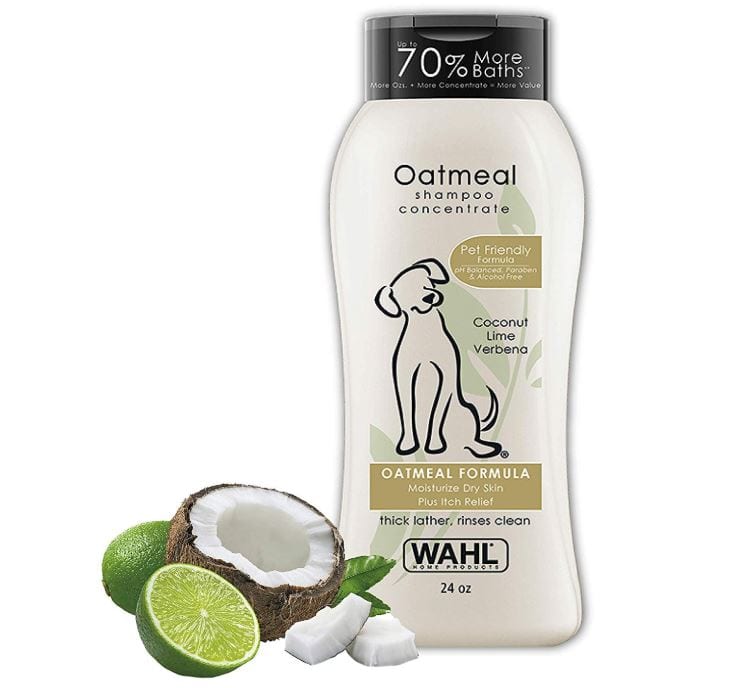 This all-natural, plant-based dog shampoo was designed to help treat dry itchy skin. This pet shampoo promotes a healthy coat for you pooch, which balances out to a clean, comfortable and happy pet and less shedding for less cleaning and vacuuming for the humans in the family.
With an oatmeal formula that relieves super-itchy skin, this shampoo, price-wise, is a steal. Plus, the addition of coconut, lime, aloe, and lemon verbena give your canine's coat an incredibly fresh scent.
---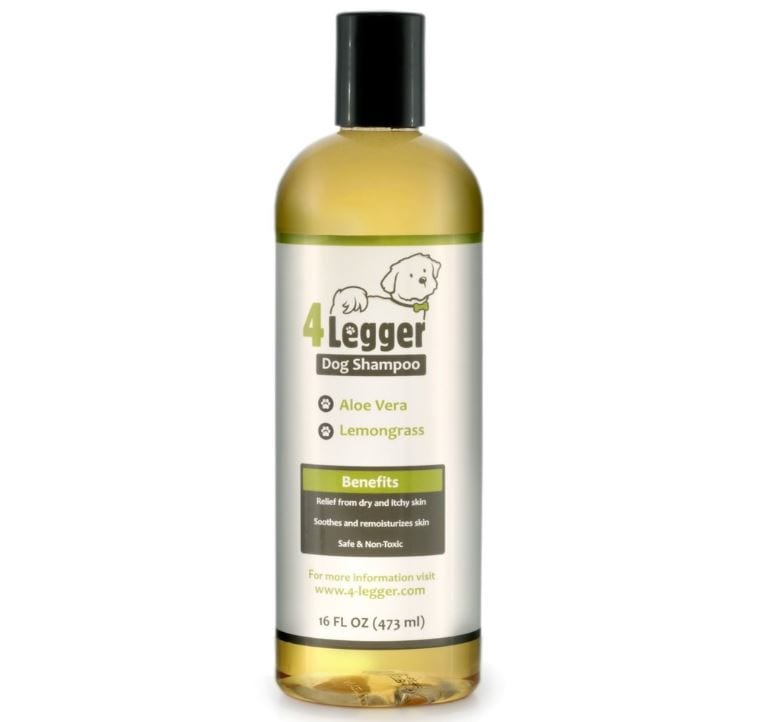 Help your pet get naturally clean with the 4-Legger Organic, Hypo-Allergenic, Lemongrass & Aloe Dog Shampoo. A truly natural and organic shampoo, you can wash with confidence knowing there isn't a drop of artificial or synthetic chemicals in the entire bottle. Instead, 4-Legger uses lemongrass, a natural cleanser, plus an aloe vera blend that is great for all skin types—including those with dry, itchy or allergy-sensitive skin.
There's also organic oils and essential oils to provide soothing relief and promote naturally healthy skin, and it's USDA-certified organic to exceptional standards. It's also great for cats and small animals, it will not remove topical flea and tick treatments.
---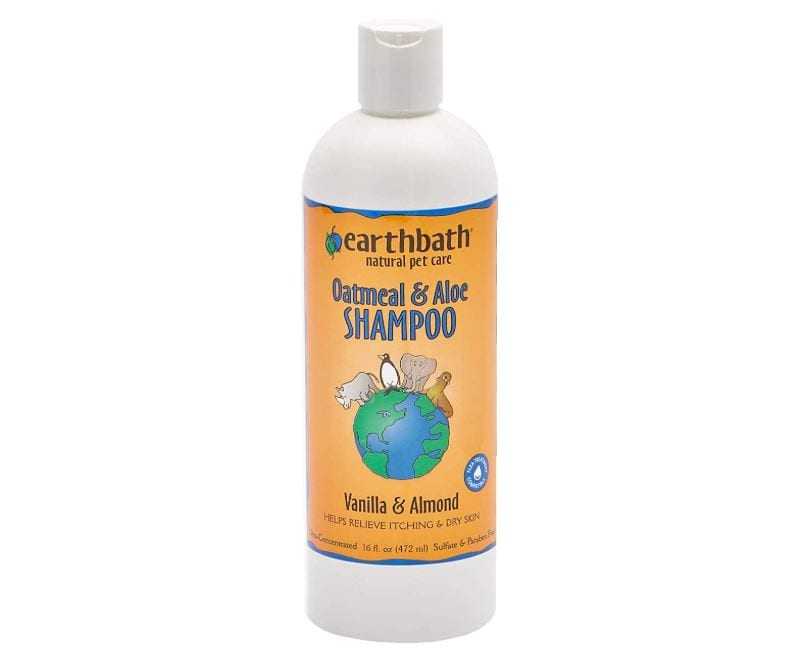 Earthbath Oatmeal & Aloe Dog & Cat Shampoo reduces time spent scratching and leaves more time for cuddling. This soap-free shampoo is made specifically for dry, itchy skin. The thoughtful formula provides plenty of relief and deodorizes your fur baby without irritating his skin or washing off topical flea applications.
Users with dogs with allergies found that this shampoo was helpful in treating and calming some of the skin-related side effects of these sensitivities. It also contains many natural conditioners to keep your dog's coat silky and unmated.
---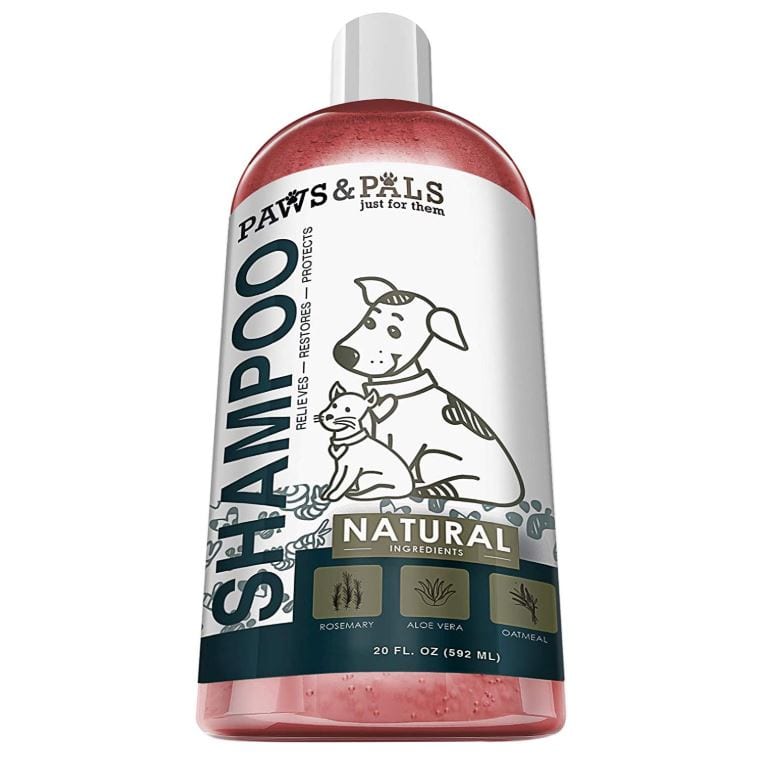 Paws & Pals created a 100% all-natural and organic Oatmeal, Shea Butter & Aloe Vera Shampoo that's gentle and effective. Natural aloe, jojoba and coconut oils help moisturize dry, sensitive skin and even the most brittle coat. Made from vegan ingredients, this tearless soap-free shampoo is non-toxic and safe for you and your dog.
This gentle shampoo helps relieve painful and itchy skin caused by fleas, dander and dryness and leaves your dog's fur clean, odor-free and full of shine!
---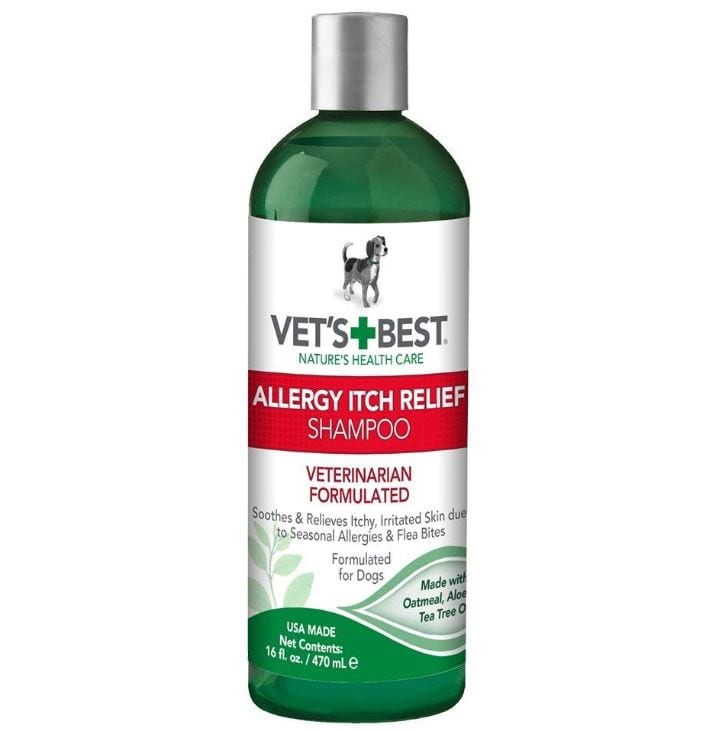 Vet's Best Allergy Itch Relief Dog Shampoo is great for dogs with itchy skin due to allergies or sensitive skin. Allergy Itch Relief Dog Shampoo uses essential oils and natural ingredients (oatmeal, D'Limonene, tea tree oil) to calm skin irritation and moisturize skin from incessant itching by washing away allergens attached to the fur and skin.
Leaves your dog smelling fresh with herbal spa fragrance, and can be used as often as necessary without drying out your dog's skin. Will not affect topical flea and tick control products.
---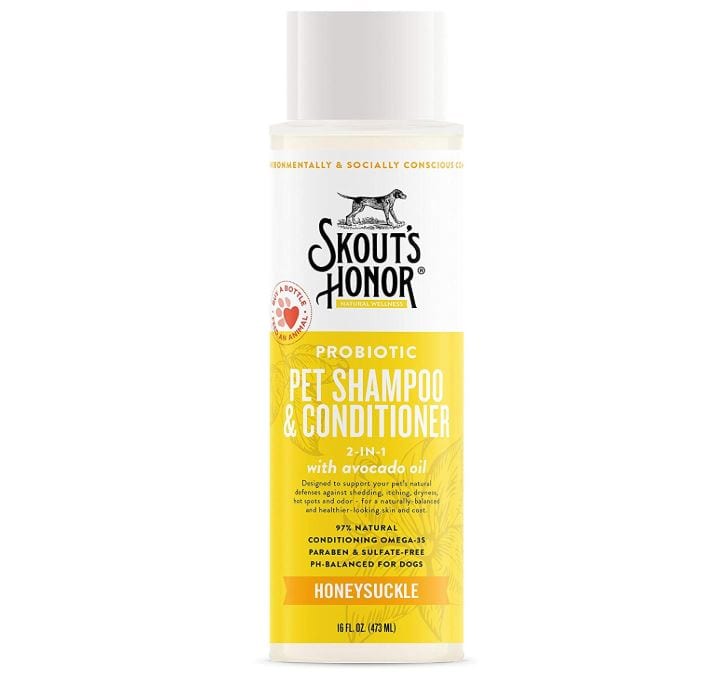 Gently cleanse and moisturize your furry friend's skin and coat with Skout's Honor Probiotic Honeysuckle Pet Shampoo and Conditioner! This two in one probiotic formula is specially made with avocado oil and coconut oil and is designed to improve your pet's skin and coat by combating shedding, dryness, itching, hot spots and odor.
This 97% natural shampoo and conditioner is paraben-free and sulfate-free, PH-balanced for dogs and contains conditioning omega-3s leaving fur silky and smooth. Restore the balance back into your pal's skin and coat the eco-friendly way with Skout's Honor!
---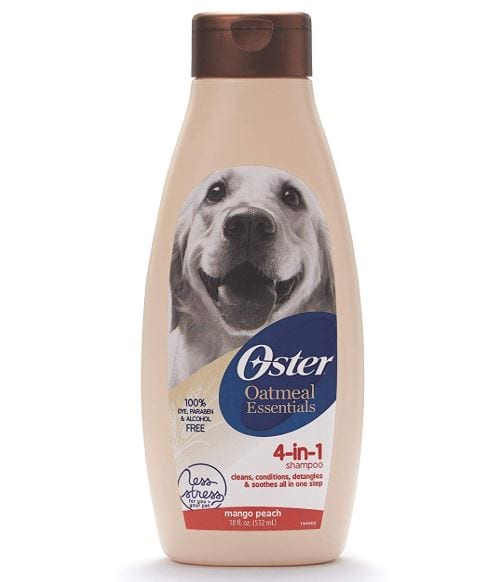 Keep your pet fresh and clean with Oster Oatmeal Naturals Mango Peach 4-in-1 Shampoo. This oatmeal shampoo for dogs effectively soothes, cleans, conditions, and detangles in one easy step. It features 100 percent natural oatmeal extract, vitamin B5, and built-in conditioners to remove static, add shine, and leave your dog''s coat feeling softer and more manageable.
This oatmeal shampoo contains natural, pH-balanced, and biodegradable ingredients and is free of alcohol, dyes, phthalates, and parabens.
---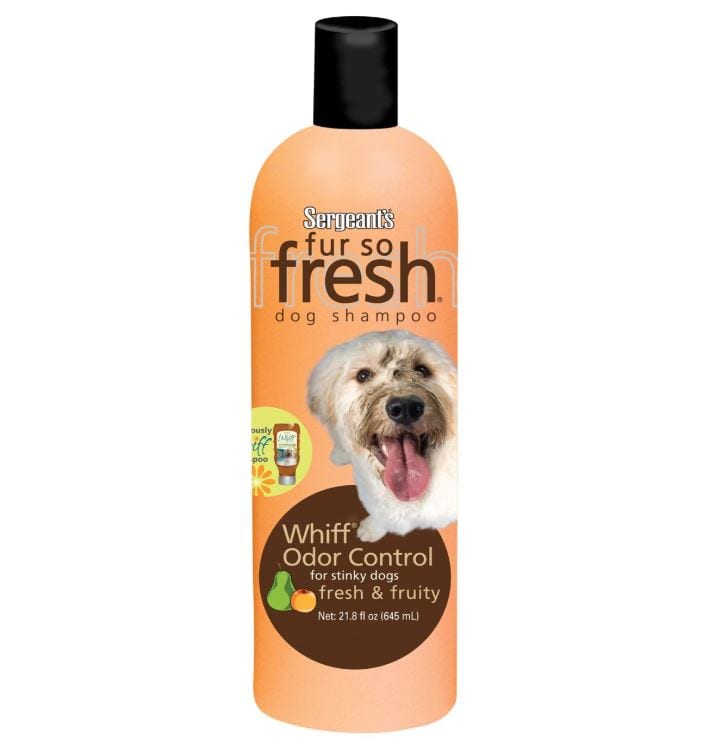 Keep your four legged friend smelling fresh and wonderful with Sergeants Fur So Fresh. Its fruity whiff odor control helps get rid of tough odors that can stick around for a while, including skunk and other offensive smells. This Sergeants shampoo comes in an 18 oz container and has the fragrances of citrus, pear and peach to leave your pet with a lovely scent. Say goodbye to smelly dog odors with this quality product.
---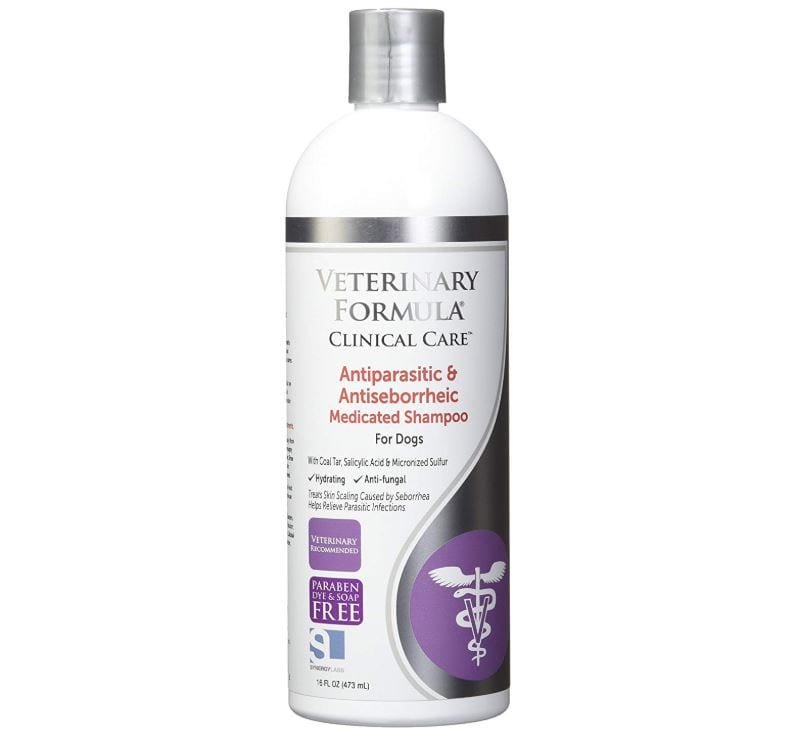 Veterinary Formula Clinical Care Antiparasitic & Antiseborrheic Shampoo is formulated with salicylic acid, coal tar and micronized sulfur that effectively treats symptoms of dermatitis, seborrhea, mange and other parasitic or bacterial infections. Helps soothe and eliminate scaling, rashes and inflammation. Oatmeal & allantoin hydrate skin and promote healing.