Let's face it, dogs are dirty creatures. Regardless of breed or size, most dogs would give anything to run through a mud puddle. This is why dog doormats are becoming increasingly popular and important, too! These are usually made from absorbent materials to remove more water and dirt than the average mat.
Variety of door mats for dogs are available on the market. To help you make the right choice, I've put together a list of dog doormat reviews. Each of the mats listed below can help dry wet paws, while providing great value for money. You can go through the features and buy the one which suits to your requirement and preference.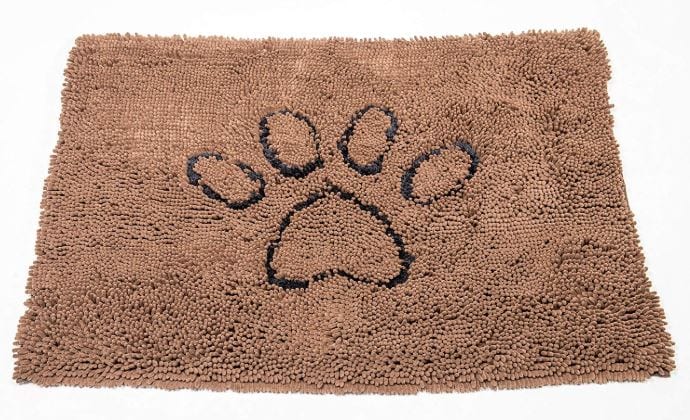 It's made of thick microfiber strands. This material gets rid of messes easily while remaining very plush and soft to the touch. It has an impressive absorption rating of 3,000 and dries up to 5 times faster than standard mats.
In terms of durability, this mat is built with rambunctious dogs in mind. It has double basting and thick stitches around the perimeter for safety. On the bottom of the mat, you'll find a non-skid material that keeps the mat in place.
Buy Now from Amazon
---
This easy-to-wash and quick-to-dry dog mat from My Doggy Place is made of durably-stitched Chenille microfiber. It has excellent absorptive capacity for moisture and mud – exactly what is needed in homes that have pets. The ultra-grip backing keeps it in place and makes heavy-traffic areas in the house – such as entryways, foyers, mudrooms and halls – safe for everyone.
The mats come in fetching colors of brown, charcoal, navy blue, oatmeal, and red. There are medium and large sizes, and a runner-size is also available for alleys or for doorways that are wider than usual.
Buy Now from Amazon
---

The Chenille microfiber absorbs water seven times its weight, is odor-free and has anti-bacterial characteristics. This best dog doormat measures 18"x24" and comes in colors of caramel and dark chocolate. Pet owners bought this to use for various purposes – as a doormat, rug underneath feeding bowls, sleeping mat, or seat cover when traveling with dogs in the car.
The Soggy Doggy Slopmat is highly absorbent and keeps surfaces free from any mess that usually happens with dogs around. The mat absorbs a lot of water and dries easily. It does not have a waterproof liner, so buyers say they use plastic or rubber sheet underneath the mat for excessively sloppy dogs.
Buy Now from Amazon
---
This mat is available in two sizes. You can get one that measures 35 inches by 25 inches or a larger alternative that measures 40 inches by 24 inches. Both options are covered with microfiber bristles that are built to absorb as much water as possible. The bristle move as your dog walks over it, exposing pockets that are capable of trapping in dirt so that it doesn't get loose.
There's a non-skid bottom material built right on so that it won't slide around a smooth floor. The mat is available in two different colors that include contrasting white paw designs.
Buy Now from Amazon
---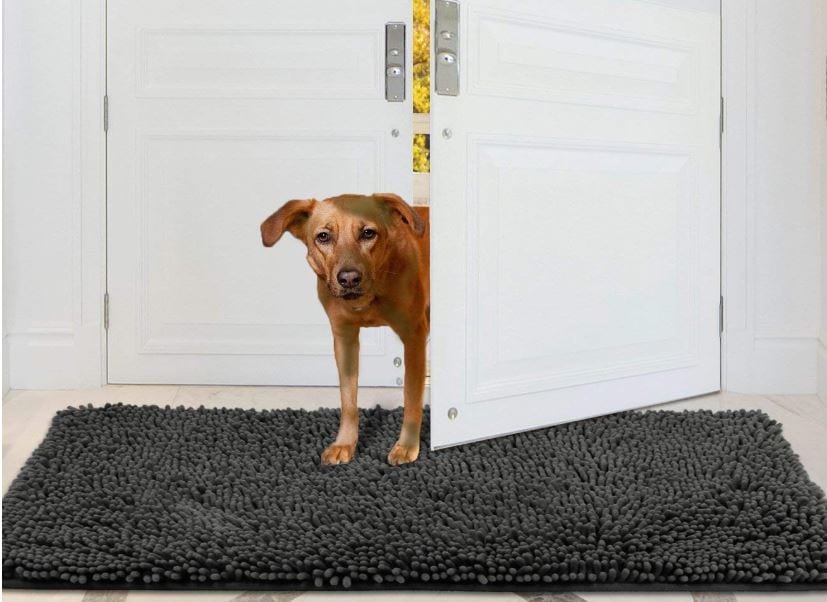 It is so soft on the front side with tender microfibers. A 6mm foam placed inside lets your dog relieve all pressure and rest in superior comfort. The back of this mat, in contrast, has a non-slip texture made of high-quality PVC material. It will stay stable in one place instead of slipping in other directions. It can be washed both manually and by machine.
It saves you from the hassle of falling fiber strands everywhere with the unique fiber-locking technique. The neatly wrapped sides also help to keep the hairs on the mat instead of its surroundings. Since it is made of thick chenille yarns, it cam absorb water faster. Compared to cotton, it can absorb seven times more water.
Buy Now from Amazon
---
One rug, several uses – this microfiber dog doormat from Camon is super-absorbent and can soak moisture and mud instantly. Because of this characteristic, it is not only endorsed as a doormat, it also finds its place inside cars, under crates, as a pet mat, kennel flooring, and all-around rug for use around dogs.
Homeowners who have used this for some time say that dogs love to linger on the soft rug. When they do leave, they also leave behind dirt, moisture, mud, and lots of hair. The Walky Dog Dirty Dog Rug can easily be shaken clean. Buyers are often surprised at how this simple item does its work so effectively every single day. What they find more surprising, though, is how the same rug they bought two years ago still works in their doorway with the same effectiveness.
Buy Now from Amazon
---
Available in two different muted colors, this mat measures 36 inches wide by 26 inches long. The first thing you'll notice about this mat is its thickness. It's approximately 1 inch thick to enhance the absorbing qualities.
High-quality microfiber with an absorption rating of 3,000 is used throughout. It's also available with an additional layer of security. The mat comes with a waterproof lining that will prevent water from seeping through the bottom and onto your floors. It's ideal for those rainy days Where your dog has a bit more water to get rid of. It's also machine-washable and has a non-slip bottom.
Buy Now from Amazon