Worms are a familiar, yet disgusting issue that many pet owners face. Not only do worms pose a hazard to your dog, but they're also contagious to other pets and family members. Four different types of worms commonly infect dogs and puppies: roundworms, hookworms, tapeworms, and whipworms. Puppies are also commonly infected with a single-cell intestinal parasite known as coccidian. Adult dogs can become infected with coccidia as well, but many dogs develop an immunity to these parasites. How you do you find a solution for your dog? Luckily there are many solutions and we've rounded up the best canine dewormers to remove, treat, and, just as important, prevent.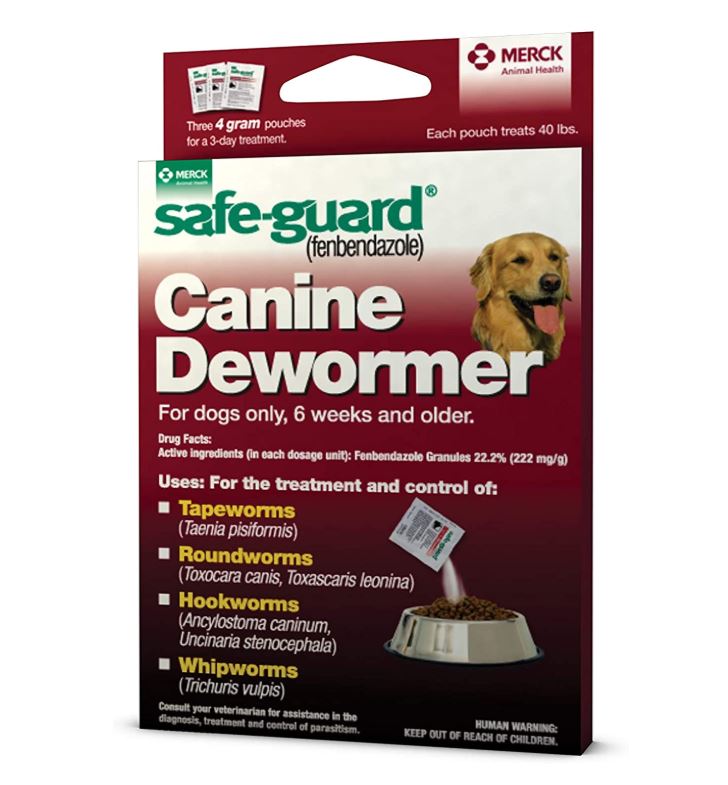 If your dog tests positive for internal parasites, your vet may prescribe Safe-Guard (fenbendazole) Canine 4 gm to treat and control those parasites. This product is effective against the four major types of parasites in dogs, including roundworms, hookworms, whipworms and taenia tapeworms. It's easy to feed—just mix the powder into your dog's food and make sure that your pup eats the full dose. You'll need to repeat the dose for three days in a row. This deworming medication is considered safe for use in all dogs ages six weeks and older, including pregnant dogs.
---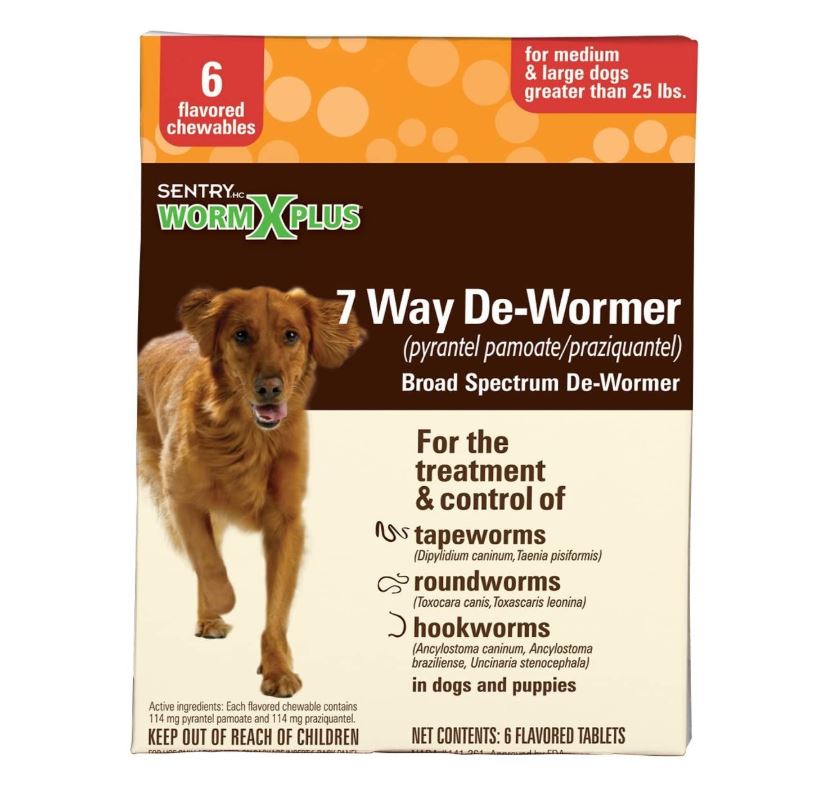 Protect your family's best friend with the Sentry HC WormX Plus 7 Way Medium & Large Dog De-Wormer. This broad spectrum de-wormer works to keep your tail-wagging pal clear of tapeworms, roundworms and hookworms with veterinary-grade ingredients―and no prescription needed. It works to eliminate seven types of worms for a more complete treatment, and can be used to treat current infestations or to prevent new ones, especially for dogs that might be prone to catching them. Plus, it comes in a tasty, chewable tablet that's easy to give and offers 30 days of protection for your pal.
---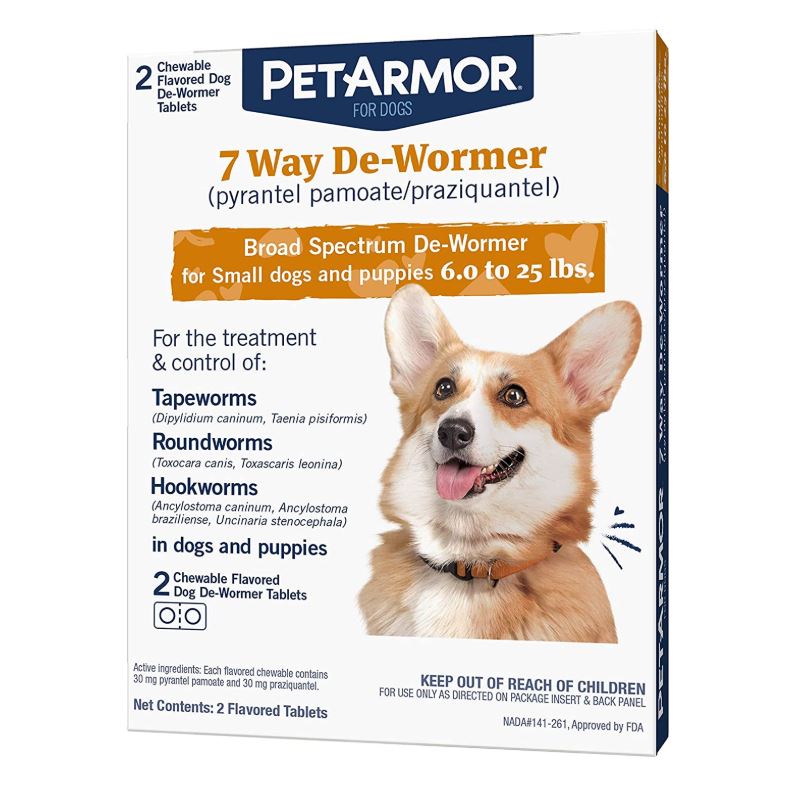 Help your pooch stay worm-free with PetArmor 7 Way De-Wormer Chewable Flavored Small Dog Tablets. This tablet is specifically formulated to treat and control worms in small dogs and puppies. It works on a variety of these problematic parasites—including two types of tapeworms, two types of roundworms and three types of hookworms. This tasty oral dewormer is also easy to give to your pal by hand or wrapped in a treat. It's convenient treatment designed to provide your pup with vet-quality worm control—without a trip to the vet.
---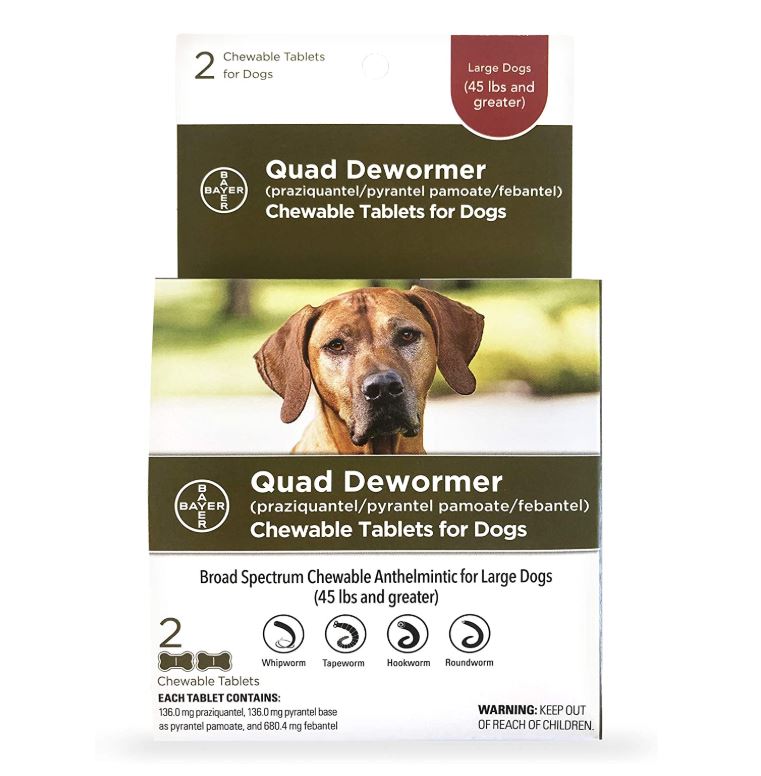 Nobody wants their dog to suffer from worms, so the Bayer Quad Large Dog De-Wormer provides effective at-home treatment. Designed to remove all four common worms, including tapeworm, hookworms, roundworms and whipworms, it takes the guesswork out of treating him. It comes in an easy-to-administer chewable tablet, which can either be directly fed to willing dogs, or disguised in their food. It comes from the trusted Bayer brand, and is safe for pets over three weeks of age.
---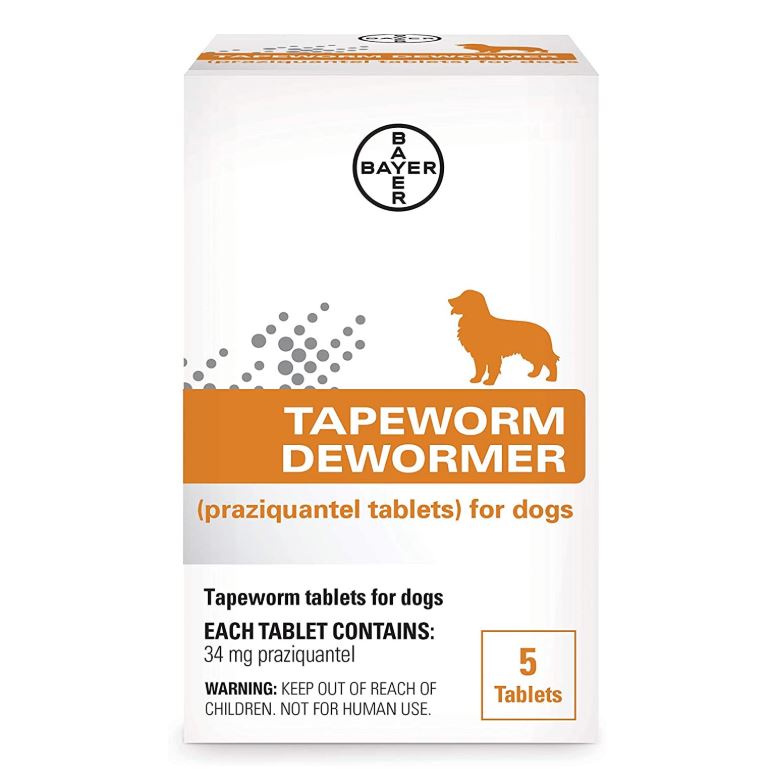 Nobody wants their dog to suffer from worms, so the Bayer Tapeworm Dog De-Wormer provides effective at-home treatment. Designed to end the unpleasant problem once and for all, it safely removes the common tapeworms of dipylidium caninum and taenia pisiformis. It comes in an easy-to-administer tablet, which can be crumbled up and sprinkled into their food. It comes from the trusted Bayer brand, and is recommended for dogs over four weeks of age.
---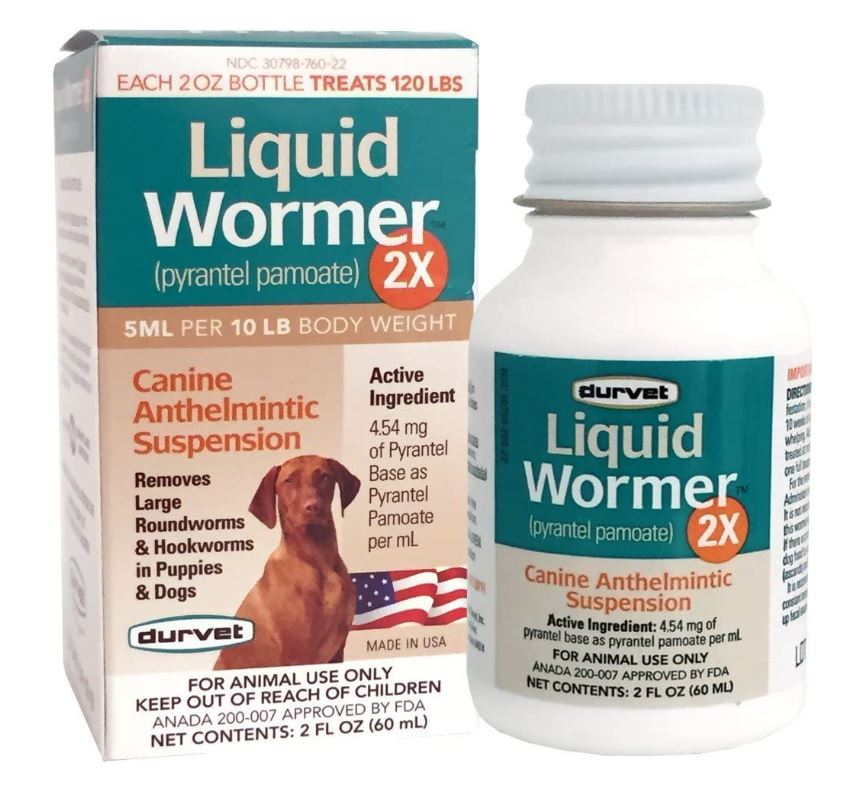 Remember that worms can be contracted by humans as well as other animals, so you need to be diligent about treating your pet for these intestinal parasites. This one should take care of your problem within a few days. Durvet Triple Wormer for Medium and Large Dogs, 2-Pack is another dewormer that is effective against tapeworms, roundworms hookworms. The company claims that this product has been proven effective in clinical trials. Like Sergeant's Vetscription Worm-Away 7, you only need one dose of this high quality dog dewormer to rid your pet of worms.These film coated tablets are as easy to use as they are effective, and they are formulated for small dogs and puppies weighing less than 18 pounds.
---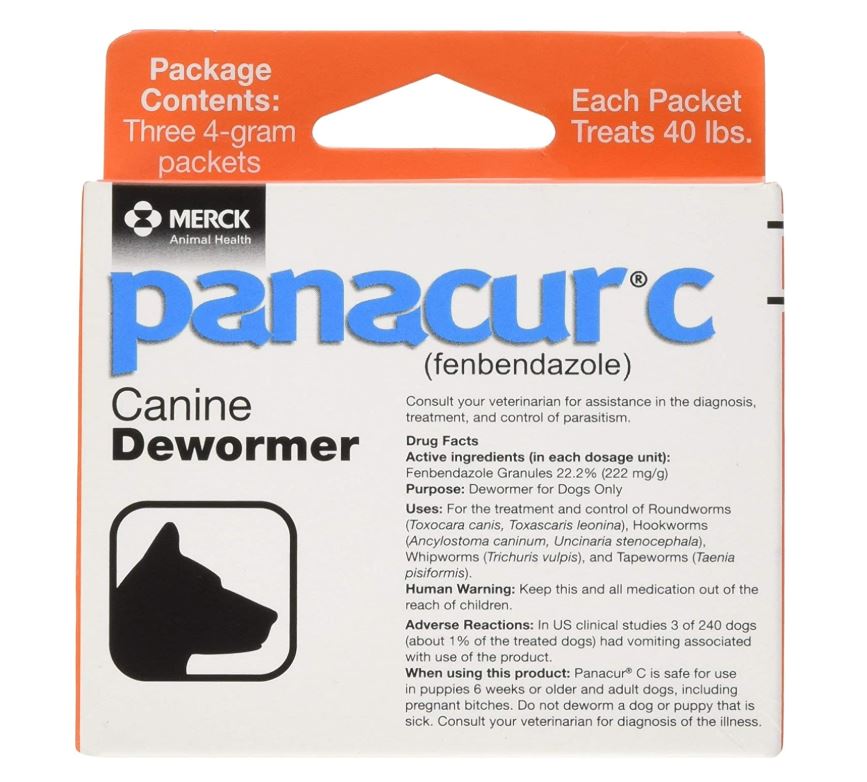 Give your pet quick and effective relief with Panacur C Dewormer for Dogs. It helps treat and control roundworms, hookworms, whipworms and Taenia tapeworms. Panacur C canine dewormer is an ideal choice for fast treatment without the need for a prescription. It uses the same active ingredient as prescribed medication. Each 4g packet can treat up to 40 lbs. This formula is available in a pack of 3, which is equivalent to one complete treatment for an average dog. It's approved by the FDA, making it safe for use at home. This dog worm treatment is suitable for dogs and puppies six weeks of age and older. Try mixing each dose with a small amount of your pet's usual food; this makes it easier to administer. Panacur C Dewormer for Dogs is safe for pregnant dogs to take.
---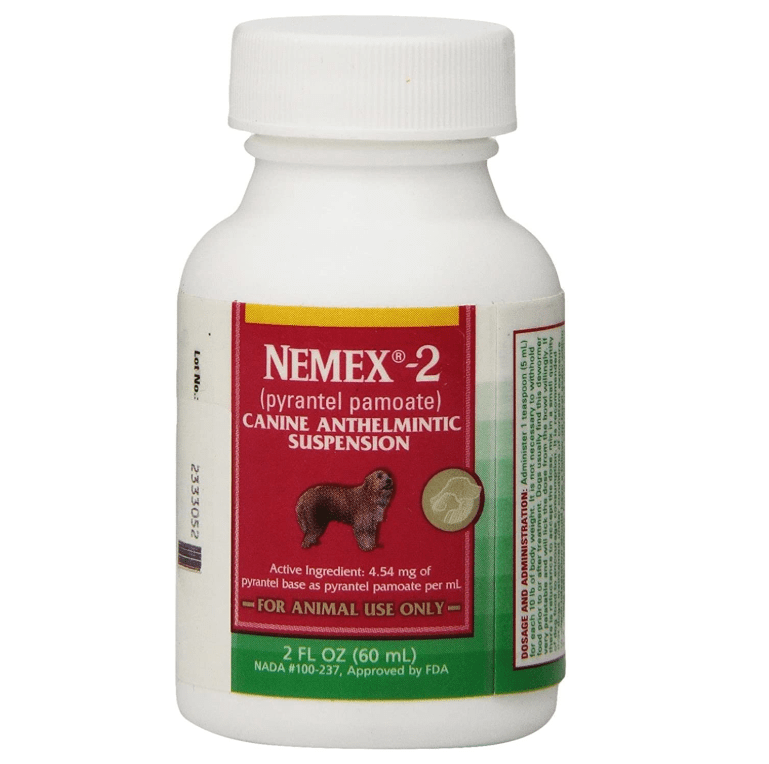 The Pfizer Nemex-2 is a liquid dewormer that can be used for dogs and puppies at least 2 weeks old. It removes large roundworms and hookworms. The best thing about this dewormer is that it is pretty easy to administer and dogs seem to love the taste. Nemex-2 suspension may also be used to prevent reinfection of Toxocara canis in puppies, adult dogs & lactating dogs after whelping. Plus, you only need to give it once. However, it can't be used for whipworms and other types of worms and is quite expensive.
---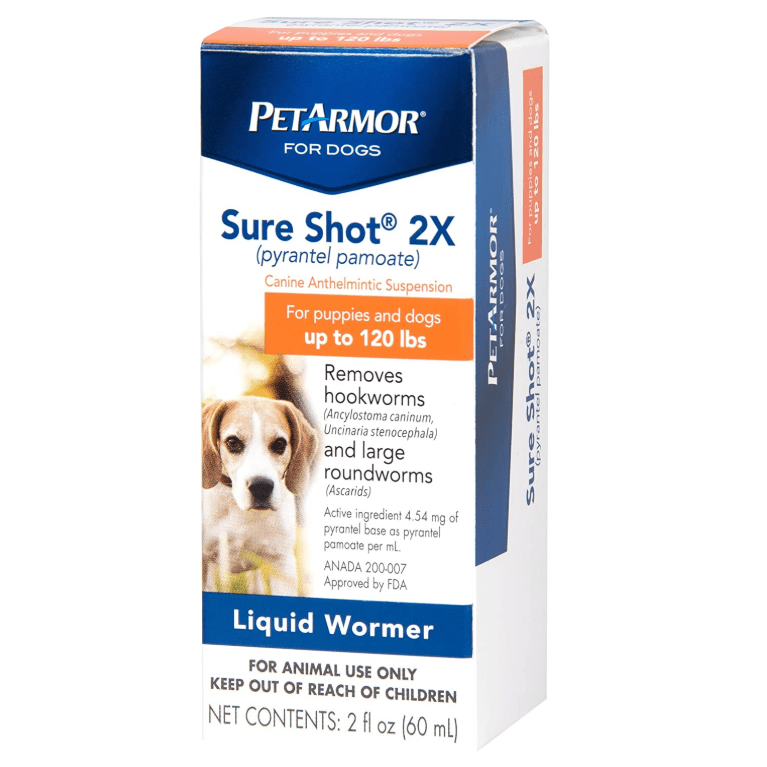 PetArmor Sure Shot 2X Liquid Wormer for Puppies & Dogs provides a single treatment for the removal of large roundworms (Toxocara canis and Toxacaris leonina) and hookworms (Ancylostoma caninum and Uncinaria stenocephala). This liquid wormer can also be used to prevent the reoccurrence of Toxocara canis infestation in puppies and dogs. Available in a highly palatable formula, PetArmor Sure Shot 2X is easy to administer so you can keep your pup healthy and happy.