Don't turn your canine friend into a hot dog! Yes they are active and enjoy outdoor, but they still need to stay cool and love to chill in the refreshing swimpool in a hot summer day, just as you do.
You can do to swimming pool in your complex or gym, but sadly, these places are not so dog-friendly, good thing is you can build your own dog pool with ease, we've rounded up some of the best backyard pools for keeping your pet cool this summer, and he will so thrilled!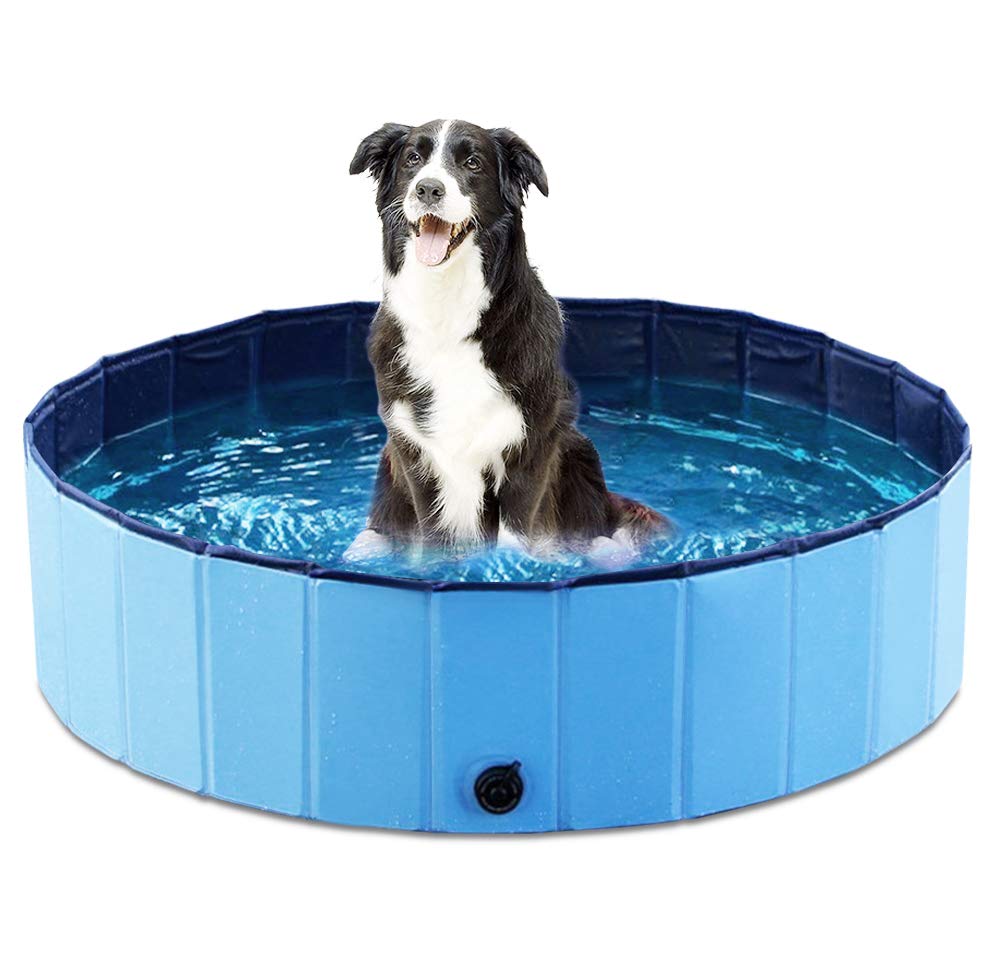 Super easy to set up, this pool can go with you everywhere since it folds like a dream. The bottom is made with especially thick material to withstand regular use, and it's also slip-resistant so it's even safe for senior dogs. Extra perk—toddlers love this pool too!
No need of inflation,set up in no time. It is made of extra-tough PVC, has bottom/side drain, easy to drain and refresh water.
---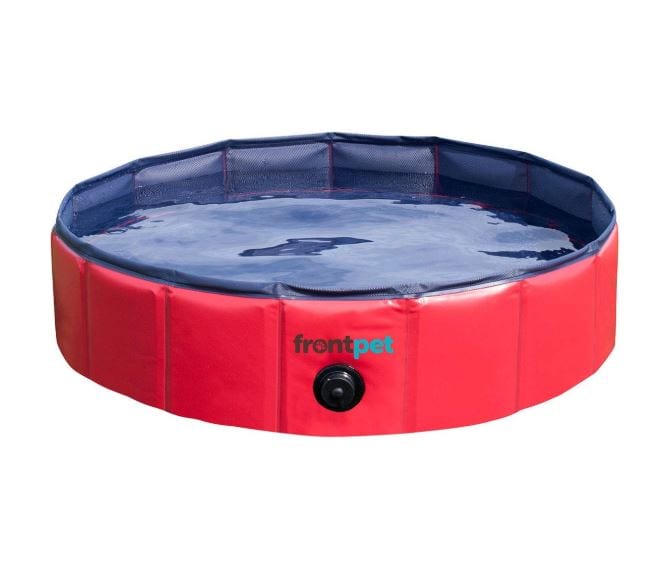 Frontlet aspires to get those scorching summertime weeks more pleasurable for your four-legged friend and designed a long-lasting foldable pet pool. They claim themselves that this is not your typical, synthetic, off-the-shelf toddler pool.
The Frontlet dog pool was created to endure elements and action using materials that are tear-proof as well as leak-proof. It is not necessary to concern yourself with your dog's nails or agitation in the pool, just let him/her run and jump in and out of the water!
---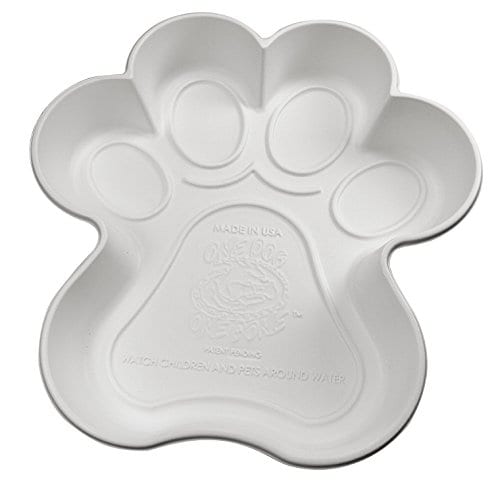 This is a plain, large and very spacious paw-shaped dog pool that will be a wonderful choice if you have medium to giant-sized dogs or several of them.
The pool is made from truck bed liner material so expect extra sturdiness, and on top of that, it offers a very needed chew and UV resistance. The material stays cool during very hot days therefore also keeps the water as cool as possible. The volume of water it holds is 390 litres or 85 gallons, more than enough even for the biggest dogs.
---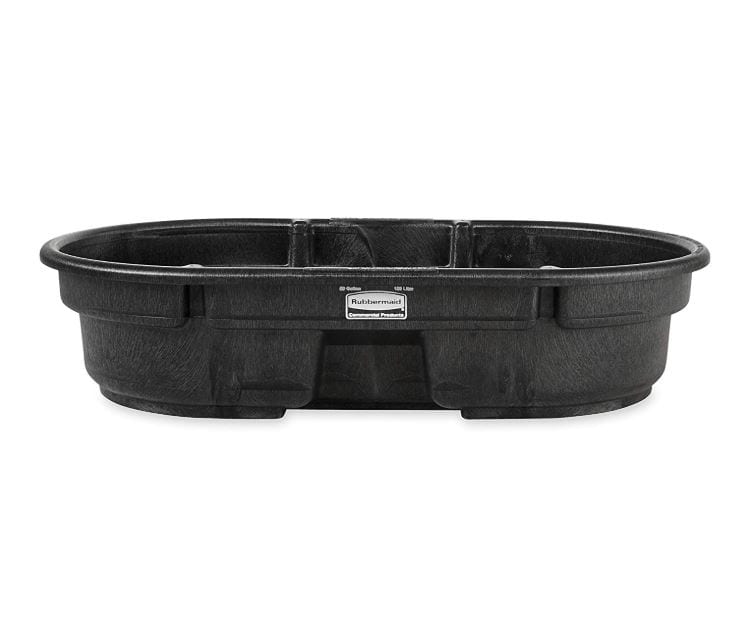 The Rubbermaid Structural Foam Stock Tank is actually designed as a water reservoir for horses and cattle, but it can also make a great pool for your pup. Many owners of large dogs find these super-durable tanks to be a better option than any of the commercially manufactured dog pools.
Many dog owners are surprised at how much they like stock tanks, and find that they are the perfect tool for bathing a dog. The Rubbermaid Stock Tank is virtually indestructible and should last for years, not matter how big or rambunctious your dog is.
---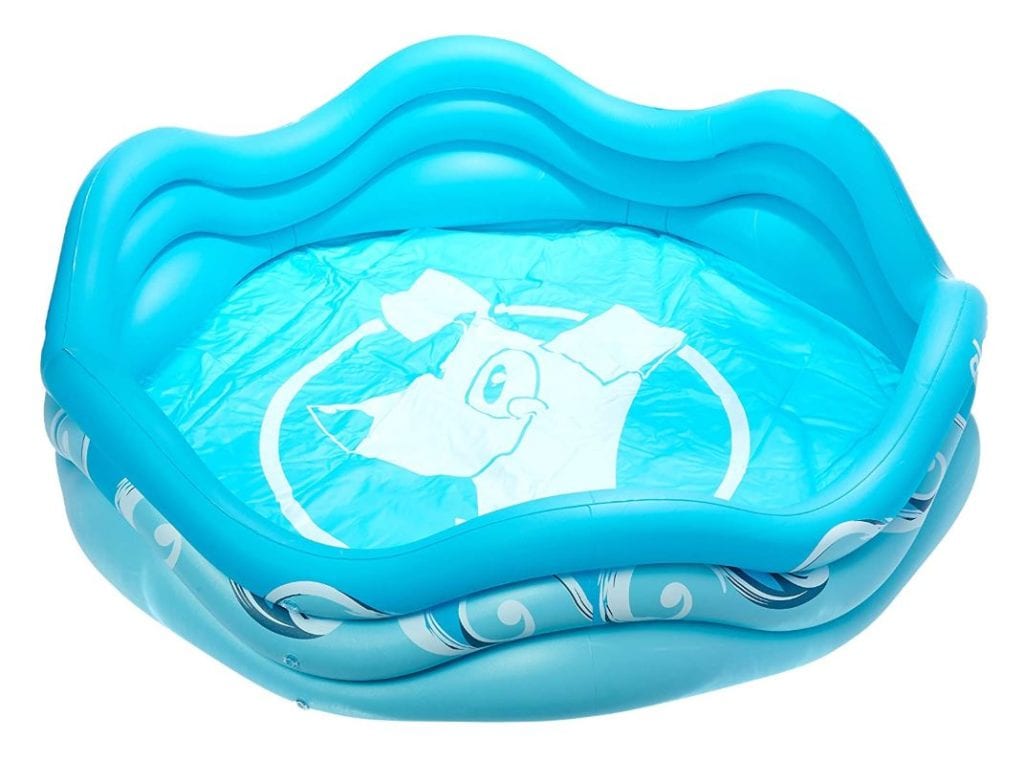 The Alcott Mariner Inflatable Pool is a good option for owners who prize portability above all else. The pool is pretty spacious when inflated and filled with water, but it collapses into a very small size and weighs only 4 pounds.
The pool is 4′ in diameter and made from durable PVC. It also offers low dips so all dogs can come in and out easily, along with round edges for extra safety. There is a plug for fast (and straightforward) draining and an easy fold-up so you can take it anywhere with you.
---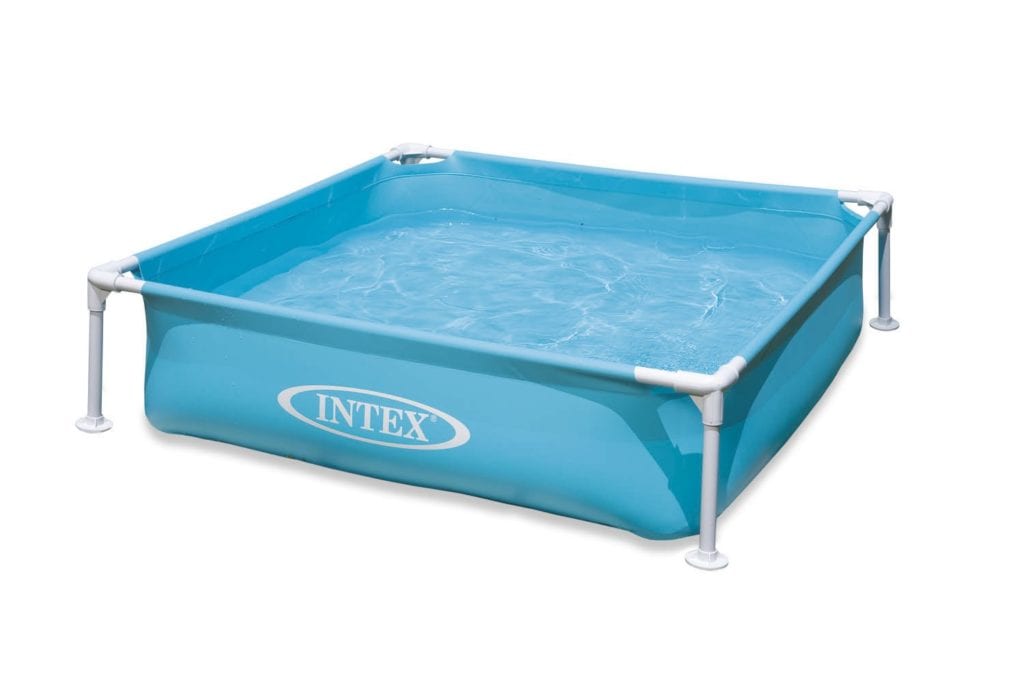 The Intex Mini Frame Pool is a game-changer for summertime dips. With its galvanized steel frame, it is sturdy yet lightweight. Intex ensures that your pet pooch can splash around as much as it likes, without hurting themselves.
The pool is a collapsible built, but the frames are pretty large so you will need a decent amount of storage space to fit it in. But if you're looking for a product that is sturdy and does not rip out a hole in your pocket, then this is a great deal. Maintenance-wise, the product comes with a repair kit so you can fix minor wears and tears yourself. It is easy to clean and drain too.
---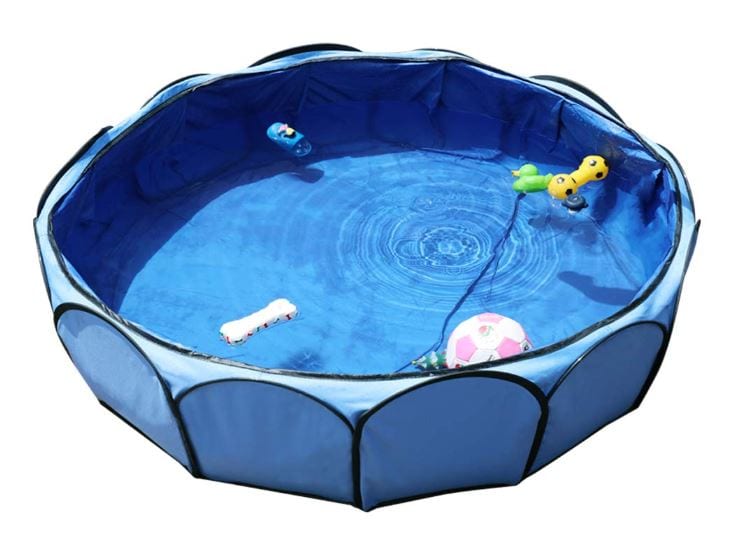 A heavy coated wire frame and a high grade, waterproof Oxford nylon fabricensure that the Petsfit Leak-proof Fabric Dog Pool offers a great bath time. It is large enough to accommodate one single big dog or multiple smaller dogs and puppies. The drain on the side is also easy to use.
The pool is made with materials that are 100% durable and long lasting. It also collapses into a bundle and is easy to carry wherever you want. You can also store it away or pack it and take it to places.
---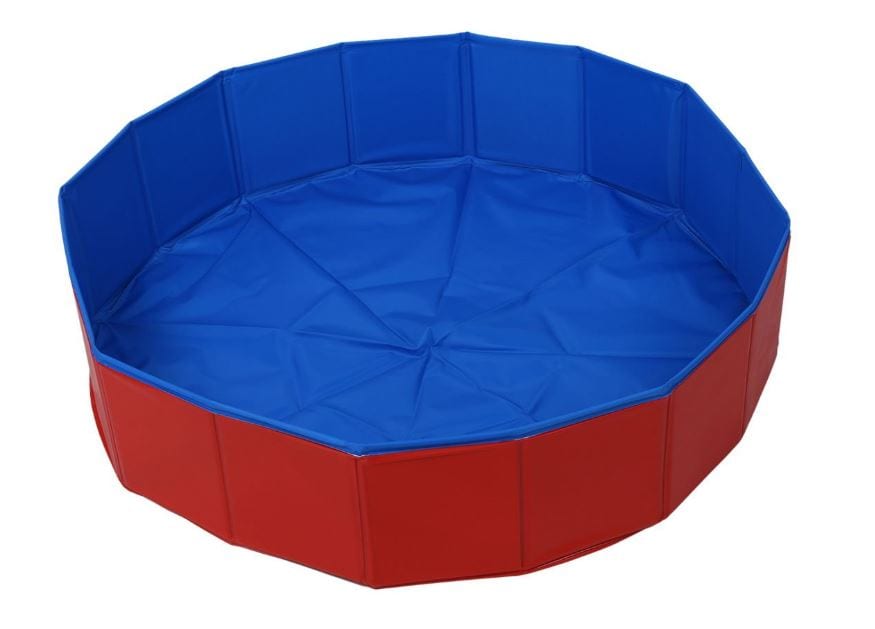 The Furry Friends Foldable Dog Pool is just what its name suggests if not more! It is extremely dog-friendly and will not tear from minor scratching or gnawing. Its collapsible structure makes it excellent for long travels and storage. You can simply let it fall into a small bundle and stow it away for months.
The size of the product allows it to double up as a whelping box as well, when not being used as a pool. With panels made from multilayered high-grade material, this one's as sturdy as an oak. A simple drain and release will help you change the dirty water in the pool or clean it up nicely.
---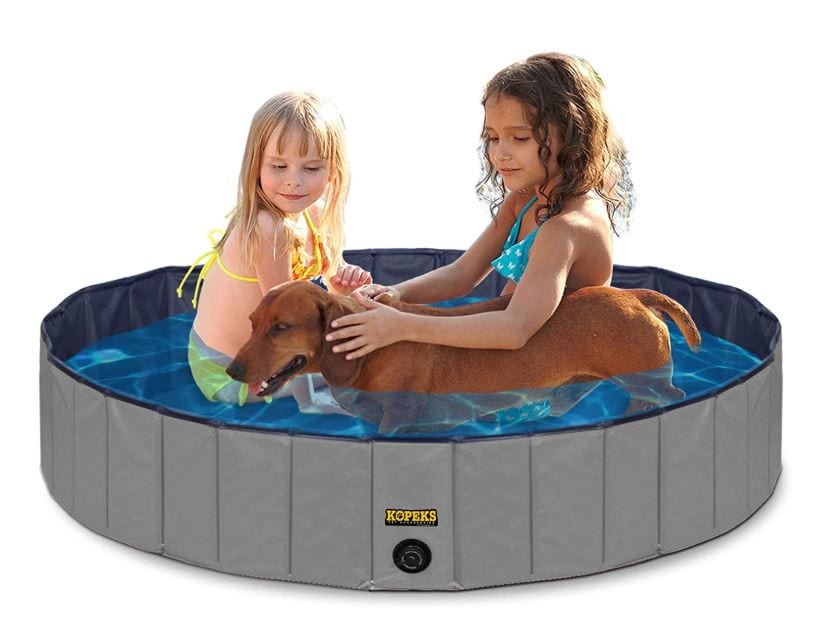 If you're the proud owner of a small dog breed, you don't necessarily need a huge dog pool. For a smaller, more compact pool that will still let your pooch take a dig, consider the KOPEKS Outdoor Swimming Pool Bathing Tub. This collapsible tub is easy to set up, and its small size is perfect for little dogs or poppies.
The KOPEKS Tub is just 8" deep and 32" across, and it has segmented sides that allow you to fold it up when it's not in use. However, it's made from durable, industrial-strength PVC to withstand even the most vigorous play. There's an easy twist-off drain cap to empty the pool, and it comes with a plastic carry case that makes it convenient to store.