Hip and joint pain are very common ailments that afflict a significant percentage of the dog population. Although these types of problems are rarely life-threatening, they usually reduce a dog's quality of life and make even mundane tasks, such as walking and getting up from bed difficult.
Good thing is, there are many dog supplements designed to help ease the suffering on joints, allowing your dog to live a long and happy life. Dog joint supplements can come in several forms so it's important to find one that your dog will take easily.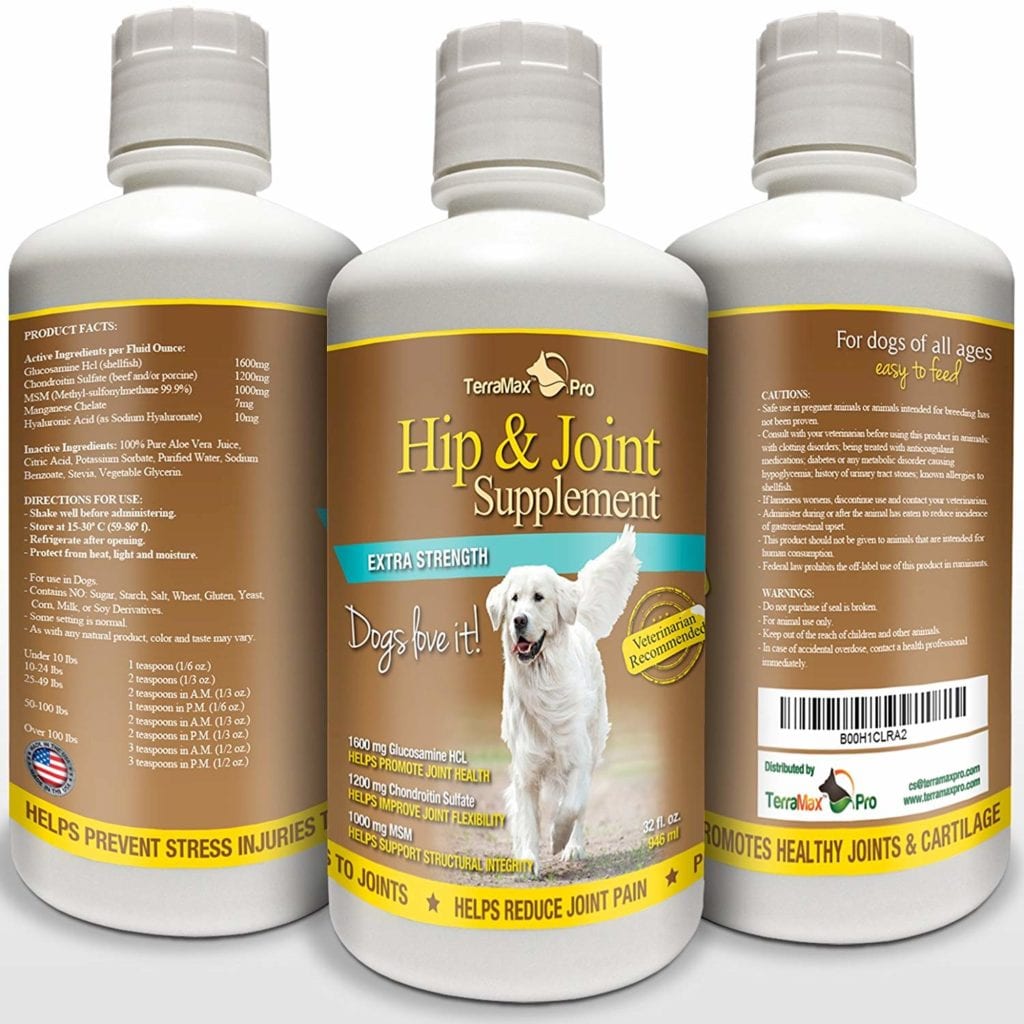 This liquid hip and joint supplement from TerraMax Pro contains glucosamine, MSM and chondroiton, along with hyaluronic acid. The formula is vet recommended and is 100% natural. It has superior absorption so that your dog gets the most benefit from taking it.
The supplement helps to improve circulation, repair hip and joint cartilage, and can also help with skin problems and inflammation. The liquid can be added to your dog's food or drinking water.
---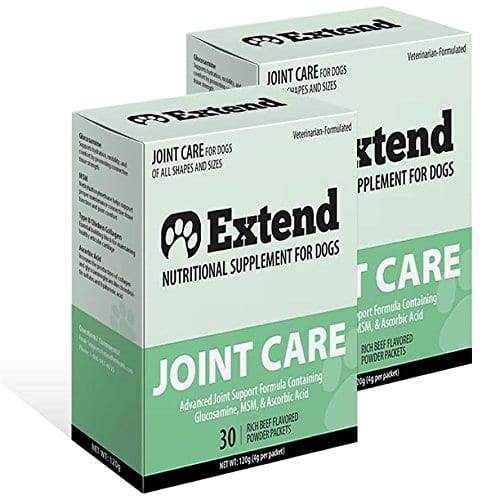 The Extend Joint Care supplement helps to repair joints and cartilage for better flexibility in older dogs. The MSM works to comfort and improve tissue function throughout the body. This product is 100% safe and natural and is vet approved.
It comes in a powder packet that is beef flavored, which most dogs find palatable. It can be added directly to your dog's food, or mixed with water to make a gravy.
---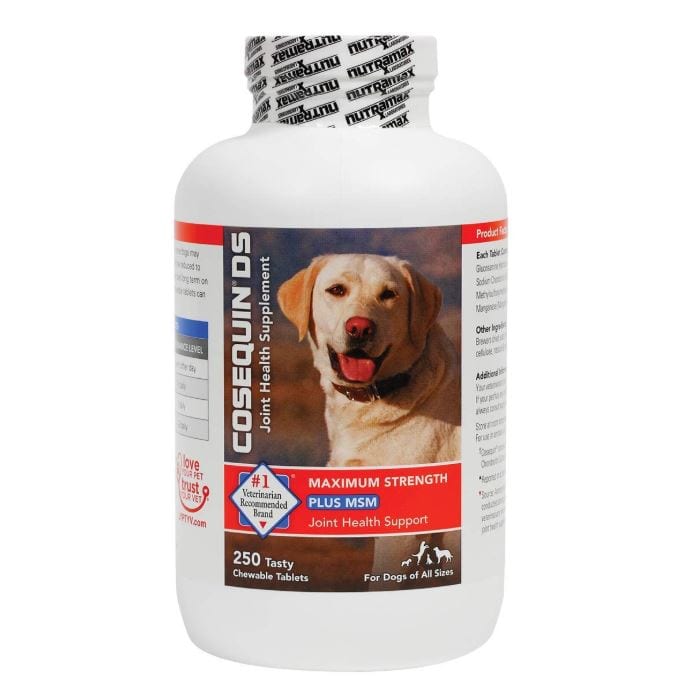 This supplement is from the 1 vet recommended joint supplement brand, Cosequin. The tablets contain fish oil, glucosamine, and chondtriotin for a complex formula created to help with joint health, flexibility, and mobility.
The tablets are chewable and can be given as treats or mixed in with your dog's dry food. They have a taste that most dogs will eat without issue. It comes with a delicious fish oil supplement that promotes a strong silky coat.
---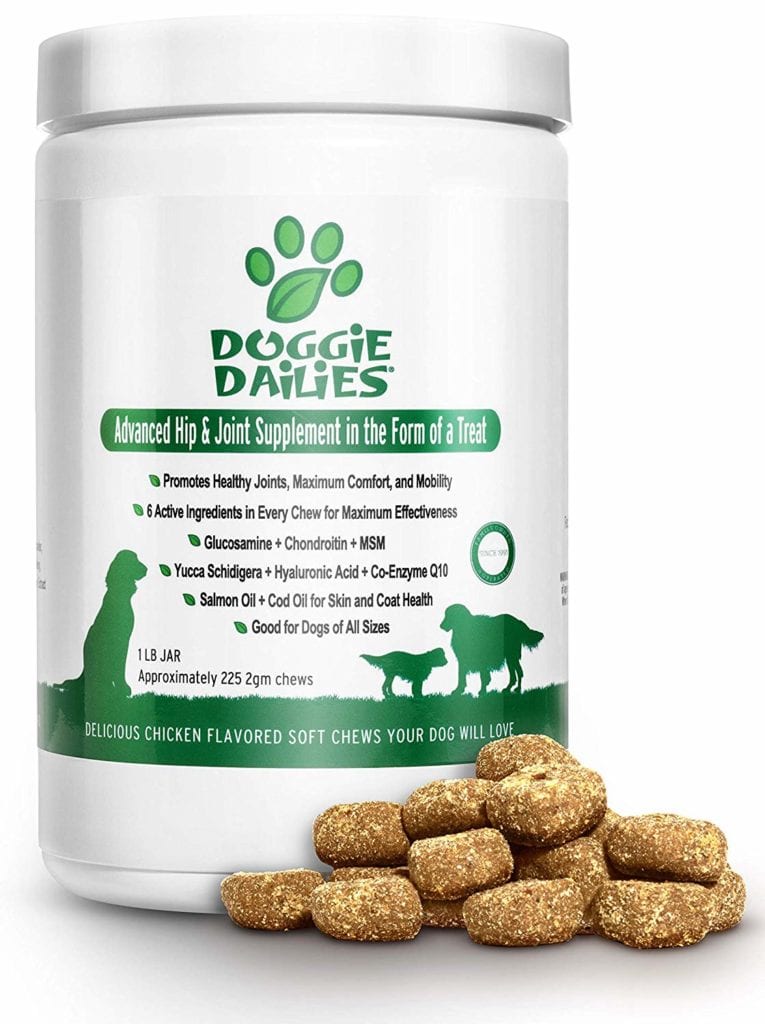 With possibly the most active ingredients of any joint supplement for dogs on the market, this supplement has everything your dog could need to repair or prevent joint damage. Doggie Dailies contains the usual joint supplement ingredients, such as Glucosamine, Chondroitin, and MSM, as well as other active ingredients to help support and boost your dog's joints.
Plus, it also contains Omega 3 & 6, Vitamin C & E, and Salmon Oil & Cod Liver Oil for skin and coat health. It is also created using cold-press extrusion, which helps preserve the strength and potency of the ingredients.
---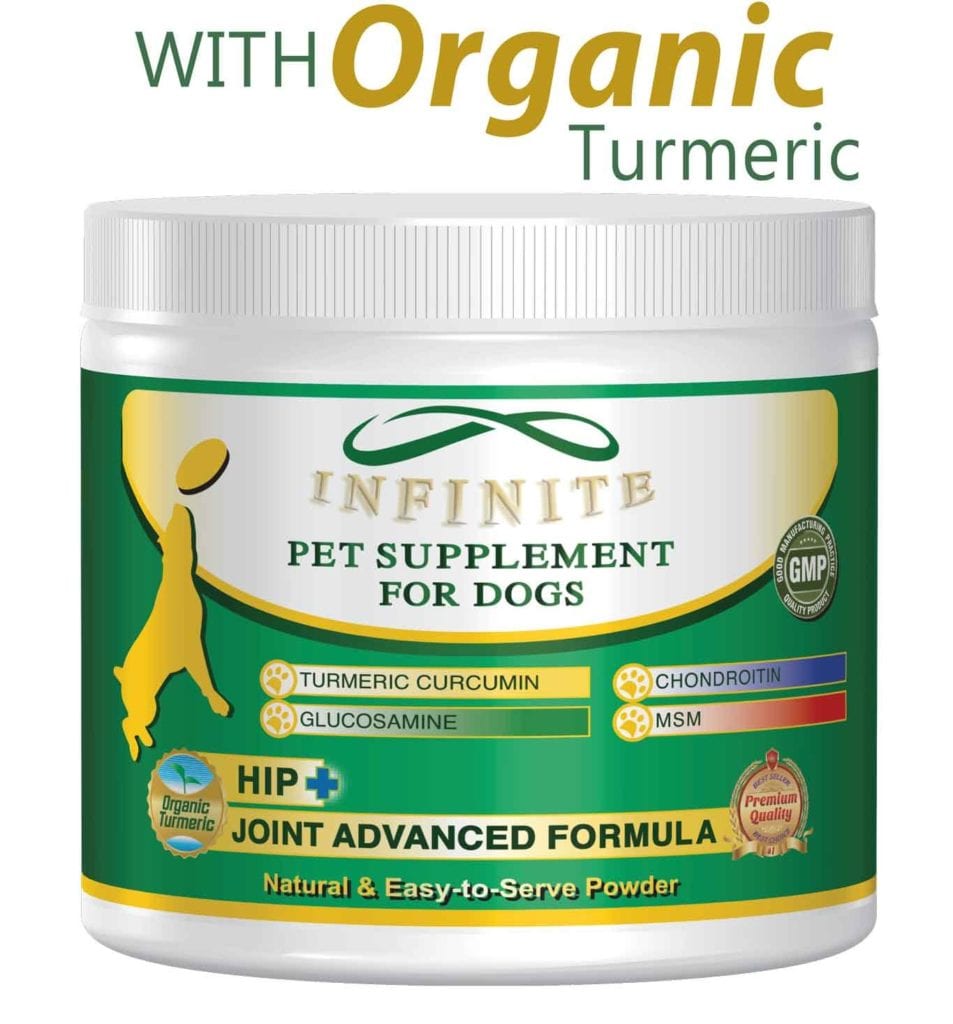 This supplement prides itself on being one of the most recommended hip and joint tablets for dogs out there today. Each tablet is in a chewable form favored with beef liver. They contain organic turmeric, glucosamine, chondroitin and MSM. Though not normally seen in a dog vitamin or supplement, Turmeric is added as an anti-inflammatory agent. H
ere are additional products containing Turmeric. The company offers a 100% lifetime money-back guarantee and the product is made in the USA in a GMP Certified facility.
---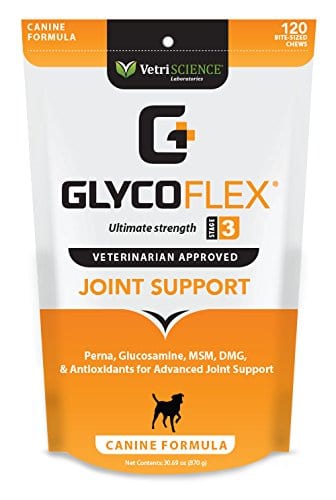 Designed for active dogs & senior pups who may not be as mobile as they once were, these chews claim to improve hind leg strength by 41% in a single month.
Chock full of glucosamine, perna (a type of mussel rich in glucosamine & Omega fatty acids), MSM, DMG (an immune-supportive supplement), and a host of healthy antioxidants, your dog will be well on his way to outrunning you again.
---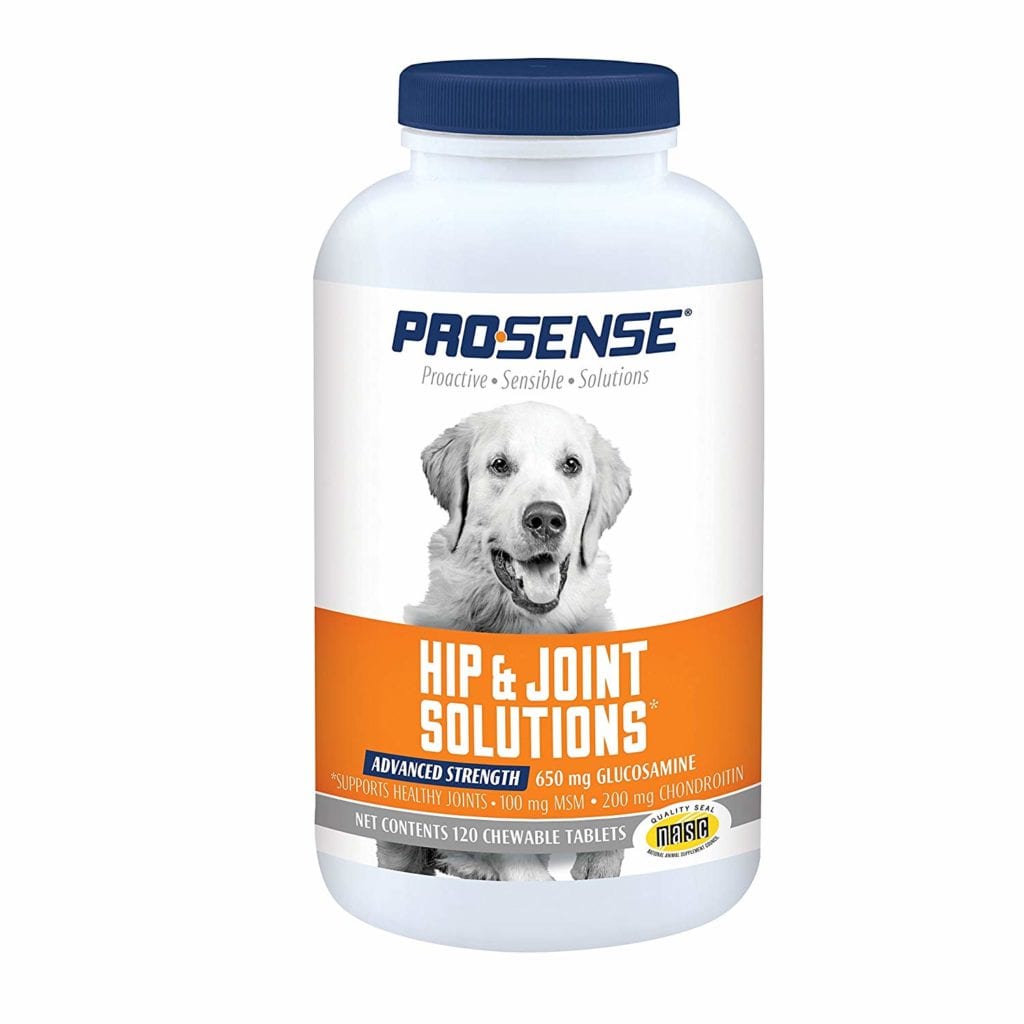 This supplement contains 650 mg of Glucosamine per dosage, higher than most of the competition. Due to Glucosamine's effect on cartilage repair, this joint supplement can go a long way to improving your pooch's mobility and joint function.
On top of the high levels of Glucosamine, ProSense Advanced Strength Glucosamine Chew Tablets for Dogs also contains a number of ingredients to support your dog's joint health, such as chondroitin and vitamin C. They are completely chewable and have a taste designed to encourage dogs to eat them.
---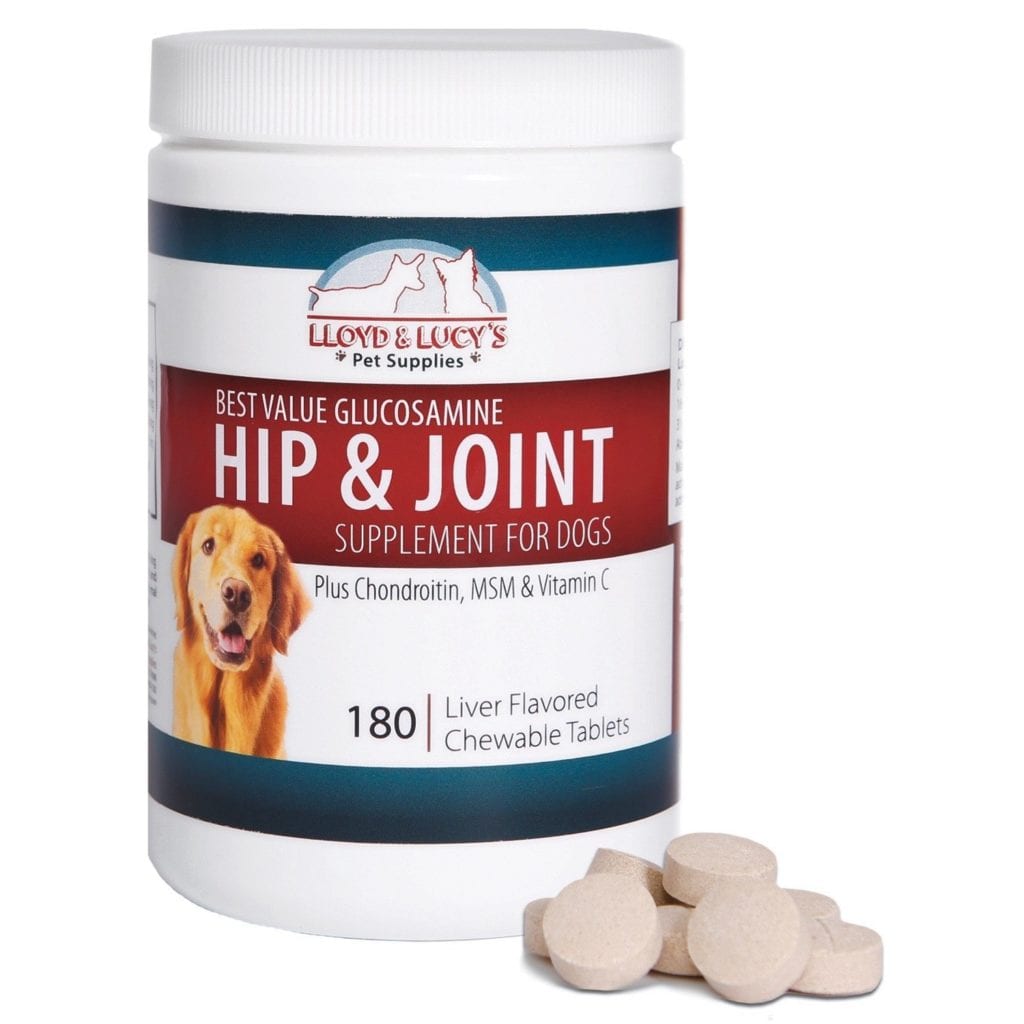 Each Lloyd & Lucy hip and joint dog bottle contains 180 doggie chewable tablets. The chews are liver flavored. Ingredients of each tablet are listed as 600 mg of Glucosamine, 300 mg of MSM, 250 mg of Chondroitin, 100 mg of Vitamin C, and 5 mg of Manganese.
It offers a 45-day money-back guarantee. Additionally, every buyer receives a free bonus report, "A Picture of Health" which is a comprehensive report that answers many health related questions of pet owners.
---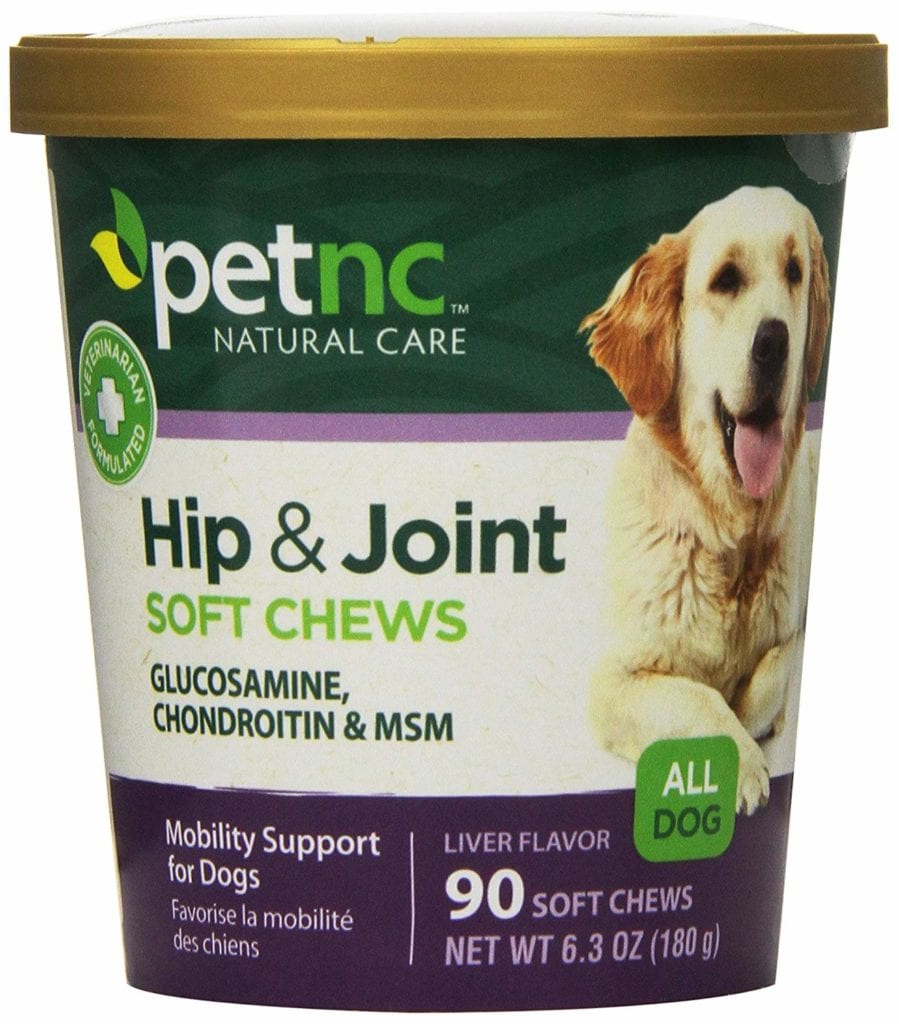 Their low cost makes them affordable on almost any budget. Still, you don't have to worry about skimping on your dog's health with these chews. They contain the same joint-supporting ingredients as our top pick: Glucosamine Hydrochloride (Shellfish), Chondroitin Sulfate (Porcine), and Methylsulfonylmethane (MSM).
On top of these high-quality ingredients, this supplement also contains a number of components that help support your dog's overall health and activity level. This includes things like vitamin C and Hyaluronic acid. If your dog needs some extra supportive care, these chews also come in a high potency formula.