Waking up and finding cat litter on carpeting, clothing, furniture, even your bed… is, not what dream comes true. That's why every cat owner looks for the ideal litter pad, one that will draw litter like a magnet from their cat's feet the moment he steps away from his litter box. Ideally, a good cat litter cat should have gentle, textured elements that will effectively catch loose litter particles. In additional, for the protection of your wooden floor, it should also have a waterproof, slip-resistant bottom. If you are looking for such cat litter mat, we got you covered! Read on and see our recommendation of 9 best cat litter mats!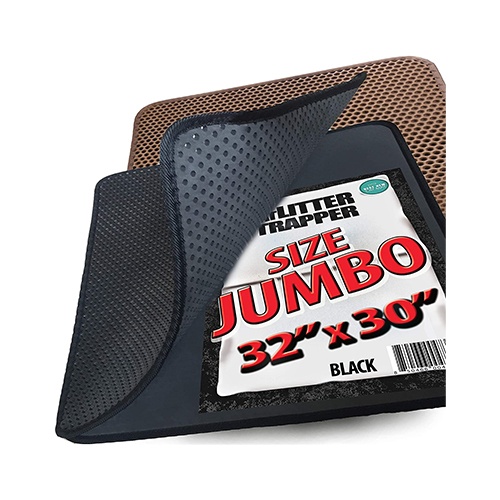 The iPrimio Cat Litter Trapper EZ Clean Mat helps keep litter box messes contained and not spread throughout the house. Litter falls through the large holes on the top layer and stays trapped underneath. The bottom layer is made of a plastic, waterproof film that repels urine and odors. The two layers are attached on just one side so you can easily pull back the top layer and dump the litter into the trash. You can also rinse off the mat to clean liquid messes. If your cat is known for litter box mishaps, just slip a puppy pad in between the layers for easy cleanup. The EZ Clean Mat is soft on your kitty's paws as she steps out of the litter box.
---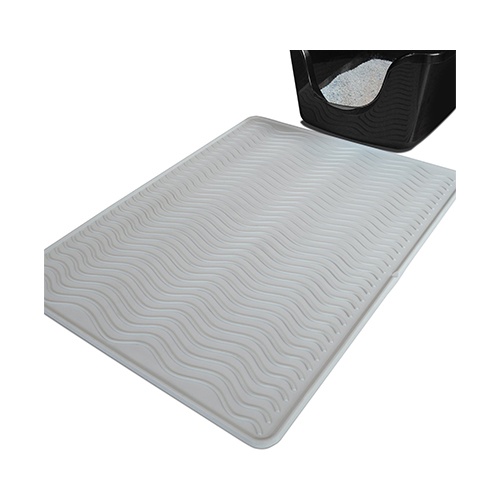 The PetFusion ToughGrip Cat Litter Mat goes above and beyond the average litter mat with thoughtfully designed features and a durable surface that's easy to clean. Elevated ridges and a raised outer lip keep litter contained until it's time to clean up. Simply fold the mat to pour clean litter back into the box or use the convenient side spout to sweep it off. The ToughGrip mat is made from FDA-grade hygienic silicone that resists water and stains for ultimate cleanliness and durability. It's also comfortable enough for your cat to walk on instead of leaping over it.
---
Petmate's Litter Catcher Mats are economically priced to save you money and cleaning time. Rubberized mats collect cat litter before it scatters throughout your home. Soft, flexible surface cleans litter from paws as your cat steps out of the litter box. Easy-to-clean and durable for a long life. Care Instructions: Shake litter from mat. Hand wash with cold water. Let air dry. Also ideal as a feeding mat. This mat is made so that it can be washed with cold water and then air dried. This will keep the mat from harboring odor causing bacteria.
---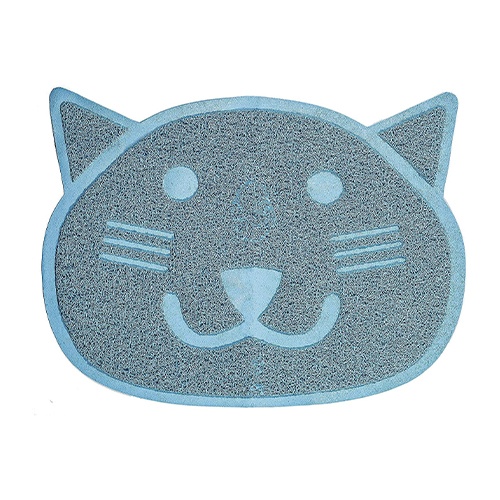 Put kitty litter in its place every time with the Fresh Step Cat Litter Trapper Keeper. This cute, cat-shaped mat prevents litter from getting into those not-so-cute places, like your floors or kitty's paws! Its loop-like fibers help to grab litter as soon as kitty steps on the mat after using the litter box, and traps litter until you clean it up—so that it always stays where it needs to be. The durable, plastic design is easy to clean and perfect to make daily litter box clean-up and maintenance a breeze. The mat measures 23.5″ x 17.5″ for the most cat litter mat litter trapping potential, without being a jumbo cat litter mat that gets in the way.
---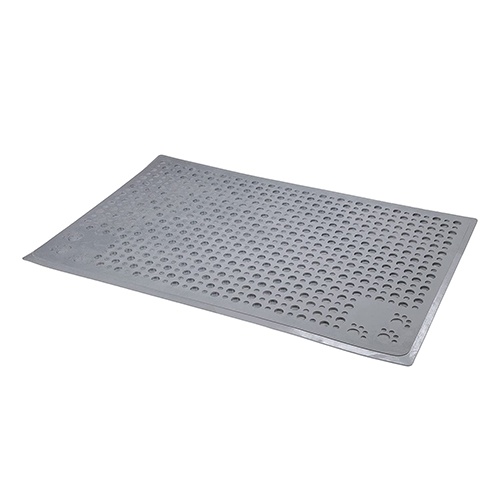 Petlinks is known for innovative, solution-based and environmentally responsible products that fulfill all of your pet's needs — from play and interaction to rest and privacy and more.The Purr-fect Paws' patented design spreads a cat's paw pads as it walks across the mat, forcing stray pieces of litter drop from your cat's paws and capturing them in the deep hollows. Flexible and easy to clean, Purr-fect Paws is the purr-fect litter scatter solution. The medium mat measures 23.25" x 14.9" making it a great choice for smaller spaces.
---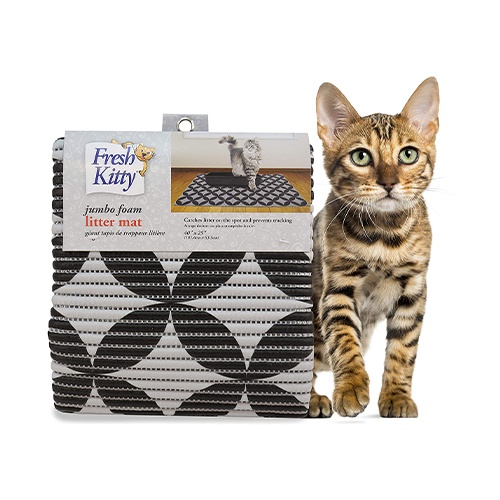 Put a fresh step in your kitty's stride with the Fresh Kitty Jumbo Foam Quatrefoil Cat Litter Mat. This stylish mat has a ribbed surface that catches any spilled litter from the litter box or your kitty's paws to prevent it from being tracked around the house. Since it's made with soft foam, it's comfy and gentle on your cat's sensitive paws. It's large enough to cover more flooring area around the litter box for even more litter-trapping action, and you can even machine-wash it to keep it clean with no hassle. The grey and black circle pattern is fashionable and can match any decor Item measures 40″ by 25″.
---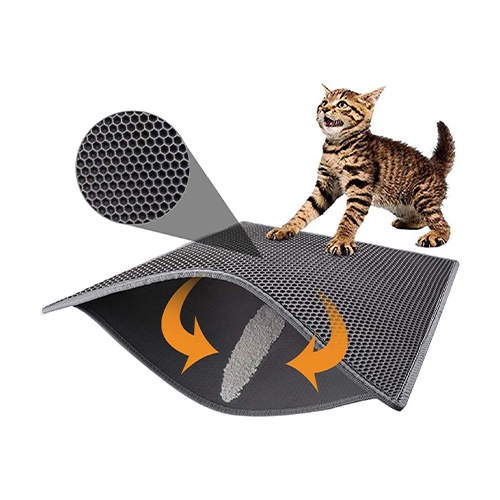 Double-layer honeycomb design helps you gather the litter. You just pick up the mat and all the litter falls through and then dump it back in the litter box make it recycling. No more getting litter stuck to my feet on a daily basis! Large holes is large enough to catch and trap litter. Suitable for lots of type of litter, and kitty litter boxes, hooded, self cleaning litter box. Bottom layer is waterproof and also slip-resistant which will not allow any liquid to go through and easy to move. Pieviev litter box mat is made of soft durable and washable EVA. Dirt can be removed easily.
---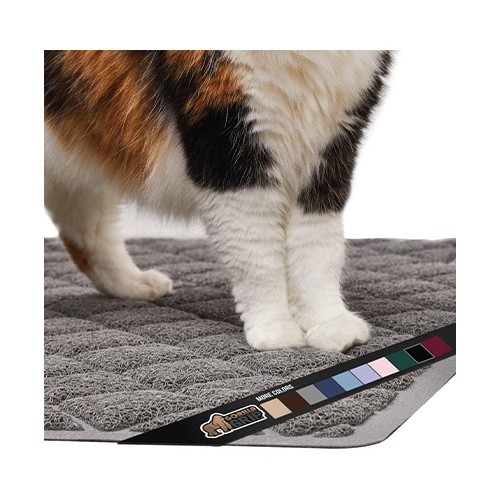 Gorilla Grip litter mat technologically advanced mat features deep grooves and superior mesh to capture litter, both kicked out and stuck to furry paws. It has thick coils on the topside of the mat help to keep the mess on the mat and off your floors. The mat has a tough design, durable, and long lasting effectiveness, it is slip resistant backing helps prevent movement and keeps mat in place, it will also resist wear and tear from scratching. The exclusive design of litter trap grooves and tight mesh capture not only the litter your cat kicks out of her box, but also cleans her paws as she walks across the mat. Litter is trapped in the mat, not on your floors
---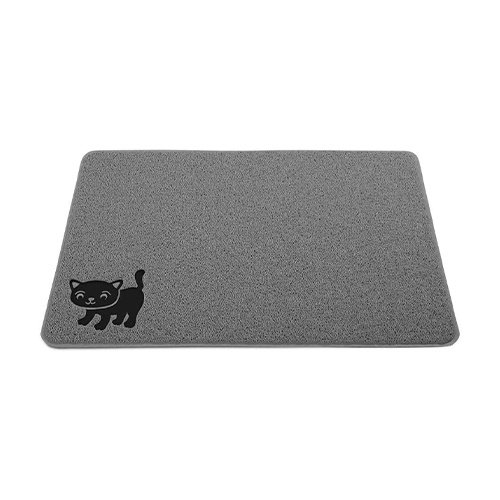 Keep litter in its place with the Smiling Paws Pets Cat Litter Mat. The tangled fibers trap litter from spills or your cat's paws, and keeps it from being tracked around the house. It's easy to clean by simply shaking or vacuuming, and built extra-thick and durable to prevent tears and rips from eager claws and constant cleaning. Thanks to the non-transparent, non-skid bottom, it stays in place even with high traffic so it's great for multiple cats, too, and it's got a sealed urine-proof backing so it prevents messes and odors. Plus, it's BPA and phthalate free so you can feel good about using it in your home.