If you love watching birds in your yard, the best thing you can do to encourage even more winged visitors is to place a bird feeder within their reach. But how do you choose the best bird feeder with so many great options available? Well that all depends upon several factors such as where your feeder will be located, what kind of birds you wish to attract, if there are any predators or pests that can, just to name a few.
With those questions in mind, we have sorted some of the best rated, most liked feeders according to customer reviews product specifics, hopefully, this list will help you find the right feeder to serve your feather friends.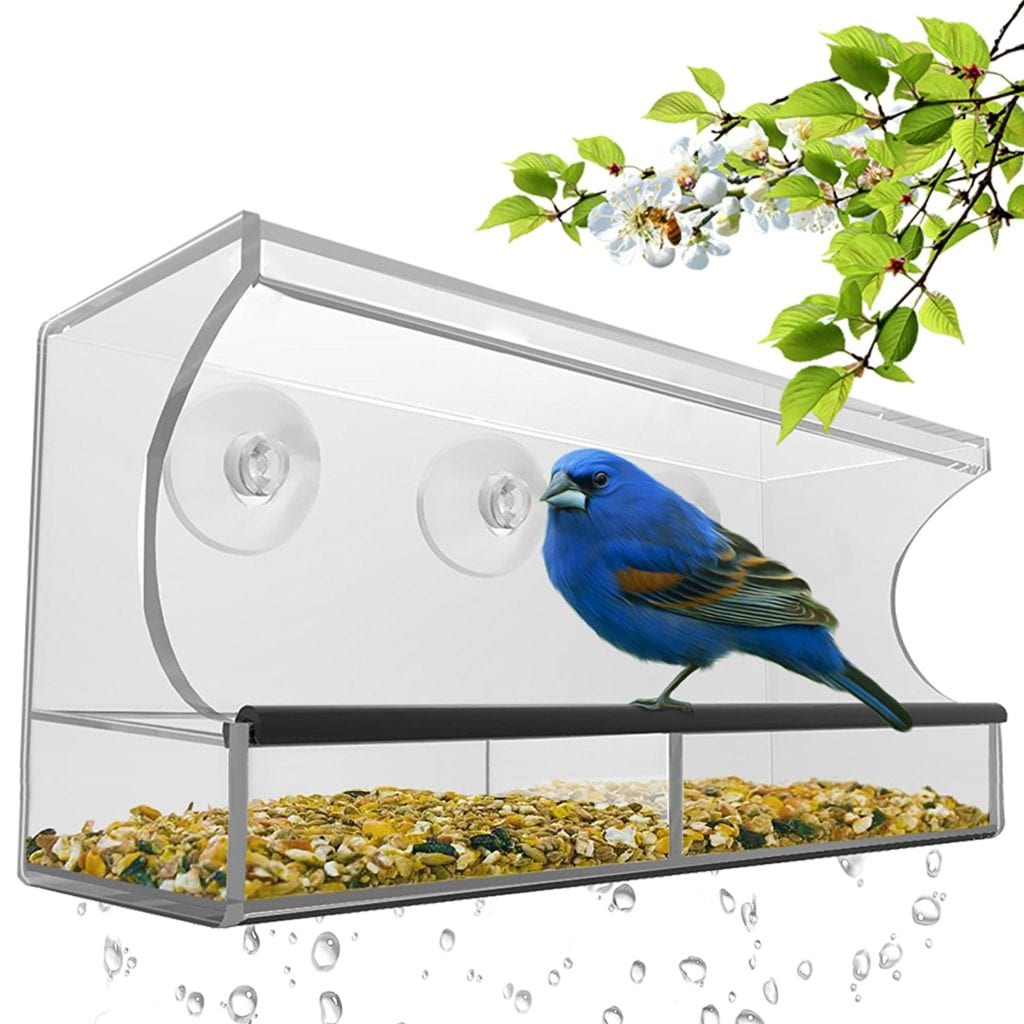 Window bird feeders are becoming increasingly popular as both kids and adults can view the visiting birds up close and personal without disturbing them.
You don't actually need to have a backyard to enjoy backyard birding; as long as you have a window not covered by a screen, you can attach the Nature's Hangout Window Bird Feeder to the glass using its six powerful suction cups, add up to four cups of your favorite wild bird seed, and then sit back and wait for the show to begin.
---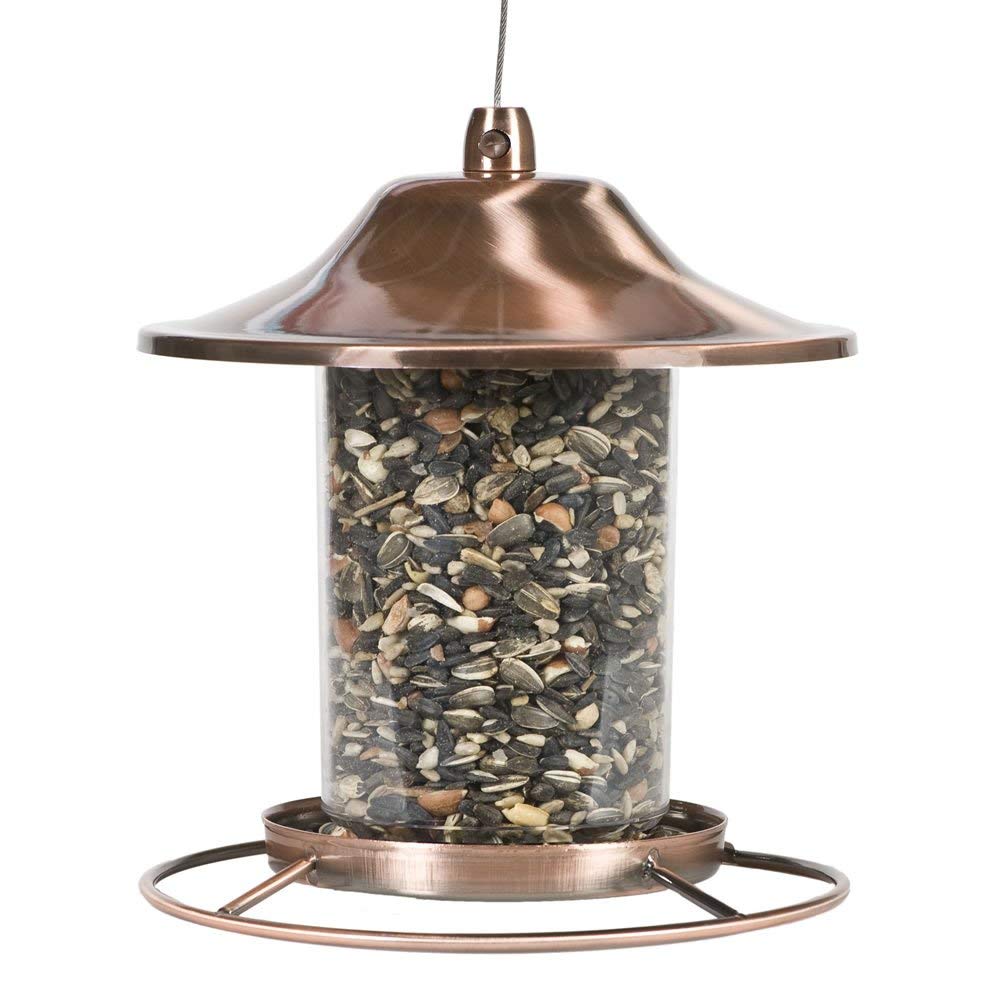 This elegant feeder is sure to attract many birds to your backyard, providing you with plenty of enjoyment as birds congregate on the circular perch!
The Perky-Pet Copper Panorama Bird Feeder offers a sizable 2 lb seed capacity, as the birds continue to dine from the circular perch, the seed is replenished into the tray so it remains consistently full. In addition, the feeder's built-in drain holes prevent water from pooling in the reservoir so seed stays fresh for longer.
---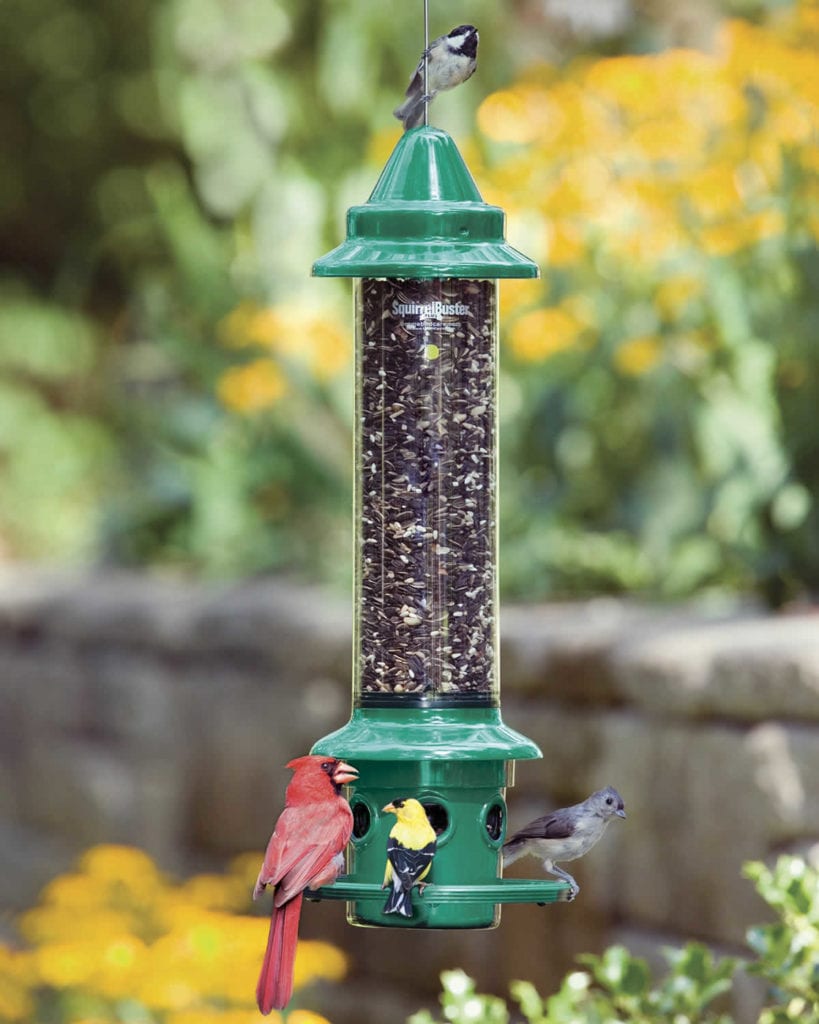 This is a squirrel-proof feeder that will also prevent any creature "too big" from accessing the seed. The weight of larger creatures, such as squirrels, raccoons, and the like, will push the seed port windows closed and thus prevent the animal from getting any food from the port. Animals will be blocked, not harmed, and we quite like the image of a very confused squirrel sauntering off, defeated.
It holds 3 quarts/5.1 lbs of bird seed with 6 feeding ports, and come with free cardinal ring.
---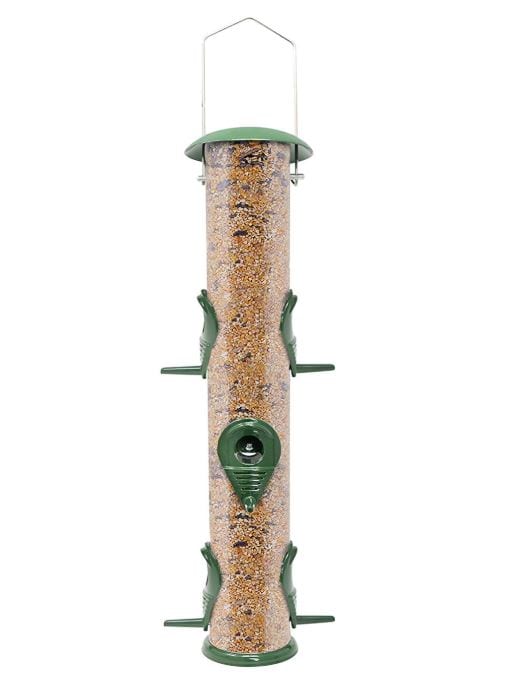 This bird feeder is for a bigger pecking bird, so you can fill it with whole peanuts. Some reviewers say that their squirrels can get to them, but others claim that whole peanuts with the shell are too big to fit through the grated cage and therefore will only be a good meal for woodpeckers and blue jays – the birds with longer beaks. This bird feeder may be just what you need to attract a whole new bird crowd.
---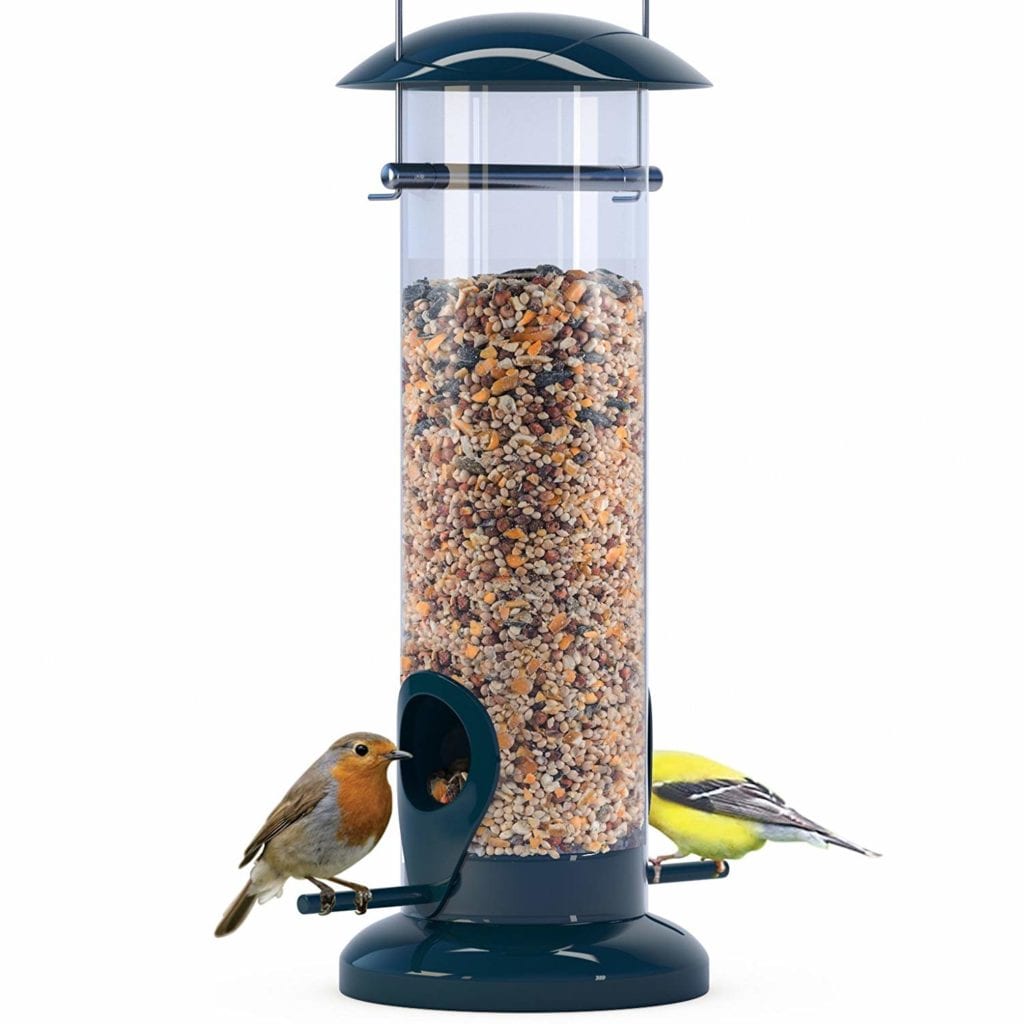 The Nibble Weatherproof Antibacterial Bird Feeder lets smaller birds perch while enjoying their meal of seed through the two ports, but larger birds won't be able to get a grip on the perches.
It is made of weather-resistant polycarbonate that won't turn yellow, crack, or fog from the sun. The plastic is coated in an antibacterial solution to help keep your feathered visitors from getting sick, but that does not replace a thorough cleaning at least once per week. The feeder easily comes apart for cleaning, so the chore won't be difficult. It holds up to 1.5 pounds of birdseed.
---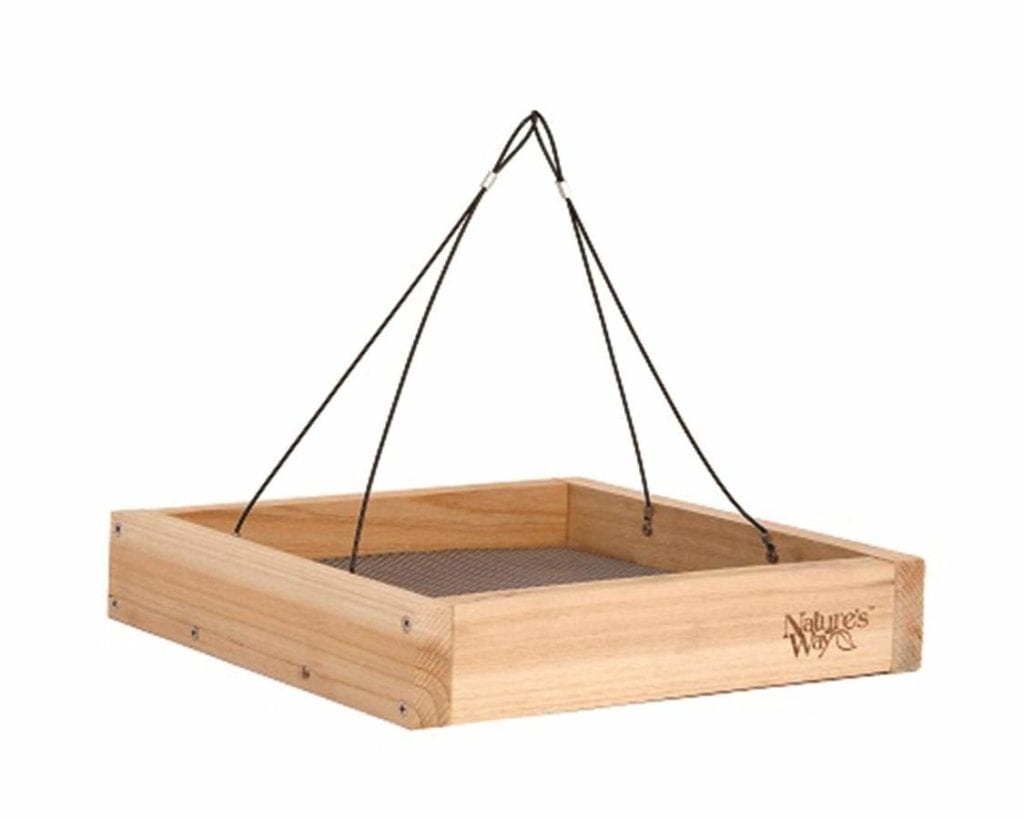 Simplicity is the name of the game with this bird feeder. From its clean and simple look to the ease of use, this is one no-fuss feeder. It's inexpensive, and the base is made of cedar, which means it's naturally insect and rot resistant. It's also coated with an all-natural preservative that helps it resist water damage, mold, mildew and fading, so it will look great for a long time.
The screen easily pops out for cleaning, and all of the hardware is rust proof. This is a great, straightforward bird feeder no matter what type of bird you're hoping to attract.
---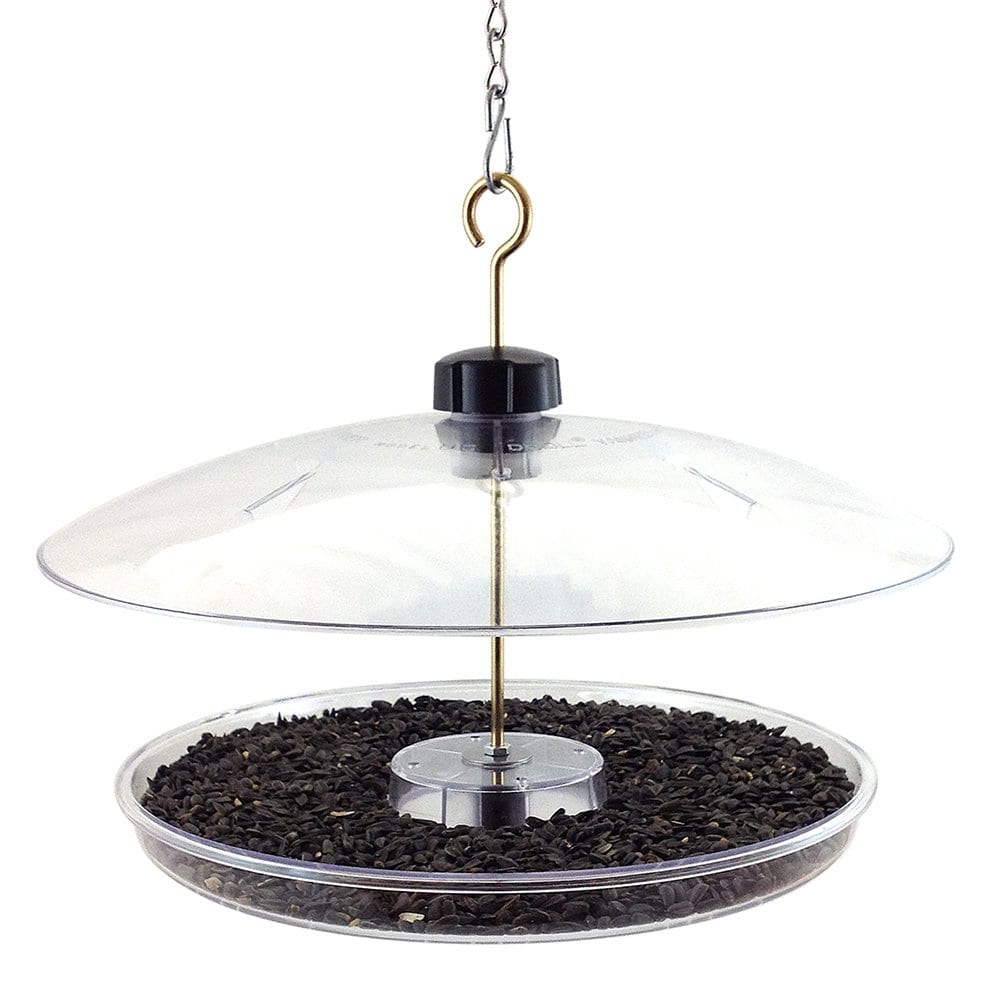 Want to attract more birds to your garden. The cardinals will be happy to share the seeds with finches and bluebirds or even blackbirds with this slick bird feeder with crystal clear roof cover.
Droll Yankess created this bird friendly feeder without necessarily attracting rodents and squirrels. One thing that is great about this product is on how the dome protects the feeder from the elements. The wide dome is adjustable up to 10 inches so you can provide space for birds to perch and eat while you can also close it when there's strong wind or strong rain.
---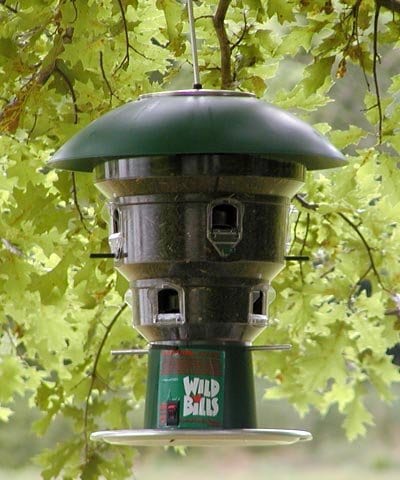 When sneaky squirrels try to get at the seed meant for birds, they receive a tiny electric shock from the stingers that are located at the top and bottom of the feeder. It only takes a time or two before they get the message, and the birds get to eat in peace. No offense to the squirrels (and don't worry, they're not harmed in the process), but they can be greedy little guys, and if it's birds you want to attract, then you don't want the squirrels to gobble up the bird seed.
The battery operated feeder (it takes one 9v battery, which isn't included) can be hung from a tree or hook or mounted on a pole (pole not included).
---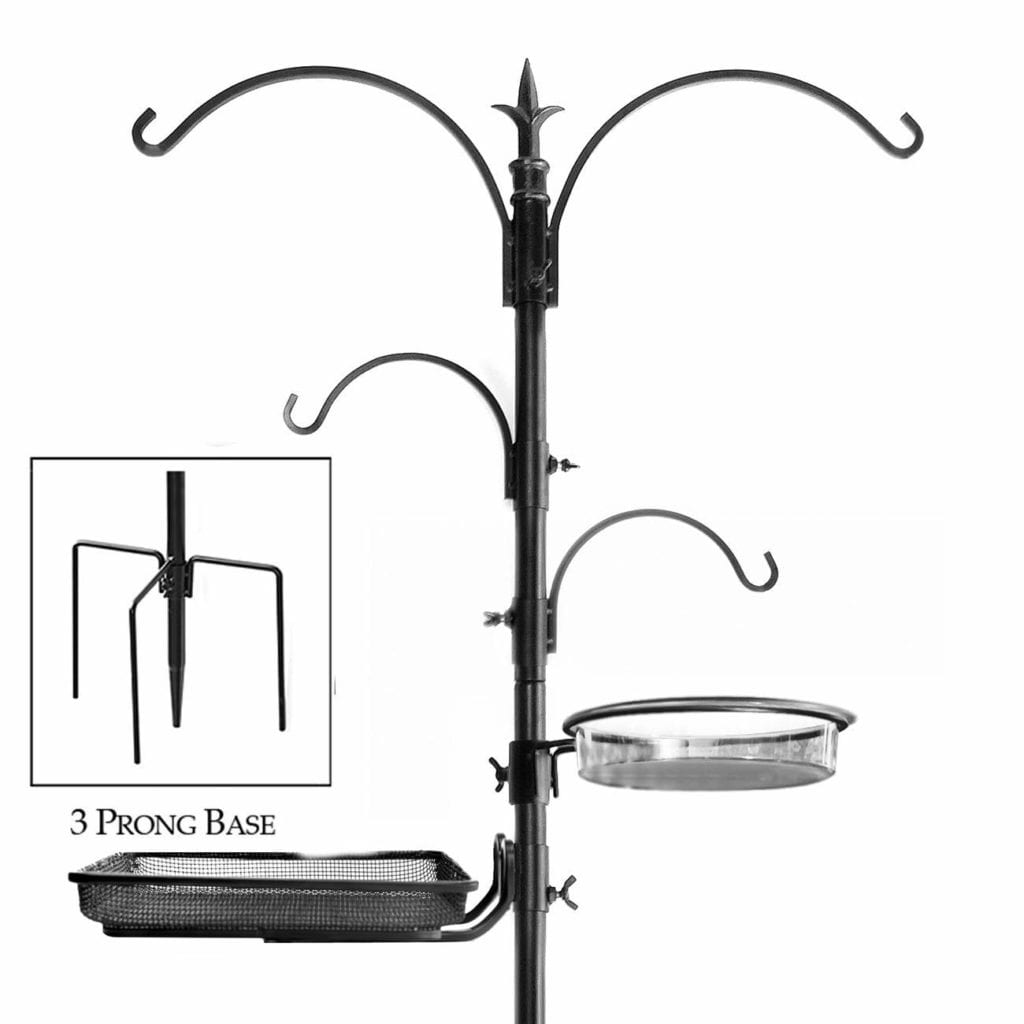 This is a great option for households that may not have trees or other structures upon which to hand or mount their metal bird feeders. While a window bird feeder can be attractive, using the bird feeding station makes more sense, you just need to stake it to the ground and attach a variety of bird feeder systems into its adjustable hood attachment.
You can place any of the metal bird feeders we have mentioned in the list. There are also feeding try and water dish attached to the bird feeder hold so avian species can have a great time taking a much-needed bath or drink.