It's natural for dogs and cats to have the occasional itch, but when it persists pet owners may wonder whether their furry friend has a case of the fleas. For dog owners and their pooch, fleas are easy to contract and can be tricky to eradicate. That is why we have compiled a guide to the 8 best flea and tick treatment for dogs.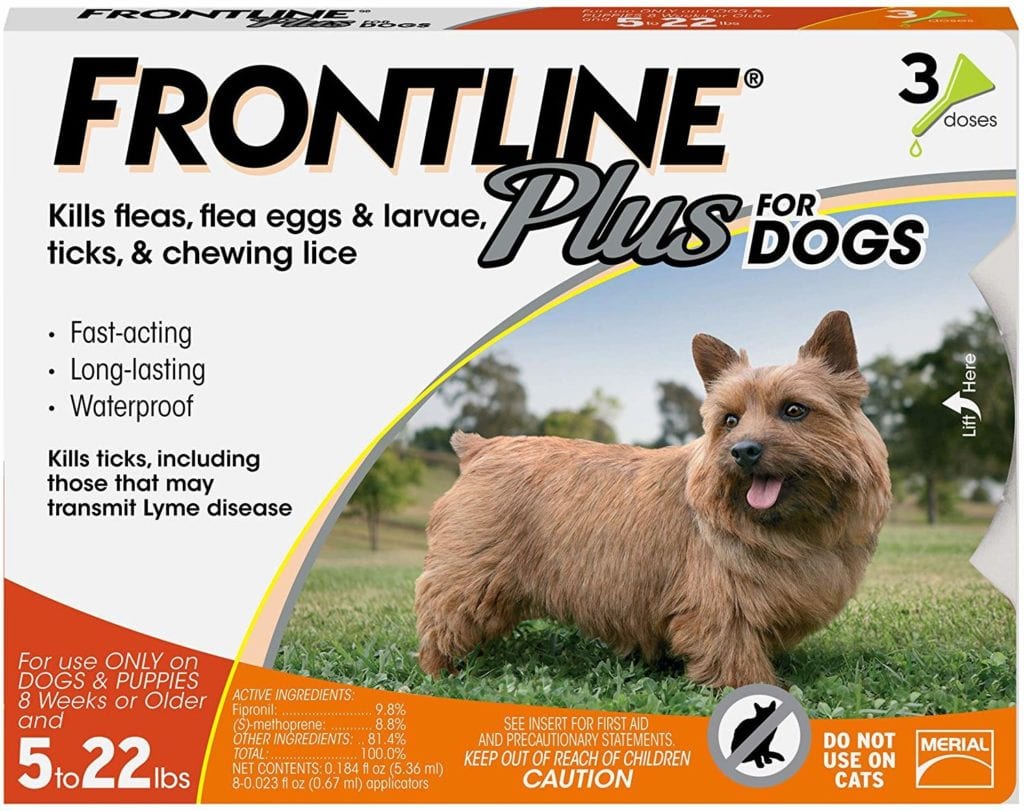 Frontline has been one of the top names in flea control for years. As a result, you rarely go wrong with their products. Designed to kill fleas, flea eggs, ticks, and lice for up to three months, Frontline Plus Flea and Tick Control for Dogs can be purchased in packs of 3 or 6.
The easy application process is perfect for dogs that are a tad suspicious of pills and powders. Simply part your dog's hair directly between his shoulders and squeeze all of the liquid in the vial onto his skin. It is important to be sure that it is absorbed into his skin, so try to avoid getting any on his hair because it will not work. Dosages are based on the weight of your pet, so be certain to purchase the one that is intended for your dog's weight class.
---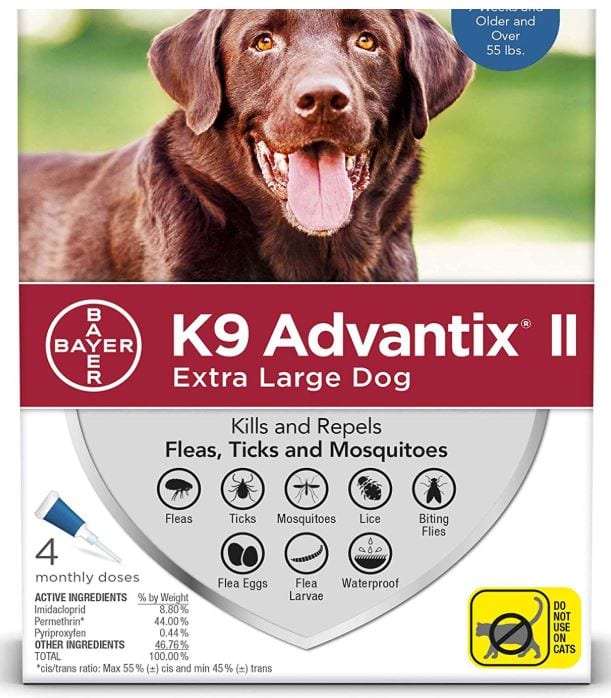 K9 Advantix ii is a powerful topical treatment that can be used to kill fleas, ticks, mosquitoes, lice, and even biting flies at all stages of their life. The treatment starts to work within 12 hours of application and can be applied monthly, as the dosage can last up to 30 days.
The Advantix II's main advantage is in its fast parasitostatic action, helping stop fleas from biting within 5 minutes of application. While it takes 12 hours for Advantix II to start exerting its killing effect, this is still relatively faster than the average 24 hours of other brands, making it a favorite flea and tick treatment for dogs among serious dog owners.
---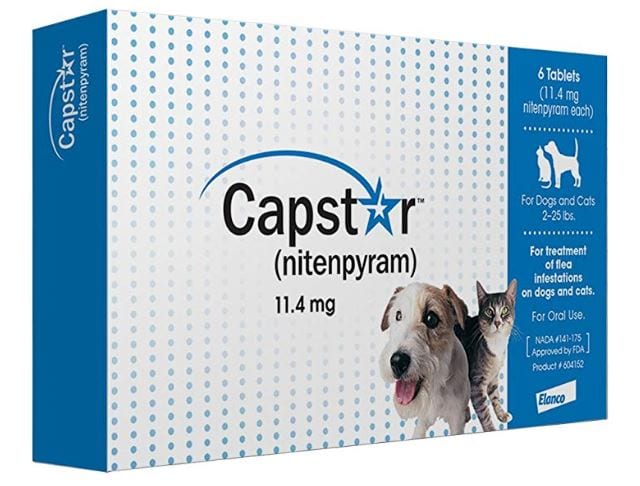 Capster Flea Treatment is a oral medication that begins killing fleas within 30 minutes to 4 hours of giving into your dog. Available in a small tablet form, you could possibly put the whole tablet in your dog's dinner, if he is a little leery of taking medication.

A single dose is reported to get rid of all fleas. However, some users do report having to repeat the treatment for several days in a row to completely eliminate them. (The company does state that it safe to give once a day and can be given to pregnant dogs.) Many users rave that these tablets work exceptionally well, while others admit that it is effective, but has to be repeated too frequently to be cost effective. Be aware that it does NOT kill tick.
---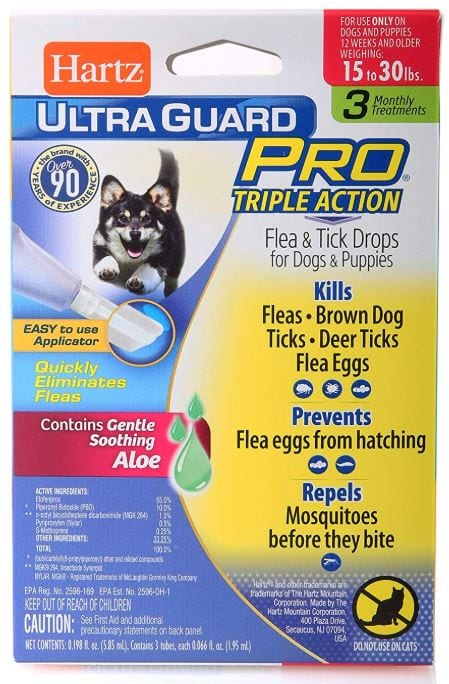 Like Frontline, Hartz is one of the leading names in the flea industry. Applied in the same manner as Frontline using a pro-cision-flo applicator, one vial kills fleas and ticks for one full month, while also repelling mosquitoes. Be aware that Hartz UltraGuard does not kill flea eggs or larvae, but UltraGuard Plus and UltraGuard Pro do. This is important because flea eggs will hatch if they are not killed.
Although it has a list price of $19, it is often on sale for as little as $10. This is for a one time dose. It does contain an insecticide and the dosage is based on weight. Users report that it works really well, but do voice some concerns that it contains too many chemicals. However, it is approved for sale.
---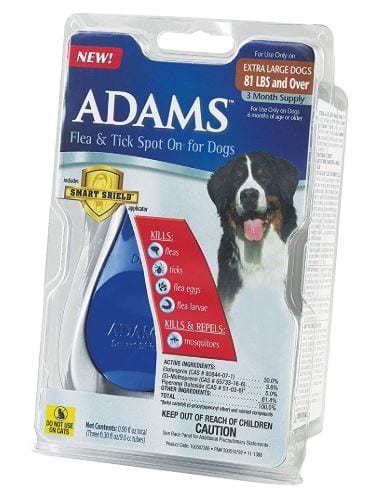 Available in 1, 3, and 6 month packages, Adams Control is based on your dog's size. Using the SmartShield Applicator, you simply apply it to the skin on the back of your dog's neck between the shoulder blades and at the base of his tail. It kills fleas, ticks, and flea eggs and larvae. It also kills and repels mosquitoes. It is important to note that you cannot bathe your dog for three full days after you apply it.A 3 month supply has a list price of $21, though it can be found on sale for $15. It does contain pesticides, but users agree that it is very effective.
---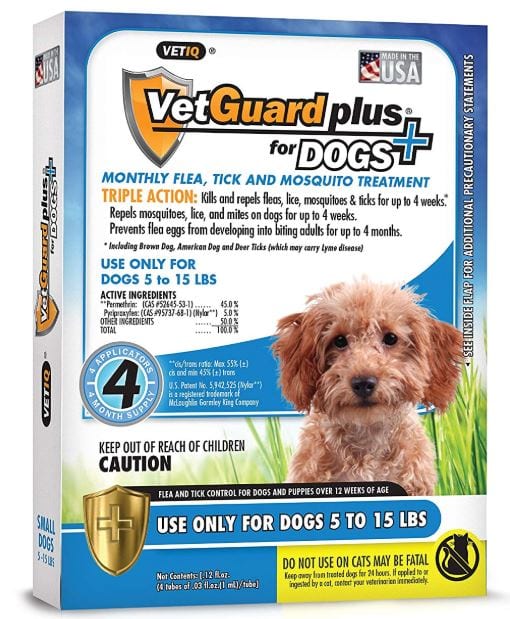 The VetGuard is a really inexpensive flea and tick prevention for dogs, costing less than a third of the price tag of Frontline Plus. VetGuard Plus has a duration of action of 4 weeks, requiring reapplication on a monthly basis. Its main ingredients are permethrim and pyriproxyfen, both of which are well-known in the control of fleas and ticks including mosquitoes and lice.
VetGuard is not only positioned as a flea treatment for puppies and dogs, it is also marketed as flea repellent for canines. It is also a preventative, giving it triple action capabilities. VetGuard is also waterproof so it won't matter if your mutt will be taking a bath regularly.
---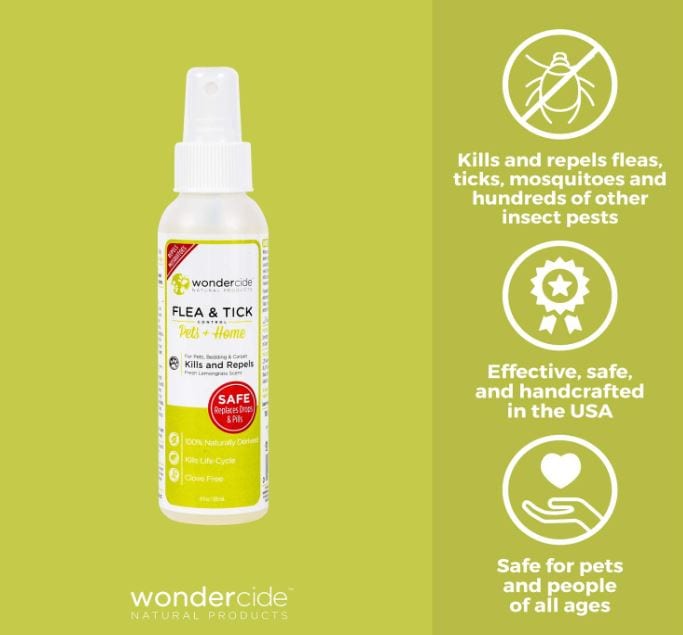 If you are concerned about using pesticides on your dog, this may be the perfect product for you. With a fresh lemongrass scent, you simply spray this non toxic flea spray on your dog. It is safe for you use on all dogs, as well as in your home and around your own children. It is designed to kill and repel fleas, mosquitoes, and ticks,
A 4 oz. bottle is listed for $15, but can be found for $13. You also have the option of purchasing it in other sizes, up to 1 gallon. Users report that they are actually amazed by how well it works, especially considering it is made of all natural ingredients.
---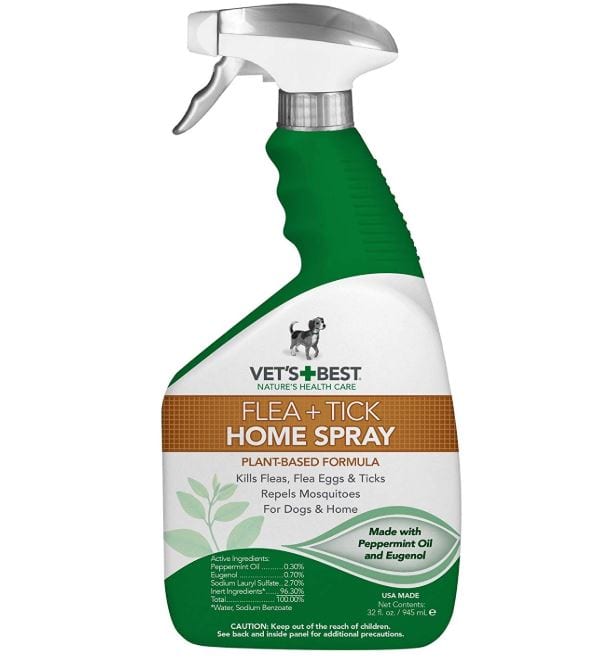 If you are into all-natural products and would prefer a natural flea killer over some synthetic product, then the Vet's Best Pet & Home Spray is a wonderful find. Featuring a unique blend of eugenol, peppermint essential oil, and other ingredients with insect and bug repellent properties, Vet's Best is effective as mosquito, tick, and flea repellent for canines.
The product is sprayed onto articles, objects, and items that may have these ectoparasites. You can spray your pet's bedding, toys, collars, kennel and leash as well as your pieces of furniture, carpets, rugs and many more. The good thing with the Vet's Best is that it can also be sprayed directly on your pet. Just make sure it is at least 3 months old, though.