Whether you are trying to protect your dog's eyes or simply help her look a bit cooler at the dog park, most dog owners should have a pair of sunglasses for their dog – even if you only use them occasionally. ( However, the owners must know that the dog's sunglasses aren't a fashion accessory and therefore, should never be put on their eyes in the interiors. This may darken the room for your dogs, leading to discomfort. )
In this article, we have come up with this review of the top 8 best dog sunglasses for your canine friends, to help them enjoy a happy COOL summer!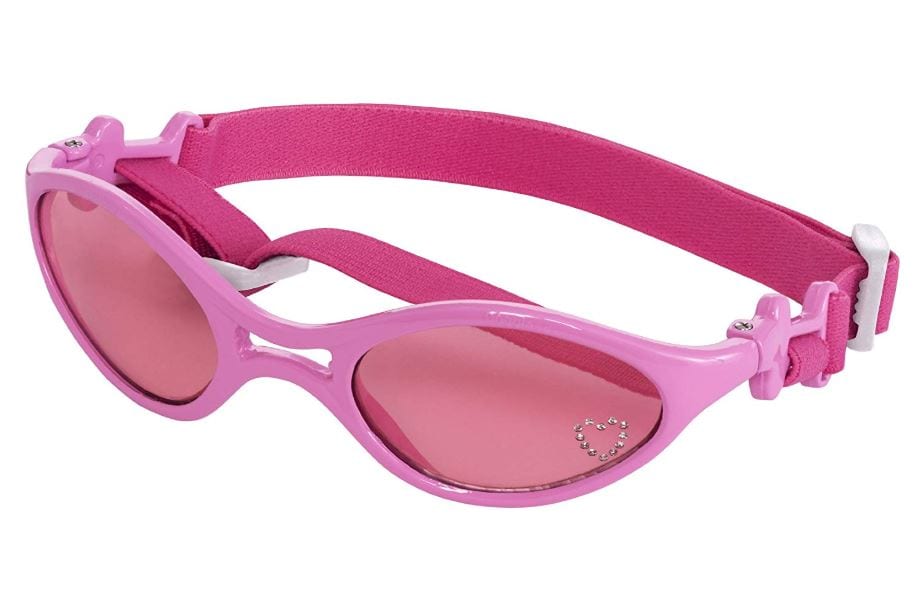 Doggles K9 Optix is a light and durable pink-themed dog's sunglass with durable smoke lenses. It is stylish, has a flexible rubber frame, and a soft and adjustable elastic headband that fits snug on the head of small dog breeds.
When worn, Doggles K9 Optix offers 100% UV protection. Its fitted chain straps guarantee a secure fit, while its shatterproof lens design protects dogs from injuries in the event of a collision. It is affordable, functional, and has an innovative frame with a flexible nose bridge. Let us not forget the importance of honest reviews that tells the pros and cons of product which is used and experienced by most of the users. Take a quick look!
---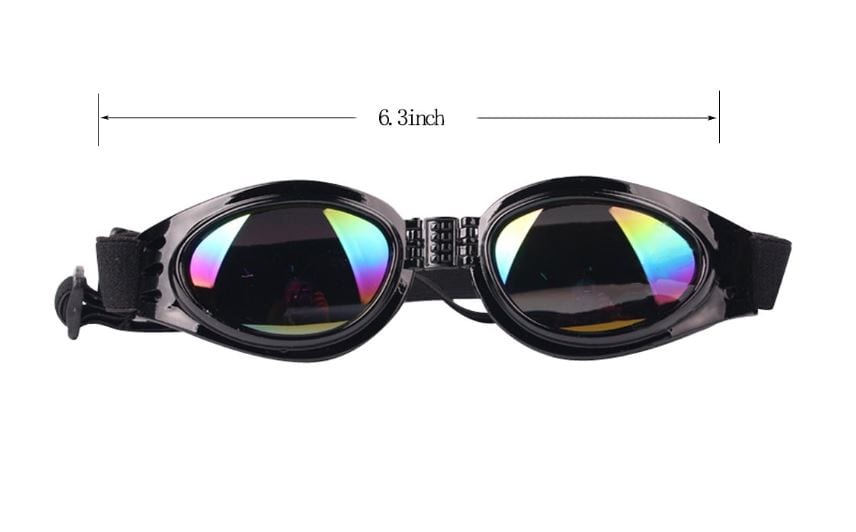 These goggles from NACOCO come in one size that fits dogs bigger than 26 pounds. There are six cool colors to choose from, and you could actually have a different color for each member of the brood.
The frames are joined together by a hinge that helps adjust the goggles to the contour of your dog's face over the nose bridge. Each pair of goggles measures 6.3" across the face. Pet owners say their dogs easily got used to their new pair of glasses – they say these are the best dog sunglasses as they are so light and fit so well, so they don't bother the dog or hamper his movement.
---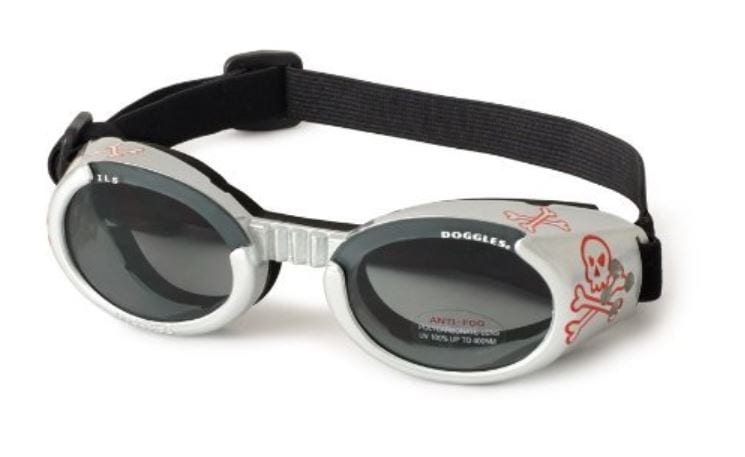 Recommended for physical and UV protection, ILS by Doggles is an aesthetic skull crossbones-themed sunglass for dogs with an extra wide nose bridge design for comfort. It is durable, looks super cute on dogs, and has shatterproof smoke lenses that do not impair vision even when worn for long.
It also has a deep lens cap design that offers superior protection against infections and flying debris; has adjustable chin and head straps that fit all small dog breeds, and a flexible rubber frame with padding for comfort.
---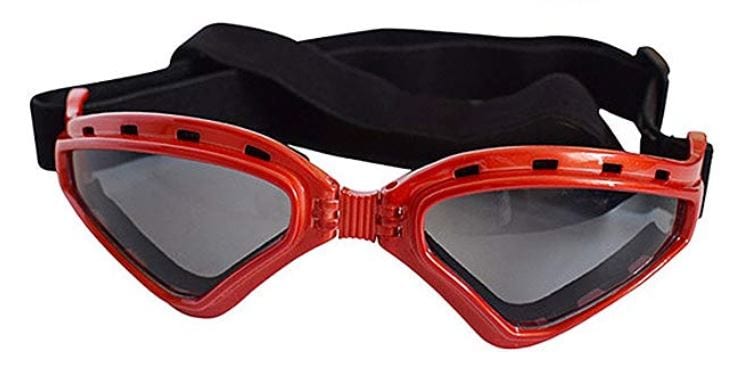 Petleso Large Dog Sunglasses are specially designed to fit larger dogs. The sturdy sunglasses feature adjustable head and chin straps to keep them firmly in place, and shatterproof poly-carbonate lenses that provide protection from the sun's harmful rays, they are also UV-resistant and windproof. The frames are foam-lined and the elasticized straps are fully adjustable.
The sunglasses are available in a range of different colors and shapes, so you're sure to find the perfect pair to suit your pooch. Reviewers say these sunglasses look good and offer great protection.
---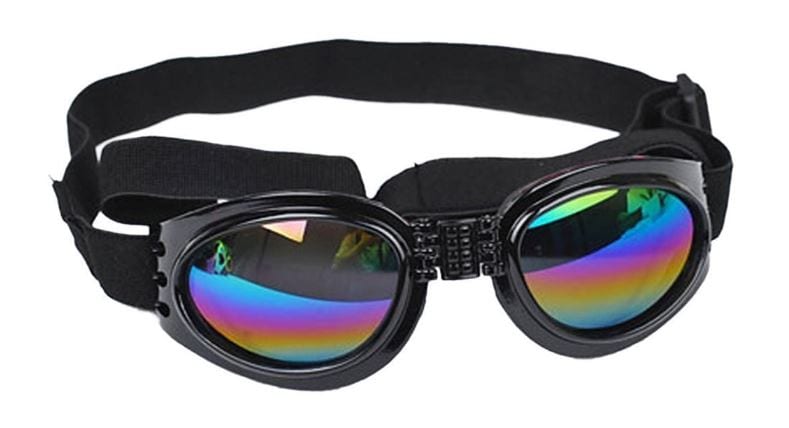 QUMY Dog Sunglasses are an affordably priced pair of dog sunglasses with a range of premium features. They are suitable for dogs over 15lbs and provide excellent protection against UV rays, wind, water, and debris.
Features which make these sunglasses our top pick include adjustable elastic head and chin straps, shatterproof lenses, and a foldable cushioned frame. The fashionable sunglasses are also fully waterproof and available in a selection of vibrant colors. Most reviewers say these dog sunglasses look great and perform well.
---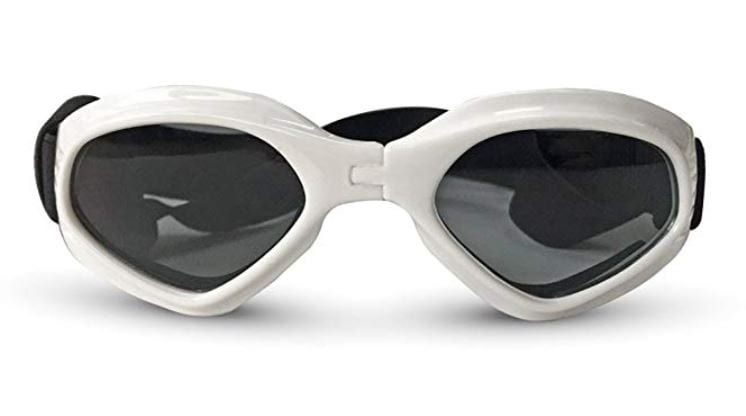 Light, durable, and with a stylish pink design that fits small and medium-sized dog breeds, Pet Leso Doggles Goggles is a windproof sunglass for dog's ideals for riding in cars and motor cycles. It fits snug, has an adjustable chinstrap and head strap for a custom fit, and a novel design that resists snow and filters up to 100% of harmful ultraviolet rays.
Even though light and affordable, this sunglass is non-irritant, functional, and lasts long. All the features of the sunglasses are aside when we see the reviews of the certain product because they come from people who have used it. Let us now see what effects it has when one is using it.
---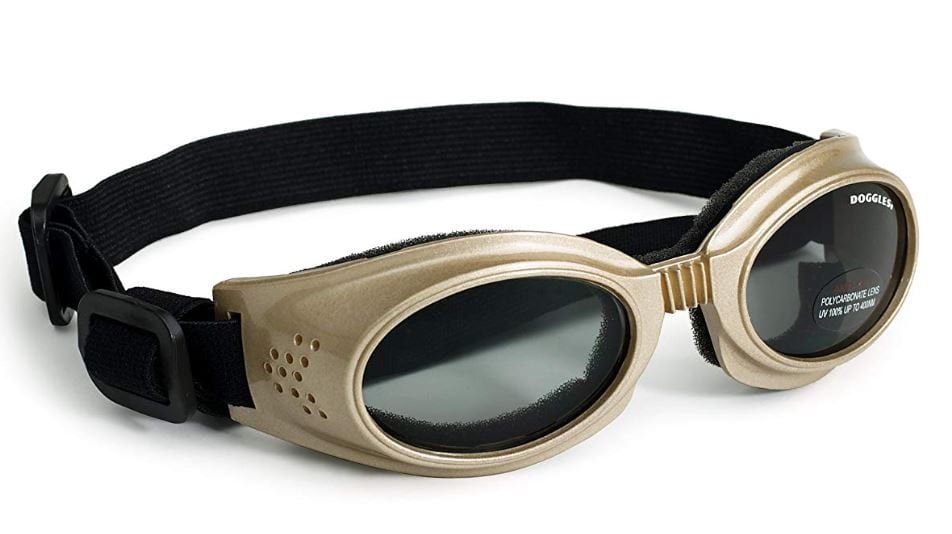 Sought after by thousands of dog owners worldwide, Doggles Originalz is a medium-sized pair of goggle sunglasses for dogs that offers superior protection against the elements, debris, and wind. It is ergonomic, has rubber padding, and a smoked and shatterproof polycarbonate lens with the unique ability to filter up to 100% of harmful UV rays.
Designed with an extremely flexible, comfy foam-lined rubber frame, and adjustable elastic straps for a snug fit on your pal's head and chin, they're durable and comfortable for everyday wear. Make sunny days, drives, or rides with your dog that much more fun, safe, and rewarding, while helping to maintain healthy eyes.
---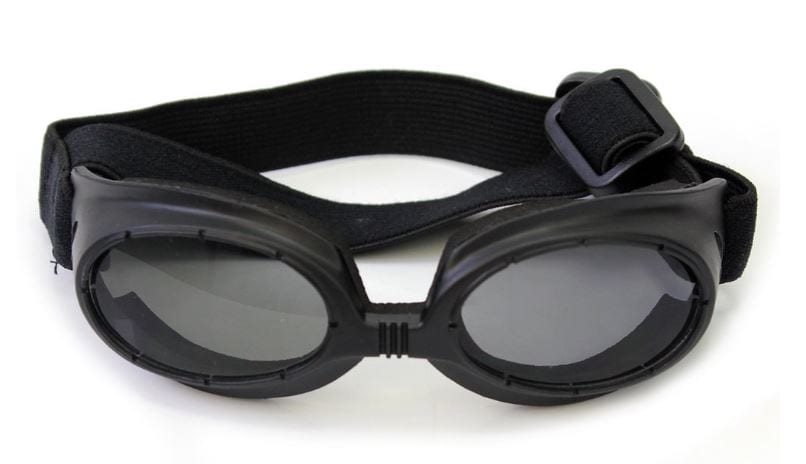 PetKissy is a universal fashion-forward sunglass for dog with an innovative plastic design that offers superior protection without irritating the skin, It's affordable, very easy to wear and remove, and has neck-around and head elastic bands that secure it snug whether you dog is walking or engaging in rigorous outdoor activities.
These fashionable goggles are made for small breeds of dog such as yorkies and poodles. Their sturdy build and soft strap ensures that the glasses will always stay on your pet's face but without hurting them at all. These sunglasses are perfect for taking your dog on a biking trip.