Not all dogs are hyperactive and want to play catch all the time, some dogs, just like us, just wanna be a couch potato, doing nothing other than sleeping and eating, as a result, they have a tendency to gain weight and end up bulging at their seams. Overweight is always a dangerous sign, it can cause a number of different health problems, which will reduce their quality of life and potentially shorten it too. So as a dog owner, it is your responsibility to prepare him a healthy diet and play with him every now and then to keep him active, even if he is reluctant to. So in this article, we will discover 8 of the best weight control dog food that designed to keep your puppy happy and healthy.
Purina ONE SmartBlend Healthy Weight Adult Formula Dry Dog Food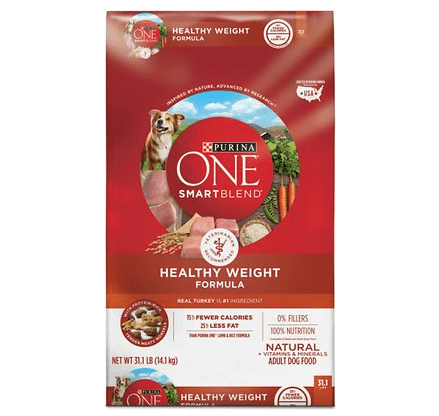 Purina ONE's SmartBlend Healthy Weight Formula features real turkey as the first ingredient, plus rice for energy and the goodness of soy to promote a naturally healthy weight. This dry dog food has 25% less fat and 15% fewer calories than the SmartBlend Lamb & Rice Formula, but it's still tastefully rich in protein.
A dual defense antioxidant blend of vitamins E and A joins forces with zinc and selenium to promote a healthy immune system and a radiant coat. By choosing smart ingredients that work together, SmartBlend provides a 100% complete diet and helps support your dog's whole body health.
---
Hill's Science Diet Adult Perfect Weight Chicken Recipe Dry Dog Food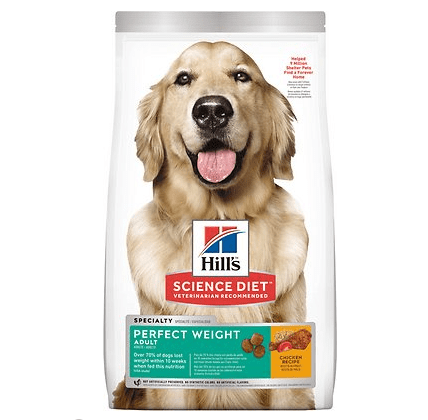 Provide breakthrough nutrition for your pup with Hill's Science Diet Adult Perfect Weight Dry Dog Food. Just like humans, extra weight can lead to health issues. Excessive weight will reduce play time, impact mobility and affect the lifelong general health of your dog—but now there is a food designed to help your dog achieve a healthy weight and improve his quality of life.
This delicious recipe is made with real chicken to maintain lean muscle, and includes prebiotic fibers for gentle digestion. Plus, a clinically proven blend of antioxidants with vitamins C and E helps support a healthy immune system. Proven to work, more than 70% of dogs fed this diet lose weight within just 10 weeks!
---
Iams Proactive Health Adult Dry Dog Food for Healthy Weight
Iams ProActive Health Adult Weight Control Large Breed is formulated with L-Carnitine to gradually return your dog to a healthy weight and keep him fit. Protein sourced from chicken and egg helps build strong, firm muscles and antioxidants help maintain a strong immune system.
Crunchy kibbles scrub your dog's teeth with every bite, reducing plaque and tartar build-up that can lead to bad breath. Plus, the quality, easily digestible ingredients provide your large breed dog with healthy skin, coat, and metabolism, and strong bones. Look for the IAMS difference.
---
Blue Buffalo Life Protection Formula Healthy Weight Dog Food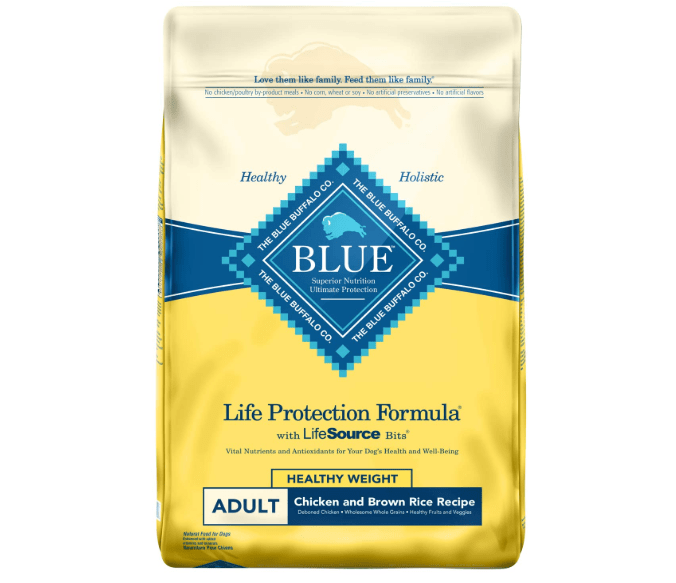 Blue Buffalo Life Protection Formula was created for the health and well-being of dogs. All formulas start with real meat, whole grains, garden veggies and fruit, plus added LifeSource Bits, a precise blend of nutrients that have been enhanced with a Super 7 package of antioxidant-rich ingredients.
This formula contains BLUE's exclusive LifeSource Bits – a precise blend of antioxidants, vitamins and minerals carefully selected by holistic veterinarians and animal nutritionists, to support immune system health, life stage requirements, and a healthy oxidative balance. They are delicious, protein-rich deboned chicken and is made without excess calories from fat to help dogs achieve and maintain a healthy weight.
---
Pedigree Weight Management Adult Wet Dog Food
Help your dog stay lean and healthy with the Pedigree Chopped Ground Dinner Weight Management Chicken & Rice Canned Dog Food. Made specifically to help less active dogs achieve a healthy weight, this recipe serves up a meaty feast without the extra fat and calories—because who says diet food has to taste bland?
It's also highly digestible, which means your dog can easily absorb the essential nutrients, so you can feel confident he's getting the most out of every meal. There's also optimal levels of oil and minerals to nourish the skin and coat, but all he'll really care about is the irresistible flavor.
---
Diamond Naturals Light Real Meat Recipe Premium Dry Dog Food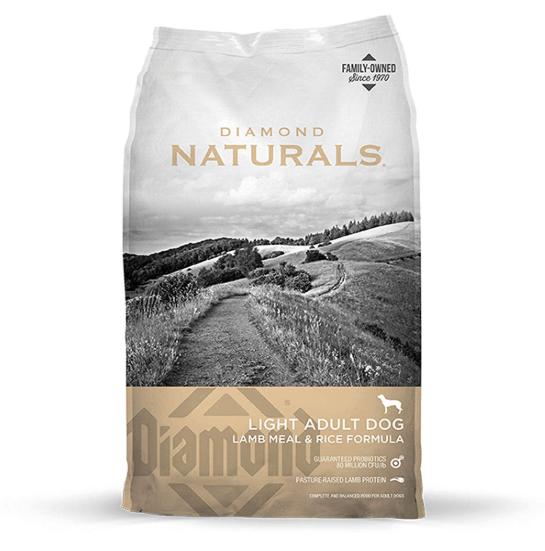 Made with ingredients of exceptional quality, Diamond Naturals provides complete, holistic nutrition for every pet. Each Diamond Naturals dry formula is enhanced with superfoods and guaranteed probiotics, for optimal nutrition and digestive support.
Diamond Naturals Light Adult Dog Lamb Meal and Rice Formula is ideal for your overweight or less active adult dog. With 15% fewer calories than the Diamond Naturals Adult Dog Lamb Meal and Rice Formula and added glucosamine, chondroitin and L-Carnitine, this recipe is the perfect choice to help your dog reach and maintain a healthy body weight while also receiving adequate nutrition.
---
Nutro Wholesome Essentials Healthy Weight Dry Dog Food
Help large breed dogs that are prone to weight gain maintain their ideal body condition. Nutro's Large Breed Weight Management Adult Dog Food features natural fibers and whole grains. It's specifically designed to help dogs feel full and help maintain their ideal body condition. Made with real chicken protein, this premium weight management dog food tastes great and is easy to digest.
A unique blend of amino acids, vitamins, minerals and naturally sourced nutrients, such as glucosamine and chondroitin, also ensure a soft, shiny coat and strong, healthy joints. It's the best way to provide complete nutrition without sacrificing great taste.
---
Solid Gold Fit & Fabulous Holistic Weight Control Dog Food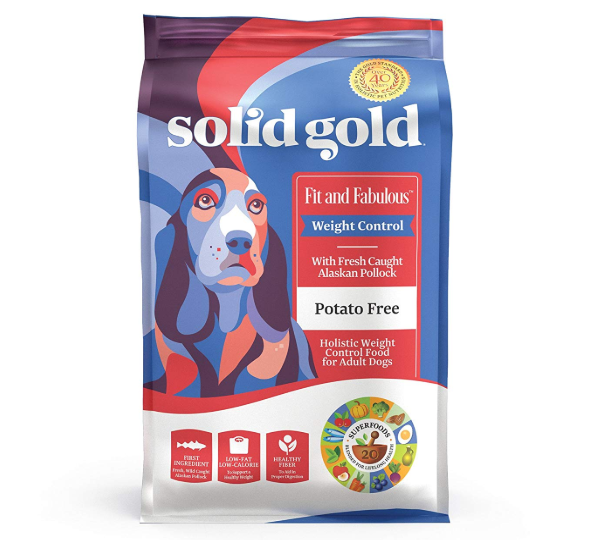 Chunky dogs may be cute, but extra weight is no laughing matter when it comes to your dog's health. Designed specifically for weight control, this low-fat, low-calorie formula is both nutritious and delicious, crafted with a unique blend of 20 nutritious superfoods and fresh caught, omega-rich Alaskan Pollock to support the immune system as well as skin and coat health. Ditch the waddling, and watch them strut their stuff with confidence!
All of the balanced recipes have 20 nutrient-dense superfoods and clean, high-quality proteins. Solid Gold's holistic approach delivers results that you can see and your dog can feel.