When it reaches those summer temperatures and you see your poor pooch panting, it might be time to invest in a dog cooling pad. Especially for those loveable breeds with thick coats of fur, they're almost essential depending on the climate.
Dogs like to be comfortable, just as we do! Luckily there are plenty of new and improved cooling beds for dogs that help give them relief during the hottest of days. A cooling bed is usually filled with either gel or water and works best when kept out of direct sunlight. In this article, we have listed the 8 best cooling mats on the market, grab one before the hot summer hits!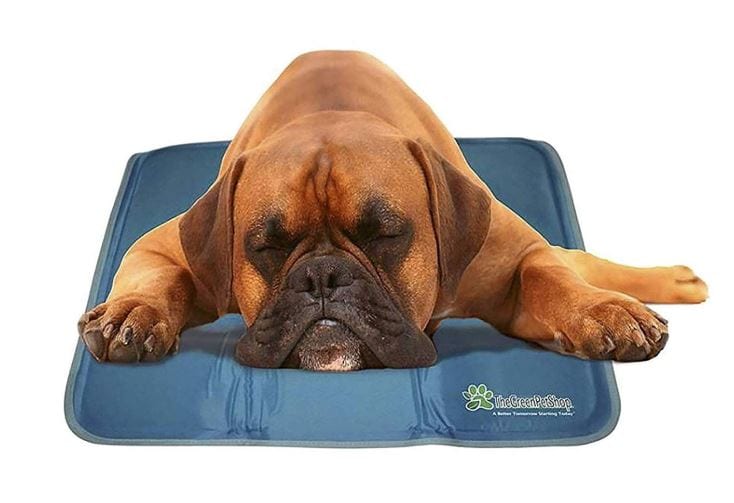 The Green Pet Shop Cooling Pad is a pressure-activated cooling pad that relies on a patented, self-cooling technology to help your pup chill out on hot summer days. Furthermore, there is no need for refrigeration, electricity, or water and after 15-20 minutes of use, it automatically recharges. This is the perfect pet accessory for the summer heat. This pad provides about 3 to 4 hours of cooling time, beginning when your pet lays down on it.
Features:
Pad requires no electricity or water
Recharges after 15 to 20 minutes of non-use
Machine washable (tumble dry on low heat)
Available in five different sizes
---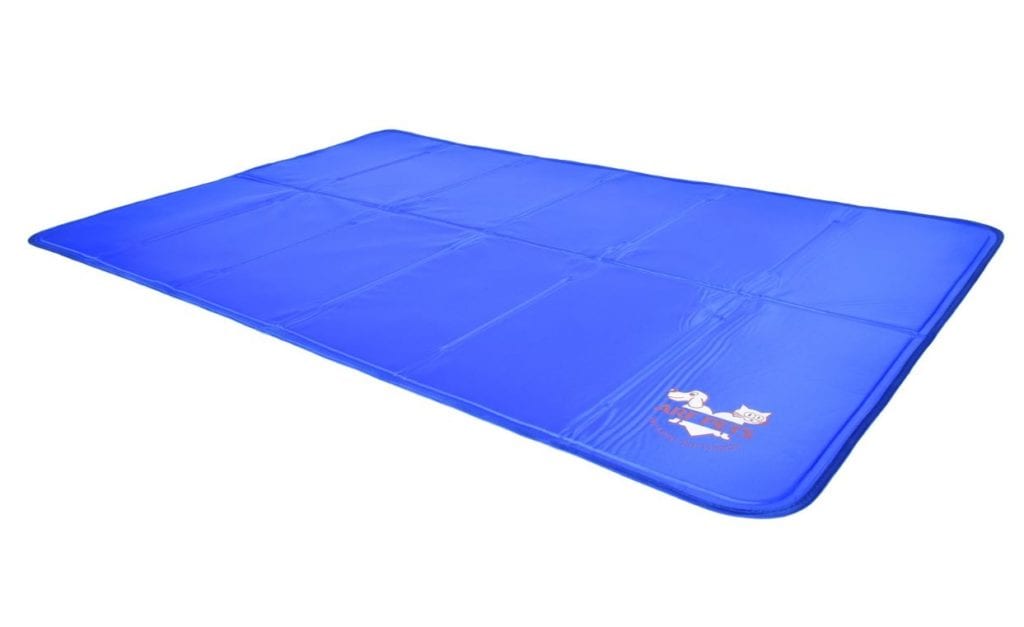 The Arf Pets Self-Cooling Mat is a premium cooling pad that works via a pressure-sensitive gel contained inside the mat. Designed to be super-durable, this pad features a puncture-resistant nylon cover that is easy to clean and will last for years. The cooling effect provides maximum comfort and there is no need for refrigeration, batteries, or water. The Pet Dog Self Cooling Mat is non-toxic and latex-free which provides extra protection and safety for your pet.
Features:
Provides up to 3 hours of cooling comfort
Cools back down after about 15 minutes of non-use
Made with non-toxic and environmentally friendly materials
Cleans easily with a little soap and warm water
---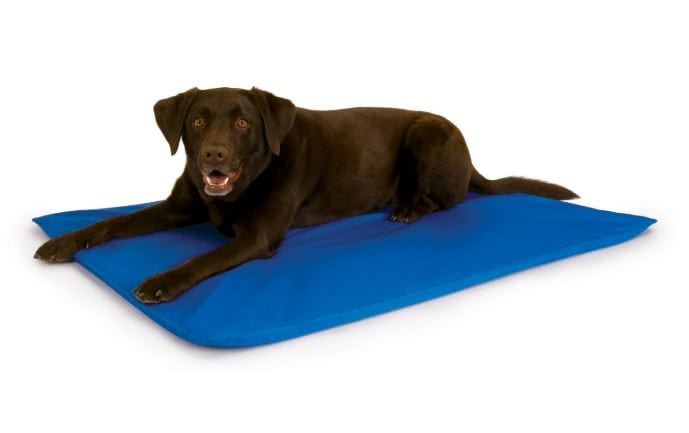 The K&H Cool Bed III uses water to help keep your pet cool when the temperature soars. To use the bed, you simply fill it with water and let your dog lay on it. The bed only has to be filled once and it lasts year-round. Just simply add water according to your dog's weight which is indicated in the instructions. Made with a durable nylon/vinyl exterior, the K&H Cool Bed III is built to last and comes with a limited 2-year warranty.
Features:
Bed remains about 22 degrees cooler than the ambient temperatures
Available in three sizes and two colors (blue and gray)
Can be stored while empty or filled
Suitable for either indoor or outdoor use
---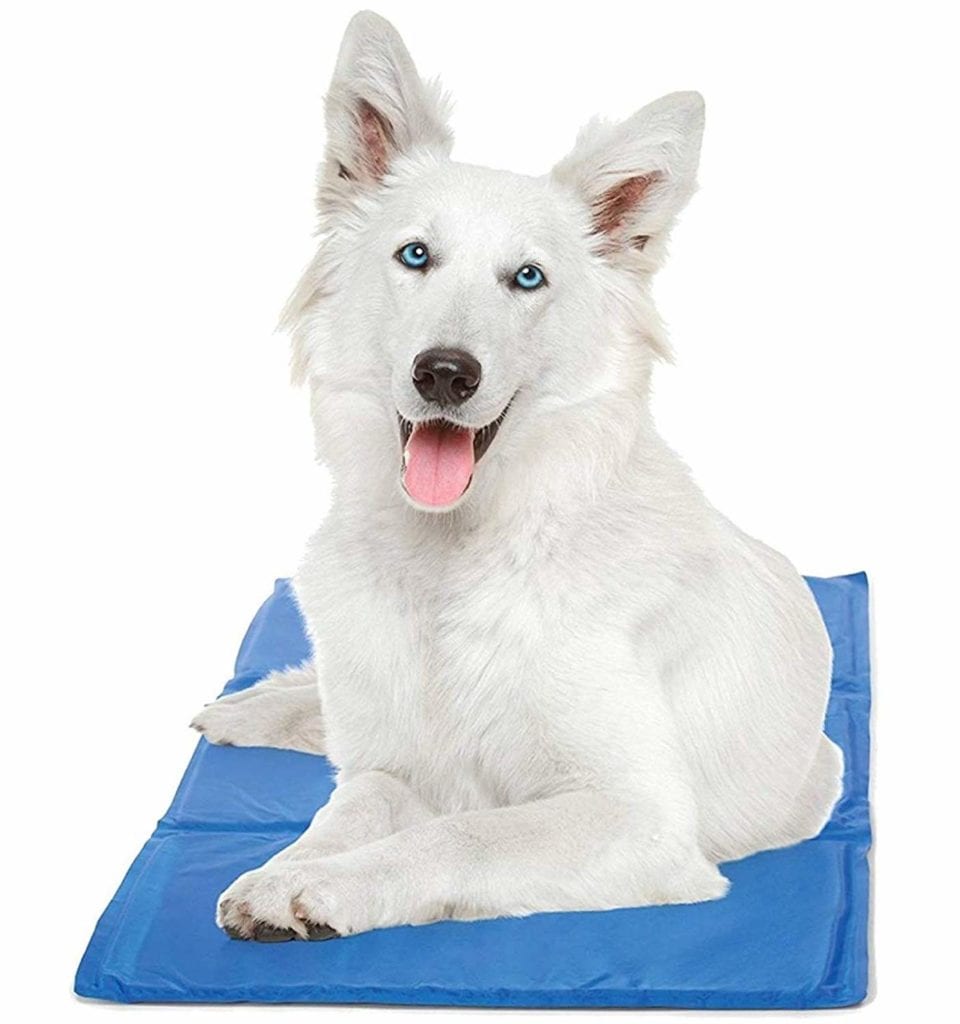 The cool pressure activated gel doesn't require freezing or cooling, it absorbs the pet's body heat, thus keeping your pouch cool. While the manufacturer claims that the gel is non-toxic, we recommend exercising greatest caution while using this product, because there have been consumer reports that suggest otherwise. This mat folds up for easy storage; perfect for use indoors, outdoors, and on the go.
Features:
Lightweight, portable, puncture resistant material
Pressure activated gel technology
Folds up for easy storage
Non-toxic gel that is safe for pets, adults and kids
---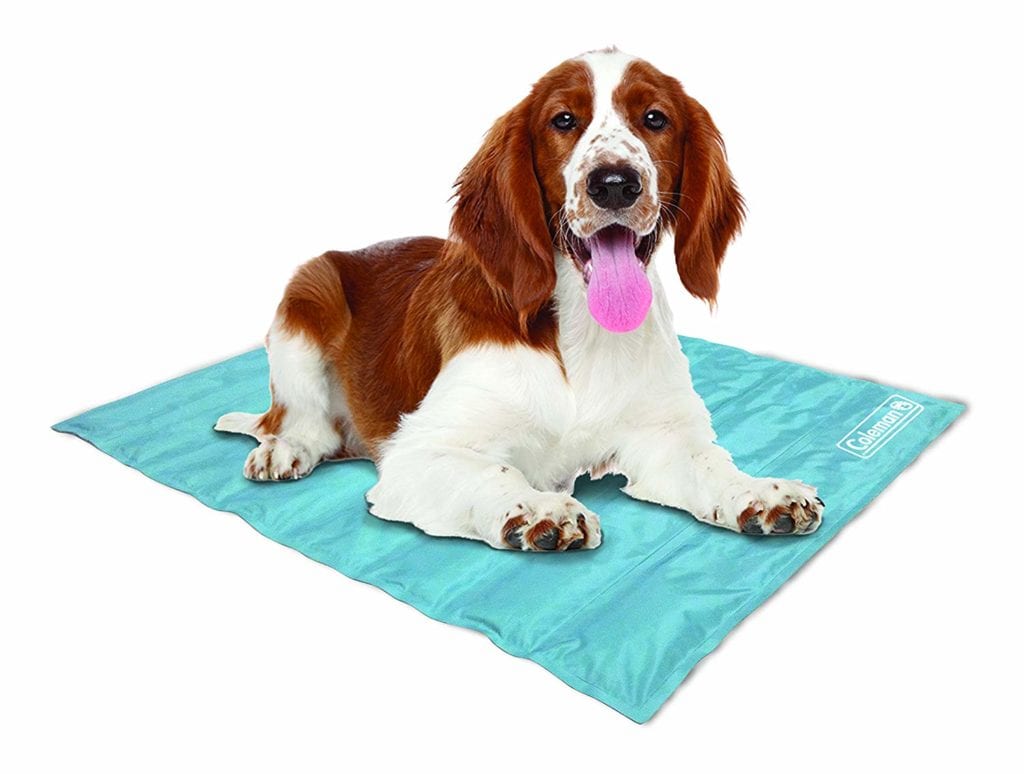 Working just the same as any other cooling mat, this product is no different from the other pressure-activated gel pads. Evidently, it worked just as advertised, since most of the consumers were happy with the purchase, praising everything from its generous size to its cooling performance. The critics, however, said the pad wouldn't work in the car because when the car's getting hot, the pad is getting hot just as fast.
Features:
Stays 5-10 Degrees cooler than room temperature
No refrigeration needed
Made of Non-Toxic Gel; Wipe Clean Shell
Use alone, in a pet bed, or in a pet carrier.
---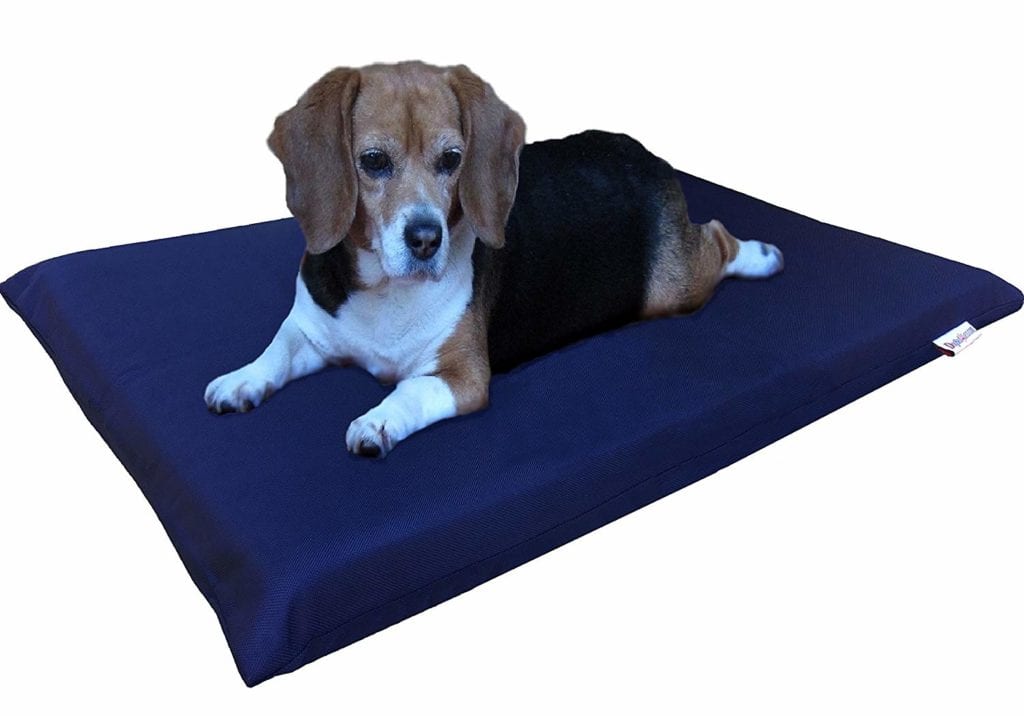 Sometimes the gel can be infused into the memory foam filling of the pad. Dogbed4less, a small business in California, specializes exactly on orthopedic cooling bedding for dogs, which makes their products easy to recommend in this category. It comes with one Oxford cover and one waterproof internal zipper cover, which makes it a complete bedding package for the price. The 100% high-density gel infused memory foam doesn't lose its shape and provides both cooling and therapeutic effects as it relieves the pet's arthritis, joint, and muscle stiffness
Features:
High density 100% gel infused cooling memory foam pad
Internal layer Full waterproof fabric zipper cover
Removable washable external cover with strong zipper
---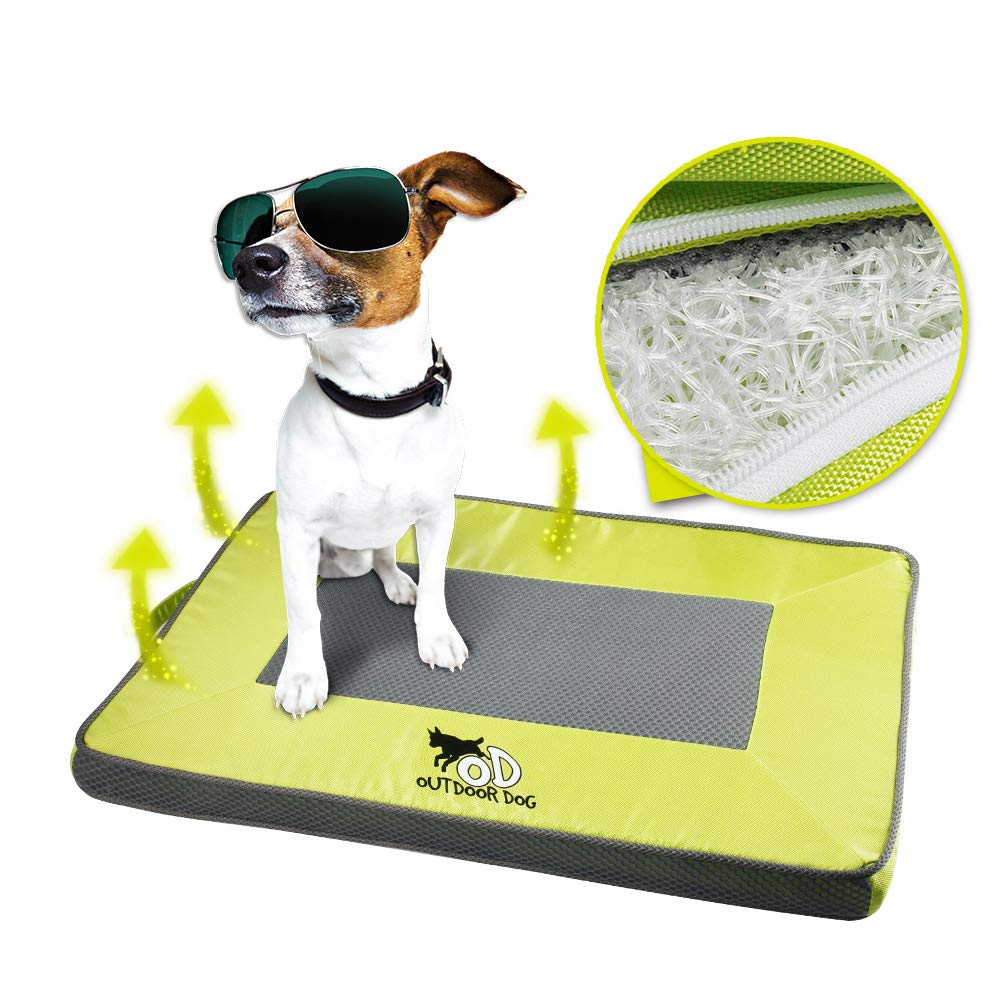 The All of Paws Always Cool dog mat has quickly become a popular option among pet owners due to a different type of gel the company uses in their mats. And while it's been effective for pets in hot weather where temperatures do not reach extreme heat, many dog owners looking for a good cooling mat for dogs found the All for Paws Always cool dog mat to not be so "always cool."
Features:
Folds up for easy storage
Perfect for use indoors, outdoors, and on the go
Plastic noodle mattress keeps the air flowing
---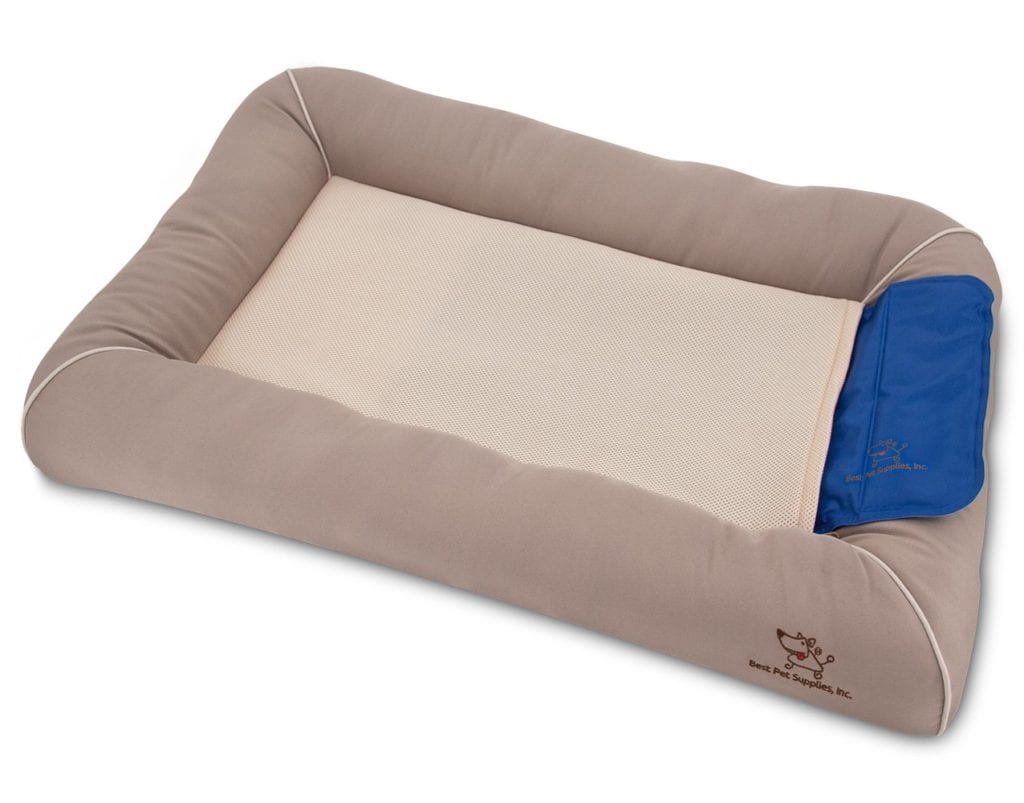 Designed with dogs and pet parents in mind, this cooling pet bed is lined on all four sides with comfy bolsters and includes a removable, pressure-activated cooling pad. To clean this bed, simply remove the gel pad and toss the bed into the washing machine. It comes in two neutral tones that won't offend your decor as well as two sizes to accommodate most pets.
Features:
Pressure activated self-cooling pack
Combined soft padded sides with a cushioned mesh lining
Non-toxic and the heavy-duty design withstands chewing and scratching