Cleaning your cat's teeth is one of the best things you can do to help your cat stay healthy, it is particularly important as they grow older and tartar and plaque builds up on their teeth. And a high-quality cat toothpaste is the perfect product to maintain your kitty's oral health.
Choosing the best cat toothbrush doesn't have to be any more complicated than selecting a brush for yourself. Choose one that's comfortable for your cat, easy to hold, and which is gentle on your kitty's teeth and gums. The best cat toothbrush is slim, lightweight, and is designed for maximum cleaning efficiency. In this article, we have carefully reviewed and selected 8 of the best toothbrush available on the market.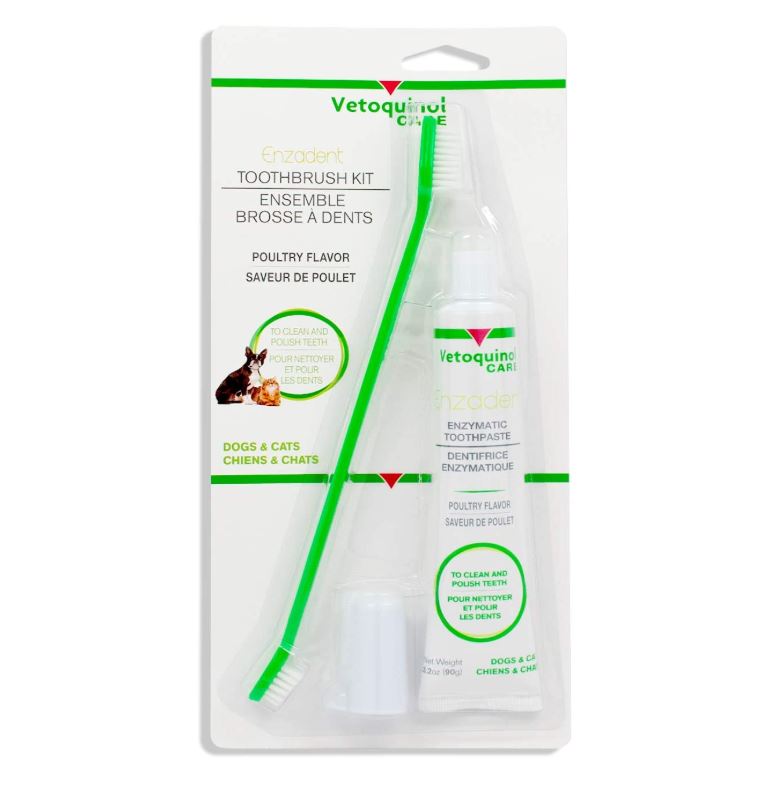 Keep your pal's teeth clean and healthy with the Vetoquinol Vet Solutions Enzadent Enzymatic Poultry-Flavored Toothbrush Kit for Dogs & Cats. This kit features a dual-ended toothbrush, a finger brush, and a tube of poultry-flavored enzymatic toothpaste. Enzymes are an effective way to polish and remove plaque from your pal's teeth easily—it helps combat tooth and mouth illnesses when brushing your pet's teeth regularly.
A toothbrush kit that contains both a traditional-style, dual-ended toothbrush and a handy finger brush.
Includes an enzymatic toothpaste that's effective in polishing and removing plaque easily from teeth in both dogs and cats.
The ergonomically designed toothbrush for dog and cats of all sizes has both a large and small head, plus the soft bristles help remove food debris and plaque.
The poultry-flavored, non-foaming toothpaste can safely be swallowed and doesn't need to be rinsed out.
Comes with a finger brush, which is great for fidgety pups or as a starter brush to ease your pal into a new routine.
---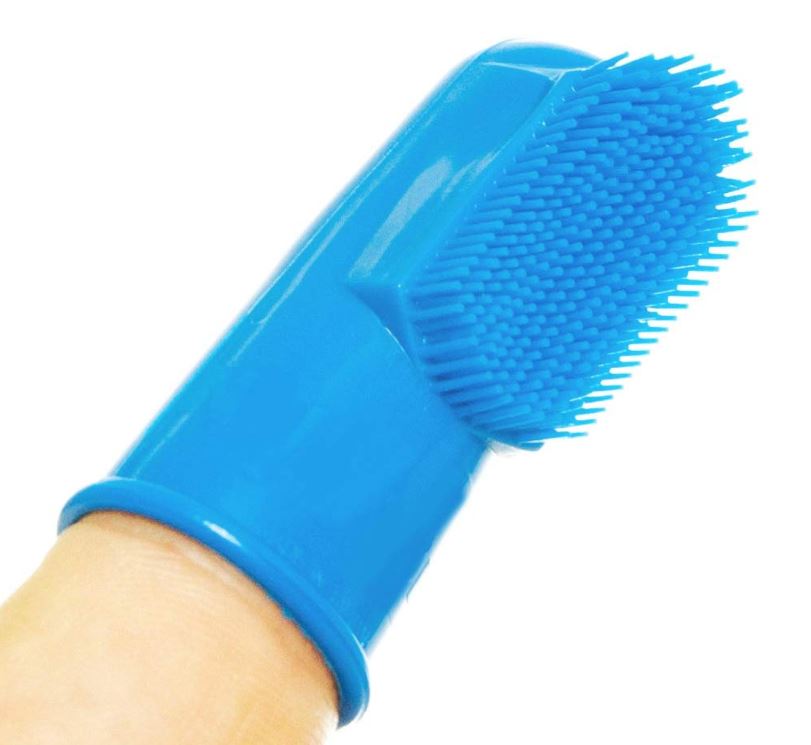 Keep your furry friend smiling with Pet Republique's Dog & Cat Finger Toothbrush! Made with FDA-approved food-grade materials, this flexible toothbrush safely and effectively scrubs away tartar and grime from your best pal's teeth and gums. Its unique shape is perfect for cleaning hard-to-reach areas, making it easy to get puppies, kittens and new pets used to the act of brushing. Plus, Pet Republique will donate 15% of all profits to American Animal Rescue Society, so each purchase you make helps to save the life of a dog or cat in need.
Medium textured bristles remove grime without harming sensitive gums.
Available in two quantities – 3-count and a value pack 6-count for multiple pet households.
The distinct shape makes it easy to clean hard-to-reach teeth such as molars.
Veterinarians recommend regular brushing to prevent dental and gum disease.
---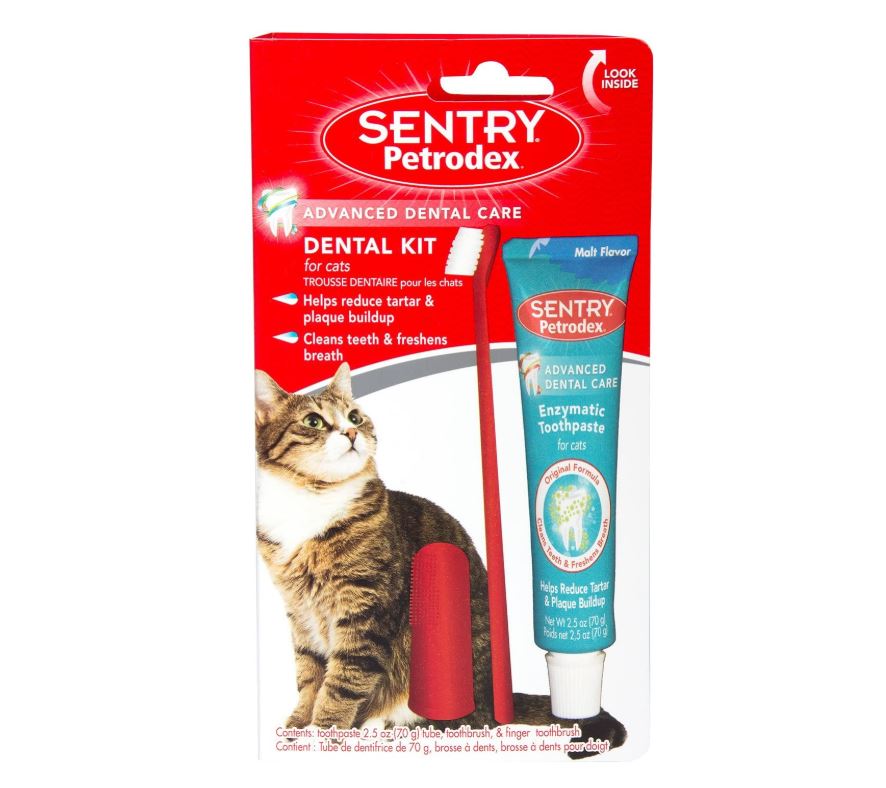 Sentry Petrodex Veterinary Strength Malt Toothpaste Dental Care Kit for Cats helps reduce tartar and plaque buildup and fights bad breath. Maintain your cat's dental health with a malt flavor they'll love and a veterinary recommended product you can trust! These items used together help fight bad breath and also reduce tartar and plaque buildup. This kit contains toothpaste in a delicious malt flavor, toothbrush and finger toothbrush.
Veterinary strength dental kit for all of your feline friend's dental health needs
Helps reduce tartar & plaque buildup with a hydrogen peroxide-producing enzymatic formula. Cleans teeth & freshens breath
Easy to use: cats love the malt flavor, and the toothpaste doesn't foam so there's no need to rinse.
Veterinarian-developed toothbrush helps remove plaque and food debris with ultra-soft bristles for gentle application
Included finger brush gently removes plaque and food debris while massaging gums
---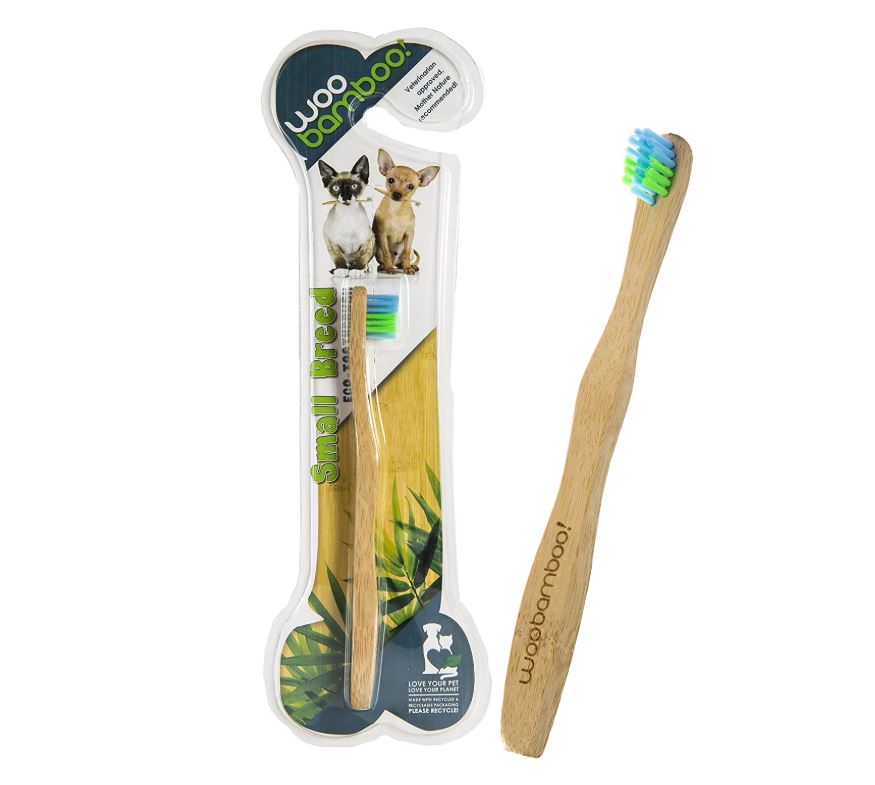 Show bad breath the door with the Woobamboo Dog & Cat Toothbrush. Dogs and cats can't lick between their teeth so it's up to us to ensure they receive proper dental hygiene. This eco-friendly brush option is made from the world's fastest growing land plant for an all-natural and eco-friendly design. The bamboo brush is ergonomically fashioned with a hump, providing the most comfortable grip for you while your four-legged friend gets the cleaning they deserve.
This toothbrush for your dog and cat resembles your toothbrush, with some ergonomic bristle changes for easy brushing.
Made with organic, biodegradable bamboo, this brush is coated with a natural and non-toxic wax for an eco-friendly option.
Packaged in recycled and recyclable material with soy-based ink and post-consumer waste for a mother-nature approved bundle.
Veterinarian-approved, this brush helps you keep your dog or cat's teeth clean and healthier for a longer, happier life.
---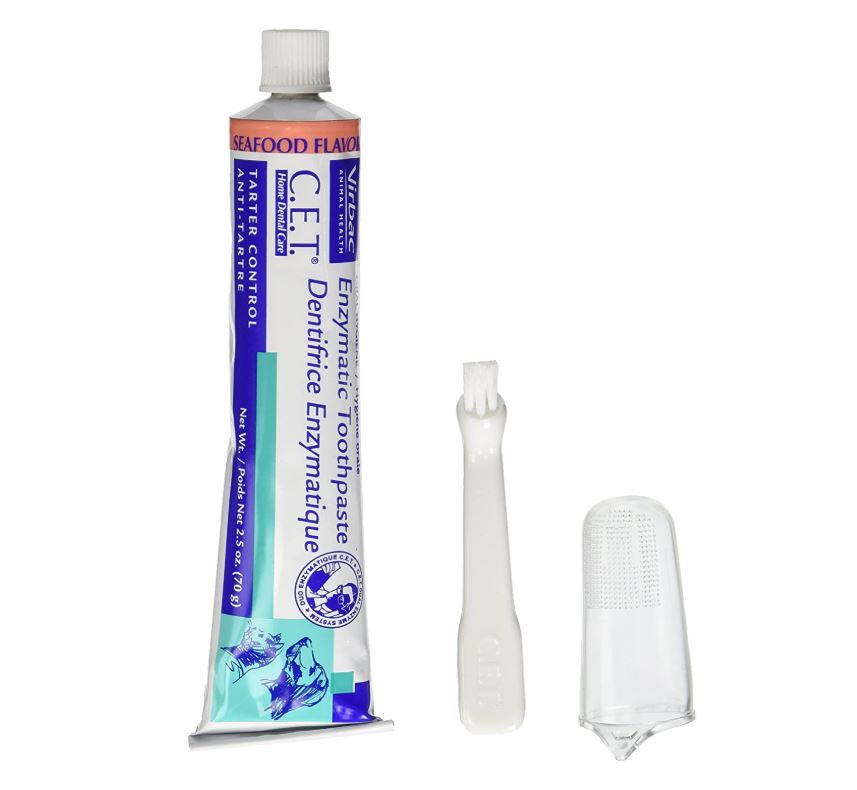 Daily tooth brushing is the best at-home method for maintaining good dental health for cats and dogs. Virbac offers a complete line of specially designed toothbrushes aimed at making it easy and effective for cat and dog owners to care for their pet's teeth as part of their daily routines. Dual-ended for large and small tooth surfaces. Soft bristles ensure a gentle, well-tolerated application. Each brush is individually packaged.
In dogs and cats, two-thirds of each tooth is hidden under the gums, so your pet can have dental disease without you realizing it. Help combat tooth and mouth illnesses by brushing your pet's teeth regularly
This toothbrush is dual-ended and designed with both dogs and cats in mind. The bristles at either end are specifically fashioned to help remove food debris and plaque
Ergonomically correct angles aid in administration, making brushing your furry friends teeth as easy as possible
Soft bristles aid in gentile application. Keeping your pet's breath fresh and their mouth clean and hygienic has never been so simple
---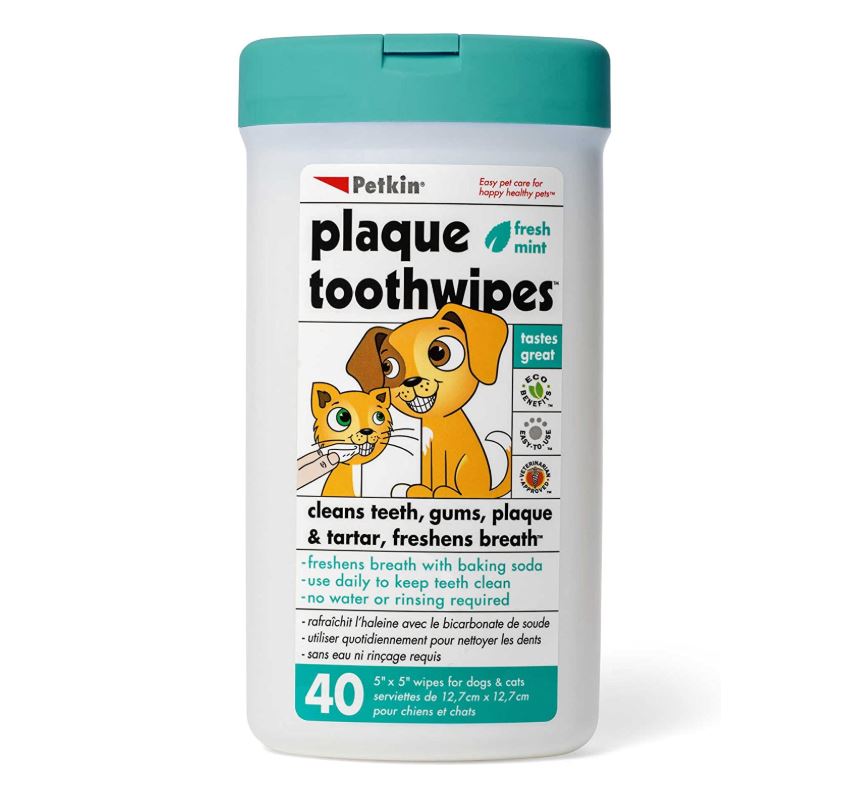 Petkin Fresh Mint Dog & Cat Plaque Tooth Wipes help you say goodbye to stinky breath. These wipes provide a convenient way to keep your furry friend's teeth and gums healthy by wiping away daily residue. Each soft wipe is moistened with natural baking soda and mint flavor to gently clean while freshening his breath. To use, just open the lid, pull out a wipe and clean your pet's mouth without water or rinsing—it's just that easy!
Made with baking soda and mint flavor for a gentle and freshening clean.
Convenient wipes work to remove daily residue in your pet's mouth, keeping their teeth and gums clean and healthy.
Freshens breath with natural baking soda for more enjoyable kisses.
Resealable snap-lid keeps unused wipes moist and ready for use.
A fast and convenient way to keep your pet clean and feeling his best.
---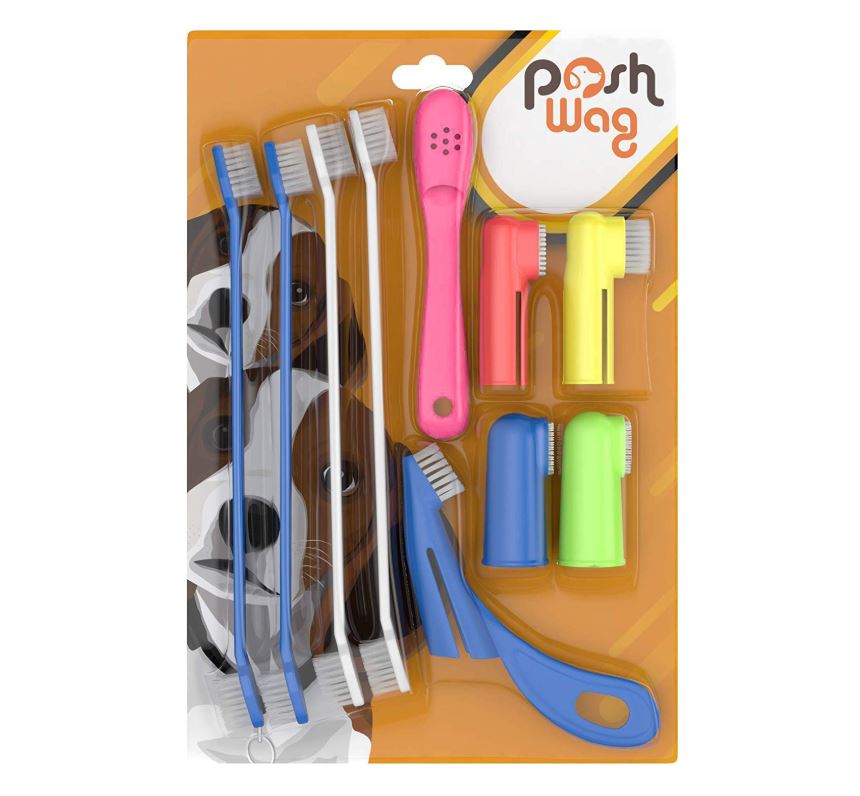 PoshWag delivers the ultimate dogs' toothbrushes that will deliver a healthy and safe oral setting. It is a high-quality product with a great design, strong construction, and most importantly, deliver excellent services for different pets. This product is a multifunctional item with a unique and elegant design. It includes strong handles that deliver a firm and comfortable grip for both cats and dogs. For convenience purposes, a full set comes with six finger brushes for all pets. Get this product for amazing results.
Foul mouth odor is reduced and pets' teeth are whitened teeth with PoshWag toothbrushes. Good dental hygiene promotes healthy and long lives for pets. .
This toothbrush kit includes 10 different pieces, each one of which has a particular purpose. They are great for pets of all sizes,
Sturdy and long-lasting brushes delivers maximum pets' oral health.
This toothbrush pack is perfect for maintaining proper oral health regardless the age, size, or breed of your dog or cat.
---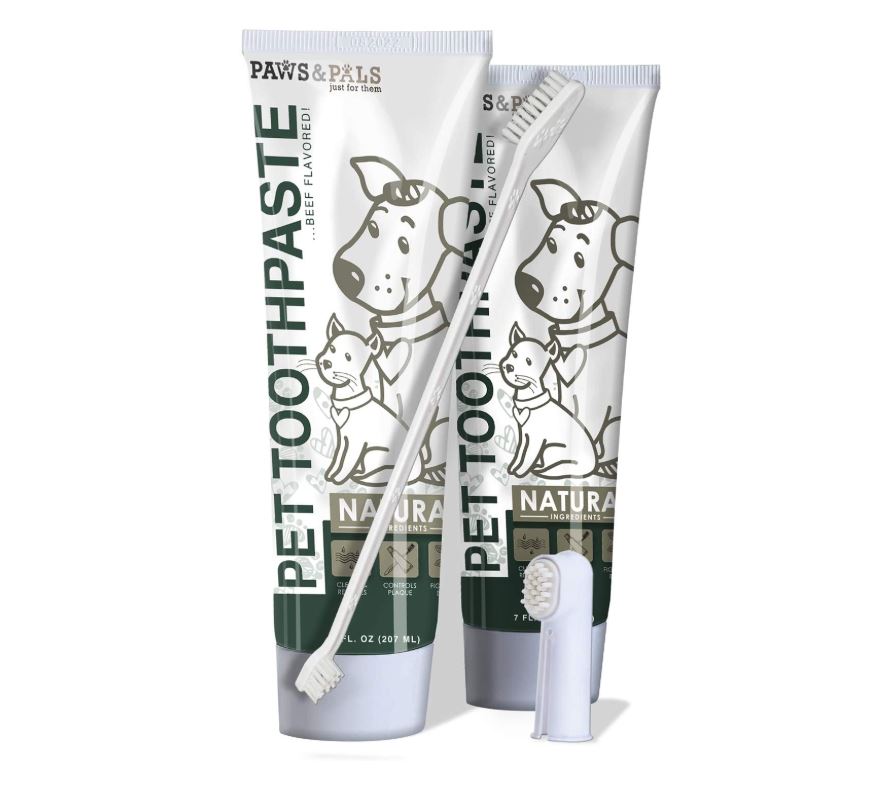 Keep your pup's canines sparkling clean with Paws & Pals Natural Beef Flavored Dog Toothpaste & Toothbrush! This complete kit includes a tube of enzymatic toothpaste suitable for dogs and cats of all ages, plus a soft-bristled toothbrush for comfortable cleaning. The tasty enzymatic formula helps to tartar, fight tooth decay and improve bad breath. Developed just for pets, the double-ended toothbrush has a smaller and larger side to fit chompers of all sizes so you can keep your furbaby's teeth healthy and strong.
Advanced care enzymatic toothpaste helps protect your pet's teeth and gums.
Formulated to help fight bad breath, plaque, tartar build-up and gum disease.
Super-soft brush is comfortable on animals' gums but tough enough to get teeth sparkling clean.
Dual headed brush makes this kit perfect for mouths of all sizes.
Included beef flavored toothpaste is delicious and safe to swallow.