It is rather a universal acknowledgement that cats love to nap, whenever and wherever. They like to lay out in the sunshine and stalk birds and other critters they spot out the window. So a hammock is one of the best creations to spoil your cat and provide her a great view of the outdoors along with a comfy bed to relax and stretch out on.
Before buying, consider how much space you want to dedicate to your new cat hammock. There are many different types of cat hammocks we will explore in this article to help you find the right one for your kitty.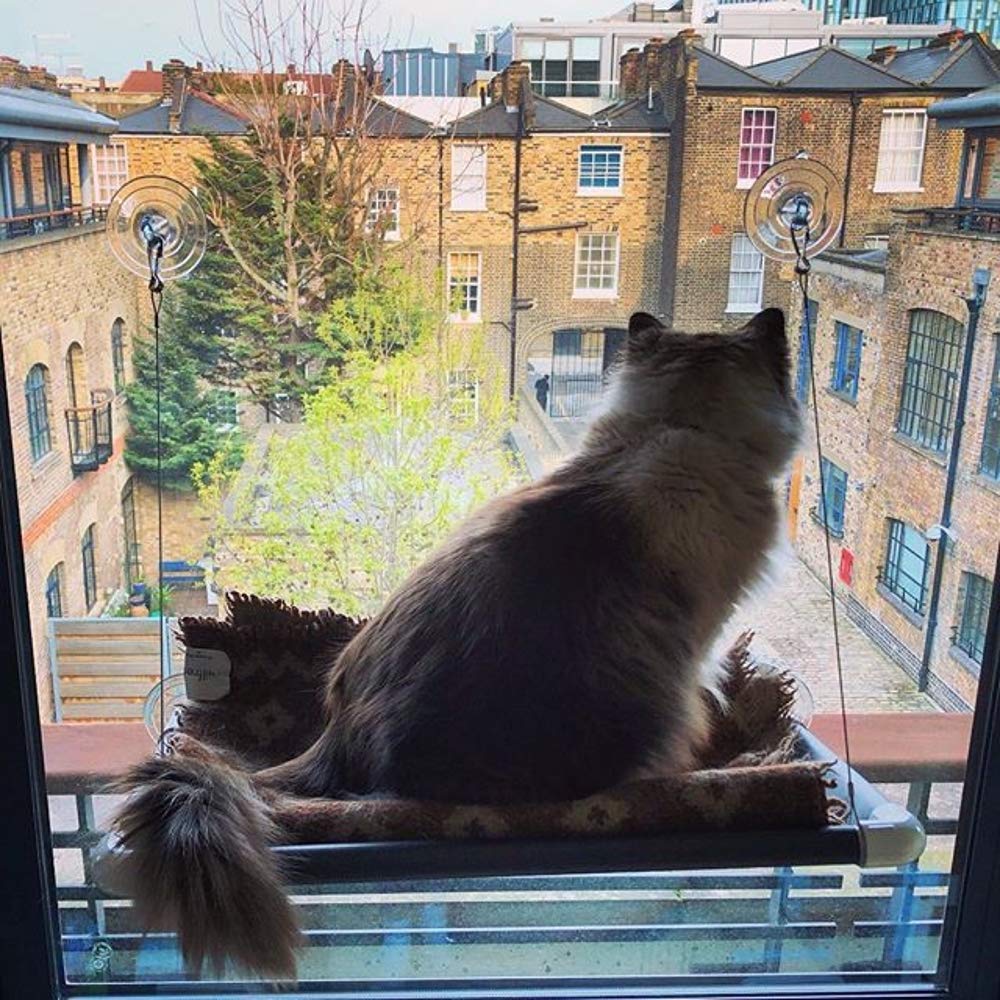 Using patented giant suction cups, this kitty ledge mounts securely to any window and will hold up to 25 pounds—room for two cuddle buddies (or one Maine Coon). There are no tools needed to install, and you can place it at any height either inside or outside the window. The hammock is made of tough, weather-resistant fabric that's easy to clean but also makes a comfy spot for catnaps.
Cats love being up high, and with their own special spot, they can sprawl out in the sunlight and catch some bird-watching action in the backyard. It's great for keeping your cat entertained, and you can make it super cozy with her favorite blanket or bed on top.
---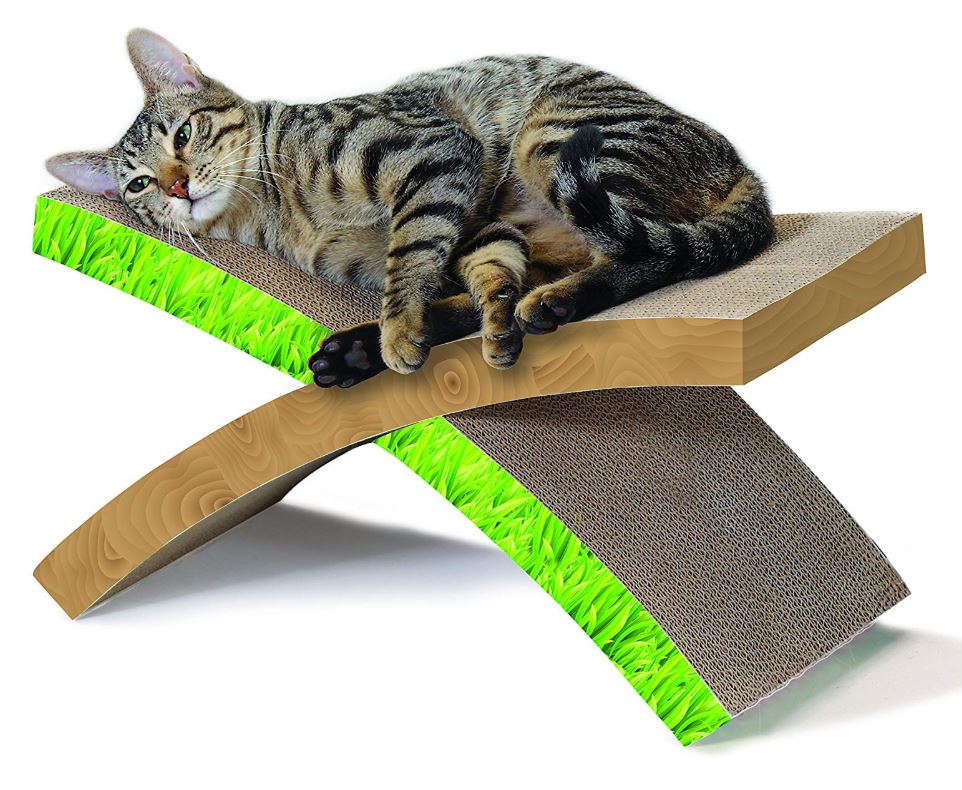 Let your feline friend enjoy hours of chilling, relaxing and fun with Petstages Easy Life Hammock Cat Toy. Featuring a unique "X" design that easy to assemble and fold away, so you won't spend hours trying to put it together. Made with extra-thick corrugate panels to support your cat as she rests and relaxes more.
The soothing design can be used to curl up on or stretch and scratch, plus it includes catnip that will attract her and keep her focused on her toy rather than your furniture. Great for cats of all ages, so no matter if she's a kitten or older cat, your pal will have loads of fun and chill for long hours.
---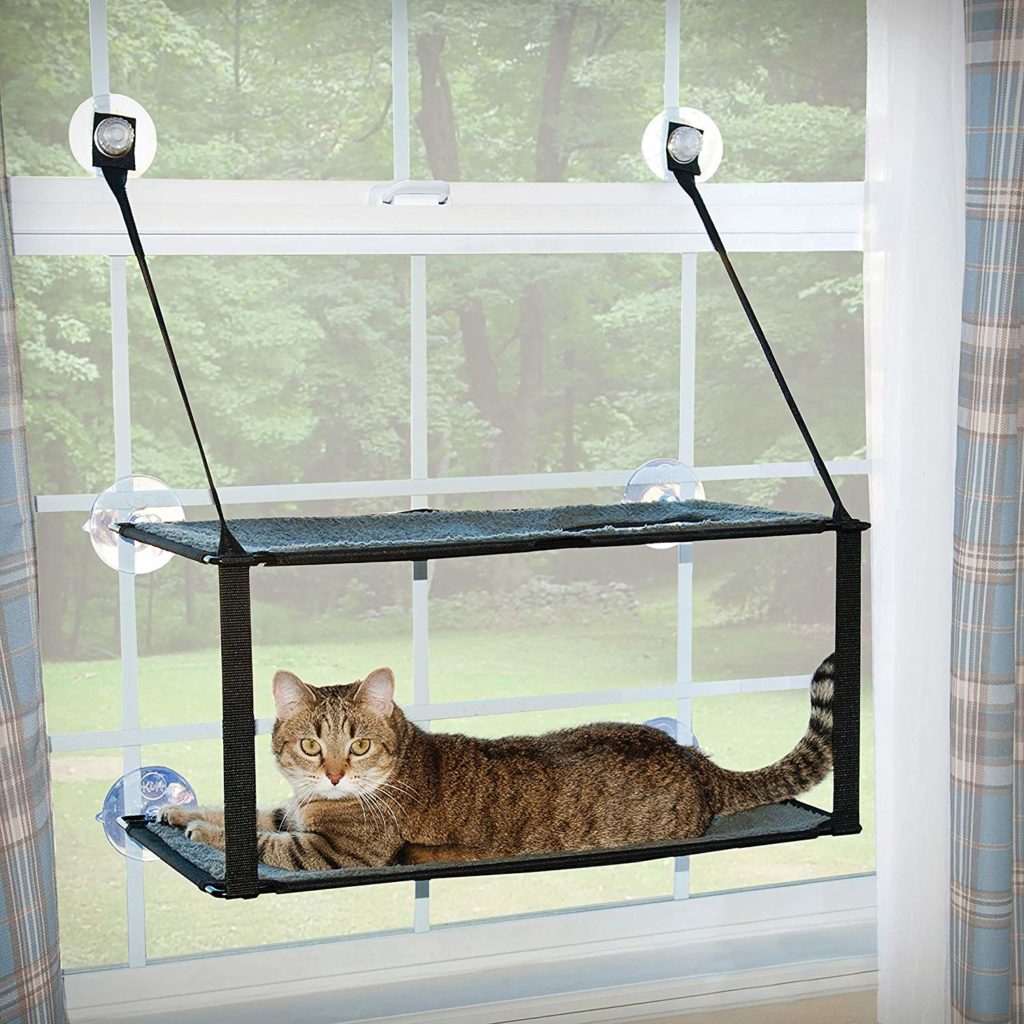 The K&H Pet Products Double Stack EZ Window Mount Kitty Sill gives your cat an elevated spot where she can play, keep an eye on the neighborhood or settle down for a nap. Cats love being high off the ground, and this sturdy window sleeper makes the perfect perch. It helps alleviate boredom for indoor kitties and keeps them entertained as they jump from level to level and take in the sights and sounds through safely through the window.
The Double Stack EZ Window Mount Kitty Sill is easy to install and uses revolutionary Push 'n' Turn suction cups to stay safely secured to the window. The best part is that you can fold the shelf up so you can still use the blinds, curtains or shades without trouble.
---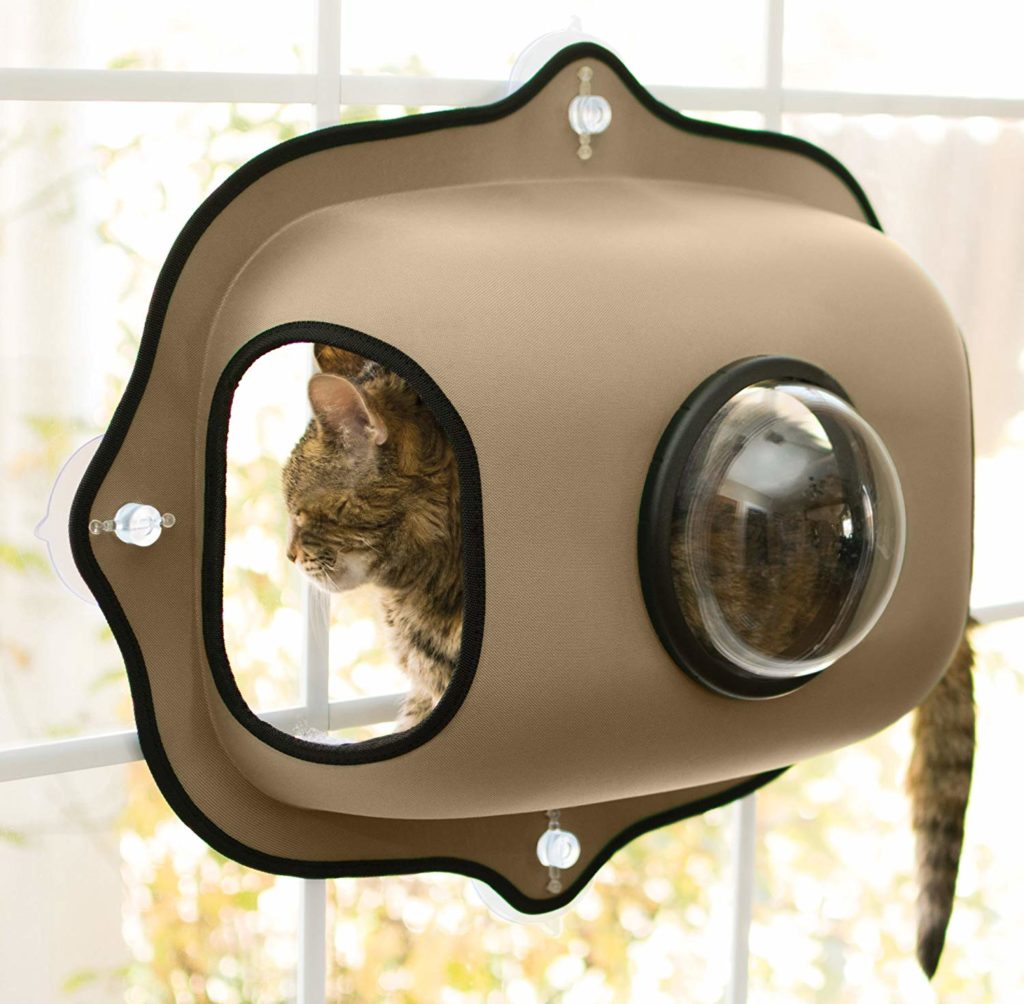 Instantly turn any window into a kitty entertainment center with the K&H Pet Products EZ Mount Window Bubble Pod Cat House. The unique pending design allows your kitty to see not only the outside world, but can keep an eye on you too. The EZ Mount system mounts to most smooth surfaces which makes it great for glass windows and doors. Give your cat the ultimate sunbathing, bird watching, snoozing, entertaining spot.
And with an enclosed design, it gives your cat a full view of the world outside, while offering a safe and secure spot to lay. And when he's ready to take a break from watching over the house, the included soft, warm, and cushy Amazin' Kitty Pad will give him hours of comfortable snoozing.
---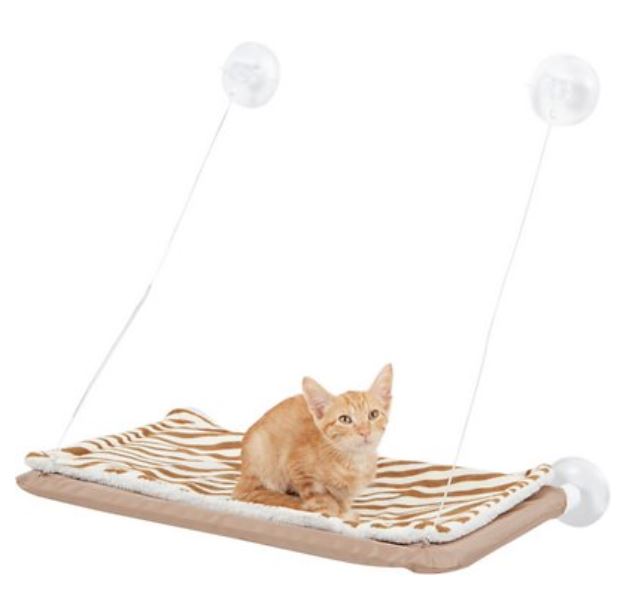 Oster Sunny Seat Window Mounted Cat Bed gives your kitty elevated views of nature and the neighborhood without taking up valuable space in your home. This industrial strength window bed installs in minutes. Simply attach the suction cups to a glass window or door and the heavy duty bed sits firmly in place. Great for multiple cat households, this cat bed helps reduce separation anxiety and keep messy hair off your furniture.
It features a reinforced high-grade plastic frame that offers reliable, long-lasting use and a durable Oxford-style polyester cover that is built to withstand scratching. It's strong enough to hold up to 50 pounds and the removable cover is machine washable.
---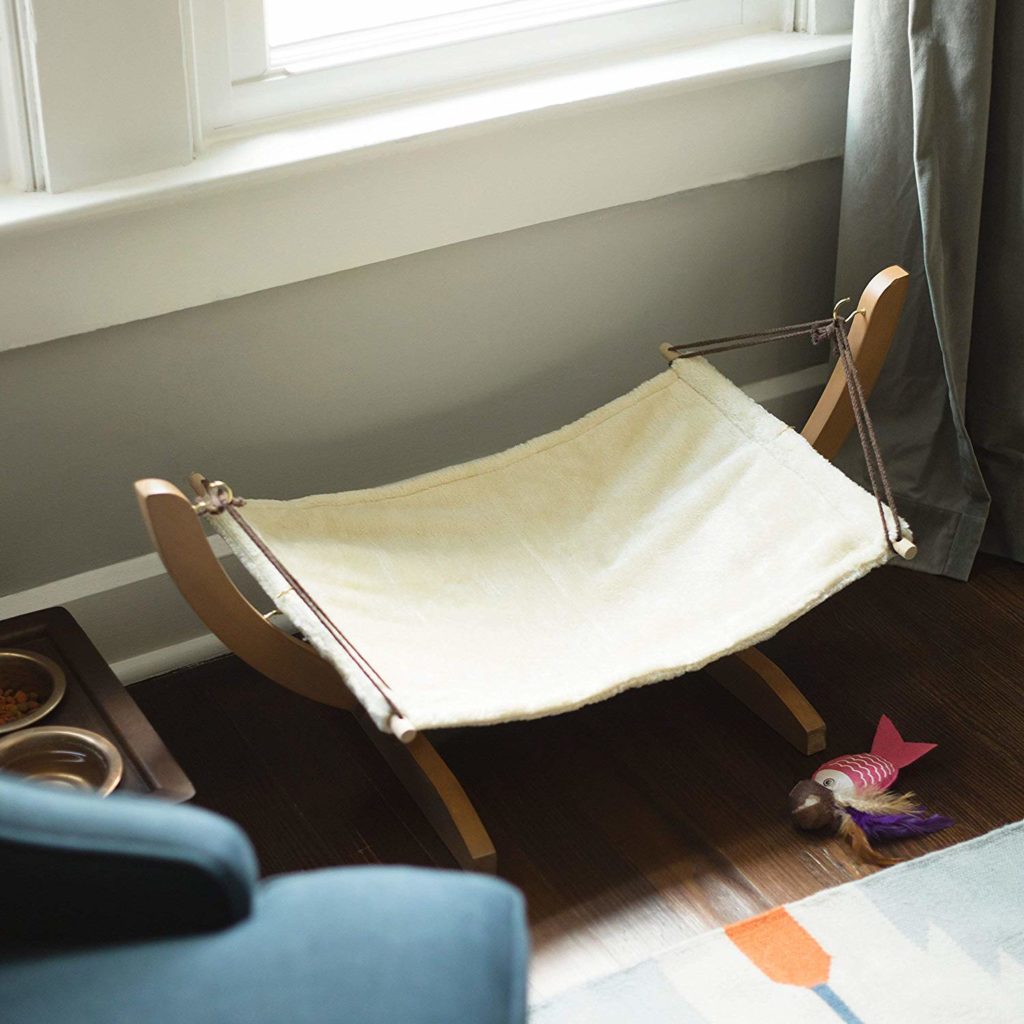 For a more conventional hammock design, check out this Luxury Cat Hammock by Vea Pets. With its wooden frame and cream material, this stylish hammock will fit right in to a contemporary or Scandinavian style home – but more importantly, your cat will love relaxing in the soft, plush bed. To ensure their comfort, the hammock has a sturdy, anti-sway design, with secure anchors that can support cats and other small pets of up to 30lbs.
This hammock requires some self assembly, but full instructions (including a link to a video demonstration) are included, and lots of reviews attest to it being easy to put together. This is great for cats who are unsettled by an unstable base.
---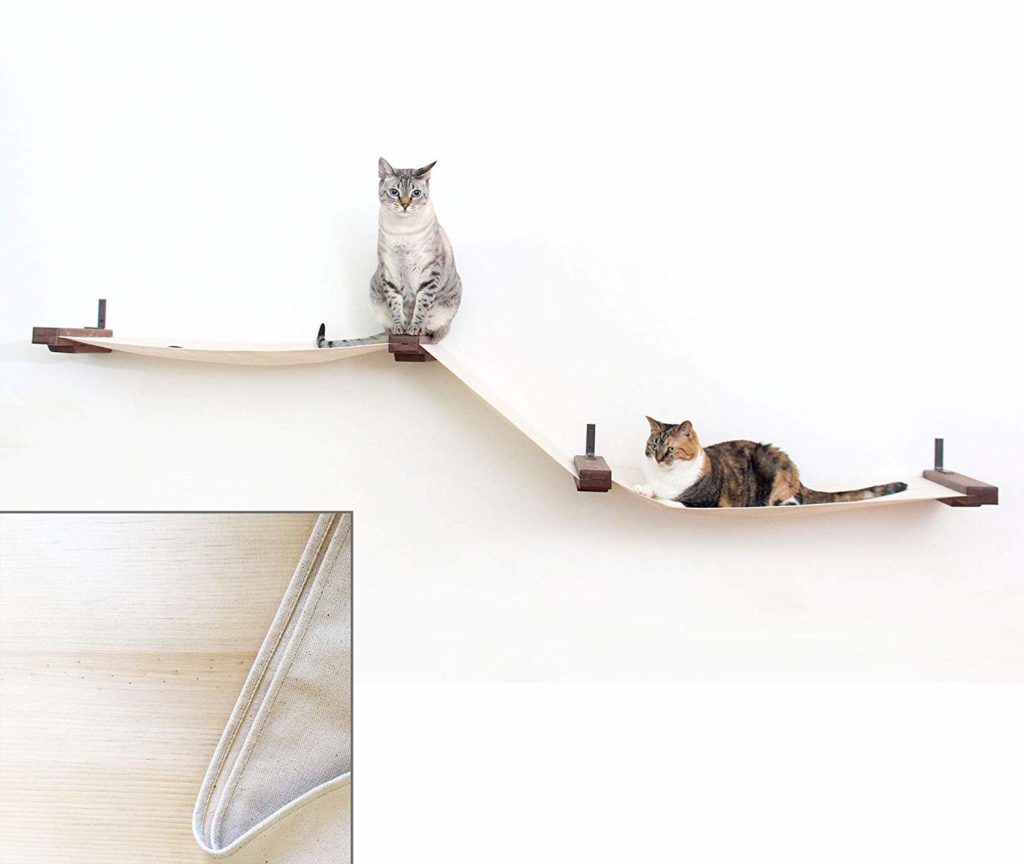 This uniquely designed wall-mount hammock allow your cat tear around the house on these Raceways and relax on the hammock sections when they finally tire out. This is the largest of our Raceways, at a little over 6.5-ft long when mounted. There is enough room for multiple cats to play around or one very spoiled cat. All sets will come with the canvas color of your choice (second option upon choosing the item) and Nickel mounting hardware.
Each Large Raceway is built to be mounted among six consecutive 16″ studs. This piece is mounted along three studs, the brackets will come detached and all of our furniture also comes with screws. The individual wooden planks to hold 85 lbs, and the fabric spans to each hold 62 lbs.
---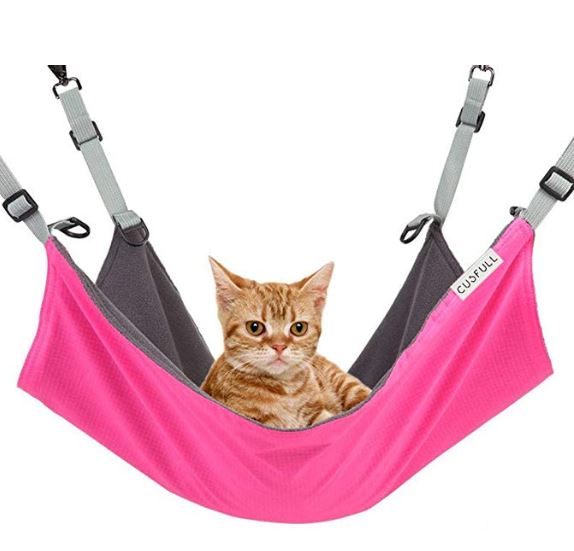 Finishing up our list of the best cat hammocks is this colorful design by CUSFULL. It's a suspended hammock that can be attached to a cat crate or chair using the hooks at each corner. This one is also double-sided with waterproof nylon on one side for summer use, and soft and snuggly velvet on the other for keeping warm in winter.
The hammock is available in a choice of colors – black, pink and blue – so you can match it to your décor, or add a splash of color to your cat cage. It receives positive reviews from owners whose cats love hanging out in their hammock, although a couple mention that the metal clips are not durable and have broken or snapped. They seem to be the minority though, as overall this a highly rated cat hammock, with a very reasonable price tag.