Cat is a fairly low-maintenance pet, at least in comparison to a dog, but you still have to make sure that your cat gets the right nutrition each day. An automatic pet feeder is ideal if you want to make sure your pet cat or dog has access to the right portions of food at regular intervals when you are not around. There are a number of different models available, which means that choosing one isn't easy. We have put together a list of the best automatic feeders on the market based on ratings, user reviews, price, and so on, so you can make the right decision easily.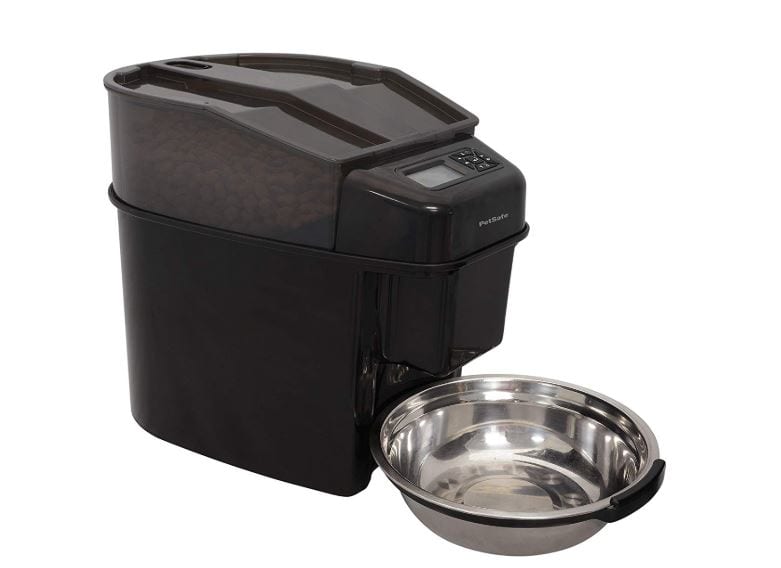 The Healthy Pet Simply Feed is a convenient, stress-free way to feed your pet and simplify your life. Your pet gets fed on time whether you're asleep, at work, or away. This feeder uses a conveyor belt to dispense food for the best portion control and accuracy. The feeder works with most dry kibble and semi-moist pet foods. You can customize your pet's meals with flexible portions from 1/8 – 4 cups and up to 12 meals per day. The Slow Feed option dispenses scheduled meals slowly over a 15-minute period to help prevent gulping, vomiting, and bloat.
The stainless steel bowl is hygienic and easy to clean; just toss it in the dishwasher when it gets dirty. With portion control and a consistent feeding routine, it's easy to manage your pet's weight or help with weight loss for your overweight pet.
---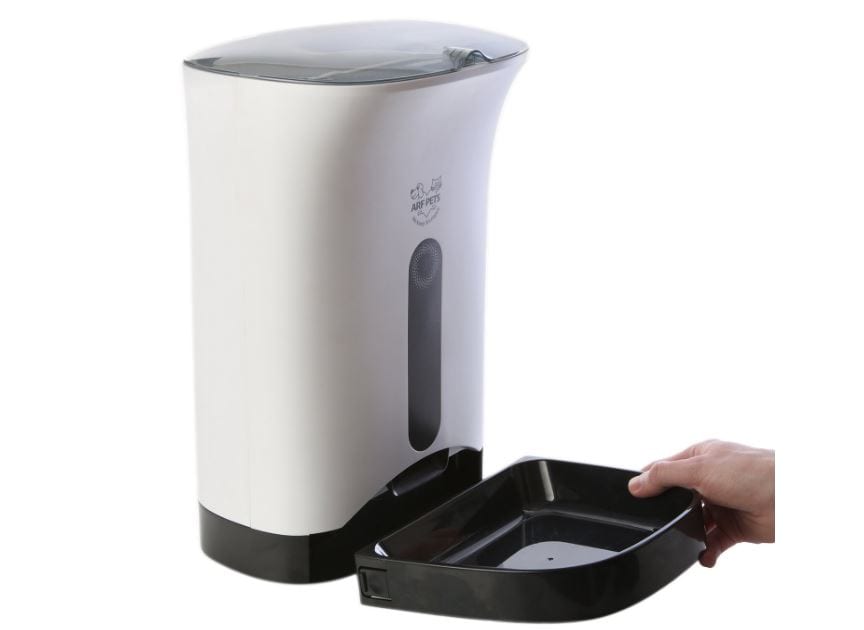 Because a well-fed pet is a happy pet, this feeder keeps your dog or cat on a regular feeding schedule. Allowing you to control the portion size and pick up to four mealtimes in one day, it offers the peace of mind that your pet is always getting the nutrition that he needs. You can even record a personal meal call to let your buddy know when it's time to eat!
This feeder automatic dry food dispenser allows you to feed pets whenever you have to be away from home and prevents overeating. It runs on three D batteries or plug into a nearby outlet. Magnetic lock lid prevents your pet from digging in.
---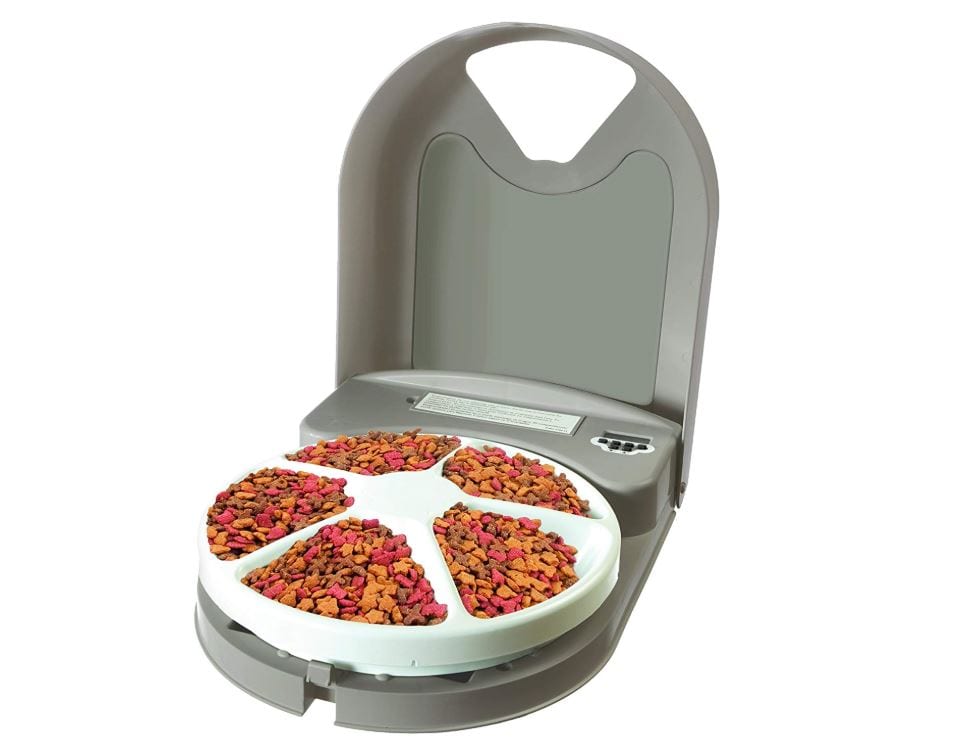 Automatically feeds your pet up to 4 additional pre-portioned meals a day whether you are home or away; no more early morning wake up calls or rushing home from work. Set the timer, fill the feeder, and when it's time for the next meal the Eatwell Pet Feeder will deliver a perfectly portioned bowl of kibble to your favorite friend. Perfect for weekends away or pet parents with busy schedules.
It uses BPA-free plastic, dishwasher-safe food tray and can holds 5 cups of dry food, divided into five 1-cup portion sections.
---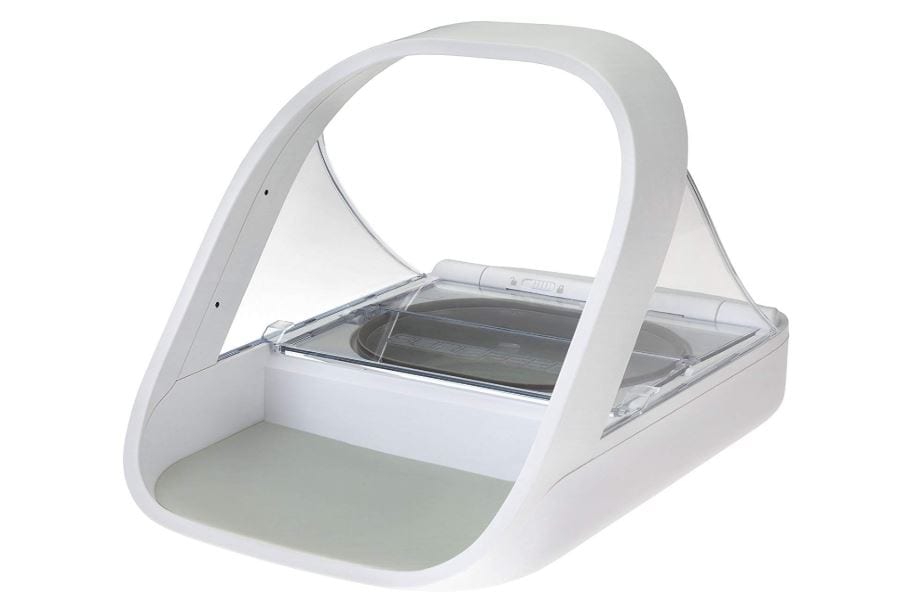 If you have multiple hungry pals that love smooching off food from each other, get a handle on it with the SureFeed Microchip Small Dog & Cat Feeder. Only opening for a designated pet by picking up on a unique microchip or included RFID collar tag, it's the perfect way to stop pets from stealing each others' food. Simply program your pet with one button, and the lid will only open for him, staying closed for unauthorized pets. The bowl holds both dry and wet food, and keeps food fresh and pest-free.
Plus, it's compatible with all microchips and can be used to program up to 32 pets with additional microchips or RFID collar tags. Batteries not included and includes one collar tag.
---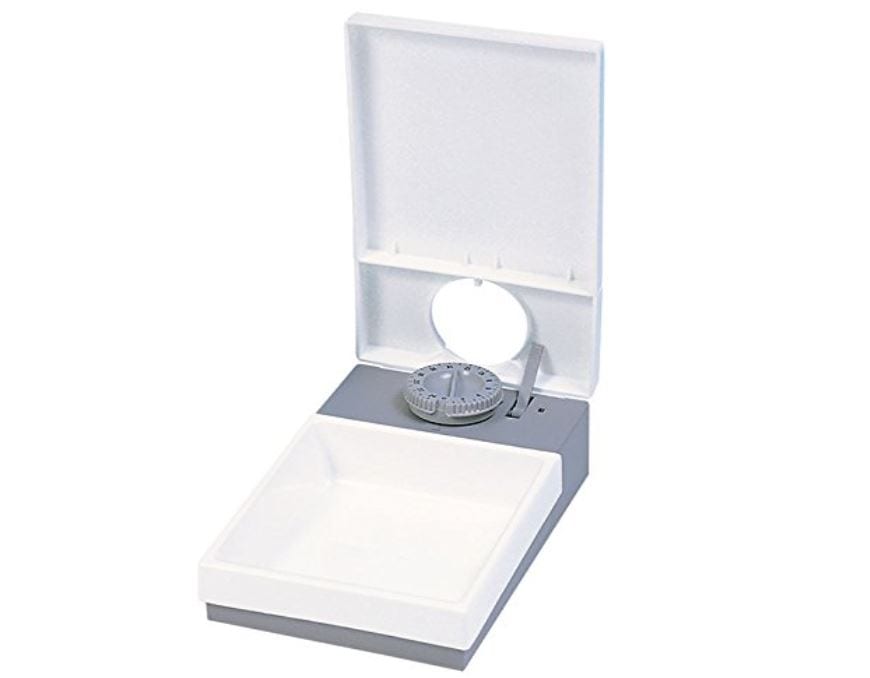 The Cat Mate C10 from Pet Mate is an automatic cat feeder that can feed our pet cat (or even a small dog) a single meal while you are away. Up to 450g of wet food (enough to feed 2 cats) is kept fresh in the feeding compartment by the closely fitting lid, however unlike the larger C20 feeder, this one does not feature an ice pack.
You can set the batter-powered timer to open the lid automatically up to 24 hours later. The single AA battery should last for around 1 year.
---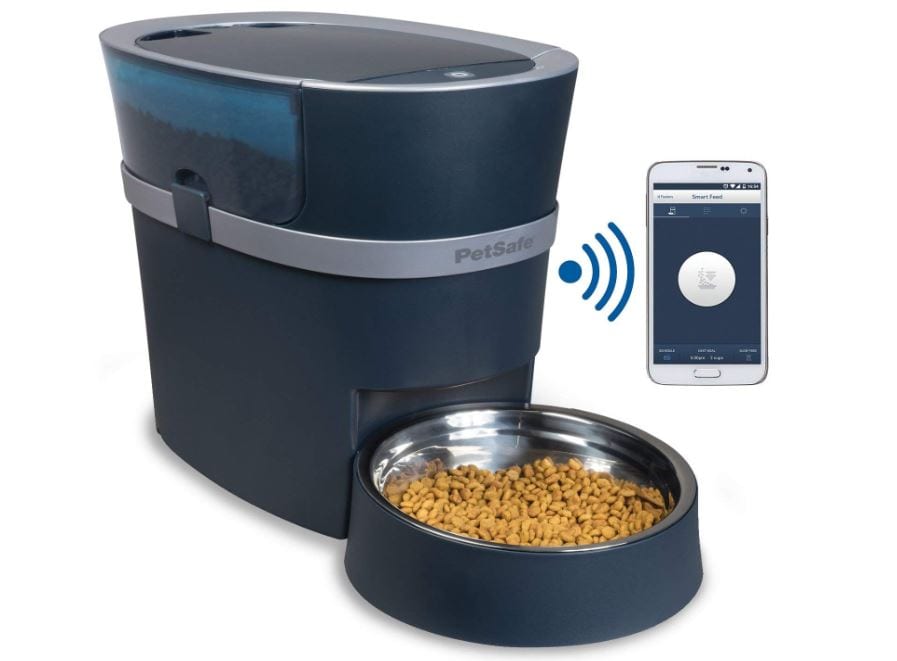 The PetSafe Smart Feed Automatic Pet Feeder for iPhone & Android is a convenient pet-feeding solution for the modern pet parent. Whether you're working late, going out, or feel like staying in bed a little longer, the power to feed your pet is in the palm of your hands—no more rushing to the bowl and pouring. The Wi-Fi-enabled feeder connects to your home's wireless router and works with your Android or Apple smartphone, giving you the ability to feed your cat or dog no matter your location.
The Smart Feed is powered by an adaptor with an optional battery backup (batteries not included) and works with iPhone and iPod devices iOS 9 or later and most Android smartphones 5.0 or later.
---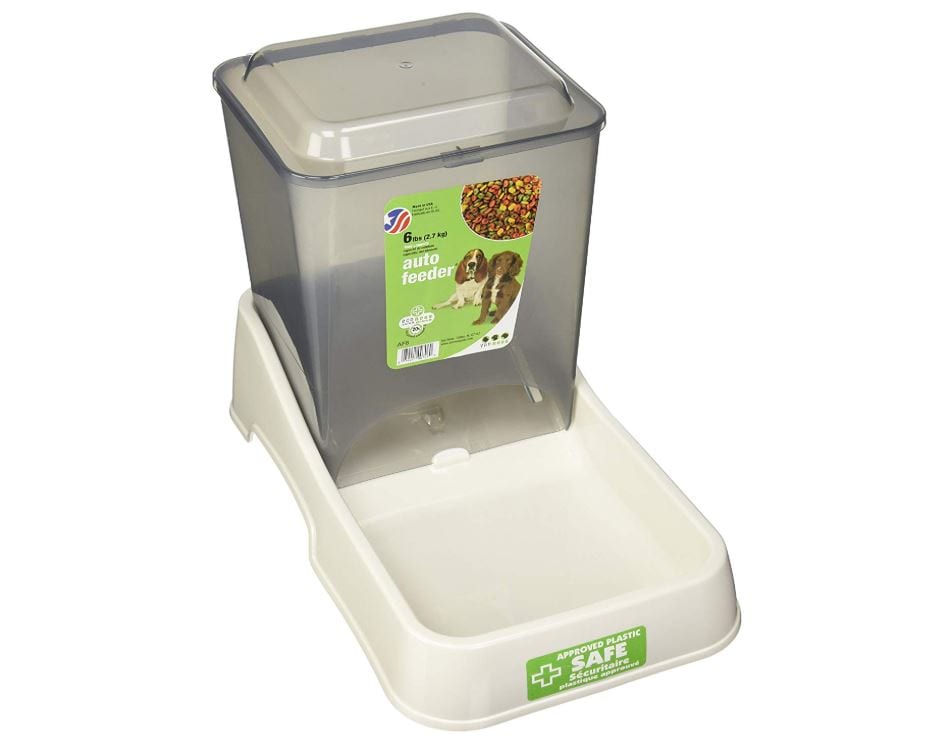 Few things are more embarrassing than getting a phone call at work from a hungry pet who's asking for a little more food. This stylishly designed gravity feeder automatically replenishes the food reservoir when levels get low. Keep your pet's food comin' with the Van Ness Auto Feeder!
This auto feeder US Food & Drug Administration approved plastic with your pet's safety in mind. It has clear smoke finish on container for easy viewing of food and water on hand, it has spill-less valve allows for easy, no-mess refills, handles for easy pickup of dish.
---
Fill the hopper, press a button, and forget about… Grover's gonna eat! The Aspen Pet Le Bistro Programmable Feeder takes all of the guesswork out of feeding your pet. It automatically delivers portion-controlled sizes to your pets whenever you choose. The transparent hopper lets you keep an eye on food levels, and the feeder bowl is removable and dishwasher safe. Read the 5 Star Reviews!