Do you have a boisterous dog who is always up for a game? Perhaps you're just searching for a fun alternative to fetch to encourage your pets to live an active lifestyle. If that's the case, automatic ball launchers are ideal for both you and your dog. Auto ball launchers provide your dogs with valuable mental stimulation, training, and independence in addition to fitness. Don't forget, it is not only for your canine friend, you can play it too as these machines are super fun!
Perhaps you're unsure what to look for when comparing automatic fetch machines, so we've compiled a list of the most crucial considerations to keep in mind while shopping.
Interactive features: If you're searching for a tech-driven alternative to the classic game of fetch and catch, you might as well look for as many bells and whistles as you can within your budget. This is especially true if you have a smart dog who gets bored rapidly. If your dog goes unattended for long periods of time, having more engagement is also beneficial.
Indoor or outdoor use: If you want Fido to play fetch with himself both inside and outside, seek for a fetch machine that can do both.
Ball types: Some devices will accept any standard-size tennis ball. Others will encase you in their little balls. Although normal tennis balls aren't a good fit for aggressive chewers, the former allows you significantly more flexibility.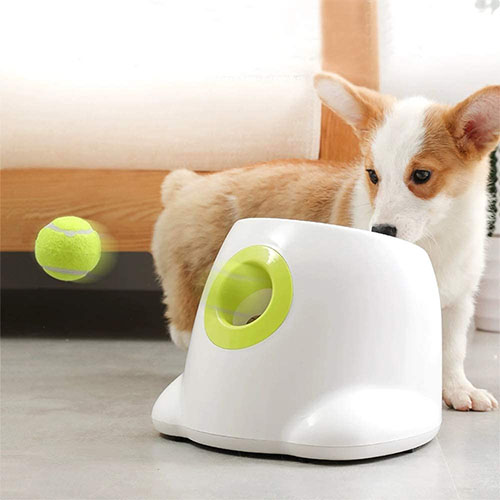 The automatic ball throwing machine is designed especially for small to medium dogs, it's a perfect toy for your dog to play even when you're away! All you have to do is plug it in, choose your launching distance and then drop in a mini ball. Soon your dog will learn how to drop it himself, which stimulates his mind and allows for totally independent play.
Automatic ball launcher is designed specifically for small to medium sized dogs. Launches the ball 10, 20 or 30 feet, which can easily be changed with the push of a button. Comes with three mini tennis balls that are 2-inches in diameter. Easier for small mouths to fetch!
---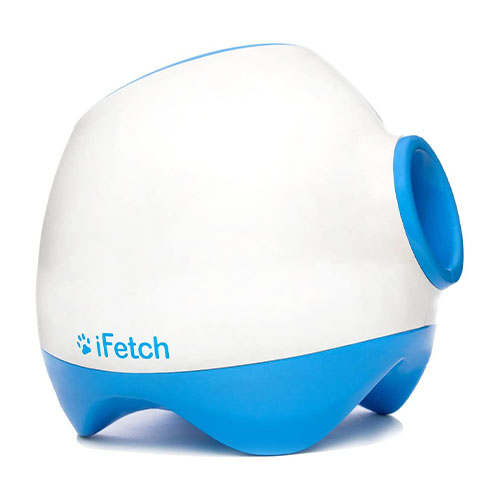 The iFetch Too is perfect for big dogs who love their tennis balls! Change the launch distance to 10, 25 and 40 feet with the touch of a button. It's that easy! There's also a random distance setting for more fun. Your iFetch Too will arrive limited to the 10 foot launch for use indoors or while training. A simple flip of a switch enables the longer launch distances
No batteries needed here… ever! Runs on a built-in, rechargeable battery, so just charge and go. Comes with 3 non-abrasive, standard sized tennis balls, about 2.5" diameter. Use other similar sized balls too! Just try not to get them too dirty or wet – this will affect performance Ball Launcher for small dogs is also available.
---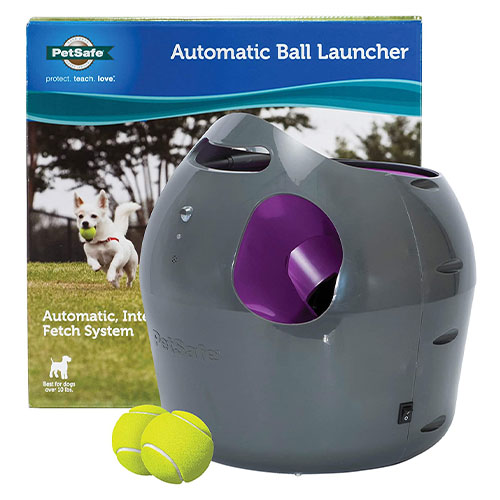 The PetSafe Automatic Ball Launcher is an automatic fetching machine that can be used by dog and owner or just the dog. The automatic launcher features make independent play easy and fun, while multiple safety features protect people and pets. The launcher was designed with three motion sensors for optimal safety.
A sensor located in the front keeps pets and people safe while walking in front of the launcher, while a sensor in the launch pocket keeps hands and snouts safe. Play a short game of indoor fetch at 8 feet or go outside and stretch those legs at 30 feet. Different angles make it extra fun! Plug it in or use 6 D batteries for portable play. The PetSafe Automatic Ball Launcher is safe, fun and totally versatile!
---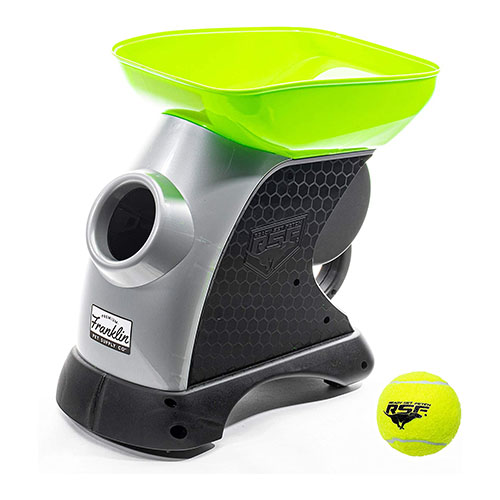 The Franklin pet supply-ready set fetch automatic tennis ball Launcher is the ultimate interactive pet TOY. Your dog will love the distance This unit will launch the ball. They will keep coming back again and again. Once your dog places the standard sized tennis ball into the top of the feeder, the internal mechanism will process the ball through its chamber and an optional warning sound will be heard prior to launch for safety.
The set includes a power adapter and an official rsf tennis ball. Take this toy anywhere with its built-in carry handle and battery compartment.
---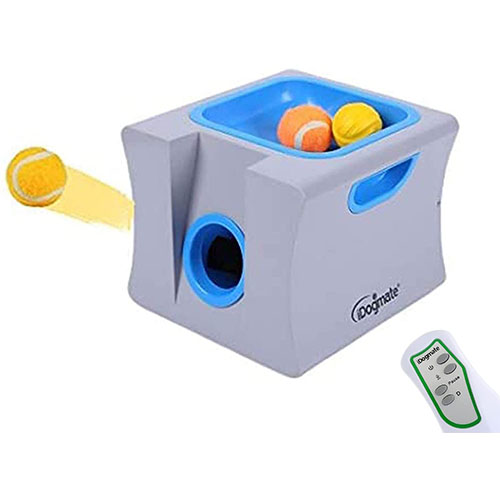 Keep your pup entertained and on his toes with iDogmate's Smart Automatic Pet Launcher Dog Toy! Available in a size small and a size medium/large, this intriguing toy is designed to launch balls 10, 20, 30 and 35 feet in the air. Choose between the 4 distances or choose the variable setting and watch your furry friend try to guess how far the next ball will go!
Plus, the balls are felted, so they are gentle on teeth and gums. This launcher runs on an AC adapter (included) or a rechargeable li-ion battery (included), which can last for up to 250 launches when fully charged! Paw-fect for indoor or outdoor play, this toy is sure to keep your BFF busy and entertained.
---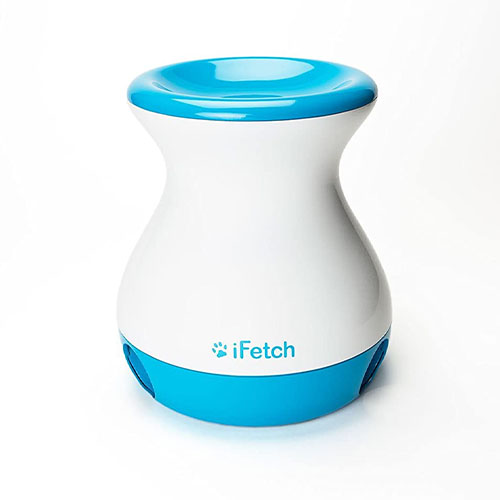 The iFetch Frenzy is a brain game toy for small to medium dogs that are clever, and bore easily. Train your dog to drop the ball into the top and watch them scramble to find the mini tennis ball as it randomly rolls (6-12 feet) out of 1 of 3 chutes at the base. Comes with 3 non-abrasive miniature tennis balls (1.6″ diameter) and a hidden ball storage compartment on the bottom.
This product allows dogs to quickly return to the real challenge: the mental game of guessing where the ball will appear next. The Frenzy is also the only brain game for dogs that does not reward with a treat – the ball is the reward!
---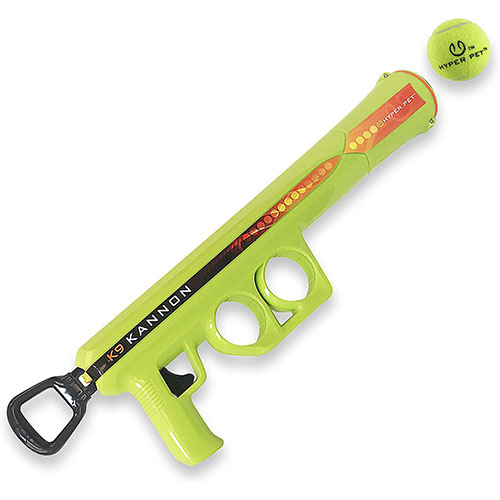 Take aim and catapult your flinging fun to a whole new level with the Hyper Pet K9 Kannon K2 Tennis Ball Launcher Interactive Dog Toy. This innovative ball launching toy features hands-free ball pick-up, so you don't have to get your hands slimy before effortlessly hurling the ball 75 feet across the field for hours of fetching fun and great exercise for your high-energy pal.
It even comes with one of Hyper Pet's own specially-designed balls that's been engineered with your precious pup's safety in mind. The ball is made of Grade A rubber so it's paw-sitively safe on his teeth and doesn't contain any harmful coatings or gases.
---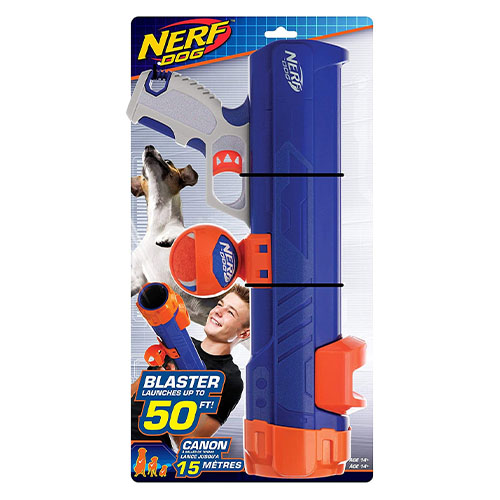 With the Nerf Dog Tennis Ball Blaster Dog Toy, you'll get way more throwing power than ever before. You can launch tennis balls up to 50 feet in the air without wearing out your arm way before your pup even breaks a sweat. This high-powered Tennis Ball Blaster has a safety release mechanism and is easy to operate, so the whole family can play.
After your faithful friend returns with the ball, you won't have to touch it to pick it up—just use the end of the launcher and you're ready to go. The Tennis Ball Blaster works with any standard tennis balls or you can use the Nerf Dog Tennis Ball Blaster Replacement Tennis Balls.