Elevated dog beds are increasingly popular among dog owners, they are not just for elderly, sick or injured dogs, but actually a great option for all dogs. Raised beds lift your dog off the floor, letting him stay at a comfortable temperature thanks to the airstream below it, while also providing firm and even support. Also, they are incredibly easy to maintain and store when needed. Raised dog beds are definitely a bed that is worth giving a look. And in this article, we will take a look at the best 6!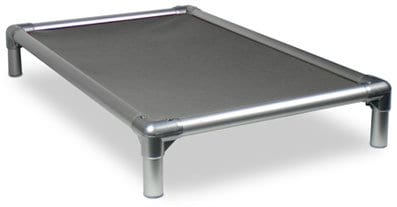 The Kuranda All-Aluminium Raised Dog Bed is an ideal bed for big and aggressive dogs, including the most destructive breeds. It is very strong and made up of lightweight aircraft-grade aluminum to stand up to the toughest dogs, be it inside the home or outdoors. The elevated cot style design further helps in evenly distributing your dog's weight so that no pressure is exerted on areas like the hips, shoulders or elbows.
The bed is also made with a strong canvas that won't tear or puncture easily. Also, it's easy to clean (as most elevated dog beds are). It can usually be cleaned up with a damp cloth and air drying.
---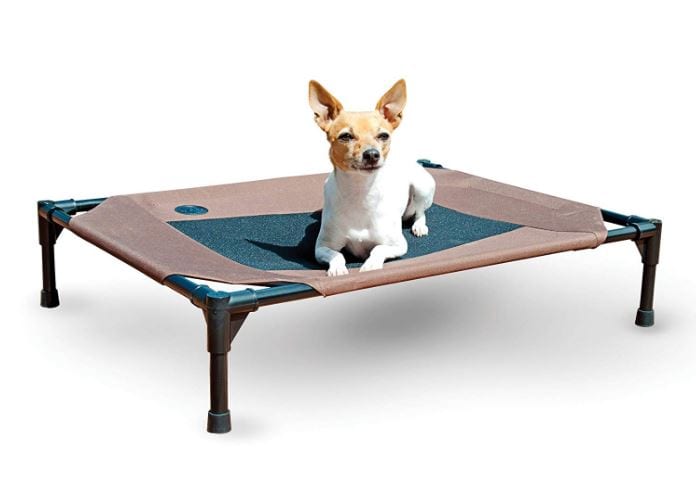 The K&H Manufacturing Original Pet Cot is another suitable raised bed for dog available in different sizes. This elevated dog bed is extremely easy to assemble that requires no tools to set up, and is ideal for both indoor and outdoor purposes. It is made of waterproof 600-denier fabric, which ensures that the bed can withstand rain and snow without undergoing any wear and tear.
This cot features a sturdy frame that can hold over 150 pounds! The breathable mesh center repels moisture, mold, mildew, bacteria and odors. Cleans easy by wiping with a damp cloth or even hosing it off outdoors.
---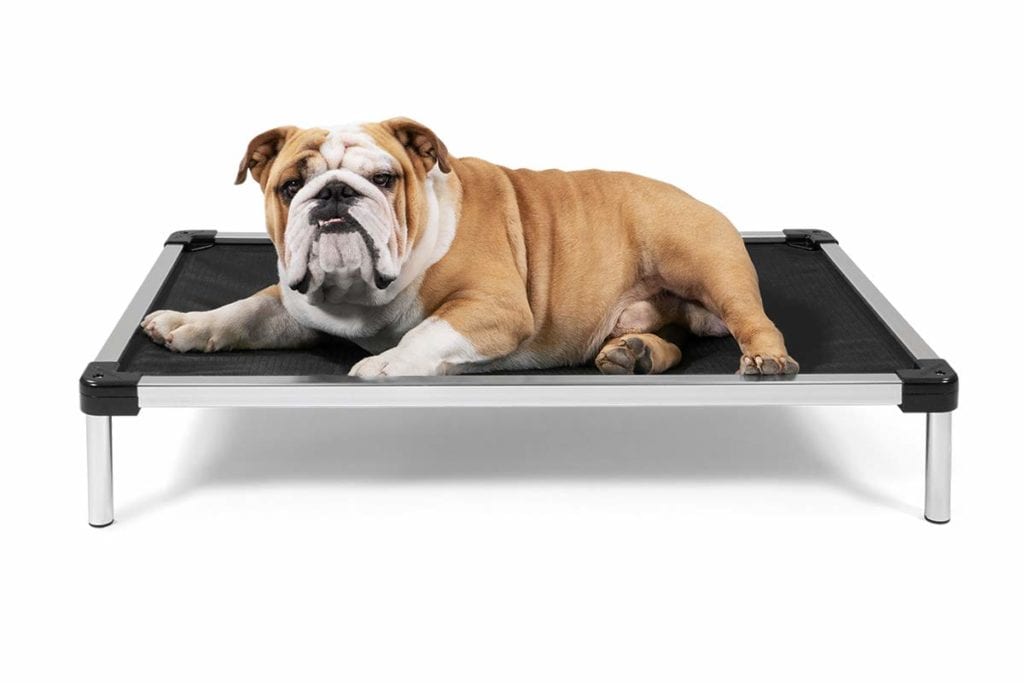 This dog bed is made for smaller, lighter dogs and for the huge ones too. The frame is sturdy enough to handle a dog up to 99 pounds, but more than that and you will be at risk for damaging the frame. The great thing about this dog bed is that it can be used indoor and outdoor, and it's strong enough to withstand the outdoor elements.
Additionally, it's made with a mold and mildew resistant chew proof fabric that is easy to clean. Also, the K9 Ballistics bed is very versatile. It can easily be stored away in a closet or in the truck if you want to bring it along on a road trip.
---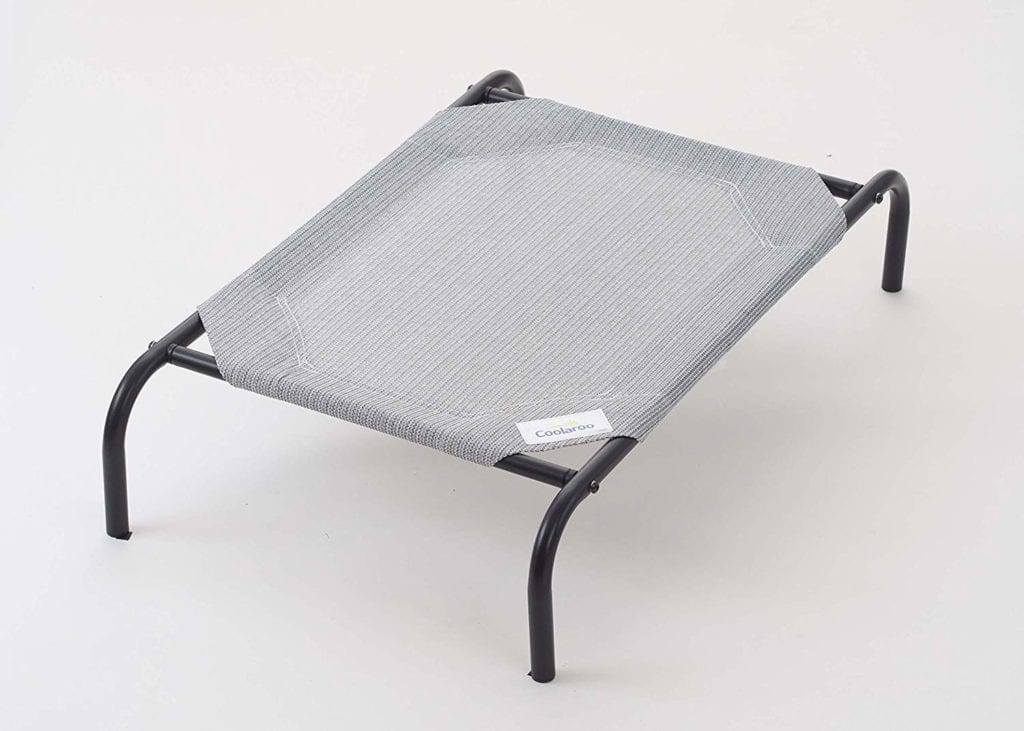 The Coolaroo elevated bed for dogs comes with a suspended platform that creates low-impact areas to pressure points for added comfort. A striking feature of this bed is its powder-coated steel frame that is strong and durable and yet lightweight enough to be assembled in minutes. The elevated bed is ideal for both indoor and outdoor use with its non-slipping rubber feet gripping the ground securely.
With no downsides worth mentioning, this elevated dog bed is quite liked by dog owners also because it is resistant to fleas, mite, mold, and mildew. You can wash it in a rather simple, hassle-free way and keep it maintained for a long time to come.
---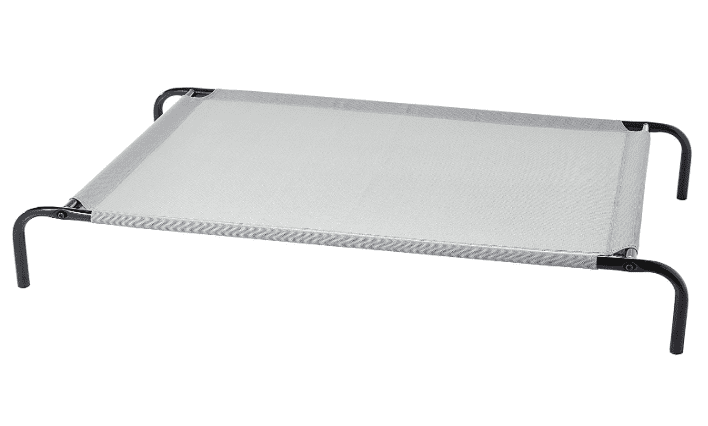 Made by AmazonBasics, this is (unsurprisingly) a straightforward elevated bed without extra features such as hidden fabric edges, tool-free assembly or a foldable design. It's also not as durable as other options.
Even so, it provides a comfortable sleeping surface for a much lower cost than options such as Kuranda. The fabric is simple to hose down and is made with a breathable mesh to keep your pet cool. You can also remove the cover for machine washing if it gets really dirty.
---
SUPERJARE Large/Xlarge Dog Cot with Canopy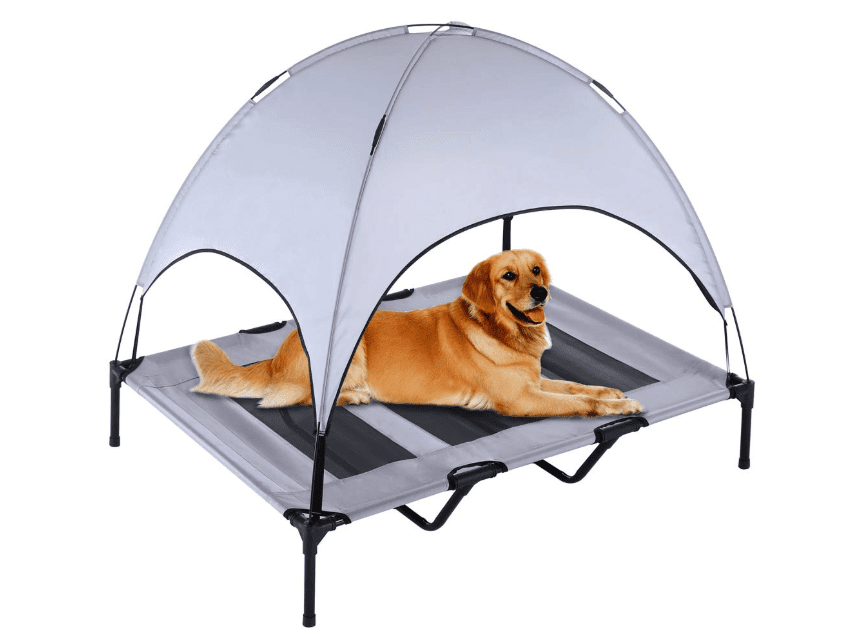 Yes you see it right, this dog bed comes with a canopy! This gorgeous elevated dog bed for large breeds has sturdy steel frames, Oxford fabric and it can hold for a weight of up to 120lbs, which is enough to be suitable even for big dogs.
The canopy provides excellent protection from the sun, and the design that takes dog beds off the ground ensures that your pup stays cool during warm days, but also dry when the ground is wet or damp. These elevated pet beds are easy to assemble and take apart, which makes them perfect for taking along on trips (camping, vacation, an overnight stay at a friend's house, the dog sitter's etc. etc.), and it comes with a practical carrying bag.
---
K&H Pet Products Original Bolster Pet Cot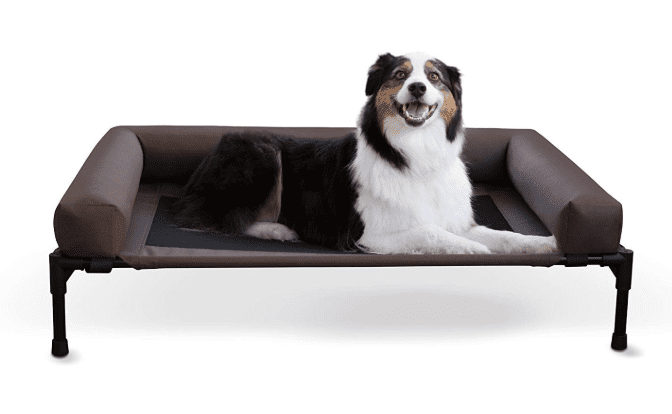 This Pet Cot elevates your pet off the ground– allowing the air to flow around them. A breathable mesh center allows warm body heat to escape from beneath the pet thus keeping them cool while they lounge around. Raising your pet off the ground offers joint-relief for your pets that struggle with lying on a hard ground as well and the bolster offers extra comfort.
It assembles and disassembles in minutes, no tools necessary and features a sturdy frame that can hold over 150 pounds! The breathable mesh center repels moisture, mold, mildew, bacteria and odors. Cleans easy by wiping with a damp cloth or even hosing it off outdoors. The removable bolster is machine washable.