When it comes time for shedding season, your house could look like a downright mess! Especially for those of us who have long-haired breeds, there is enough fur around the house to make us a coat! Right after we're done vacuuming, the other half of the house is hairy once again. Dog combs are meant to de-stress and de-hair if you will, your house.
Now the question is which grooming tool is right for your dog or how do you select the best one? Here we have reviewed all popular models with their functionalities and associated a detailed buying guide to meet all your requirements about dog grooming.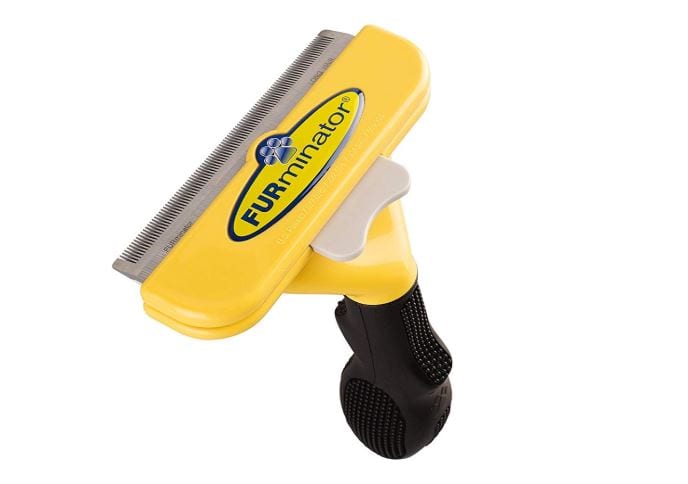 Some pups out there are double-coated. This means they have an undercoat of shorter fur and a longer topcoat. Dogs that look fluffier are usually double-coated. This squeegee looking tool is the perfect undercoat de-shedder. For furrier dogs, getting to the undercoat could be a tough task.
This comb reaches through the topcoat right into the undercoat to prevent any tangles and mats. Best used as a de-shedding tool for larger dogs with long hair, there is also an easy hair release button to get the hair off of the teeth of the comb. The ergonomic handle makes it easy to brush through your pup.
Features:
Designed especially for dogs.
Stainless steel deShedding edge reaches deep beneath your dog's long/short topcoat.
Reduces loose hair from shedding up to 90% with regular use.
---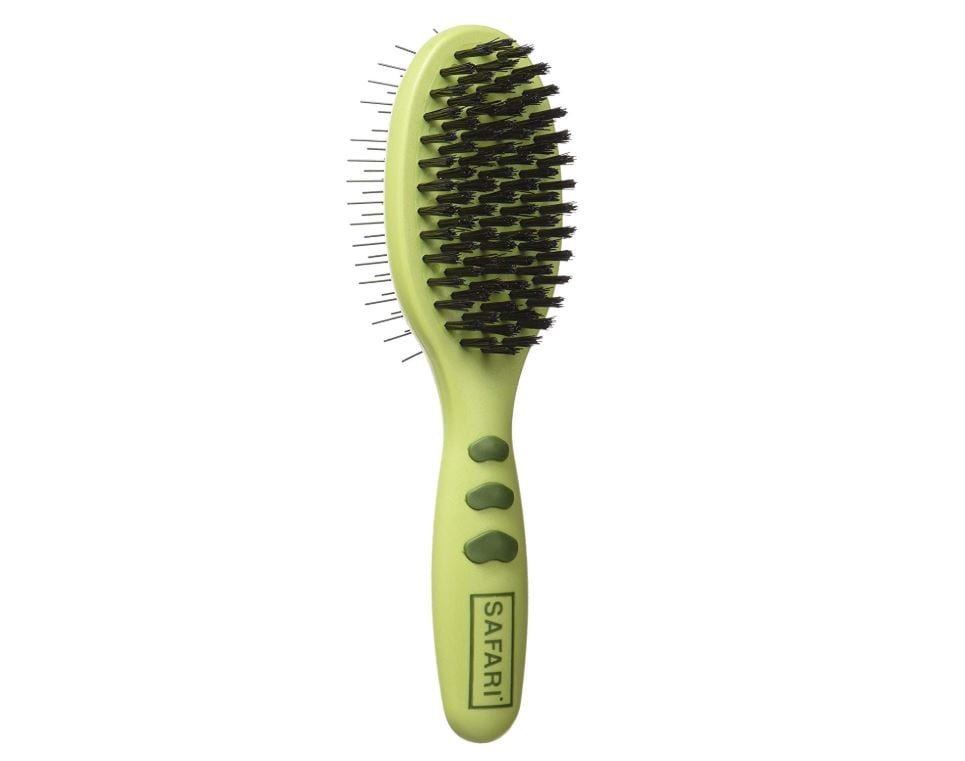 The Pin Brush is excellent for general grooming of small to large dog breeds. This Pin Brush helps to lift out loose hair and debris. Brushing distributes natural oils, leaving a shiny, healthy coat. If the coat tends to be heavily matted, a Safari comb, rake, or slicker can be used to break up the mats. The Pin Brush can also be used to fluff the coat by brushing against the direction of hair growth.
Features:
Quality build made with a wooden handle that is meant to last.
Easily lifts out shedding hair and debris.
Ideal for dog of all breeds and coat types.
---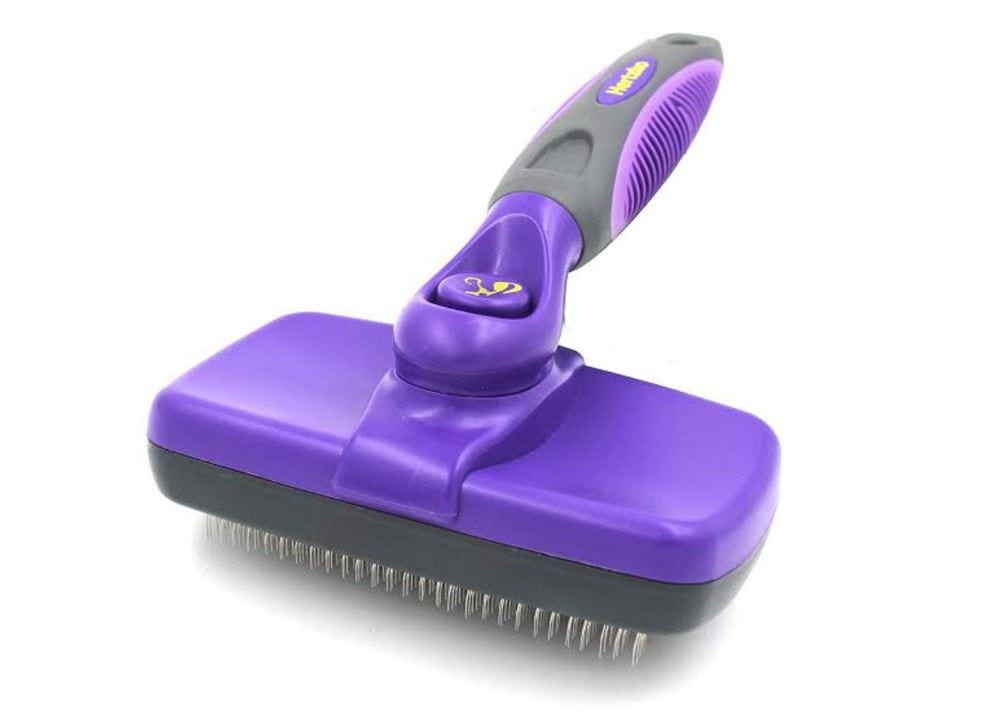 For active pups that love to frolic outdoors, getting dirt and grime trapped in their coats is inevitable. A lot of long-haired breeds don't need to bathe that often, so good way to get rid of dander and trapped dirt is with a doggy brush.
This is also a self-cleaning brush with a fur eject button. Simply press the button after a combing session and the bristles will retract, leaving the ball of unwanted hair. Fun fact -slicker brushes are brushes with fine bristles, as opposed to teeth on regular dog combs or rakes.
Features:
Slicker brush for cats and dogs removes loose hair and eliminates tangles, knots, dander, and trapped dirt.
Feels like a massage for your pet and easy to clean.
---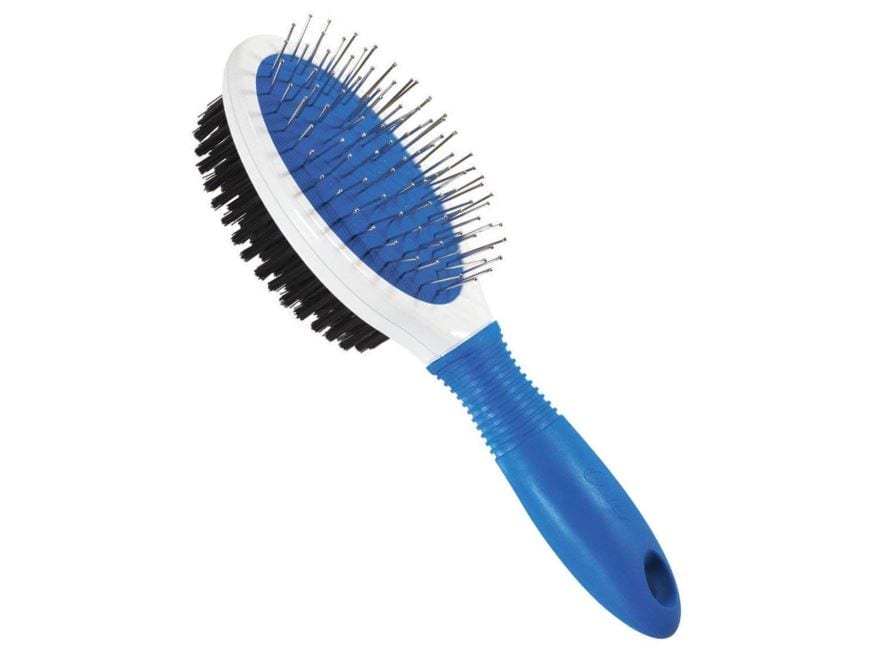 Your cute canine companion will be looking and feeling his cuddly best with the Oster Combination 2-in-1 Dog Brush. This high-quality dual-sided grooming tool features a traditional soft-tipped pin brush on one side for detangling and loosening dead undercoat, and a bristle brush on the other for removing fur and smoothing his coat for a soft, bright finish.
Regular brushing also stimulates the production of natural oils that nourish the skin while leaving his coat with a lustrous shine. The generous brush head size makes it easy to use on large breeds, but it's perfectly suited for use on dogs of all shapes and sizes.
Features:
Two complete tools in one for fast, convenient coat maintenance.
Gentle round-tip pins loosen dead fur, remove tangles.
Soft bristles capture and remove loose fur, dirt and debris .
---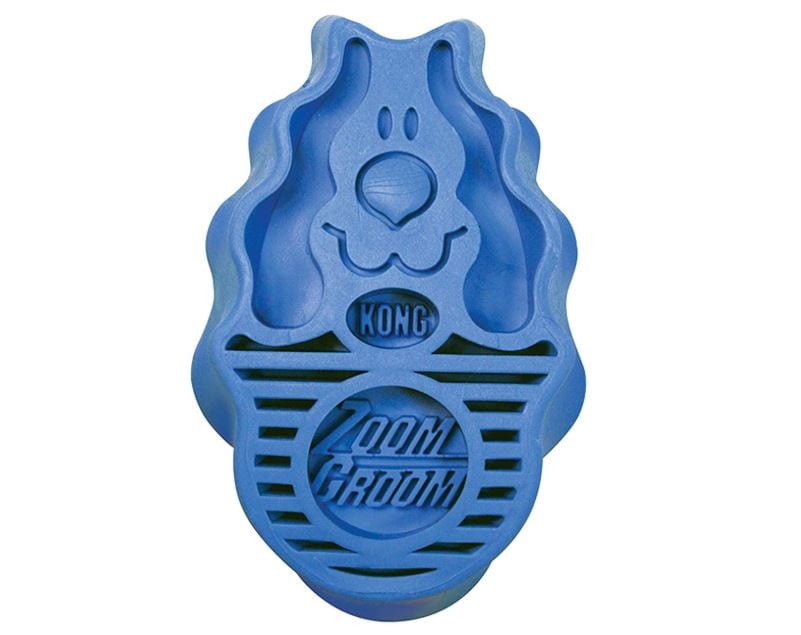 The Kong Zoom Groom for Cats massages and grooms at the same time. The soft, rubber fingers are a magnet for loose hairs. It removes loose hair easily since the rubber material attracts hair like a magnet, and stimulates capillaries and skin to produce natural oils.
The gentle massage action calms stressed or anxious cats, especially in potentially traumatic situations such as veterinarian visits. Firm and flexible rubber teeth reach through the coat to massage the skin.
Features:
2-in-1 tool that massages your dog while you brush.
Attracts hair like a magnet.
Suitable for all coat types.
---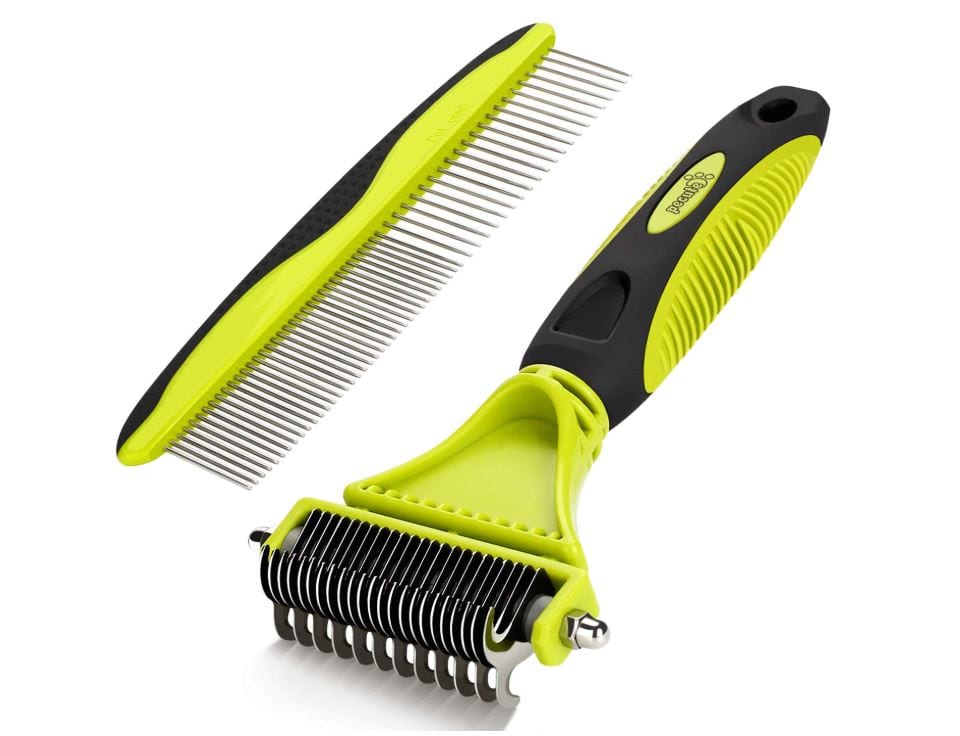 Here's a product that minimized research time and added browsing stress. They have paired a rake comb with a grooming brush into a 2-in-1 grooming kit. The 12-toothed side of the rake comb is used to get the top and undercoats and remove loose hairs, dirt, and grime while the 23-toothed side finishes the job by tackling the tangles and mats.
The rounded ends ensure a safe and gentle massage suitable for all pets. We recommend using this combo 1-2 times a week, but remember to clean it well after each session!
Features:
For undercoat removal, great for shedding season.
2 in 1 tool with double sided blade.
Stainless steel blades will not rust.
---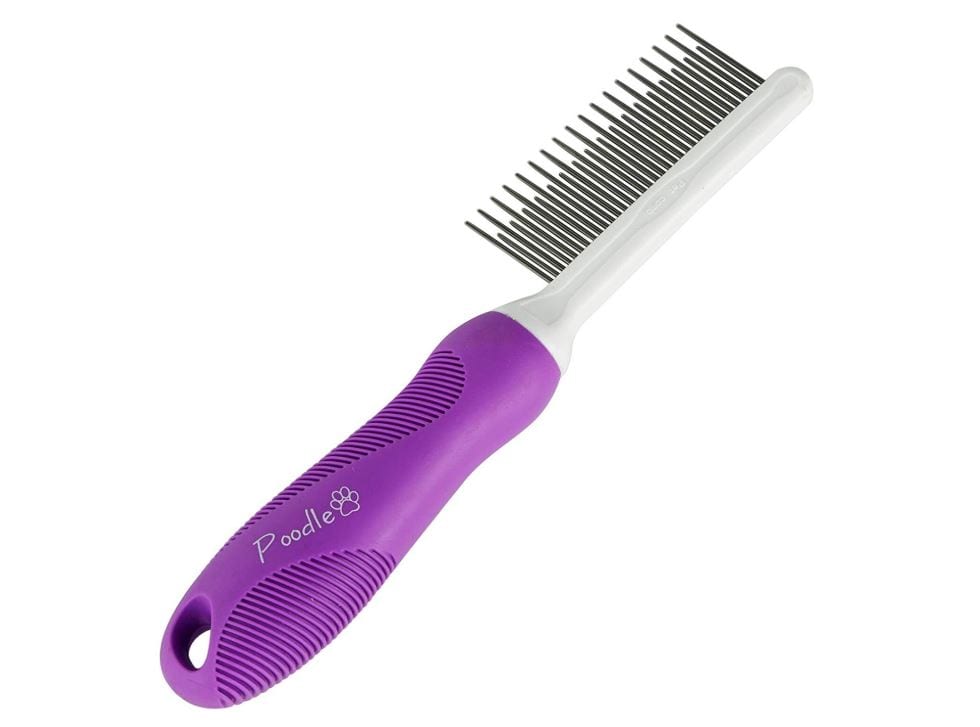 It isn't often that we see such high reviews on a product. This resembles the Andis comb above, but with the teeth integrated into one comb. This cuts the whole process time in half as you can detangle and de-shed at the same time. The stainless steel teeth don't rust and are easy to clean.
The non-slip handle also adds extra safety, especially when combing tinier pets from smaller breed pups to bunnies! Recommended by pet owners with long and short-haired fur babies, this comb is extremely versatile.
Features:
2 in 1 comb with integrated long and short teeth.
Durable solid stainless steel non slip handle.
Strong enough to effectively remove knots & mats.
---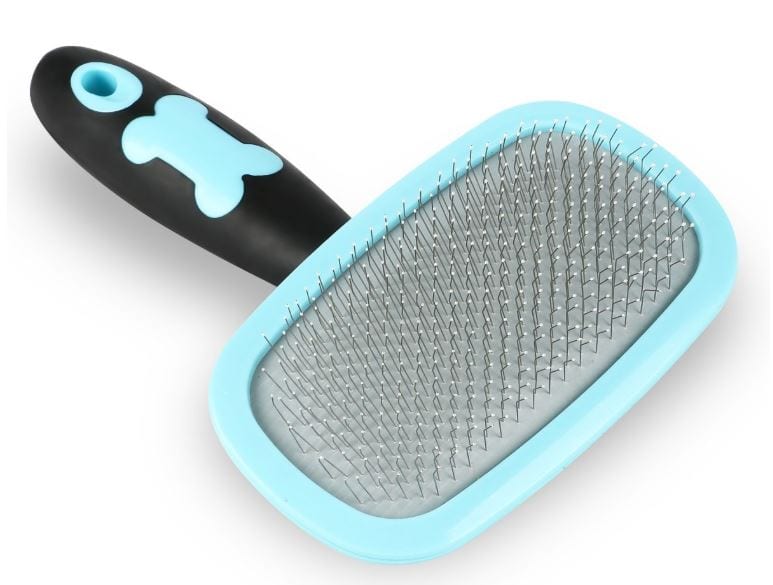 It makes you feel really easy to clean your pet. By using this, you will be able to get rid of those mats, danger and trapped dirt. This is designed to be rotatable so that many various places could be cleaned effectively.
Besides preventing skin disease, you can use this to give your pet a massage as well, which could make the blood circulation increase, as well as their coat, be soft. And, using this brush makes you feel no worry about hurting your hand as well.
Features:
Comfort-grip and anti-slip handle.
Massaging while brush to prevent skin disease and increase blood circulation.
Suitable for Long and Short Hair.
---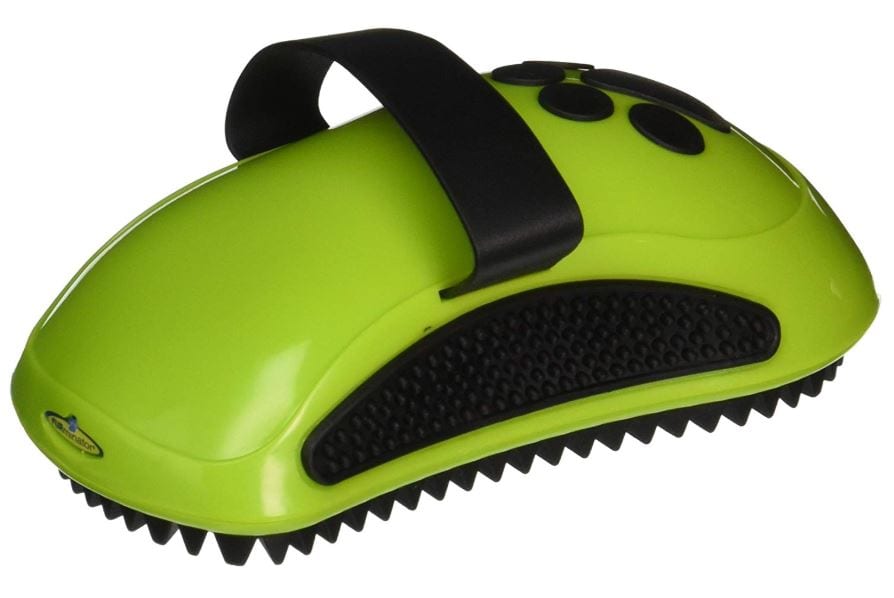 The FURminator curry comb is ideal for helping you get rid of dust as well as loose hair. The key is to stimulate the skin in an effort to help distribute the dog's natural oils through its hair.
This provides a lustrous sheen that is appealing to the eye. The handle comes with a strap to help with a firm grip so you can work through your dog's hair with comfort. However, it is important to note that it performs best with dogs that have short to medium length hair coats.